M&T Bank (NYSE:MTB) has probably the most original commercial banking business model in the U.S.: its high profitability is sustained by a very dominant - and threatening for other entrants - business position in a small geographic area of the country.
This strategic design is complemented by an aggressive M&A policy carefully implemented to further increase its dominance in its original geographic area and profitably expand nearby.
This business strategy solves brilliantly the conundrum to which all regional banks are exposed in the U.S. in the framework of the consolidation of the gigantic U.S. banking market: how a regional bank can survive the competition of U.S. behemoths - JPMorgan (NYSE:JPM), Wells Fargo (NYSE:WFC), Citigroup (NYSE:C), etc. - without being forced to become one of them - at the earnings dilution cost this implies - or sell itself to a nationwide competitor.
M&T's strategy has become a brilliant success: the bank has maintained its dominance, increased its regional market quota and kept a high structural profitability based on a superior NIM (net interest margin) and a historically low level of non performing loans. But this is a long story.
M&T over 30 years
Manufacturers and Traders Trust Company was founded in Western New York in 1856. The bank languished until the current CEO Robert Wilmers joined the company.
Mr Wilmers took over the CEO role in 1983. Soon afterwards an accelerated regional expansion started: between 1987 and 2009 M&T Bank acquired 20 banks and financial institutions in or around its geographic area of influence: New York, New Jersey, Pennsylvania, Connecticut, Maryland and Delaware. During this period M&T acquired $66bn in deposits and circa $96bn in assets from banks, branches and other financial organizations purchased, or 78% of current assets and 77% of deposits.
Key milestones of this strategy were the acquisition of Keystone Financial in Central Pennsylvania in 2000, Allfirst Financial of Baltimore - a subsidiary of Irish AIB - in 2003, Provident Bankshares in Baltimore, Delaware and Maryland in 2009 and Wilmington Trust and Hudson City Bancorp in 2011 and 2015.
These acquisitions were designed to increase retail banking market shares in areas in which M&T was already strong to even higher levels, thus increasing the concentrated market power of the lender even more.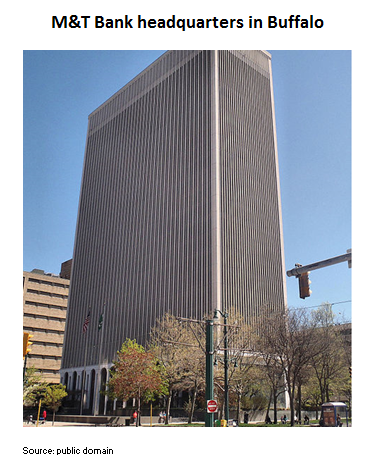 The dominant position attained has allowed M&T to select the more reliable and profitable clientele over the last 30 years and build a very strong franchise that generates structurally higher NIM (Net Interest Margin) and lower non performing loans during downturns compared with competitors.
To a large extent the story of M&T over the last 30 years is a story of M&A - very successful M&A -. And the good news is that the formula may be replicated in the future ad infinitum in the huge and always consolidating U.S. retail banking market.
M&T Bank today
At the end of 2015 M&T was one of the top 20 U.S.-based commercial banks holding companies. The bank had assets of $122.7bn, a loan book of $70.8bn and circa 17,000 employees spread among 808 branches in eight states and Washington DC. M&T Bank had at the end of 2015 3.8 million customers.
The loan book was significantly invested in real estate lending (commercial and consumer real estate are 40% and 16% of the whole portfolio respectively) and non-real estate SMEs & corporate lending segments (28% of the overall book), particularly after the acquisition of Hudson City. Geographically, loans were spread mainly between New York, Pennsylvania and the Mid Atlantic, with an important predominance of New York state (39% of loans and leases at the end of 2015).
Net Interest Margin was an outstanding 3.18%, more than 50% higher compared with the average for commercial banking peers. This is the first feature of the M&T franchise and fruit of the lender's higher market power and concentrated regional market quotas; the relative NIM decline observed between 2010 and 2016 - from 3.84% to 3.1% - is better explained by taking into account the progressive negative interest rates environment developed during the period than as a symptom of the decay of M&T's retail banking franchise.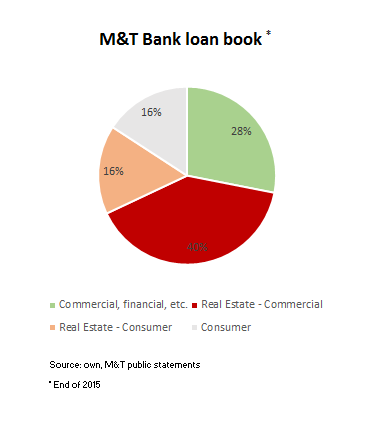 Allowances for loan losses are abnormally low too, at around 1.1% at the end of Q2 2016 compared with 1.74% in 2010. This is the second key characteristic of the M&T franchise: the dominant position and market power of M&T allows the lender to select the best client profiles in terms of risk / return leaving less appealing clients to weaker competitors.
This is important, particularly in the real estate business during downturns. Therefore, M&T outperforms peers in terms of cost of risk during the whole business cycle but particularly during downturns: the ratio Net Charge Offs / Average Loans is lower than the top 25 peer median between 1991 and 2016; differences becomes extreme during recessions.
The combination of both structural characteristics of the M&T retail lending franchise generate superior structural ROTEs in the long term. This ratio was 11.62% at the end of 2015 and 18.95% in 2010.
This difference between ROEs at different points of the cycle is in our view, the measure of the upside potential of M&T during the next 5 years.
Adding to this notable return on equity upside the M&A extra value that may be created with future acquisitions further increases the attractiveness of the investment opportunity in M&T stock.
Key to future profitability: a team that delivers
This original, unique and very successful business model may mostly be attributed to the current management of M&T Bank.
Moving from $2bn assets in 1983 to $125 bn in 2016 with 18.3% yearly rate of return for shareholders during the period is an extraordinary feature that may be almost exclusively attributed to the current CEO Robert Wilmers and his team.
Mr. Wilmers is an experienced commercial banker trained at Harvard College and Harvard School of Administration before joining Bankers Trust, holding public officer at the New York City Government and joining M&T Bank in 1983.
Over the last 30 years the CEO has built a seasoned and seemingly cohesive team around him: M&T's 14 members Management Group average 25 years of banking experience and have developed particular expertise in retail banking M&A design and execution with 24 successful mergers over 28 years.
Senior management is supported by a cadre of midlevel executives mostly trained in house and complemented by external hires with relevant industry expertise.
The low level of employee turnover - half of that of U.S. commercial banking peers - together with the excellent results attained by M&T in its organic growth and integration of smaller competitors are the proof of an efficient human organization at an executive midlevel.
On this symbiosis between a clever strategic direction and a skilled body of implementers is where the value of M&T lies. As long as the organization stays as it is now and the macro trends of the U.S. banking market and the whole U.S. economy do not change a high rate of return for investors on a structural basis is very likely.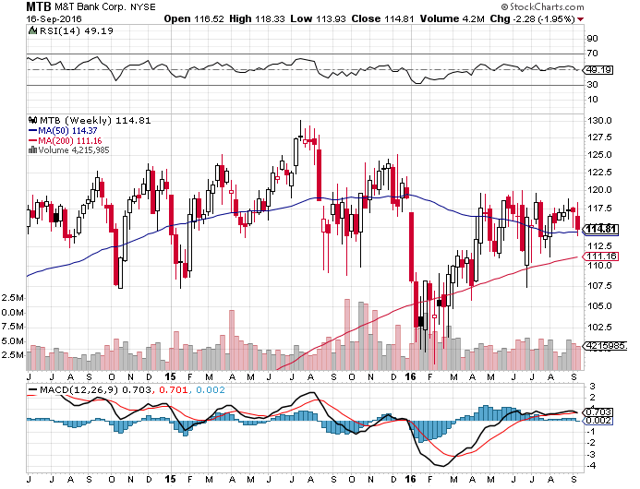 Stock price and the future
M&T stock price has performed very well since the crisis. Stock price has increased from a minimum of $36.6 in February 2009 to its current level of $114.8.
Volatility has been quite strong in short periods of time but overall the trend upside is solid and backed by good fundamentals. M&T Bank fell from $127 to the $99 level during the banking panic of early 2016 but it has quickly recovered most of the lost ground over the last few months.
At current levels stock is not cheap compared with competitors though. At 14 time PE and 1.2 times book value M&T stock price is significantly more expensive than competitors Bank of America (12 PE expected 2016 and 0.65 times book value), JPMorgan (11.7 PE estimated 2016 and 1.05 times book value) or even some of the most efficient producers such as U.S. Bancorp (NYSE:USB) (13.1 times PE expected 2016).
Clearly the price is adding an "efficiency premium" well deserved given the fundamentals of the bank. Nevertheless, taking into account 1) banks historic PE is around 14 times 2) the high gearing of M&T to an increase of interest rates and 3) its proven capability to grow profitably through M&A in a competitive framework - the huge and always consolidating U.S. retail banking market - that makes this skill priceless M&T looks like an excellent long term investment for a prudent banks investing limited leverage.
Therefore, it does not look like the upside M&T possesses has already been priced; given the dynamics explained above there is scope for further stock price increases from current levels over the next 3 - 5 years together with the gearing of the business cycle.
As long as the management of the bank continues delivering and stock price does not reach absurd multiples, this extraordinary M&A machine will be a permanent buy.
Disclosure: I/we have no positions in any stocks mentioned, and no plans to initiate any positions within the next 72 hours.
I wrote this article myself, and it expresses my own opinions. I am not receiving compensation for it (other than from Seeking Alpha). I have no business relationship with any company whose stock is mentioned in this article.