As of late I've been on the hunt for a significantly undervalued company to buy. Through my bottom up approach, I recently identified Teekay Tankers Ltd (NYSE: TNK) as a company of interest.
In the last year shares are down from $8.39 a year ago, representing a 70% decline in the last 12 months.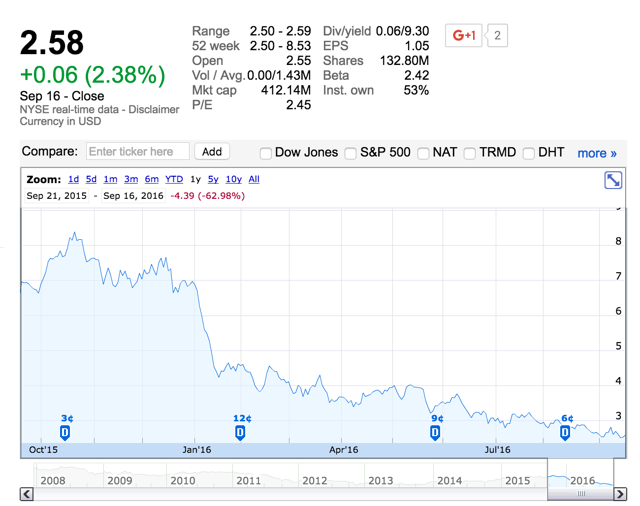 Courtesy of Google Finance
Indeed, by many metrics TNK is ridiculously undervalued.
| | | | | |
| --- | --- | --- | --- | --- |
| Ticker | P/E (NYSE:TTM) | P/E (Forward | P/B | EV/EBITDA |
| TNK | 2.44 | 2.00 | 0.44 | 4.94 |
Courtesy of GuruFocus
My analysis suggests fair value is somewhere around $7-8 / share, which provides a margin of safety of ~65-70%!
The Business
"Teekay Tankers Ltd. is an international provider of marine transportation to the oil industries. The Company's business is to own crude oil and product tankers. The Company has two segments: conventional tanker and ship-to-ship transfer. Its conventional tanker segment consists of the operation of all of its tankers, including those employed on full service lightering contracts. Its ship-to-ship transfer segment consists of its lightering support services, including those provided to the Company's conventional tanker segment as part of full service lightering operations and other related services. Its operations are managed by Teekay Tankers Management Services Ltd., which provides the Company with commercial, technical, administrative and strategic services. Its fleet consists of approximately 60 conventional vessels (including over 10 in-chartered vessels and an approximately 50%-owned very large crude carrier (VLCC)) and approximately six ship-to-ship (NYSEMKT:STS) support vessels."
Courtesy of Google Finance
Formed in 2007, TNK was spun off from it's parent company Teekay Corporation (NYSE:TK) and incorporated in Bermuda. Since then, it has grown it's oil carrying capacity from 980,000 deadweight tonnes (dwt) to 7,650,000 dwt as of December 2015. It has accomplished this by purchasing forty five ships in the last five years, thirteen of which are from it's parent, TK.
TNK's business model is to opportunistically charter tankers, capturing spot market prices, while at the same time having fixed rate long term contracts. They operate via "conventional" tanker services (ship to land) and ship to ship services.
TNK seems to be good at what it does - it has a TTM ROE of ~19% with a net profit margin of 26%.
Unfortunately for TNK, they began operations at a time when freight rates have been well below historical norms, and those rates have remained low to present day.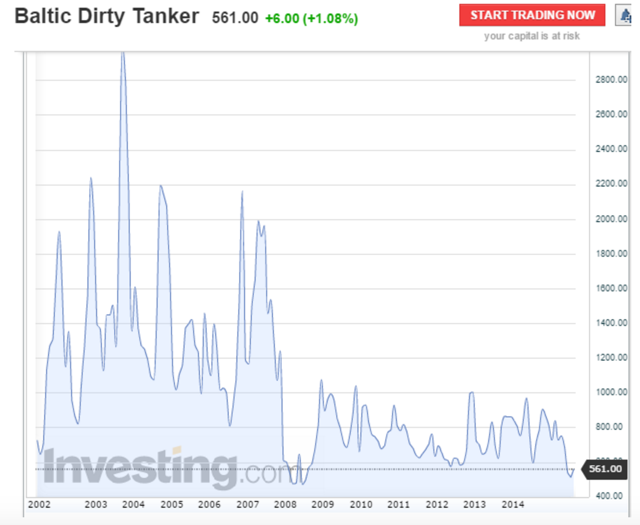 Courtesy of Investing.com
Furthermore, the earnings graph of TNK is less than stellar.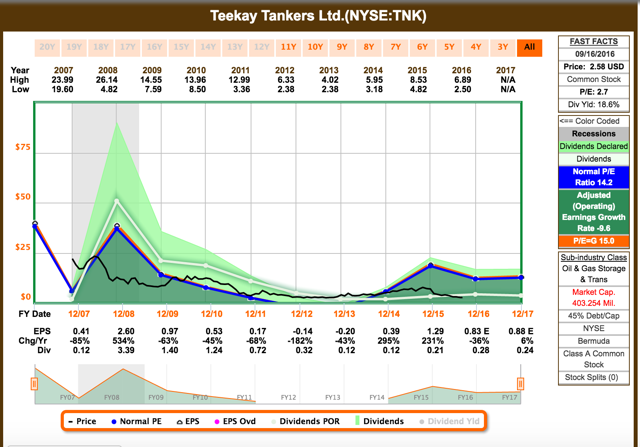 Courtesy of FASTGraphs
Cash flows, arguably more telling, have been less than impressive as well.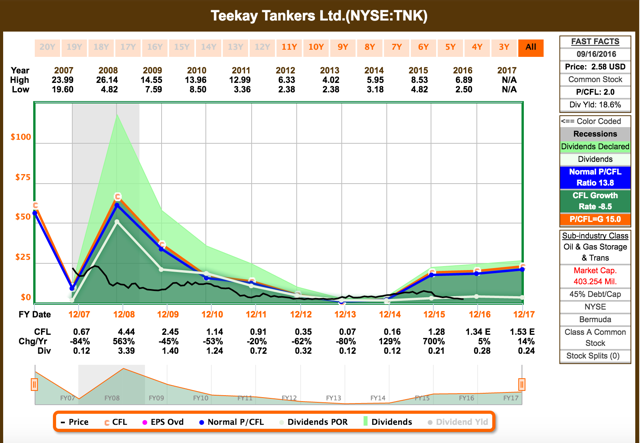 Courtesy of FASTGraphs
Of course, this stock wouldn't be a value stock unless it had some warts. Being at the mercy of the cyclical industry, TNK can only hope tanker rates increase.
On the bright side, revenues and incomes have been growing steadily - revenue more than doubled from 2014 to 2015 and income roughly tripled.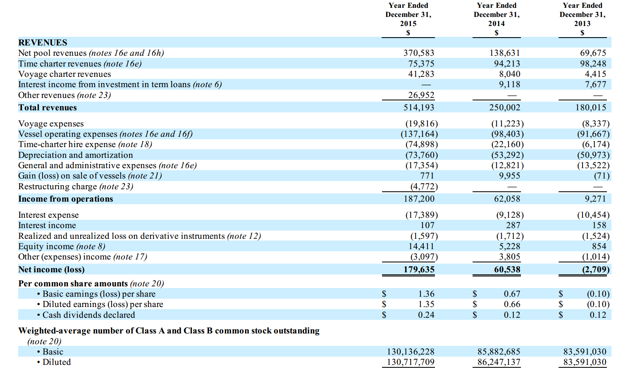 Source: TNK 2015 Form 20F
What about the Balance Sheet?
Based on a quick scan things don't seem so bad - current and quick ratios are 1.10. As per Q2 2016 earnings the company also $53 million of cash on hand, with $35 million of undrawn credit.
Looking a bit further, we see that since inception TNK has been accumulating loads of debt to finance it's vessel purchases. In Jan of 2016 it re-financed $ 894 million of debt, set to be paid off by 2021.
Indeed, these ships are the majority of the assets on the balance sheet.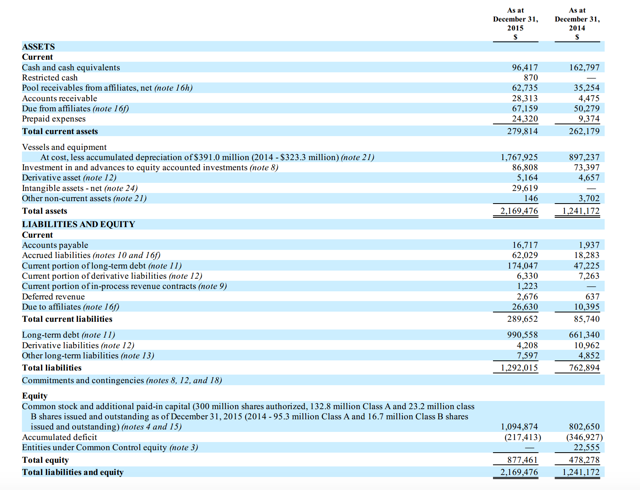 Source: TNK 2015 Form 20F
Yikes, look at that $990 million of long term debt, especially considering the current market cap of less than half of that value ($412 million).
Dividend
TNK does pay a dividend, although this dividend has been cut twice this year. Moving forward, I feel it's likely to be cut a third time to the minimum of 3 cents a share as the company continues to try to de-leverage its balance sheet. In December 2015 management committed to paying at least a 3 cent / share dividend, although this could change if things were to worsen.
I.O.U
About that debt - as mentioned, $894 million of that $990 million is due to be repaid by 2021. So what does the payment schedule look like?
Well, buried in the footnotes is the answer to that question.

Source: TNK 2015 Form 20F
As we can see, $174.7 million is due this year and $214.9 million is due in 2017. The company then gets a bit of a break, with the debt eventually ballooning to $353.2 million in 2021.
Q2 2016 Results
On August 4th TNK announced their Q2 2016 results. Year over year unadjusted income per share was down ($0.14 vs $0.38), although free cash flow was relatively stable ($59 million vs $57 million).
Looking deeper into the cash flow statement, things don't look so rosy.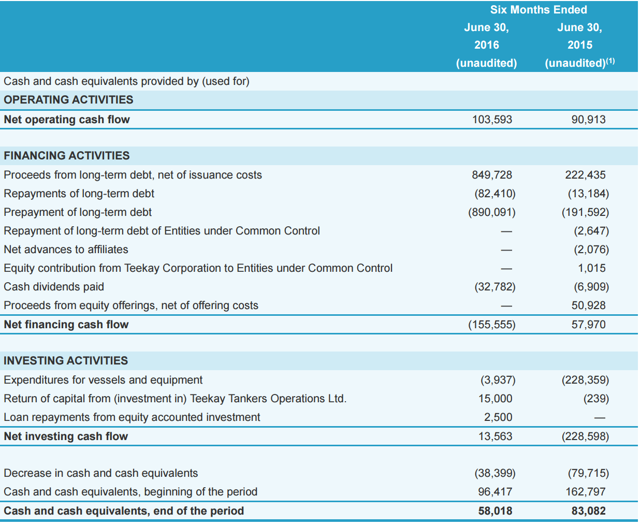 Source: TNK Q2 2016 Earnings Release
As we can see, $82.4 million (or, 79.5% of the Q2 Net Operating Cash Flow) went to repayments of long term debt - undoubtedly towards the $174.7 million due this year. This means, to date, TNK has paid off less than half of their debt obligation this year, all while having $219 million to pay next year.
Future Outlook
So the market is soft and TNK has massive debt obligations - how do thinks look in the near term? Are they set to have a stellar Q3 or Q4 that can wipe away the remainder of the payment for 2016? After all, as temperatures drop, oil consumption increases.

Source: TNK Q2 2016 Earnings Report
Additionally,

Source: TNK Q2 2016 Earnings Report
Thus, perhaps the market may soften further before tightening up sometime in 2017 or thereafter.
Putting It All Together
TNK is a massively undervalued cyclical company likely near the bottom of it's business cycle. The upside is very high, but on the downside I have my doubts that TNK can remain solvent in the coming quarters - I think it's dead in the water. If I was a shorter (which I am not) I would strongly consider shorting this company.
Thus, I think TNK is a value trap rather than a value buy, and my treasure hunt continues.
What do you think about TNK? Please feel free to let me know in the comments below. Thanks for reading!
Disclosure: I/we have no positions in any stocks mentioned, and no plans to initiate any positions within the next 72 hours.
I wrote this article myself, and it expresses my own opinions. I am not receiving compensation for it (other than from Seeking Alpha). I have no business relationship with any company whose stock is mentioned in this article.
Additional disclosure: I am not an investment professional and I recommend doing your own due diligence before buying any stocks mentioned.