This is the second in a series of articles in which I assess the largest mega-cap financials stocks, from Berkshire Hathaway (NYSE:BRK.A) (BRK.B) to Royal Bank of Canada (RY).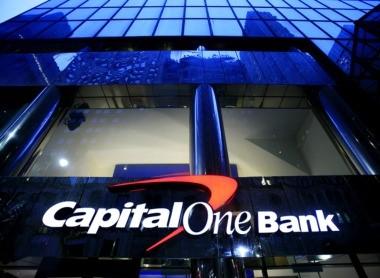 Credit: DM Martins Research using company stock photo
Is there good value to be realized in the mega-cap financials space? And which financials stocks seem to be a better buy relative to their peers?
Sizing up the big players in financials
The table below compares several metrics, from valuation to fundamentals, across the top 10 financials companies by market cap: 2016 P/E, 2016 PEG and cash-adjusted PEG, price-to-book, next-year EPS growth, net cash as a percentage of market cap, trailing ROE, dividend yield and "distance" from 52-week highs (as I have gathered evidence that buying stocks on weakness may be a good value-based strategy).

Source: DM Martins Research, using data from Yahoo Finance and Fidelity
To help better contrast the differences across the peer group, I also created the ranking below:

Source: DM Martins Research, using data from Yahoo Finance and Fidelity
One name amongst the 10 stands out. Capital One Financial (COF) is the most affordably priced stock from a forward P/E perspective. The company's price-to-book ratio of 0.7 also suggests an appealing buy candidate. The company has one of the safest levels of cash as a percentage of capital, which enables its modest dividend yield of 2.1%. COF shapes up as a tempting value play, given its low valuation, track record of stable growth and dividend payments.
Strong growth, despite increased competition
The Virginia-based company is the eighth-largest bank in the U.S. by assets under management. Capital One Financial operates in three business segments: Credit Cards (62%), Consumer Banking (28%) and commercial banking (5%). While the company competes in the U.S., Canada and the UK, its business model is heavily concentrated in U.S. credit cards as 57% of revenue originates from this geographic segment.
Within its domestic credit card portfolio, about 65% of debtors have FICO scores of about 660, while the remaining 35% are subprime. CEO Richard Fairbanks noted that "we really like the business we are booking. While we continue to closely watch the market place, we still see attractive growth opportunities in our domestic card business".
The company released 2Q16 earnings in late July which missed estimates by $0.17 per share. Earnings increased by 17.3% versus last year to $979M, or $1.69 per share. The bank also has a strong Tier-1 Capital Ratio of 10.9%.
Management has noted increased competition in its credit card segment from competing rewards products. Additionally, Consumer Banking was hit hard in the current quarter as charge-offs increased seasonally and home loans decreased by 4%. Capital One's increased reserves have taken a bite out of bottom-line growth, as PCLs (provisions for credit losses) increased by 4%.
Capital One Financial's assets have grown at the second fastest rate of any big bank in the U.S. since 2006. Its large acquisitions of Chevy Chase bank in 2009 and ING Direct's online banking platform in 2012 have supplemented its smaller acquisitions and organic growth to boost assets under management.
Risks: high exposure to sub-prime, little diversification
While the cheap forward P/E and Price-to-Book ratios may look tempting, the bank seems overly reliant on sub-prime credit cards, in my view. The economy, while not on fire, has been stable for many years now, due in part to lose monetary policy. As a result, consumer debt has started to rise sharply once again, and seems well on its way to reaching pre-Global Recession levels, as the chart below indicates. Meanwhile, real retail sales (adjusted for inflation) have skyrocketed way past the pre-Recession mark, according to macrotrends.net.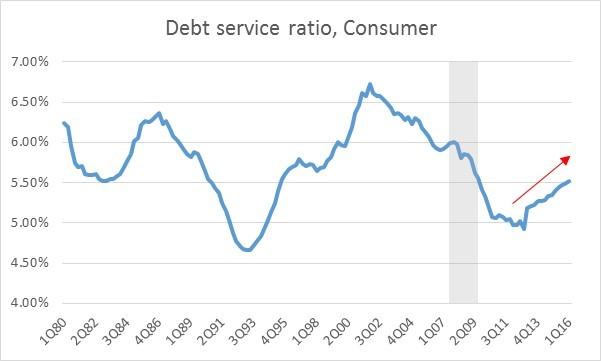 Source: DM Martins Research, using data from the Federal Reserve Board
Should the next economic contraction arrive sooner rather than later, it is possible that Capital One would be one of the first financial institutions to suffer from the downturn, as clients might become pressed to make their payments timely.
As SA contributor Theodor Tonca points out, the company "has both over-lent, with total outstanding loans exceeding total deposits by a small margin, and also slightly over-borrowed, with the $45.42 billion in currently outstanding debt on its balance sheet [as of 1Q16] just eclipsing 20% of total deposits and inching up". And if you are a Capital One cardholder, you have probably noticed that being a generous lender - high credit limits and lower credit quality requirements - is part of the company's DNA.
Lastly, while the bank has invested in its U.S. banking segments through targeted acquisitions, it only has domestic branches in 8 states and Washington D.C. Going forward, I believe the company would be better served by making a larger domestic banking footprint a priority in order to increase its product diversification.
In the end, Capital One may be one of those "cheap-for-a-reason" names. I believe the stock fits in better as part of a diversified portfolio, rather than a high-conviction, low-risk stand-alone play.
Disclosure: I/we have no positions in any stocks mentioned, and no plans to initiate any positions within the next 72 hours.
I wrote this article myself, and it expresses my own opinions. I am not receiving compensation for it (other than from Seeking Alpha). I have no business relationship with any company whose stock is mentioned in this article.