Crossroads Capital(NASDAQ:NASDAQ:XRDC) is a busted venture capital focused BDC that I first wrote about in January 2016. The board passed a resolution in March to monetize XRDC's assets at the earliest practicable date. In June, XRDC filed an updated draft proxy for a vote on liquidation. In August, it announced the engagement of Setter Capital to assist with the liquidation of its investments. XRDC trades for 60% of book value, has 70% of its market cap in cash, and no debt. At the recent share price of $1.80, after adjusting for net cash an investor is paying $0.52 for the remaining holdings, which have an estimated fair value of $1.75 per share.
Is the current price truly cheap? Any company with a statistical profile such as XRDC's is going to have some uncomfortable aspects. XRDC holds a concentrated portfolio of equity interests(primarily convertible preferred equity), in 13 companies, 11 of which are private. Although at least 90% of the investments have liquidation preference compared to common stock, they are mostly in venture capital companies that aborted or delayed IPO due to market conditions in recent years. The market is justifiably concerned about the valuation of portfolio holdings, the recent steep decline in NAV, the business viability of portfolio companies, and potential cash burn during the liquidation process. These concerns would likely scare off most investors, but with the such a low bar to achieving a profitable liquidation, XRDC is worth a closer look.
Portfolio Valuation
All of XRDC's assets are Level 3 assets under the accounting standard for fair value measurement known as ASC 820. "Fair value" reported in the financial statements is determined in good faith by the board of directors, who is required to follow a consistent valuation policy in accordance with ASC 820, and the Investment Company Act of 1940, which is applicable because XRDC is a BDC. All references to fair value in this article refer to the fair value used in the financial statements. NAV is determined netting out the fair value of all assets and liabilities(XRDC has no long term debt, and total liabilities consist of a few payables and accrued expenses accounting for under less than two cents per share).
Although there is limited publicly available specific information on the financial condition or valuation of each individual holding, the 10-Q does disclose the range and average of the metrics and assumptions used by XRDC in the valuation process to arrive at fair value. The valuation process uses an EBITDA multiple and revenue multiple based on comparable public companies, and applies a discount for illiquidity to each holding to get the fair value that is shown on the balance sheet and schedule of investments. Here are the multiples used for the preferred stock holdings, which comprise 90% of the portfolio as of June 30, 2016:
| | | |
| --- | --- | --- |
| Metric | Range | Weighted Average |
| Revenue multiple | 0.6 to 4.1 | 2.6 |
| EBITDA multiple | 8.6 to 9.3 | 9.2 |
| Discount for lack of marketability | 9% to 29% | 14% |
The valuation ranges based on EBITDA and revenue are not cheap, but are in line with what would be expected for publicly traded tech companies. The fair value of investments, and therefore NAV also already includes a discount for lack of marketability, although its possible the discount might be even steeper in the event of a secondary market sale in liquidation. Perhaps more important, this disclosure also reveals that the portfolio holdings are indeed legitimate companies generating either revenue, EBITDA, or both. The weighting between revenue multiples and EBITDA multiples is not disclosed, but there are no other metrics listed. Therefore we can assume that the portfolio companies are at least generating revenue. Although we cannot verify the balance sheet robustness of the holdings from this disclosure, at least it indicates that they are not speculative pre-revenue ideas, which investors might otherwise suspect, given the reputation of venture capital.
As noted above, NAV per share includes about $1.28 in net cash, and $1.75 in investments at fair value. At $1.80 per share, an investor is effectively paying about 30 percent($0.52/$1.75) of the fair value of the investments for XRDC's portfolio. Given the weighted average of the assumptions used to arrive at fair value, this translates to paying roughly 3x EBITDA, or 0.9x revenue at the current stock market price.
Prior to the 2016Q1, a valuation firm that had been selected by the later terminated external manager assisted the board of directors with the valuation. In 2015Q3, representatives of activist firm Bulldog Investors joined the board, and the previous CEO resigned. In early 2016Q1, the board appointed the current CEO. Starting with the 2016Q1 10-Q, the administrator selected by new management assisted the board of directors in valuation of the investment portfolio, and the valuation firm was not engaged.
For periods prior to 2016(see 2015Q2, for example), the table in the 10-Q disclosing assumptions used to get the most recent fair value included references of using both the comparable public companies method, and a DCF model based on assumptions about an exit price in the future. Although the discount rates used in the DCF method were high, making assumptions about future revenue and EBITDA is arguably more speculative than just using EBITDA and Revenue multiples based on current performance of the portfolio company and current trading prices for comparable public companies. Starting in 2016Q1, the valuation disclosure table in the 10-Q only includes the comparable public company method, and excludes the DCF method (a footnote to the table merely mentions DCF as a method that may be used as it did before). Also, for the comparable public companies method, the average EBITDA multiple used actually increased from 7.8 at the end of 2015Q4, to 9.2 in 2016Q1and 2016Q2, but the discount for lack of marketability also increased from 13% to 14% during the same time period. It might be a coincidence, but the valuations of investments dropped off sharply when new management took over the valuation process, and made adjustments to the valuation procedure.
NAV Decline
In any case, NAV per share has been reduced substantially since I first wrote about XRDC, from $5.06 as of December 31, 2015 to $3.23 as June 30, 2016. Out of this $1.83 per share decline in NAV over this six months period, $1.73 is attributable to net unrealized depreciation on investments, and $0.10 is attributable to net investment loss(the portfolio generates little income, but there are costs to operating the company). The largest individual write downs have been investments in HR Software company SilkRoad Inc (reducing by NAV $0.60 per share since 2015Q4, and online content company Mode Media (reducing NAV by $0.35 per share since the 2015Q4). Overall, the entire portfolio was valued at 44% of cost at the end of 2015Q2.
The investment in Mode Media(formerly known as Glam Media), is likely to be written off completely. This investment accounted for approximately 5% of NAV, and was marked at about 28% of cost at the end of 2015Q2. Mode Media once had a billion dollar valuation. However, traffic to its sites dropped 26.4% in 2016, and there was significant management turmoil. It shut down on September 15, leaving freelancers unpaid Therefore, I assume the preferred equity is worth zero when calculating NAV. As shown in the table under "Top Portfolio Holdings" below, this reduced NAV by an additional $0.15 per share subsequent to the end of the quarter.
SilkRoad Technology likely had negative operational trends in recent quarters, but it does still appear to be expanding, as discussed below under "Top Portfolio Holdings". For what its worth, a BDC holding SilkRoad's debt had it marked at cost as of the end of 2015Q2.
XRDC owns shares in Tremor Video(NYSE:TRMR), and Shunfeng Clean Energy(OTCPK:SHUNF), which have both declined since the end of 2015Q2. The combined value of these companies accounts for about 2% per NAV, and the net effect of the decline in market price will be about $0.01 per share.
In general there has been a negative trend of valuation for XRDC's largest holdings: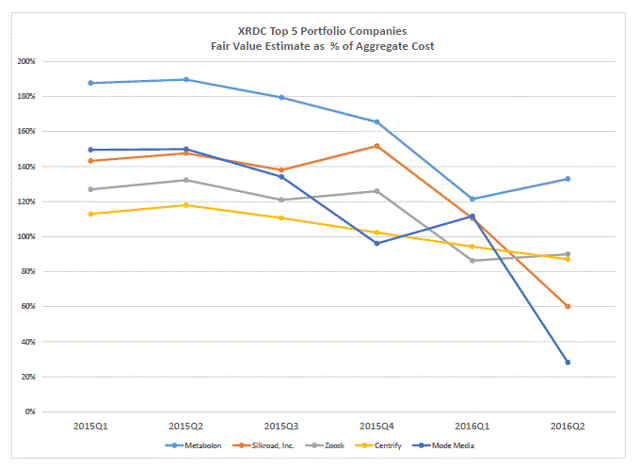 Can the recent valuation declines be extrapolated further into the future? Is XRDC just a melting ice cube? The answers to these questions ultimately depend on the business viability and operational trends at the remaining top portfolio holdings.
Top Portfolio Holdings
As XRDC heads to liquidation, the ultimate amount that is realized by XRDC investors depends heavily on the four largest remaining portfolio company investments, which now account for 50% of the remaining NAV(or 86% of the total portfolio). Mode Media was previously the fifth largest investment, but has since shut down. The other 8 portfolio companies only account for a combined 8% of NAV.(cash accounts about 42% of NAV). The following table summarizes the components of XRDC's NAV, including investments by cost and fair value, as reported on schedule of investments and on balance sheet in the most recent 10-Q. Updated Fair Value (Estimate), includes the impact of the Mode Media writeoff, the impact of the reduction in trading price for the publicly traded common stock held by XRDC, and an estimated reduction in cash based on the average operating expenses between 2016Q1 and 2016Q2. Although other assets are likely to fluctuate in value, I kept the data from the most recent 10-Q.
| | | | | | | |
| --- | --- | --- | --- | --- | --- | --- |
| | Cost | $ Fair Value as of 2015Q2 | Updated Fair Value (Estimate) | Updated NAV Per Share(Estimate) | Updated Fair Value as % of NAV | Updated Fair Value % of Market Cap |
| Metabolon Convertible Preferred Stock | $4,000,000 | $5,320,000 | $5,320,000 | $0.55 | 18% | 31% |
| Silk Road Convertible Preferred Stock and Warrants | $6,337,785 | $3,810,000 | $3,810,000 | $0.39 | 13% | 22% |
| Zoosk Convertible Preferred Stock | $2,999,999 | $2,700,000 | $2,700,000 | $0.28 | 9% | 16% |
| Centrify Convertible Preferred Stock | $2,999,999 | $2,615,000 | $2,615,000 | $0.27 | 9% | 15% |
| Mode Media Convertible Preffered Stock | $4,999,999 | 1,410,000 | 0 | $0.00 | 0% | 0% |
| Top Five Investments Subtotal | $21,337,782 | $15,855,000 | $14,445,000 | $1.50 | 50% | 83% |
| Publicly traded Common Stock | $3,309,450 | $658,870 | $552,607 | $0.06 | 2% | 3% |
| Other Investments | $17,062,988 | $1,849,073 | $1,849,073 | $0.19 | 6% | 11% |
| Investments Total | $41,710,220 | $18,362,943 | $16,846,680 | $1.75 | 58% | 97% |
| Cash and Equivalents | NA | $12,887,040 | $12,360,040 | $1.28 | 42% | 71% |
| Prepaid Expenses+Funds Held In Escrow | NA | $135,215 | $135,215 | $0.01 | 0% | 1% |
| Less Liabilities | NA | ($189,163) | ($189,163) | ($0.02) | -1% | -1% |
| Total | | $31,196,035 | $29,152,772 | $3.02 | 100% | 168% |
(all figures rounded)
Following the Jacobi/Munger sprit of "invert, always invert," I reviewed public information on the top five portfolio holdings to look for signs that would indicate a high probability that a venture capital investment is overly speculative and/or fraudulent. A large or complete write off of a venture capital investment is reasonable if it has many of the following characteristics:
Questionable revenue proposition or poor revenue trajectory.
Lack of identifiable paying customers.
Big ideas without formal science backing them up.
Lack of relevant industry and for executives and board members.
Lack of other legitimate venture capital firms providing financing and advice.
These are far from perfect measures, but they are useful because the valuation bar XRDC must step over is so low. A large additional writeoff is necessary to cause a loss of principal and the sale of the portfolio at anywhere close to the fair value in the financial statements would result in an exceptionally high IRR for investors.
The market cap of XRDC implies that its portfolio companies are highly speculative, lacking in revenue and headed for failure. However, the situation does not appear to be that dire. Metabolon has a strong growth trajectory and may be valued conservatively. Centrify has also been growing revenue rapidly since XRDC made its investment. SilkRoad and Zoosk have viable businesses and a history of growth, but have had recent difficulties.
Metabolon
Metabolon is a medical technology firm that tests how diseases and drugs impact the body. It develops analytical methods and software for bio marker discovery by using metabolomics, which is the scientific study of substances formed in or necessary for metabolism. Crossroads Capital (then BDCA Venture) was the lead investor in the Metabalon Series D Convertible Preferred Stock in August 2011. This investment currently accounts for 17% of XRDC's NAV, and is marked at a fair value of 133% of cost. XRDC owns between 5% and 25% of Metabolon's voting securities, so its listed as a "non-controlled affilaited investment" in the schedule of investments.
At the time of their confidential IPO filing in 2014, the Wall Street Journal reported Metabolon's annual revenue as approximately $25 million. From 2007-2011, Metabolon reported​ Metabolon's revenue growth of approximately 45% CAGR, albeit from an obviously low base. Glassdoor currently places their revenue between $25-50 million. Metabolomics can be valuable to pharmaceutical clients that are conducting R&D, by assisting them in identifying a targeted test group likely to produce results needed for FDA approval. This may result in approval for a smaller market, but this can often be expanded over time. The alternative is to conduct a test with a wide group of subjects, but risk failing to get approval at all. In other cases metabolomics can be used to determine treatment effectiveness for individual patients. Metabolon also recently signed a commercialization deal for its insulin resistance test . This deal will market its products in Europe, Latin America, and the Middle East, among other markets. Market Research​ estimates the global metabolomics market to be worth $545 million in 2014, with expected CAGR of 30% through 2019. Other major competitors in the metabolomics space include Danaher Corporation(NYSE:DHR), and Thermo Fisher Scientific. Tests used by Metablon and its competitors could be replicated, but would generally require someone with PHD and specialized lab experience.
Metabolon has raised over $80 million in ten financing rounds from 11 different investors. Other venture firms that have invested in Metabolon include Camden Partners , Seven Rosen Funds , and The Aurora Funds. Harris and Harris Co(NASDAQ:TINY), also invested in this same fundraising round as XRDC, and as of the most recent quarter has the same security in Metabolon marked at 29 % higher than XRDC. Although there its possible that TINY is simply too aggressive in its estimate of fair value for Metabolon, this reference point indicates that XRDC may be conservative in its estimation of fair value. Marking Metabolon the same way as TINY would add 5% to XRDC's NAV(about $0.16 per share).
The following chart shows how the valuations of the same security changed for the two different BDCs. XRDC appears to have become more conservative starting in 2016, when new management took over the valuation process.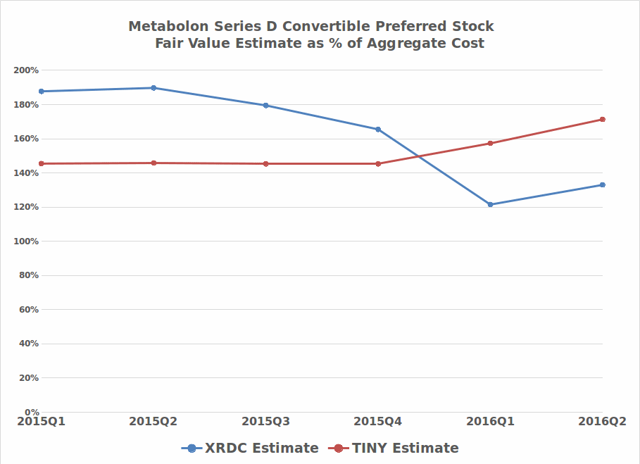 Following the Series D round, Metabolon completed financing rounds in December 2013​, March 2015​ and August 2016​. Each of these subsequent financing rounds was reported to be at a higher valuation than the previous round, although specific valuations were not disclosed. The most recent fundraising, led by Essex Woodlands, occurred subsequent to the 10-Q date, and therefore any valuation implications are not reflected in the most recently reported valuation on XRDC's balance sheet.
Metabolon's board of directors has at least two people with M.D. Degrees, and one with a PHD, as well as several venture capitalists. A review of employee profiles reveals a plethora of advanced degrees. According to the website, 40 members of the staff have PHDs, and they have published over 550 peer reviewed articles in professional journals.
Given the strong value proposition, recent business and financing trends, Metabolon appears to have a high probability of leading to a successful exit for XRDC.
SilkRoad, Inc.
SilkRoad, Inc. is an HR software company that in total accounted for 12.21% of XRDC's NAV as of 2015Q2, including securities in the table shown below:
| | | | |
| --- | --- | --- | --- |
| SilkRoad, Inc. | Cost | Fair Value as of 2015 Q2 | % of 2015Q2 NAV |
| Series D-1 Convertible Preferred Stock | $1,337,785 | $3,255,000 | 10.43% |
| Series D-2 Convertible Preferred Stock | $5,000,000 | $105,000 | 0.34% |
| Series D-1 Convertible Preferred Stock Warrants Exercise price $0.2823 per share; expire 6/30/2018 (subject to adjustment) | | $450,000 | 1.44% |
| Total SilkRoad, Inc. | $6,337,785 | $3,810,000 | 12.21% |
XRDC owns several different preferred securities and warrants in SilkRoad, Inc. XRDC received the Series D-2 convertible preferred stock as the result of conversion of its bridge loan and Series C investment. In aggregate, XRDC's investment in SilkRoad is marked at a fair value of 60% of cost. Series D-2 preferred stock has been written down substantially, but the Series D-1 is still above cost. This likely reflects both XRDC's cost basis in a complex transaction that led to the conversion to D-2 securities, and the differences in the rights/protections between the D-1 and D-2 convertible preferred stock. I confirmed with management that this seeming discrepancy is not a typo, but management was not able to discuss further details of SilkRoad's valuation. XRDC owns less than 5% of the voting securities in SilkRoad.
SilkRoad generates over $50 million​ in annual revenue. Notable clients include​ Accenture(NYSE:ACN), International Paper(NYSE:IP), Starbucks(NASDAQ:SBUX), and Toro(NYSE:TTC). The revenue opportunity for SilkRoad's products and services is expected by some analysts to grow rapidly in the coming years. That doesn't necessarily mean that SilkRoad will be the one to profit. SilkRoad needs to compete with much larger companies such as IBM(NYSE:IBM), Oracle(NASDAQ:ORCL), and SAP(NYSE:SAP), who all offer services that compete with. Other niche competitors include OnDemand, Taleo, and SuccessFactors. SilkRoad has reported significant international expansion, but I was unable to confirm if income has also been growing.
SilkRoad has raised $192 million in 7 rounds from 8 investors​. Other notable venture capital firms that have invested in SilkRoad include, Intel Capital (the venture capital arm of Intel Corporation (NASDAQ:INTC)), Foundation Capital, and Azure Capital. Horizon Technology(NASDAQ:HRZN) provided a $7.5 million term loan in SilkRoad in 2015. As of the most recent quarter, Horizon Technology has its debt investment in SilkRoad marked at cost.
It is likely that SilkRoad will be sold at a discount to its original investment cost for XRDC. However, its business appears viable enough that a complete writeoff is also unlikely.
Zoosk
XRDC purchased convertible preferred stock in online dating site Zoosk in the Series E round in 2012. XRDC owns less than 5% of the voting securities in Zoosk. This investment accounted for about 9% of XRDC's NAV at the end of 2015Q2, and the most recent fair value is approximately 96% of cost.
At the time of its aborted IPO in 2014​, Zoosk had 27 million users of which 750,000 were paying members. Annual revenue was on track to be $200 million and was growing rapidly but was still generating operating loss. The Zoosk currently represents that it is the number one grossing dating app on the IPhone App Store, and is in the top 20 overall for all apps. On Amazon, Zoosk has 518 reviews with an average rating of 2.5 stars. By comparison, Tinder has 760 reviews with an average rating of 3 stars. The market for online dating is highly fragmented, with many niche sites based on religion, occupation, and hobbies. There are few barriers to entry in the online dating business. Anyone with programming skills could create an app that can potentially disrupt the market. However, network effects do help support incumbents such as Zoosk, Tinder, Match.com, etc. Its unlikely that the paying members will suddenly disappear overnight.
Zoosk has raised $61 million in 6 rounds from 7 investors. Other notable firms that have invested in Zoosk include Bessemer Venture Partners, and Cannaan Partners. Pine River Capital also reported an investment in the common shares of Zoosk on its form 13-F . As common shares, they likely do not have liquidation preference. Changes in Pine River's reported valuation of Zoosk Common Shares have been directionally similar to XRDC's valuation, although the securities aren't strictly comparable.
XRDC may end up exiting the Zoosk investment with a partial loss, but it is not likely to be a complete writeoff.
Centrify
XRDC invested in Series E Convertible Preferred Stock in Centrify Corporation, an identity management software company in May 2014. This investment accounts for approximately 8% of NAV, and is currently marked at 90% of the initial cost. XRDC owns less than 5% of the voting securities in Centrify. In August 2016, Inc. Magazine reported that Centrify had 3 year revenue growth of 77%. Centrify has been on the Inc. list of 5000 fastest growing private companies for three years in a row.
Centrify has annual revenue of $64.9 million, and a total of 5000 clients, including​ half of the companies in the Fortune 50, four of the top ten financial institutions, and 85 federal agencies. Okta Platform, Bitium, Microsoft(NASDAQ:MSFT), and IBM(IBM) all offer similar products in the highly competitive market​.
Centrify has raised ​$94 million in 5 rounds from 10 investors. Other notable investors in Centrify include Samsung Ventures(the venture capital arm of Samsung Electronics), Accel Partners, Mayfield Fund, and DoCoMo Capital. Accel Partners and Mayfield Fund both have representatives on the board of directors.
Rapid revenue growth in a competitive market does not guarantee that Centrify is earning a good return on capital invested, but it indicates Centrify has a viable business with significant potential.
Conserving Cash
Since the Bulldog Investors took over starting in 2015Q4, costs of operations have declined sharply. By getting rid of the BDC designation, and potentially converting to a liquidating trust, costs will be reduced further.
Operating costs were $621,912($2.5 million annualized) in 2016Q1, and $431,1919($1.7 million annualized) in 2016Q2. In contrast, Management estimates that the annual cost of operating the liquidating trust will be between $650,000, and $750,000. Based on these estimates it will cost 5%-6% of XRDC's current cash, or 2.1%-2.4% of XRDC's current NAV per year to operate during the liquidation.
The CEO of XRDC, Ben Harris, has been purchasing stock, and has a long history of working with the Phillip Goldstein, the manager of Bulldog Investors, which is the largest XRDC shareholder. Harris is on the board of Special Opportunities Fund (NYSE:SPE), which is advised by Bulldog Investors. Goldstein has a notorious, sometimes hilarious reputation for frugality. It is extremely unlikely that there will be unnecessary spending of cash at XRDC. Its worth noting that Harris has experience with successful wind downs of equity focused BDCs. Brantley Capital is an example of a BDC with an arguably messier backstory , where XRDC's current CEO had previously worked to successfully sell off parts of the portfolio and make distributions to shareholders.
Unlocking Value
XRDC's management is explicitly and exclusively focused on monetizing the portfolio holdings as soon as reasonably possible. Liquidation is a good potential choice. Pending SEC approval and shareholder vote, XRDC has a plan to convert to a liquidating trust. A large cash distribution, likely comprising most of the current market cap will be made upon conversion. The only cash left behind will be the amount necessary to fund reinvestment in some portfolio companies(if management determines this to be prudent), and operate the liquidating trust. Some of the investments may be placed into a liquidation corporation held by the trust to facilitate reinvestment losing without status as a grantor trust. The liquidating trust will hold up to 80% of the liquidation corporation, and will sell the remaining 20% interest to an external party. The liquidating trust has a term of 3 years, but could be extended if necessary. Upon conversion, the tax consequence will generally be a gain or loss equal to the difference between the value of the assets transferred, and an investors cost basis in the stock, individual investor circumstances may vary(this is not tax advice). The more conservatively NAV is marked going into liquidation, the higher the after tax return for investors. Beneficial interests in the liquidating trust will be non-transferable.
Although the liquidation of investments may take 3 years or more, most of the cash will be distributed shortly upon conversion to liquidating trust. This is favorable from an IRR standpoint, although estimating exact timing is overly speculative.
While the liquidation documents are pending with the SEC, management is pursuing additional options. Setter Capital began looking for buyers of the portfolio investments in early September. Venture capital firms may purchase interests from existing firms when they are entering or adding to an existing portfolio investment. For example, a press release for Essex Woodland's investment in Metabolon also noted that which it may buy additional shares off of Metabolon's other investors. If approached by a buyer offering reasonable prices, XRDC may sell the portfolio without converting to a liquidating trust.
A review of the amount of cash distributions in liquidation under several extremely conservative scenarios shows how low the market's expectations are:
% of Investments Realized
40%
60%
80%
% of Current Cash
95%
$1.91
$2.26
$2.61
90%
$1.85
$2.20
$2.55
85%
$1.79
$2.14
$2.49
80%
$1.72
$2.07
$2.42
A near term sale of the portfolio anywhere close to fair value would result in substantial upside for investors. An additional writedown of 60%, and accelerated cash burn would be necessary to cause a loss. One could attach a wide range of estimated probabilities to these scenarios(along with the timing) as they see fit.
There may be additional opportunity to buy as XRDC comes closer to converting to a non-transferable beneficial interest. Another recent liquidation play, Winthrop Realty Trust (NYSE:FUR) did not sell off much in the weeks prior to its conversion to a liquidating trust recently, but that liquidation of property was more straightforward than the liquidation of stock in venture capital investments.
XRDC is statistically cheap, but the portfolio innards are messy. There have been significant writeoffs of investments, and there will likely be more in the future. The timing uncertainty is nearly as great as the valuation uncertainty. However at least two of the largest portfolio companies are growing rapidly, and one may be valued conservatively. As XRDC trades closer to its net cash value, I will be looking to add more shares.