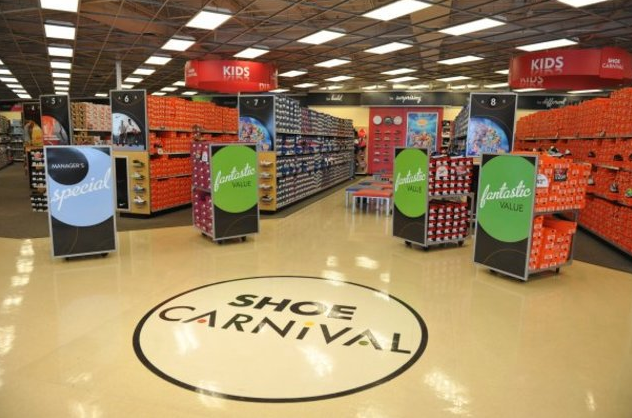 Shoe Carnival (NASDAQ:SCVL) has been on a tear of late, bucking the trend of poorly performing retail stocks that has dominated the sector in 2016. The company's off-price footwear strategy seems to be resonating with consumers in the same way that other players like TJX (NYSE:TJX) and Ross Stores (NASDAQ:ROST) have experienced success, although certainly not to the same degree. At any rate, the stock had all kinds of momentum heading into the Q2 report, although once investors got a taste of the results, the stock was down meaningfully. I've been very cautious on SCVL in the past, including back in June when I looked at the company's margins and was less than impressed. But down double digits off of earnings, is SCVL on sale enough for new buyers?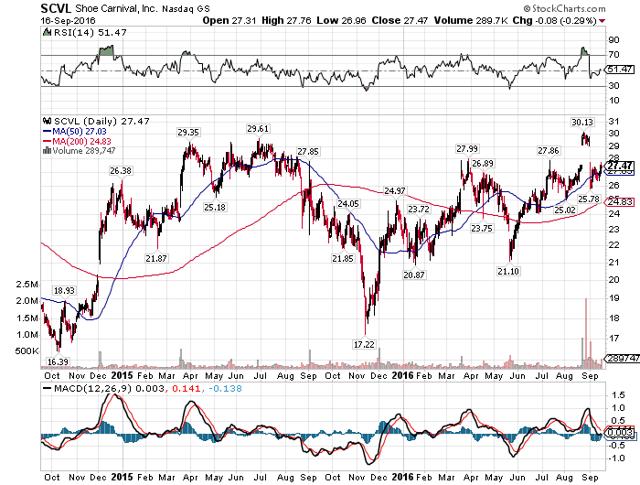 SCVL produced 2% growth on the top line in Q2 as this company is already significantly sized, and thus, isn't going to experience blistering growth due to footprint expansion. Its more important avenue of growth is comp sales and in Q2, SCVL disappointed. Its comp was just +0.5% in Q2, a number that apparently wasn't quite what investors were looking for. And given the huge rally heading into the report, with shares topping $30, a tepid comp number certainly would not have been good enough.
On top of that, my concerns about margins continue to be well founded. Gross margins were down 10 bps to just 29% in Q2 as 30 bps' worth of leverage on buying and distribution costs were more than wiped out by 40 bps' worth of merchandise margin losses. This company has terrible margins in good times and the fact that it managed to produce higher sales with a higher comp and still see 40 bps' worth of merchandise margin deleveraging is not a good sign. A retailer with 29% gross margins is already skating on thin ice so for SCVL to continue to cede more is not a good omen.
We see the same thing with SG&A costs as those rose 60 bps during the quarter to 26.1% of sales. This is something that SCVL simply cannot afford as its margins are already thin but are getting thinner. The fall in gross margins and the deleveraging of SG&A costs conspired to send operating margins from just 3.46% in last year's Q2 to a razor-thin 2.87% in this year's Q2. That is a level of operating margin that is bordering on dangerous as a rough patch in sales could see SCVL producing negative operating margins. It isn't like SCVL is going out of business or is at risk of producing full-year losses but in the context of its valuation, this kind of performance simply isn't good enough.
SCVL's multiple on this year's earnings is down to 17.1 after the selloff from the earnings report and the selloff was certainly justified. I've lamented in the past that investors have been seemingly blindly bidding this stock up without respect to the fact that it is struggling in a couple of very important ways. And while 17 times earnings isn't a particularly high multiple, it isn't cheap either. And let us not forget that this company has extremely low margins that are getting worse, not better, and that its revenue growth is marginal at best.
SCVL has retired a robust 9.6% of the float in the past year but despite this terrific reduction in the float, SCVL still saw lower EPS in this year's second quarter. Such was the magnitude of decline in operating margins and this is my problem with SCVL; even with a nearly double digit reduction in the float its EPS came in lower than it did last year.
Overall, SCVL is a below average retailer with a slightly above average multiple. There are better retailers out there - particularly in the apparel space - with much lower multiples and prospects for decent operating margins. I'm really quite concerned about SCVL's ability to grow EPS because a nearly 10% reduction in the float wasn't even good enough for flat EPS Y/Y and it is because its sales growth is marginal at best and operating margins are terrible and getting worse. For me, the bias for SCVL is to the downside as I still don't think investors appreciate the mediocrity of this company's performance.
Disclosure: I/we have no positions in any stocks mentioned, and no plans to initiate any positions within the next 72 hours.
I wrote this article myself, and it expresses my own opinions. I am not receiving compensation for it (other than from Seeking Alpha). I have no business relationship with any company whose stock is mentioned in this article.