On Monday morning, Tesla (NASDAQ:TSLA) announced that there were four lawsuits filed by shareholders in relation to the proposed SolarCity (SCTY) merger. While the company believes these legal actions are without merit, the potential delay this causes to any deal could really hurt Elon Musk's vision for Tesla's future.
The merger was expected to be completed during the fourth quarter of this year, and we were supposed to get shareholder voting in the next month or so. Last week, the court mentioned in the link above scheduled an October 18th date for initial proceedings, and if these cases are not thrown out, it could be several months before any proceedings are finalized. Tesla has admitted that a delay in the merger could be possible thanks to these cases.
There are a couple of problems here if a delay should occur. First, we move closer to the point where many are expecting a Federal Reserve rate hike. Most think an increase will come in December, with a small chance of a hike this week. As you will see in the chart below, the US 10-Year rate has recently jumped, back to multi-month highs.

(Source: CNBC.com)
Rising rates are a problem for both Tesla and SolarCity, who rely heavily on both the debt and equity markets for capital. Just last week, I showed how SolarCity pointed out how even 50 basis points in cost of capital can cut future payments by hundreds of millions of dollars. SolarCity is already having trouble raising traditional capital at well above market rates, so a rate hike could mean even higher interest rates and expenses or even a debt market that's completely closed to the company.
The longer these legal proceedings drag on, the more Tesla and SolarCity are likely to need capital, and Tesla may need to raise funds to provide a bridge loan to SolarCity. Don't forget that since the merger agreement, Tesla shares have lost more than 12% and SolarCity are down 36%, so raising funds from equity would be a lot more dilutive than previously anticipated.
The other issue here is the importance of 2017 for Tesla. Elon Musk wanted to get this merger done this year so integration could be mostly or all of the way completed early next year. That way focus can shift to the Model 3's production start and eventual launch. If these lawsuits delay a potential merger into 2017, it could shift Elon and Tesla's focus away from the Model 3 launch, something that investors do not want to see. Elon has already had multiple Tesla announcement delays this year due to problems at SpaceX, so just imagine what happens if he loses even more focus.
The delay of the potential SolarCity-Tesla merger has shares of the solar name now trading at their biggest discount to the proposed deal rate since the agreement in August. As seen in the chart below, SolarCity shares now go for just 0.0836 times what Tesla shares go for, despite a proposed exchange ratio of 0.11 shares. That equals a $5.43 discount for SolarCity shares to where they should be, as the market is pricing in more risk in this deal given Monday's news about lawsuits against the potential merger. Any delays are bad news for SolarCity, especially if it needs more capital, and it could push Elon's and Tesla's focus away from the Model 3 next year if this legal process drags on too long.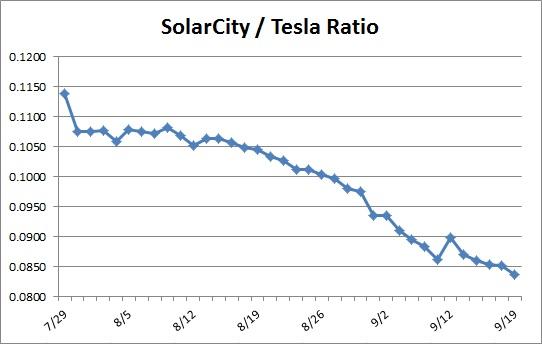 Disclosure: I/we have no positions in any stocks mentioned, and no plans to initiate any positions within the next 72 hours.
I wrote this article myself, and it expresses my own opinions. I am not receiving compensation for it (other than from Seeking Alpha). I have no business relationship with any company whose stock is mentioned in this article.
Additional disclosure: Investors are always reminded that before making any investment, you should do your own proper due diligence on any name directly or indirectly mentioned in this article. Investors should also consider seeking advice from a broker or financial adviser before making any investment decisions. Any material in this article should be considered general information, and not relied on as a formal investment recommendation.