Investors were relieved that Bonanza Creek Energy, Inc. (NYSE: BCEI) paid its interest payment in late Aug. after using the 30-day grace period for the interest payment that was due Aug. 1. There are a number of issues that will come to head in November: an interest payment (assuming it uses the 30-day period on interest due Oct. 15), redetermination of its borrowing base, and deficiency payments under another purchase/transportation contract. The price of oil needs to increase above the current $43 bbl WTI for Bonanza Creek to avoid filing for Ch. 11 bankruptcy late this year. The company already would be in bankruptcy if it had not raised $200 million in Feb. 2015 from a stock offer.
Why Some Investors Expected Bankruptcy in August
*The company used the 30-day grace period on an interest payment due Aug. 1. The price of WTI dropped to almost $40 at the end of July from around $50 at the beginning of the month. Price improved during the month and the interest payment was made near the end of the 30-day period.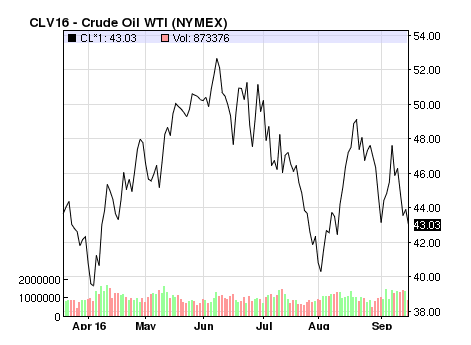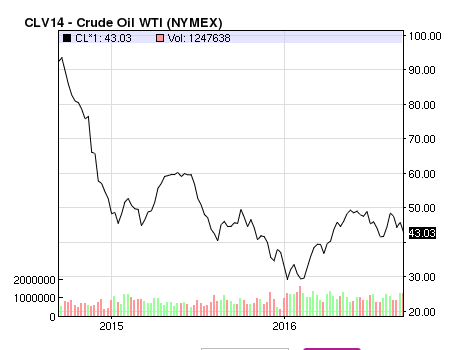 *S&P cut its debt rating to D after the company elected to use the 30-day grace period. After paying the interest, it is now rated CC.
*The Chief Operating Officer Anthony Buchanon left Aug. 2 and the CFO William Cassidy left March 31.
*It drew down its revolver and after the May redetermination, which reduced the amount from $475 million to $200 million, it had a deficiency of $73 million as of June 30. This deficiency is being paid down in six monthly installments of $14.7 million. The revolving agreement is up for redetermination again in Oct.-Nov. and the company stated in its latest 10-Q, "Due to continued low commodity prices, cessation of the Company's drilling program, commodity price related reserve write-downs and higher regulatory scrutiny on reserve based lending, we currently expect our borrowing base to be further reduced during our fall redetermination process."
*Losses were reported in 2015 of $746 million and continued into the first half of 2016 with a $96.7 million loss.
*The company has two purchase/transportation contracts that are most likely going to require deficiency payments because it is not going to produce enough oil to meet the terms of the contracts. One is expected to require payments this month and total $2.3 million for this year. These payments could total $44.8 million through April 2020. The other contract payments start later this year after the pipeline is finished. Under this contract, deficiency payments are expected to be $4.8 million this year and could total an additional $196.4 million thru 2023. These contract liability payments could be discharged in bankruptcy under the bench decision (docket 872) for the bankruptcy case of Sabine Oil & Gas Corp. (OTCPK:SOGCQ).
*Current management only owns a small amount of stock, 232k shares - not including options. Therefore, management may not have the incentive to protect shareholders and would instead try to get a lucrative incentive pay deal under a re-organization plan.
*Management stated that it was no longer trying to sell assets. It tried to sell Rocky Mountain Infrastructure plus all Mid-Continent assets for $255 million, but the deal did not close.
*CAPEX has been drastically cut to almost nothing and drilling has been stopped. The second quarter 10-Q stated that CAPEX for the remainder of the year would only be $7.5-17.5 million, which is not enough to maintain production levels. Production was already down 17% in second quarter YOY.
*The clearest statement about a potential bankruptcy is from its second quarter 10-Q:
The Company's ability to comply, in subsequent reporting periods, as early as the third quarter of 2016, with financial covenants and ratios in its revolving credit facility and indentures has been affected by continued low commodity prices. Absent a waiver, amendment or forbearance agreement, failure to meet these covenants and ratios would result in an Event of Default (as defined in the revolving credit agreement) and, to the extent the applicable lenders so elect, an acceleration of the Company's existing indebtedness, causing such debt of approximately $273.3 million, as of June 30, 2016, to be immediately due and payable. While the Company is currently in compliance, based on the Company's estimates and expectations for commodity prices in 2016, the Company does not expect to remain in compliance with all of the restrictive covenants contained in its revolving credit facility throughout 2016 unless those requirements are waived or amended. The Company does not currently have adequate liquidity to repay all of its outstanding debt in full if such debt were accelerated
The revolving credit agreement has covenants that require a 2.5x EBITDAQ interest coverage, a maximum 2.5x senior debt to EBITDAQ, and 1x current ratio.
Outlook
I bought BCEI stock near the end of the 30-day grace period as a multiple option. First, a binary option-pay or no pay interest. Second, an approximately three month out- of-the-money call option on oil. Third, a perpetual way out-of-the-money call option on oil. The first part was successful and now I am waiting for the other two parts to become profitable.
The U.S. Energy Information Administration on Sept. 7 released this table:

Natural gas

The forecasted prices for the next six months may be too low to keep BCEI out of bankruptcy. So far this quarter the WTI prices have averaged $44.66 (July $44.65, Aug. $44.72, and Sept. to 16th $44.60) this is slightly lower than $46.55 in third quarter 2015. The average actual price received for the crude oil was $7.25 less than the average WTI spot price in second quarter 2016 and $7.68 less in third quarter 2015 because location, grade, transportation, gravity, and Btu content. Since production is mostly likely going to be 15-20% less in the third quarter YOY, earnings will most likely be significantly lower.
There are two problems here: prices are still too low and production is declining because of low CAPEX (currently no new drilling). In order to get cash flow to finance new wells, prices need to increase or BCEI gets additional capital, which is extremely unlikely. If the redetermination by the banks in a few weeks results in a lower revolving loan base and therefore, additional future deficiency payments, there will be even less money available for any CAPEX. In addition, payments will have to be made under purchase/transportation agreements because it just does not have the production to meet the terms of the contracts. Since capital will most likely not become available, prices become the key to staying out of bankruptcy court. The questions is: will the rig count stay low enough for prices to rise?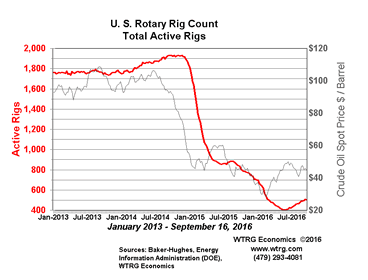 The average sales price for crude oil equivalent in the second quarter was $25.78 and the average cost per Boe was $34.64. Subtracting out the non-cash items (depreciation/depletion $14.62 and impairment/abandonment $4.67) equals a positive cash flow per Boe of $10.43.

Unsecured Notes Valuation
There are two unsecured note issues, $500 million 6.75% maturing 4/15/2021 and $300 million 5.75% maturing 2/01/2023. As of June 30, there was a $273 revolving debt issue. Subtracting the cash of $170 million gives you a net debt of $903 million. Assuming that EBITDA is 4x the second quarter's $22 million or $88 million, the valuation for BCEI is between $616-$440 million using multiples of 7x and 5x. Further assuming that the revolver debt is fully paid ($273 million minus $170 million cash; minus $103 million), the noteholders would have $513 million to $337 million in possible recovery under a bankruptcy plan. With a total of $800 million in unsecured debt, that works out to be $640 to $420 per note. This compares to current prices of about $46 ($460).
Conclusion
Because management owns only a small amount of stock, it may not have a strong incentive to keep out of Ch. 11. There is the incentive to file for bankruptcy so that the company avoids paying purchase/transportation deficiency payments. If it does file, I would expect that current revolving debt holders might agree to be paid a certain amount of cash and the remainder of its claim be made via an exit credit facility and I would not expect it to make a credit bid for the assets. In addition, I would expect the noteholders would receive equity in a new company. I would not expect any recovery for shareholders under re-organization plan unless oil prices rise sharply while BCEI is in Ch. 11. Before it files, I would expect it to use the 30-day grace period on the interest payment due Oct. 15.
It may need to get waivers on covenants under its revolving credit agreement. After its third quarter report is released in November and assuming it is not in compliance with loan agreements, there is a process that is followed before it is forced in bankruptcy, but usually a company files voluntarily. Assuming management is aggressively trying to avoid bankruptcy, it most likely is already negotiating the waiver terms.
Oil prices need to rise quickly to avoid bankruptcy. There is no "magic" WTI price, but I would estimate very high $40s. If an investor expects oil to quickly increase to upper $40s, buy the common stock otherwise sell. The two note issues are buy. Even under bankruptcy, the notes could receive recovery greater than the current prices (not factoring in the time value of money invested).
Disclosure: I am/we are long BCEI.
I wrote this article myself, and it expresses my own opinions. I am not receiving compensation for it (other than from Seeking Alpha). I have no business relationship with any company whose stock is mentioned in this article.
Editor's Note: This article covers one or more stocks trading at less than $1 per share and/or with less than a $100 million market cap. Please be aware of the risks associated with these stocks.