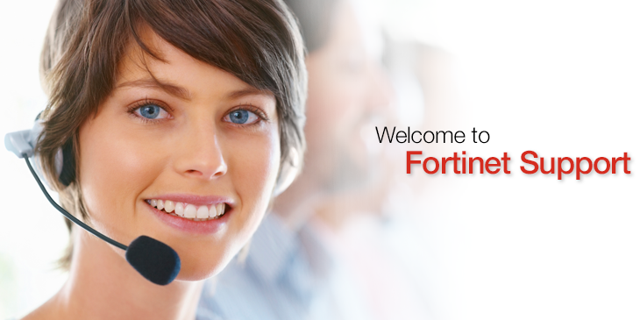 Fortinet's (NASDAQ:FTNT) former CMO, Holly Rollo, departed early this year. Rollo's stint was cut short in a twist that did little to solve the nagging issue that investors keep raising. Can we trust Fortinet to sustain its potentials in a competitive cyber security industry with less than 10% market share?
This issue is critical given that Fortinet is slightly undervalued over a series of fundamental metrics which I will highlight in the latter part of this article.
Before we get to valuation, let us delve into Fortinet's marketing woes.
Fortinet's marketing issues
21st century marketing involves heavy use of online media to appeal to a targeted category of audience.
The last time I was on its competitors' sites in search of product descriptions, I had the remarketing ads of FireEye (NASDAQ:FEYE), Palo Alto (NYSE:PANW) and Checkpoint (NASDAQ:CHKP) all over my browsing foray. I never saw a Fortinet banner advertisement.
Out of my checklist of fundamental criteria a solid business has to possess, the only box yet to be ticked is market share and the potential to grow it.
Given that Fortinet's model is a B-2-B, we can justify the claim or reason Fortinet has not been spending too much on online marketing.
Fortinet's problem started when Palo Alto surpassed it in SG&A expense. It was at that inflection point that it became clear Fortinet might be losing the battle for market dominance in firewalls.
Looking at the graph below, Palo Alto surpassed Fortinet in SG&A spend in 4Q 2012.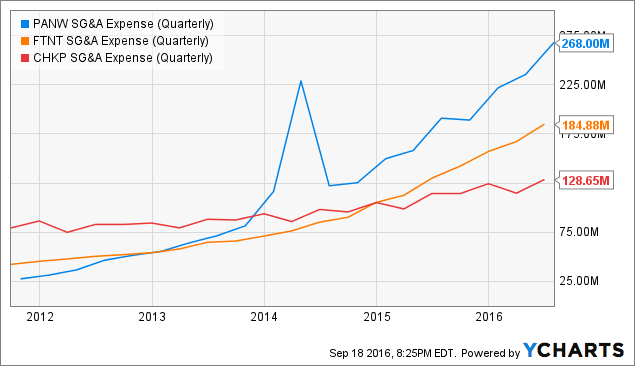 PANW SG&A Expense (Quarterly) data by YCharts
Months later, Palo Alto's revenue started rising faster than both Checkpoint's and Fortinet's. This demonstrated the effectiveness of PANW's marketing efforts as revenue witnessed massive surge years later.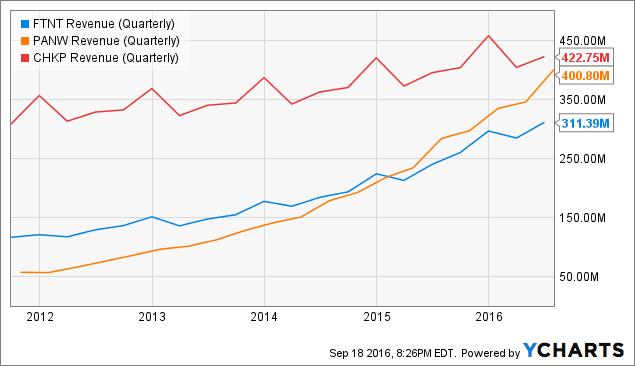 FTNT Revenue (Quarterly) data by YCharts
In terms of yearly revenue, Fortinet is still gaining market share. However, it is not as fast as those of its competitors. Cisco (NASDAQ:CSCO) and Palo Alto are far ahead in that regards. Could the problem be those NSS certifications?
The NSS marketing strategy
Fortinet has focused on the NSS certification as a marketing solution to sell its firewalls. In the latest NSS benchmark, Fortinet firewalls had the highest performance rating. Gartner further confirmed this by positioning Fortinet as a market leader in the magic quadrant for UTM. However, when you look at both the NSS chart and the Gartner quadrant, you will find out both have competitors closing the gap on Fortinet.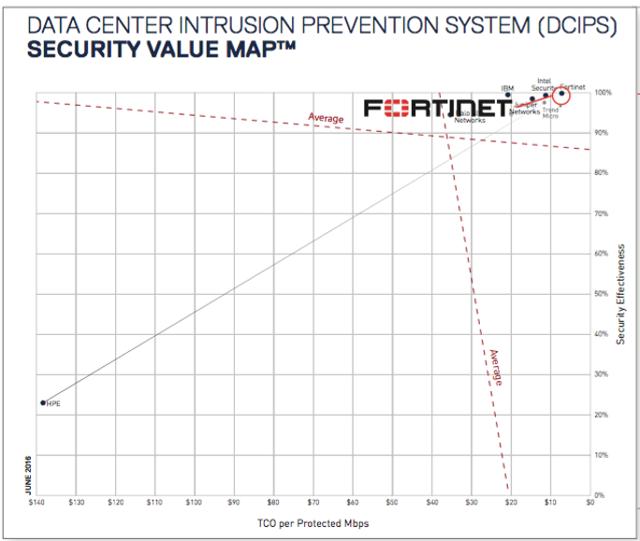 Source: Fortinet
Having been criticized in the past for not spending enough on SG&A, Fortinet ramped up its marketing budget. Regardless, both Palo Alto and Checkpoint are still spending more on research and marketing compared to Fortinet.
Checkpoint has been able to sustain its high margins due to the low cost of operations in Israel, where it is based. An SA reader made this clear in a recent article by Bert Hochfield when he stressed the fact that Checkpoint engineers made a whole lot less compared to their counterparts at Palo Alto. He said:
I totally agree with Napoleon that "God is on the side of the big battalions." Per latest company's SEC filings Check Point has 1303 R&D employees vs. Palo Alto who reported 558 employees in R&D for the same period. This is more than double!!! The only difference is that Check Point R&D is located in Israel vs. PAN located in San Francisco where the average salary is higher.
Fortinet stands in-between, given that 47% of sales still come from America where talent is expensive. However, Fortinet has the potential of keeping its cost down in other regions.
I project more cost savings to be realized in both R&D and marketing in the regions outside the US (EMEA and APAC) due to Fortinet's global expansion.
Valuation
In the last conference call, Fortinet highlighted three unique capabilities for it to upsell and build a competitive moat for itself:
Internal Segmentation firewall
Fortinet has seen huge demands for its internal segmentation firewalls. Given the growing complexity of networks, I expect demand for the ISFs to continue to add 100-200 basis point in revenue growth over the next 5 years.
High-performance firewalls
Fortinet's firewalls have the highest performance, according to NSS Labs. I expect this to be a unique selling point for Fortinet as it grows its market share in the high-performance firewall niche. I see it beating Palo Alto in deals where customers want high-performance firewalls at a lower cost. Given that Palo Alto has invested so much in R&D and marketing, starting a pricing war will be highly unlikely. However, Checkpoint and Cisco have been rumored to reduce the price point of some of their product offerings to retain customers.
Cloud security & Security fabric
The security fabric architecture will provide more areas to upsell via its compatibility with third party products. Integration will no longer be a reason not to close deals and I project Fortinet selling more subscription due to the simplicity of configuring firewalls using the security fabric.
It will also help Fortinet to integrate its security solutions to a cloud platform, which has been projected to offer more potential to grow, compared to hardware appliances.
Lower P/S compared to competitors
Security firms have sold for a premium of 10X revenue. Some notable deals in recent years, which are the acquisition of Mandiant (by FireEye), Bluecoat (by Symantec (NASDAQ:SYMC)), and Sourcefire (by Cisco) have been made at a price of 6X-12X trailing sales. Fortinet currently trades at a P/S of 5.44.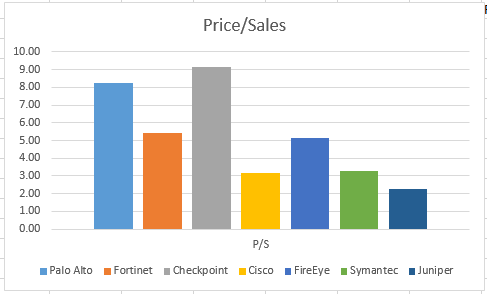 Source: MarketWatch
Given that Fortinet is a near market leader in the largest security segment with no debt, I doubt it will sell at less than 10X revenue. This initiates the case for the undervaluation of Fortinet.
Implication of current marketing posture
Due to the price war, which was created by Cisco and Checkpoint in a radical effort to protect their market share, I project Fortinet to continue to spend more on SG&A to win new customers in greenfield channels. I explained this channel innovation in my previous article on Palo Alto as customers who are not too small to be called SMBs and are simultaneously not too large to afford high premium firewalls.
Assuming Fortinet grows margin at a steady rate over the next five years, then projecting a CAGR of 25% in revenue until 2020, will make the stock currently undervalued.
However, a CAGR of 25% is an overkill. The network and security appliance market is projected to grow at a 12% CAGR until 2019, according to a Gartner research. This segment accounted for roughly 90% of Fortinet's revenue using data from IDC. I also assume OPEX grows steadily with revenue due to Fortinet trying to protect its market share.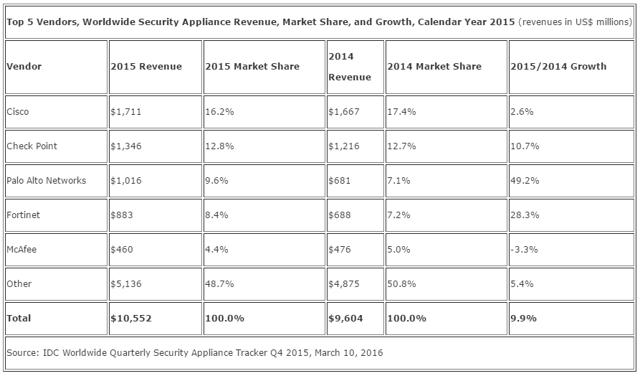 Source: IDC
Since Gartner has projected the network security and appliance market to grow at a CAGR of 12% until 2019, this gives a market size of $17.34 billion by 2020. A revenue of $2 billion projected for Fortinet by 2020 gives a market share of 11.5%. I consider this revenue conservative since it excludes sales of sandboxes (Fortisandbox), FortiWiFi (NASDAQ:MERU), Forti-DDOS protection, email gateway, and cloud security.

Source: Kayode Omotosho using data from MarketWatch
Using a DCF model, I assumed a discount rate of 12%. That is 200 basis points above the industry average of 10% to soften risk of overvaluation. Assuming a terminal value of 8X P/S, which is a discount to the 10X P/S large security companies are acquired for, this gives an intrinsic value of $39 to $48 (using the Gordon growth model).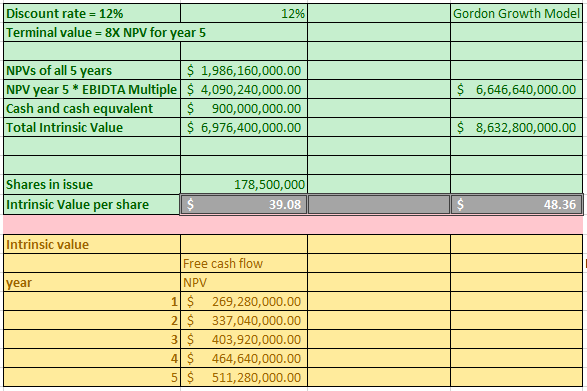 Source: Kayode Omotosho
Investor takeaway
Investors who are confident in Fortinet's ability to maintain its current market share while growing revenue at a reasonable percentage of the projected growth rate should consider investing in Fortinet as it is currently underpriced with ample room for growth.
In the latest earnings report, Fortinet was the network security appliance market leader based on units shipped. I project it to continue this market dominance while capturing more value for investors via its unique innovations and product offerings.
Disclosure: I/we have no positions in any stocks mentioned, and no plans to initiate any positions within the next 72 hours.
I wrote this article myself, and it expresses my own opinions. I am not receiving compensation for it (other than from Seeking Alpha). I have no business relationship with any company whose stock is mentioned in this article.