GoPro (NASDAQ:GPRO) held an event in Lake Tahoe, California to officially launch its Karma drone. Investors have been waiting a long time on the proverbial tarmac waiting for takeoff for over a year.
When the drone launch was postponed earlier this year, CEO Nick Woodman promised investors the wait would be worth it. After a dismal GoPro Session launch last year, the company had to get this launch right. Then Woodman teased that Karma needed more time since it was "more than a drone."
Recently video teasers of the drone began surfacing that were quite impressive. The first teased the drone's low profile as a Volkswagen van passed over top. The next showcased the drone's quietness and tight maneuvers in a library. The last video showcased the drone's speed on a mountain bike trail in Washington state.
Travis Hoium over at the Motley Fool wrote a great article pointing out that the hype from the video teasers created an interesting scenario for GoPro. Either the drone could live up to what they were teasing and it would be a truly impressive product, or the videos were just "smoke and mirrors" that were going to leave investors with a sour taste.
In a sense, GoPro has become a company with a binary outcome. Either the company nails its next cycle of products -- of which Karma is a huge part -- or the company disappoints and will continue to lose significant ground.
You see, GoPro's stock is about the cheapest it has ever been. Even when you consider that GoPro has nearly doubled since May, it's still down over 80% from all-time highs and down around 35% from its IPO price. But I'm not just talking price per share, I'm also saying GoPro is cheap on a metric basis. Consider Apple. Apple trades at 2.79 times sales. GoPro trades at only 1.74 times sales. That's 38% cheaper when just looking at the sales metric. But there's a BIG key difference. Apple is growing revenue and is profitable. GoPro is not...at least not anymore.
That doesn't mean it was always this way. In fact GoPro grew full year revenue 29% in 2014 and 14% in 2015, and notched profits both of those years. However revenue has fallen sharply as the company failed to refresh its product lineup, and profits have turned negative for three straight quarters.
Therefore, the market is betting against GoPro at this point. Current pricing reflects a sentiment that it can't regain the revenue growth and profitability it once had.
Yet if GoPro had become an investment with a binary outcome, I believe that today's event showcases a win for GoPro.
Welcome to the "Story Company"
Straight out the gate, Woodman said the goal for GoPro is to be a story company, helping its customers tell great stories. To do that, the company needed to become an "end-to-end" solution. This implies capturing, editing, and sharing. This launch event was more about showcasing this aspect than specifically the Karma drone.
Starting with the capture aspect of storytelling, Woodman unveiled the Hero5 camera. This camera has some key upgrades over the Hero4.
First, this camera can be voice controlled. This is key in considering GoPro's core customer base: the action sports crowd. This allows for more concentration on the sport, and less fumbling for the controls.
Next, this camera records in stereo with three microphones. To some, this might not seem like much, but the difference between recording in mono and stereo is night and day. For fun, cover one of your ears. Now say something out loud. See how that's echo-y and you can't really tell what direction the ambient noise is coming from? That's the difference between mono and stereo.
But what's the point of better microphones if you can't hear anyway when the Hero5 is in its plastic housing? Well, the days of putting your GoPro camera in a housing are officially over. Hero5 is waterproof without a housing.
Image stabilization pre-edit has also improved. The company showed an intense downhill mountain bike course at break-neck speeds to show just how smooth the footage can be.
Overall this is a significant upgrade. Yes, it still shoots in 4k resolution. Some may have wanted 8k. But honestly, there's not many websites that even support 4k videos -- let alone 8k. If most users are uploading videos to the web, it doesn't make sense to double the video resolution.
Another possible issue with this camera is the fact that, presumably, the camera's battery will now be sealed inside, since the entire camera is waterproof. No more having charged spare batteries on hand to swap out when your camera dies on the trail. This could be a limitation that some users won't accept. However, given the improvements this allows to the sound quality, it seems a worthy sacrifice.
The price is $399. You'll notice this is cheaper than in the past. More on that in a minute.
This was a surprise few saw coming. GoPro has upgraded its Session camera. And what an upgrade it was.
First off, this camera also has the voice activation features that the Hero5 has. Nick showed off his Spanish while demonstrating it to the crowd, which simultaneously showed off the voice controls ability to handle seven different major world languages.
But more importantly, this camera also now records in 4k resolution. It truly is a smaller simpler version of the Hero5, rather than the Hero's kid brother.
GoPro originally launched the first version of session at $499 to disastrous results, having to then drop and drop the price until it arrived at its current price of $199. This second version of Session is launching at $299. That's more than what people are currently paying for Session. The big question then is will this sell?
As the event continued, Woodman turned to showcasing the company's apps that make things quick and easy to edit. He used home videos of his sons as an example of how easy it is to edit videos right on your phone with the app.
Perhaps some were excited about these app solutions. And they do in fact look simple. But my attention at this time began drifting towards something that was continually plugged throughout the event: GoPro Plus.
GoPro Plus is GoPro's cloud storage solution, that seems more automated than ever. Whenever you plug in your Hero5 or Session camera to charge, they will automatically upload to the GoPro Plus cloud. Your phone app can quickly access clips from the cloud...more on this in a minute.
But finally, the drone
The last item showcased was the GoPro Karma drone. Rumors of a compact quadcopter were confirmed as Woodman lifted the sleek device from its carrying case. The props fold into the device, and the landing gear also folds up and away.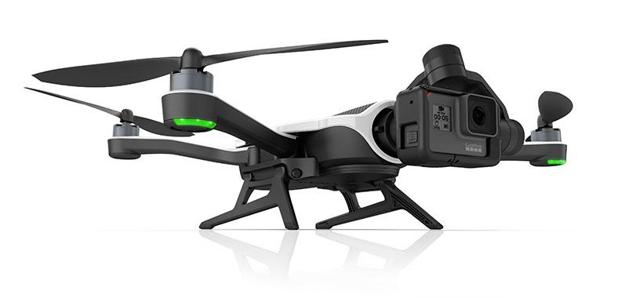 The rumor of an onboard camera were squelched. This drone can hook up to Hero4, Hero5, and the Session cameras. The placement of the camera is rather unique as it is placed way out in front of the device. This keeps the props out of the shot.
But here's where the drone gets a little unique. The camera easily detaches from the drone and attaches to a handheld gimbal. In this sense, GoPro is treating the drone as a sophisticated mount.
The gimbal is also unique as it has camera controls in the shaft near the hand. This allows you to adjust the camera settings from where your hand is, though I wonder how significant this feature is since the camera has voice control already.
The controller is a stand-alone unit. No need to bring your tablet or phone to hook up. The controller is complete out of the box with screen and controls. What I liked about GoPro's approach is that the software includes a flight simulator that both allows you to learn how to fly a drone (without risking your real drone) and also teaches you what all the drone can do. Very good move in marketing the drone to the masses.
The drone, controller, and gimbal come in a carrying backpack/case that looked to be approximately 1 foot wide by 2 foot long. Not exactly small...but not large in comparison with the competition. Company insiders talked about how lightweight the whole set-up was and how nobody would ever choose to leave Karma at home due to space constraints. That seems to be a little bit of glass-half-full talk.
Another downside is that there had been speculation from the Karma library teaser video that this drone would have noise cancellation technology that would allow the drone noise to completely disappear in videos. It was a pie-in-the-sky hope, but that would have truly been something light-years ahead of anything in the mass production drone market.
The price for just the drone is $799. The price with the top camera package is $1,099. Charles Anderson, an analyst with Dougherty, had recently suggested that GoPro was at risk struggling to sell its drone if the price was over $500. However, given the features the Karma drone has, I was expecting this drone to be priced even higher than $799.
This drone product is a play in an exciting segment poised for robust growth over the next few years. But GoPro is arriving a little late to the party. The main competition is DJI, which is already on its fourth version of its drone. During that time the company has time to learn and grow. If the Karma drone turns out to be clunky -- and many first generation products are -- then it is very possible people looking for a drone could go with a more refined DJI product.
The takeaways for investors
The first takeaway was that this was a very good launch event. Not only did GoPro launch Karma -- a device that had been kept well under wraps and could be a significant driver of revenue for the company -- it also completely refreshed its product lineup. So that's a complete refresh from top to bottom, for the first time in well over a year, and before the holiday shopping season. That bodes well.
Second, prices were lower than what I was expecting. GoPro is pretty clearly sacrificing top-tier pricing in order to drive sales. Some may feel GoPro is still a lot of money, and I'm not suggesting its products are inexpensive. But these are also professional quality products at slightly higher than consumer level product pricing.
Unless GoPro has found ways to cut costs, it's possible that profit margins could fall with this product lineup. Why would the company do that? The company is driving users to GoPro Plus.
You see, GoPro's products sales are cyclical at best and one-time at worst. Yes, they're quality products with quite a following, but that only goes so far. The best cash-cow companies out there have recurring revenue models. It seems that GoPro is shifting to this business model.
If this works, and more people begin using GoPro's cloud service, then lowering the prices of the hardware is genius. In the end the company will have made its offerings more "sticky" and will have a more stable predictable revenue stream. On the other hand, if people say no thank you to the cloud, the discount pricing on hardware will backfire.
But lastly, the most important takeaway for investors is that GoPro and Woodman kept their promise to us. This was more than a drone today. This was about a company's evolution from capture company to storytelling company. This wasn't about a product, but about the whole lineup. This wasn't about a drone, this was about a simple user experience and changeable hardware options. This wasn't about pricing itself out of the market, it was about pricing themselves into a new form of revenue.
Many questions remain with GoPro the company. Will these new products fly off the shelves this Christmas? Will people pony up to a monthly cloud subscription? Will Karma grab significant market share? We can't know these things yet. But what we do know is that GoPro needed to have a successful event today, and I believe it knocked it out of the park.
Disclosure: I am/we are long GPRO.
I wrote this article myself, and it expresses my own opinions. I am not receiving compensation for it (other than from Seeking Alpha). I have no business relationship with any company whose stock is mentioned in this article.