It's been a tough couple of years for oil investors and I can finally report that there is some light at the end of the tunnel with respect to higher oil prices. When you know what I know, you have to spend some time learning about oil companies and which ones are priced for higher oil and which ones aren't. For me, all investments must be below fair value with a constructive outlook. Just because I invest in commodities doesn't mean that investing principles don't apply.
The most difficult task with commodity producers, miners and E&P, is the lack of profitability to make rational comparisons about why you might choose one company over another.
For this task, I use my business experience. What would I do if I were running a commodity producing company and the price of my product seemed really low to me? Like everyone in the business, I have to eat, so I would decide which bills would need to be paid first and measure my cash flow to see if I could pay the necessary bills. Everyone else would have to wait. I wouldn't even worry about GAAP, inventory write-downs and the multitude of non-cash items related to my business. I would become a cash management expert.
You could say that printing is a commodity, so I've been well trained in what to do when prices don't make sense. I also wrote about another way to invest in oil using Energy Select Sector SPDR ETF (NYSEARCA:XLE). You can read that article here. XLE is a fund that invests in all the major oil producers in the US and is a safer way to invest in oil if you agree with my outlook. But for me, with my business skills, I can measure all the companies in XLE and choose the ones I like. I'm also able to sift through the hundreds of oil companies on the S&P, TSX, NYSE and OTC to see if there's an undiscovered gem that meets my needs and valuation that seems underpriced given the outlook.
I often get asked which oil companies I like. I'm not sure that I am the best stock picker, but I can certainly tell you where I see value. But a stock being small and unnoticed doesn't always work for me. I have requirements of size and liquidity as getting in and out of a company is very important. Buying large amounts of a small company reduces my and probably your liquidity.
Top Picks
My two favorite companies right now are Lonestar Resources (NASDAQ:LONE) and Chesapeake Energy (NYSE:CHK). Both companies are interesting to me for several reasons, not to mention because of my outlook for oil.
Lonestar Resources
Let's start with a bit of background. LONE used to be LNREF on the OTC market and moved to Nasdaq or the big board. The company was originally from Australia and listed on the ASX as LNR. I have followed this company for many years. What was unusual at the time was all of their activity was in Texas and not in Australia. They acquired land and joined the US shale revolution. From the company's website:
Lonestar went public through its merger with Amadeus Energy, Ltd. on Jan. 2, 2013, to better position the Company to pursue its core strategy of growing its net acreage position, production, cash flow and reserve base in the volatile oil window of the Eagle Ford Shale play in south Texas.
Turning to their latest investor presentation, they are doing well operationally:
Production averaged 6,573 Boe/d - Eagle Ford Shale Production Up 17% vs. 2Q15
It includes the announcement of their new ticker LONE from LNREF.
Lonestar Resources US, Inc. Listed on NASDAQ July 5 th - Ticker- 'LONE'
So while this company is new to the market, it is not a new company at all. The founder is a well known oil man Dub Stocker. You can read his story here.
The other thing that attracted me to this company is the capital efficiency of the past 4 years. From their presentation you can see that they are in some pretty good company as far as capital deployment.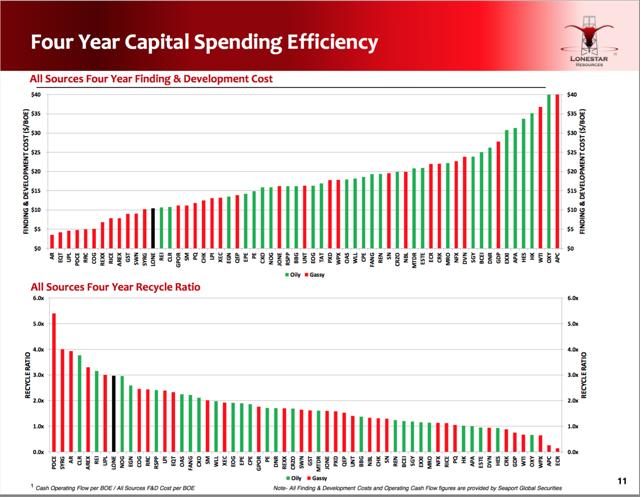 Their peers may give you some other companies to research on your own.
Let's compare to my recent pick Crescent Point Energy (NYSE:CPG) using the same P/CFL metric that I like to use when GAAP earnings are negative and P/E becomes useless as a valuation method.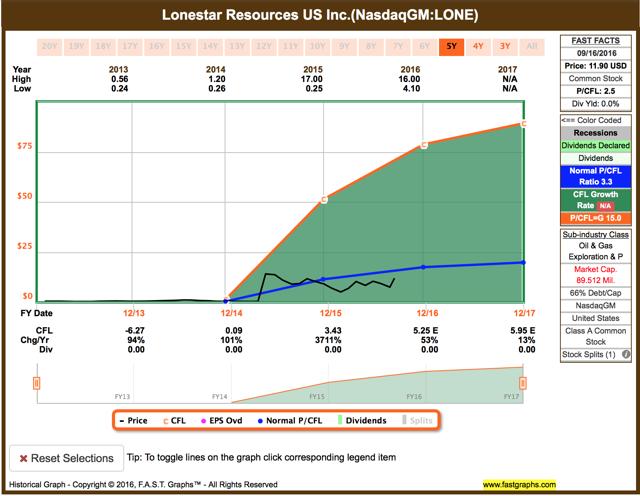 And to show you my other pick CPG up against LONE: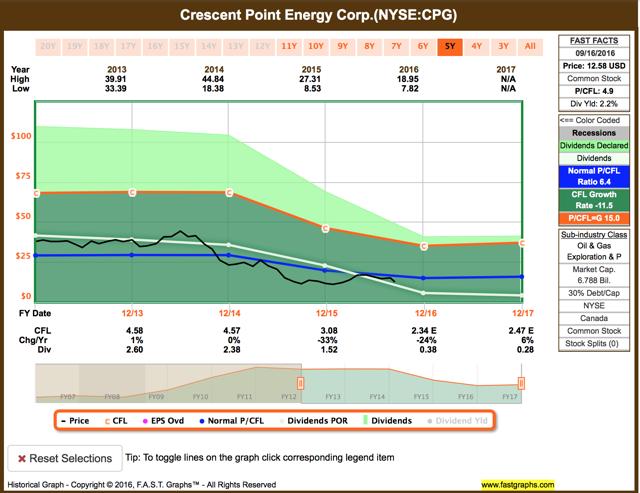 You can see that CPG has P/CFL of 4.9x, which I consider below fair value of 6x. LONE is just 2.5x, or about half-price to what I consider fair.
Regarding financial metrics, operating costs and especially my outlook for oil, LONE seems ridiculously cheap to me. I've also compared it to another well-known Eagle Ford producer, Apache (NYSE:APA). I also like APA because it's much cheaper than most in the Permian, but APA is a typical valuation for a larger E&P.
Apache is a much larger company that just announced a huge Permian find, but it has a long way to go to make money in that area. So I like APA too, but when you compare the valuation it makes me wonder why LONE is so cheap.
In future articles, I will cover CHK, APA and revisit XLE. My article on CPG is here.
Reasons for Low-Price Stock
LONE is virtually unknown, and in its former life on the OTC is was a penny stock. It's difficult to shake your reputation, but that's where the opportunity lies. Another Eagle Ford producer Halcon Resources (NYSE:HK) just went through bankruptcy, so not every company is cheap in my eyes. In the end, LONE is not HK.
LONE is simply unknown and time will fix this as the company starts to show what it's capable of. Even if it was a penny stock, fair valuation is at least 20% higher. On the big board, this is easily a double from here. And if you add in the constructive outlook for oil, and I see a nice gain ahead.
Disclosure: I am/we are long LONE, CPG, XLE, CHK.
I wrote this article myself, and it expresses my own opinions. I am not receiving compensation for it (other than from Seeking Alpha). I have no business relationship with any company whose stock is mentioned in this article.