Key Issues:
Feeling queasy all year. Community Health Systems, Inc. (NYSE:CYH) announced this morning that, with the help of its advisors, it is "exploring a variety of options with financial sponsors, as well as other potential alternatives." Normally this type of news would lead a company's shares higher but in this case, the market just began coughing up more shares at lower prices. CYH has been giving equity and debt investors the chills for most of 2016, not only by comparison to the broader market indices but also in comparison with the stock and bonds of hospital comparables. By almost any operating metric - admission levels, revenue per admission, revenue growth rate - Community Health Systems, Inc. lags behind nearly every one of its hospital peers, not just industry leader HCA (NYSE:HCA). About the only public hospital company CYH has outperformed is Quorum Health (NYSE:QHC), the hospital chain it spun off to CYH shareholders in August 2015. As shown in the graph below, CYH common shares have declined by 50% year to date, the worst performance among its peer group:

Indigestion from dining out. CYH paid $7.5 billion in cash and stock to acquire Health Management Associates (NYSE:HMA) in January 2014. Buying HMA's $5.9 billion top line turned CYH into the 2 nd largest public hospital company with $18.8 billion pro forma revenue (25% market share among the hospital comps). The acquisition thesis was that CYH would expand its geographic coverage and benefit from health care reform. Initially, the merger looked solid - the percentage change in admissions from continuing operations moved from -6.7% in FY'13 to +43.7% in FY'14. But then it flat-lined to +1.7% in FY'15. Moreover, too many CYH hospitals are in slow growth locations where political hostility to the expansion of insurance coverage predominates. Too many of the acquired HMA hospitals exhibit declining revenue per equivalent admissions and higher costs long after that merger closed. Quarterly percentage changes in revenue per adjusted admissions continued to trend lower through the first half of this year as can be seen from the graph below: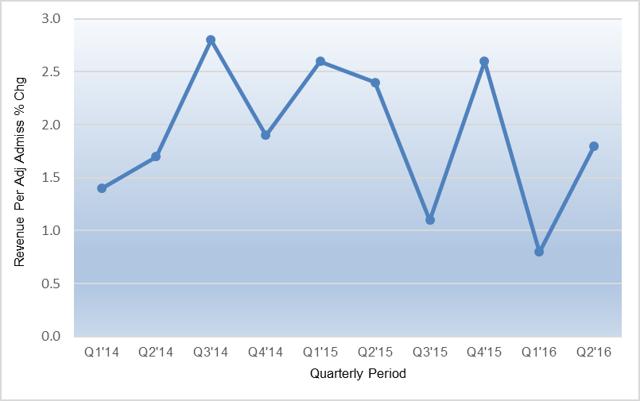 No convalescing in the countryside. CYH touts its geographic diversity - in practice that means a lot of its hospitals are in rural markets. The only urban geographic concentrations are in Florida (13% of FY'15 revenues and 16% of beds), Pennsylvania, Texas, and Indiana. The rest is spread out across other states, particularly the southeast. As CYH points out in its 10-Q, states with the greatest reductions in the number of uninsured adult residents have expanded Medicaid. There are 22 states in which CYH runs hospitals. Eleven of those states expanded their Medicaid programs, including Louisiana, which initiated Medicaid coverage expansion in July 2016. But the other 11 states have not expanded coverage - including Florida, Tennessee and Texas, where CYH is heavily exposed. Certain states that opted out are looking at waiver plans as an alternative to Medicaid expansion but that may not help cut the percentage of uninsured or help hospitals operating in those states. Recent quarterly results highlight the negative impact of CYH's acquisition and diversification strategy relative to comparable hospital companies. While CYH has been holed up in the countryside since acquiring HMA, its revenues, margins and return on assets - and just about every other metric you'd want to use - have placed CYH at or near the bottom of the rankings: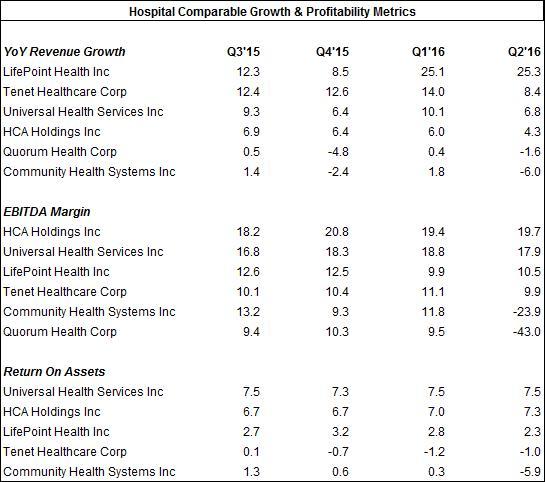 Amputations became harder than new attachments. The purchase price paid for HMA was high in retrospect but not necessarily excessive at the time it was announced. The deal equated to 8.7x HMA's then run-rate $869 milllion Adjusted EBITDA, $698,000 for each of HMA's 10,782 beds, or $106 million for each of HMA's 71 hospitals. In October 2013 Tenet Healthcare Corp. (NYSE:THC) closed its acquisitions of Vanguard Health Systems, Inc. (NYSE:VHS) for $4.1 billion, which translated to 7.3x VHS's then run-rate $556 million Adjusted EBITDA, $578,000 for each of VHS's 7,081 beds, or $146 million for each of VHS's 28 hospitals.
CYH management knew that if they could sell off slower growth HMA hospitals quickly, they could stanch the bleeding. Management has in fact been getting rid of poorer performers. In May 2015, CYH disposed of 38 rural hospitals via the QHC spinoff and has made 8 other hospital dispositions since the HMA merger closed. On the other hand, CYH has also completed 9 other hospital acquisitions since the HMA closing. The problem is that the price CYH has been receiving for its dispositions is often at a loss or below the prices paid for its acquisitions. First take a look at the list of the 9 hospital acquisitions announced post the HMA merger below: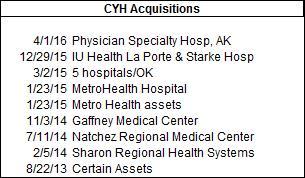 For the two acquisitions which closed this year, prices paid by CYH have been mixed relative to what the company paid per bed in the HMA transaction. On 3/1/16, CYH acquired an 80% ownership interest in a JV with Indiana University Health that includes IU Health La Porte Hospital in La Porte, Indiana (227 licensed beds), and IU Health Starke Hospital in Knox, Indiana (50 licensed beds), and affiliated outpatient centers and physician practices. The total cash consideration paid for the 80% ownership interest in this JV was $96 million plus $8 million assumed in liabilities, for a total of $104 million. The assigned value of the non-controlling interest was $24 million. This implies the 277 beds were valued at $128 million or $462,000 per bed. That's solidly below the $698,000 per bed CYH paid for HMA's beds. But on 4/1/16, CYH acquired an 80% interest in Physicians' Specialty Hospital (20 licensed beds), a Medicare-certified specialty surgical hospital in Fayetteville, Arkansas. The total cash consideration paid for the 80% ownership interest in this JV was $12 million plus $2 million of assumed in liabilities or a total $14 million. The value assigned to the non-controlling interest was $3 million. In other words, $17 million for 20 beds or $850,000 per bed, quite a bit higher than the $698,000 that CYH paid for HMA's beds in 2014. Now take a look at the 8 hospital dispositions announced since the HMA merger closed: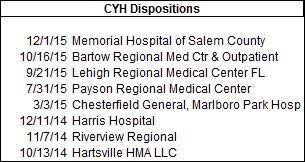 For the two CYH's dispositions, which also closed so far this year, the valuations required recognition of goodwill impairment charges or indicated a price per bed well below what CYH paid in its HMA transaction. For example, on 1/1/16, CYH sold Bartow Regional Medical Center (72 licensed beds) in Bartow, Florida, and related outpatient services to BayCare Health Systems, Inc. for approximately $60 million in cash. While that implied an $833,333 per bed, note that CYH recorded an impairment charge of $5 million to allocated goodwill viz that sale in Q1'16. On 2/1/16, CYH sold Lehigh Regional Medical Center (88 licensed beds) in Lehigh Acres, Florida, and related outpatient services to Prime Healthcare Services, Inc. for $11 million in cash. That translates to just $125,000 per bed. CYH recorded an impairment charge of $4 million to allocated goodwill with respect to the Lehigh sale. And if you tally up the 703 beds sold in FY'15 for $131 million, you get an average disposition price of $186,344.
Prognosis calls for a slower recovery. CYH management's FY'16 guidance calls for $17.78 to $18.38 billion of revenue, $2.48 to 2.55 billion Adjusted EBITDA, $1.3 to $1.4 billion Cash from Operations, $725 to $875 million capex, and $1.40 to $1.90 Adjusted EPS. Those figures are all down from FY'15 which saw $19.3 billion revenue, $2.8 billion Adjusted EBITDA, $1.6 billion Cash from Operation, $953 million capex, and $3.23 Adjusted EPS. Management has guided toward higher FY'17 Adjusted EPS ($1.93) on lower revenue ($17.1 billion). Taking a look at revenue, cash flow and earnings estimates for this quarter and next, it's hard to see how FY'17 will provide much of an uptick unless CYH succeeds at offloading more underperforming hospitals at higher prices and do it more quickly. On the other hand, acquiring higher growth hospitals at reasonable prices presents a challenge when that would most likely come via a larger wholesale transaction. A big deal would raise CYH's already elevated leverage - net debt to Adjusted EBITDA at the end of Q2'16 stands at 6.3x. See financial summary below: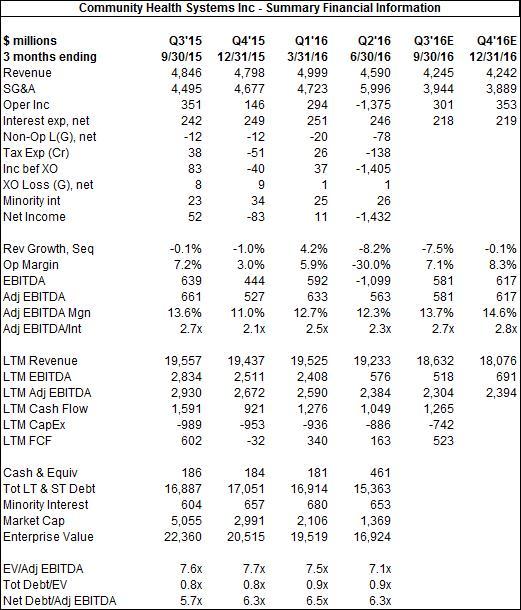 Bond Technicals:
Deteriorating with age. CYH's $15.4 billion total debt as of the most recent quarter was comprised of $6.7 billion in secured loans; $1.7 billion in secured notes (due '18 and '21); a $673 million receivables facility; $191 million of capital lease obligations; $6.0 billion in senior unsecured notes (due '19, '20 and '22); and $96 million in other debt. The most frequently traded bonds are the CYH 6.875 Senior Notes due '22 followed by the CYH 8 Senior Notes due '19. When you look at the relative price performance of the secured and then the unsecured debt within the complex, you will notice fairly quickly that within the security ranking, the longer the maturity, the lower the price. See graph below:

It runs in the family. A second observation is that the lower the bonds in terms of ranking by security (and, hence, rating), the more closely the instrument tends to trade in line with the CYH common. The secured Ba3/BB- rated CYH 5.125 Secured Notes due '21 follow the path of the CYH common stock only modestly. The correlation (r-squared) between the two instruments the past 6 months is around 53%. Meantime, the unsecured Caa1/CCC+ CYH 6.875 Senior Notes due '22 fairly well trace the price movement of the CYH common in the graph below and, in fact, the correlation (r-squared) for the past 6 months runs 67%:

Comments:
The CYH-HMA post-merger conversation sounds like the chat between two dissatisfied diners at a restaurant. The first complains, "The food here stinks" and the second agrees adding, "Yeah - and the portions are small too." CYH has hospitals that aren't growing fast enough, but it needs to get rid of them at prices that aren't high enough.
The trade I prefer within the CYH capital structure is long the more liquid CYH 6.875 Senior Notes '22 hedged with a short position in the CYH common stock. The Senior Notes due '22 yield 9.80% after spiking up 4.25 points on Friday, but given the high correlation with the CYH Common, I'd expect that to drop back down with today's slide in the equity. Assuming the stock trades around $11.72 per share, I'd not be surprised to see the CYH 6.875s print at $85.5 or lower.
Note that the CYH 6.875s have a $101 change of control put and a T+50 bps make-whole call that doesn't expire until February 2018. While I've not been a believer in bondholders' ability to make that kind of pricing stick, I do think it sets up a conversation about what the redemption price should be if the company gets sold as a whole. Meantime, I don't expect the common to be popping on the types of bids CYH seems to be getting for its assets held for sale. Or, for that matter, itself.
I expect the stock to continue to languish for months. Still, CYH now trades at the highest free cash flow yield among its peers (see table below), and given the math, my hedge versus the long principal amount would be at the very low end of the 15% to 20% range that typically applies.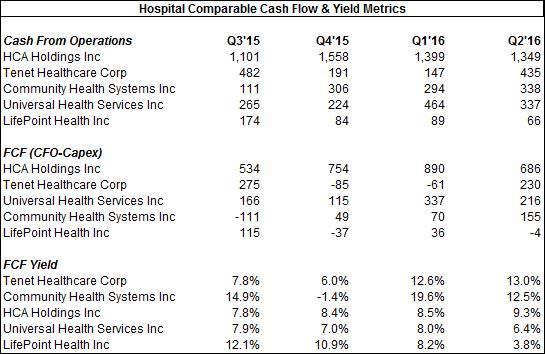 Disclosure: I/we have no positions in any stocks mentioned, and no plans to initiate any positions within the next 72 hours.
I wrote this article myself, and it expresses my own opinions. I am not receiving compensation for it (other than from Seeking Alpha). I have no business relationship with any company whose stock is mentioned in this article.