So I have a confession to make before I begin. I am a gold bull. There, I have said it and you can judge me any way you like it. Now that you have had a chance to form some opinions about me, I will tell you that I have been investing in the metal as a professional for the better part of a decade and that has provided me with a very unique perspective on things. When things are going well in gold, they are going VERY well! A few extra coins in my pocket around the heady days of 2010 and early 2011 meant that a trip to the club wasn't complete without popping an Armand de Brignac. Why? Because champagne is for celebrating how smart I felt when I was making money. Fast forward to 2015 and I would feel like ordering the dirtiest, cheapest bottle of whiskey because there was no light at the end of the tunnel - only an enduring hangover. Oh the manic highs and the depressing lows. But as a professional, my job isn't to wallow in self pity. My job is to make money. And I let experiences scar me so that I remember the lessons. So when things were looking the most depressing in 2015, I started allocating into gold (NYSEARCA:GLD) and gold equities (NYSEARCA:GDX) again resulting in a 2016 which has been a sweet '16 indeed. I am older now, and I don't feel like a genius because the market has proved me right so I am still sipping on some decent wine now instead of the Armand.
Now as we head into October, there are a few things which are popping on my radar, which have had me reducing my exposure to gold again. Because you aren't here to read about some dry boring minutia, or hear some crazy wild gold bull here, I will make my reasoning as snappy as possible.
1) The large funds have begun taking profits
Large generalist funds are the whales to watch in this trade and when they make moves in and out of gold, things could not be more obvious. The chart below points to the change in net speculative interest in gold followed by the total amount of gold held by ETFs. Both the futures and the ETFs are incredibly liquid, but their positioning has to be reported making it easy for a mid-sized fish like me to follow things. Similarly, in the futures market, the positioning changes have flattened out, which to my eye appear to show distributive profit taking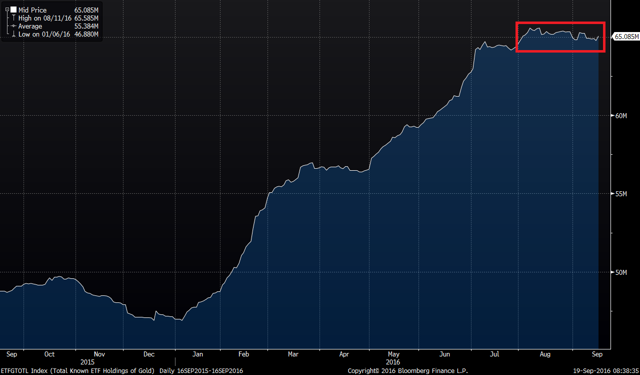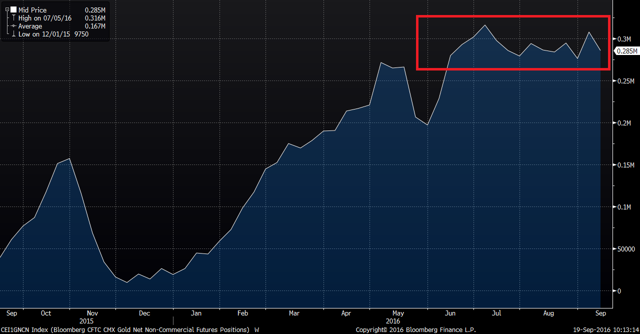 Why would these funds be selling you ask? Hmm, they like taking profits. They analyze things on a risk-reward basis and with the near term risk outweighing the reward, they take their money and wait for a better day to invest. Maybe they have the trade completely and utterly wrong - maybe this is true, but because of the sheer size of the large CTA funds, they can actually determine the direction of the trade.
2) The speculators (possibly retail and smaller funds) in gold are long, long, loooong!
Look at the outstanding call interest in GLD . It's at a high just as the gold price seems to be shaping out a top. Buying calls are generally the cheapest way of making a quick buck with minimal investment. Spikes in calls to a professional is often a sign of a near term top. Yellow flag goes up here! Also notice how around the December 2015 low, there were very few call buyers...hmm.. genius at work!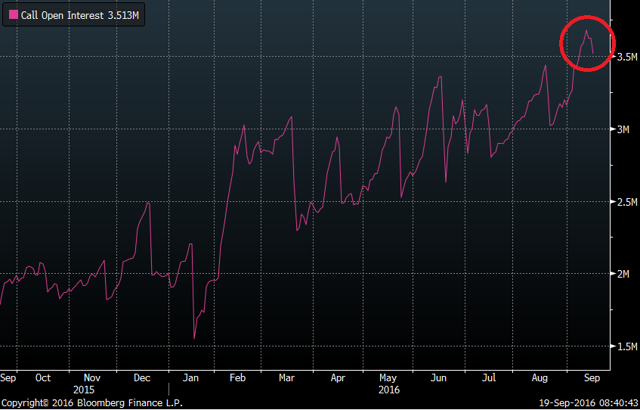 3) Seasonality does not favor gold
Gold has a very pronounced seasonality. Why? Because Indians, who are the largest buyers and hoarders of bullion do their buying between these months to prepare for Diwali and the wedding season. Because many gold investors use technicals to aid their investing and that creates a bit of a self-fulfilling prophecy. Also, at the time of this writing, the Denver Gold Show, which is one of the largest gathering of investors and issuers has just begun. The prelude to the show is usually the release of all good and great news that gold companies can push out to attract investors such as myself. However, just like partying hard in the mile high city can shock most people's body and guarantee an imminent hangover, the near term hangover in gold equities is usually a given following the show. And if you don't believe me, see for yourself in this chart: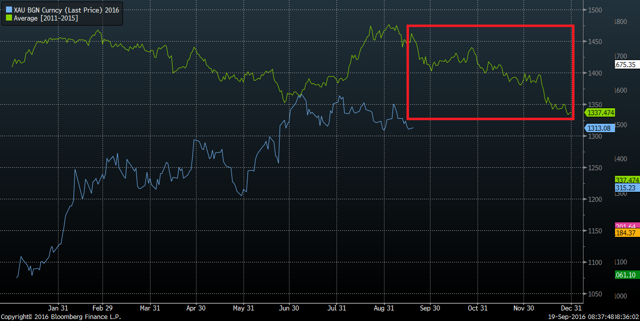 Now that I have laid out my points for why gold can consolidate here, let me tell you that I believe that we are in a structural bull market for gold. At some point in time, I will have to write why I believe so and it would make for a great article, but this is not what this article is about. If you have been smart and made money in the gold trade recently, it makes sense to take some profits and wait for dips to re-enter the trade. And as long term investors in the metal and gold equities know all too well, there are many, many dips in this trade! Stay golden my friends.
Disclosure: I am/we are long GDX.
I wrote this article myself, and it expresses my own opinions. I am not receiving compensation for it (other than from Seeking Alpha). I have no business relationship with any company whose stock is mentioned in this article.