Overview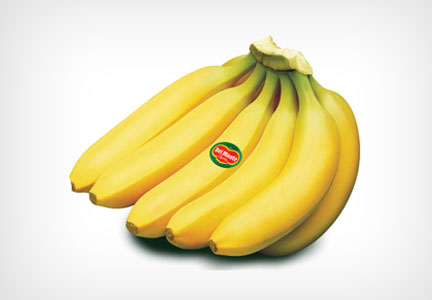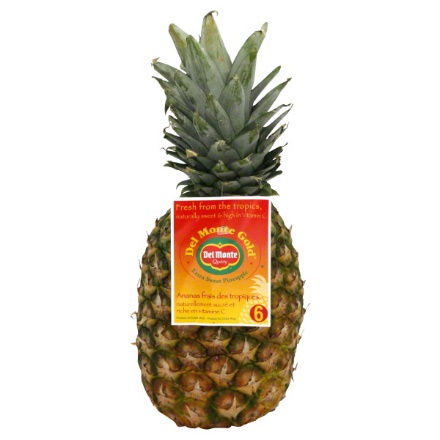 Source: Google Images
A brief history is in order to give investors a quick perspective for Fresh Del Monte Produce (NYSE:FDP) and the competitive environment. Both Dole Food Company and Chiquita Brands International were acquired recently. These two companies reflected the number one and two banana marketers per Fresh Del Monte's internal data.
Also, per the company's internal data, Fresh Del Monte claims to be the leading marketer for fresh pineapples worldwide. As of the most recent trailing twelve-month, TTM, period, these fresh products amounted to $2.4 billion in net sales, reflecting nearly 60 percent of total net sales.
For Dole, during 2012, nearly 75 percent of total net sales were driven by fresh fruit, of which the majority was from bananas and pineapple products. During 2014, Chiquita banana net sales accounted for 65 percent of total net sales at $2 billion. Total net sales for Dole and Chiquita was at $4.3 billion and $3.1 billion for 2012 and 2014, respectively.
Both Dole and Chiquita were taken private in 2013 and 2015 for $1.2 billion and just below $700 million. Today, Fresh Del Monte generated $4 billion in net sales TTM and had an enterprise value of $3.2 billion. The two recent private deals are looking pretty good based on Fresh Del Monte's current valuation. Perhaps an IPO back to the market will be forthcoming as an over 100 percent return on either investment could be achieved.
In addition to core bananas and pineapple fresh products, Fresh Del Monte also has witnessed robust growth for its fresh-cut and avocado product segments. These segments reflected 17 percent of total TTM net sales. The fresh-cut business segment includes packaged fresh fruits and vegetables. Traditionally, packaged salads have been a high selling fresh product.
From a competitive perspective, Dole also has focused on this business segment. But recently Calavo Growers (NASDAQ:CVGW) has experienced strong net sales growth from the company's acquisition of the Renaissance Food Group, RFG. Additionally, Calavo is one of the largest avocado handler and marketing companies in the world, with a leading market share over Fresh Del Monte.
Within these competitive markets, Fresh Del Monte has witnessed robust margin expansion during 2016. This has been primarily driven by lower transportation and volume production costs. As lower volumes have been produced for both bananas and pineapples, bunker costs for owned and chartered vessels have declined dramatically.
At the same time, average unit costs have increased due to supply shortages. The confluence of these dynamics has resulted in a 330 basis point increase in gross profit. Improved gross profit has translated to 50 percent growth for operating profit and EBITDA and 65 percent growth in adjusted diluted EPS.
Strong Margin Expansion Despite Volume Declines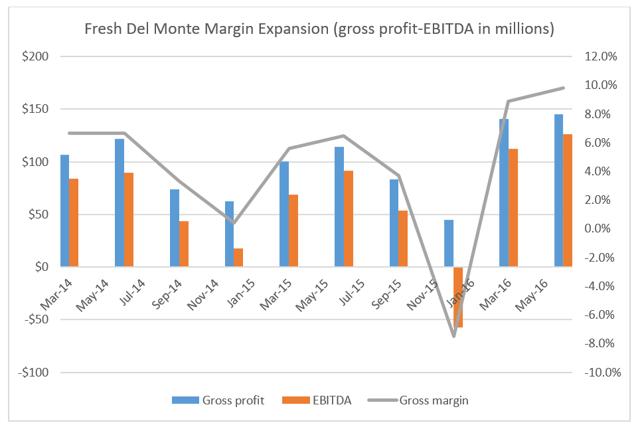 Source: Company financials and personal database
Through the first six months of 2016, Fresh Del Monte witnessed bananas and pineapple volume declines of 2 and 12 percent. Geographically, better net sales growth was driven in Asia and the Middle East for bananas, and in Asia, Europe and North America for pineapples. Most regions experienced increased average unit prices for pineapples, while competition and lower volumes impacted bananas, with the exception being Asia. In addition to competitive pressure, lower pineapple volumes were impacted by weather conditions in Costa Rica and Philippines production areas.
The cost of products sold declined by nearly $110 million. This was driven by lower transportation costs, lower banana fruit cost and lower production cost in prepared foods. An overall 3 percent reduction in sales volume was also beneficial. Worldwide, banana per unit sales increased by 1 percent and per unit costs decreased 4 percent. For pineapples, lower volumes led to higher average unit prices. Higher volumes positively impacted both the fresh-cut and avocado product segments.
Based upon the moderate decline in banana volume and slight increase in per unit sales, it is clear that transportation costs had a very strong positive impact on margin expansion. Fresh Del Monte owns 13 refrigerated vessels and charters another six as of fiscal year 2015. The substantial decline in bunker fuel costs has been a strong tailwind for margin expansion.
Sustainability For Current Profit Margin Is Questionable
The same benefits from reduced bunker fuel costs can also lead to a headwind impact once the low-cost fuel cycle reverses. For this primary reason, Fresh Del Monte's performance during 2016 may not be an indication of future sustainability.
In addition to the potential for higher fuel costs in the near term, increased production volumes from improved weather conditions may also lead to higher fruit production costs. A corresponding decline in average per unit sales could exacerbate these headwinds.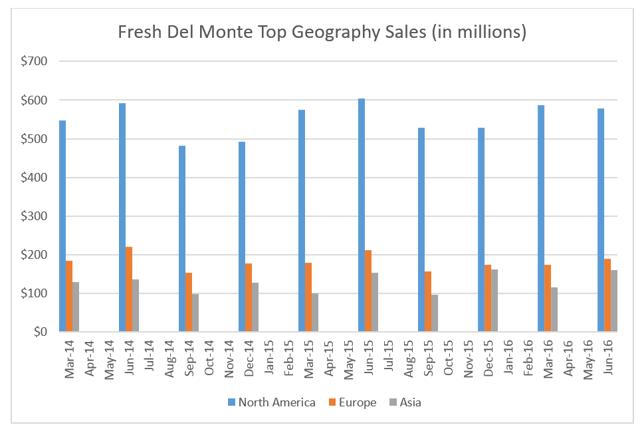 Source: Company financials and personal database
North America has been an extremely important market for Fresh Del Monte as well as its competitors. During the most recent TTM period, 55 percent of net sales were from North America. It can safely be assumed that the majority of these net sales were generated from the U.S.

Source: United States Department of Agriculture, Economic Research, Banana U.S. Imports by Volume (1,000 pounds)
The marginal decline in Fresh Del Monte's banana volumes is not a reflection of U.S. flat volume growth through June 2016. In fact, the data above validates Fresh Del Monte's statements regarding lower sales volumes and increased competition. But the long-term trend since the last recession displays sustained positive momentum.

Source: United States Department of Agriculture, Economic Research, Pineapples U.S. Imports by Volume (1,000 pounds)
For pineapples, the data also clearly validates the reduced amount of consumed volume for 2016 YTD. However, a similar long-term sustained positive trend has been in place over the past six years. As weather-related impacts abate, volumes growth should return to a more normalized level.
Fresh Del Monte currently trades slightly above 15 times 2017 diluted EPS estimates and has an EV/EBITDA ratio at 13.5 times. The company currently has a 1 percent dividend yield and free cash flow yield above 5 percent. These valuation levels are not extreme, but investors may wish to take a cautious stance based upon the near-term potential headwinds.
Competition Is Focused On Key Growth Drivers
As mentioned earlier, Calavo is a direct competitor for Fresh Del Monte's fresh-cut and avocado products. Both companies have witnessed strong growth in net sales and margins for these business segments. Fresh Del Monte has generated stronger net sales performance on the avocado side, but still remains at a substantially lower market share. Calavo is below Fresh Del Monte's fresh-cut market share, but is growing its RFG segment well.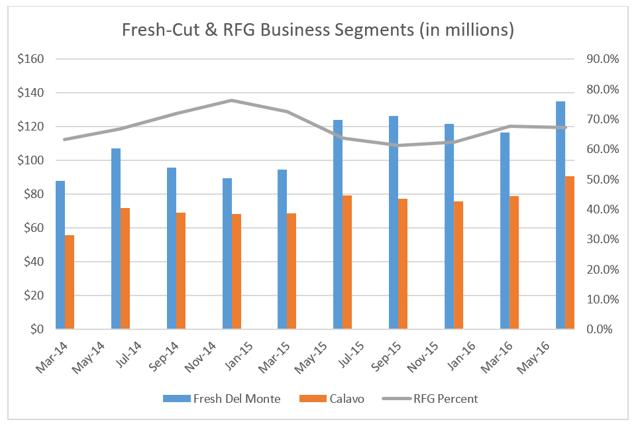 Source: Company financials and personal database, each period ending quarter for Calavo is one month later than Fresh Del Monte
Fresh Del Monte is the leader in the fresh package product category versus Calavo, with nearly $500 million in TTM net sales. But investors should remember that Calavo is strictly focused in the U.S. market, so as the company continues to grow, it is potentially taking market share from one of Fresh Del Monte's largest customer bases.
Calavo has grown its RFG net sales percent of Fresh Del Monte's fresh-cut segment from the low 60s to nearly 68 percent as of the past quarter. For the most recent TTM period, Calavo generated $323 million in net sales. Additionally, during the most recent quarter, Calavo's net sales year-over-year growth remained robust at 15 percent, while Fresh Del Monte's declined form the first quarter's growth rate of 16 percent to 9 percent YOY in the second quarter.
If Calavo is able to continue to execute its business strategies and outgrow Fresh Del Monte, a stronger inverse relationships could become more prevalent. As stated above, the substantial majority of avocado sales from Calavo are based in the U.S. Roughly 5 percent of Mexico's exports were performed by Calavo.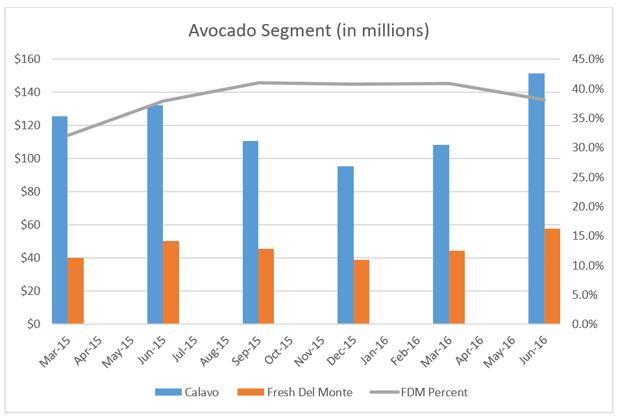 Source: Company financials and personal database, each period ending quarter for Calavo is one month later than Fresh Del Monte, FDM is reflective of the Fresh Del Monte avocado segment percent
For both Calavo and Fresh Del Monte, avocado volumes have been robust. For the year through June, Calavo witnessed avocado growth in pounds at nearly 13 percent. This was split between Mexico and the U.S. at 3 and 43 percent, respectively.
The key difference between Calavo and Fresh Del Monte is that Calavo sources its avocados from both Mexico and California, while Fresh Del Monte primarily sources from Mexico. Total pounds sold for Calavo during the previous TTM period amounted to 480 million pounds or $465 million in net sales. This compared with Fresh Del Monte's $186 million in net sales for avocados.
Since March of 2015, Fresh Del Monte's percent of avocado net sales to Calavo increased from 32 percent to 38 percent as of the most recent quarter. Similar to the statement above, Calavo's majority of avocado sales were consumed in the U.S. Calavo's market share for Mexico exports other than the U.S. was roughly 5 percent.
There was a correlation between the fact that Fresh Del Monte witnessed quarter-over-quarter and YOY net sales avocado growth of 30 and 15 percent and Calavo's declines in Mexico avocado pounds produced by 58 and 36 percent. Calavo's California avocado pounds produced increased by 168 and 79 percent during this same time period, but total performance was at negative 9 and 9 percent.
The most recent declines for Mexico avocado production was due to a strike by Michoacan growers. Expectations are for the next quarter to witness a return to normalized volumes for Mexico production. This could lead to lower net sales performance for Fresh Del Monte, and a further decline in FDM percent.
Investor Perspectives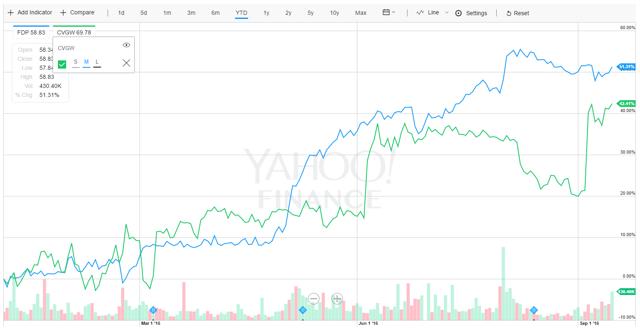 Source: Yahoo! Finance
Overall, Fresh Del Monte has witnessed substantial stock price appreciation throughout 2016. One of the company's remaining public competitors, Calavo, has also witnessed robust stock price growth. Investors should consider the drivers for Fresh Del Monte's recent margin expansion. Additionally, investors should consider the competitive business segments from Calavo in the U.S., which is one of Fresh Del Monte's major markets for these faster growing segments.
Fresh Del Monte is a very well-run business, which will continue to grow as population growth and preference for fruits and vegetables continue influence fresh product demand. The company is well diversified and has the experience to weather future storms. Identifying potential headwinds will be beneficial for managing expectations and investment positions.
Disclosure: I am/we are long CVGW.
I wrote this article myself, and it expresses my own opinions. I am not receiving compensation for it (other than from Seeking Alpha). I have no business relationship with any company whose stock is mentioned in this article.