The number one performing stock in California over the past 12-months may surprise you. No, it isn't Apple (NASDAQ:AAPL) or Google (NASDAQ:GOOG). It is a technology company, but it more aptly belongs in the energy sector. The company is Energy Recovery (NASDAQ:ERII) and it has soared 400% over the past 12-months on the heels of its transformative agreement with Schlumberger (NYSE:SLB).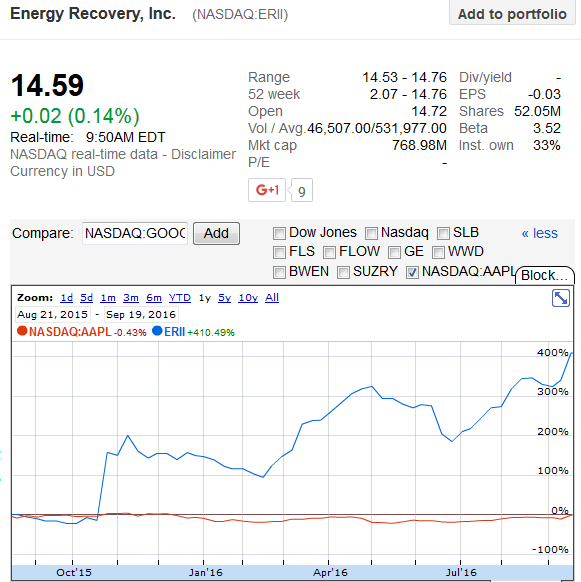 As I noted in a previous Seeking Alpha article (see "Pullback After Transformative VorTeq Deal With Schlumberger Puts Energy Recovery Back In Buy Territory"), that deal had much more upside than investors were giving it credit for. That stock has doubled since that piece.
Earnings are beginning to show the effect of the SLB deal as well as some big ticket salt water reverse osmosis (SWRO) contracts. The Q2 EPS report showed a profit of $0.01/share and $79 million in cash ($1.41/share). The increase in cash was due to the $75 million exclusivity fee paid by Schlumberger in Q4 of 2015 for the exclusive use of the Company's VorTeq hydraulic fracturing system. The exclusivity fee will continue to be amortized on a level basis through the duration of the 15-year agreement. The company said in the Q2 conference call, that for accounting purposes:
... the Company recognized a $1.3 million of license revenue each quarter, which is representative of the straight-line amortization of the exclusivity fee over the 15-year term of the agreement.
The company also updated investors on the progress of its VorTeq commercialization efforts as they relate to achieving two additional milestone tests per the Schlumberger agreement:
Milestone one: a 5-stage frac to be executed at the Schlumberger training facility in Oklahoma.
Milestone two: a 20-stage frac to be executed at a live well for a customer that is yet to be identified.
Each successful test will trigger a $25 million payment to be recognized in the quarter in which it is accomplished. In each milestone test the VorTeq performance will be evaluated against three key performance indicators: rheology or frac chemistry, number two, system integration and three reliability. Management appeared to paint a positive outlook and said it "reconfirms our current belief that based on the facts and circumstances today both milestones can be achieved in 2016."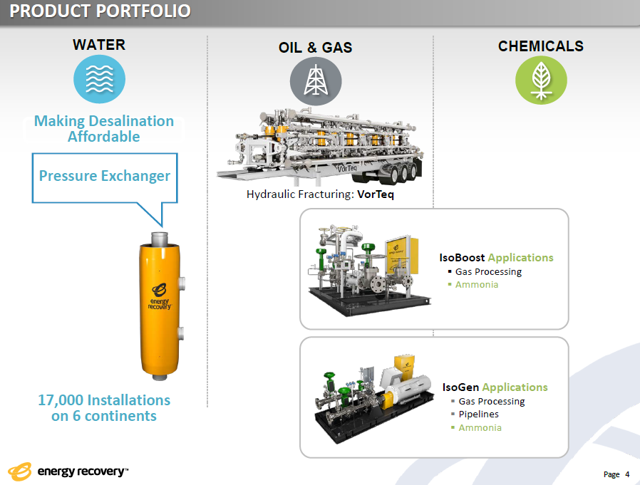 Source: Investor Update (available here)
But of course the heart of Energy Recovery is the patented pressure exchange "PX" technology I first reported on in 2013 when the stock was priced at $4.79 (see "Energy Recovery: Shares Could Double On Patented Desalination Product Line"). Indeed, the company's desalination product line booked $14 million in contracts during May and June alone across North Africa, China, Asia-Pacific, and the Middle East (see here, here, here, and here). Just as important - or perhaps more so - was the company's announcement in July of a Middle-East gas processing contract for up to $11 million. The contract is for ~$7 million worth of equipment and services and has an option for an additional $4 million to be determined by 2017. The company expect partial recognition of revenue from this project toward the end of this year.
As a result of the company's diversification from SWRO and into hydraulic fracturing, gas processing, pipelines, and chemicals - ERII now estimates a total addressable market of $4 billion. For a company that had revenue of only ~$12 million in Q2, there is obliviously huge upside here.
Not surprisingly, financial analysts are starting to jump onboard the ERII bandwagon and the short selling are drowning. Jeffries recently upgraded Energy Recovery from hold to buy with a $20 price target. Zachs also recently upgraded ERII to a strong buy.
Energy Recovery has much further room to run. If it meets the two SLB milestones this year, that's another $50 million in the bank. In addition, the order flow appears to be picking up in both desal and gas processing. ERII could have $130 million in the bank by the end of this year ($2.33/share) if and when the two milestones' payments are received from SLB. The company has no debt and initiated a $10 million stock buyback program in May. As a result, I reaffirm my buy rating on Energy Recovery. The stock could easily double again over the next two years.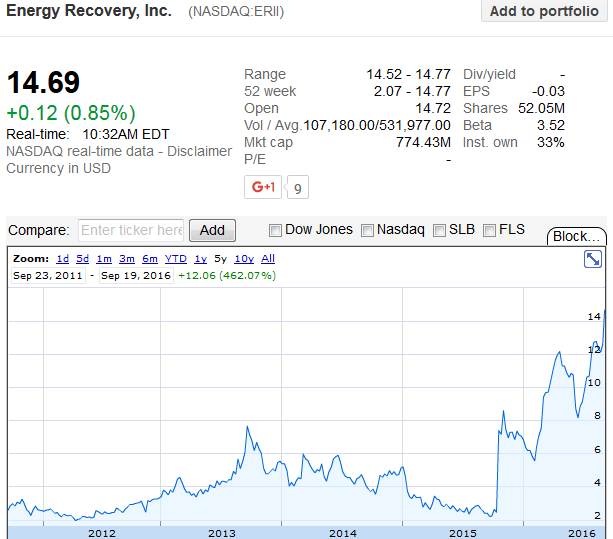 Disclosure: I am/we are long ERII.
I wrote this article myself, and it expresses my own opinions. I am not receiving compensation for it (other than from Seeking Alpha). I have no business relationship with any company whose stock is mentioned in this article.
Additional disclosure: I am an engineer, not a CFA. The information and data presented in this article were obtained from company documents and/or sources believed to be reliable, but have not been independently verified. Therefore, the author cannot guarantee their accuracy. Please do your own research and contact a qualified investment advisor. I am not responsible for investment decisions you make. Thanks for reading and good luck!