Box Inc (NYSE:BOX) provides online storage, file sharing, and content management to enterprises globally.
Box is positioning itself as the go-to provider for enterprise content management, a highly competitive market. With the release of Box Zones and Box Governance, Box is better positioned to gain market share. Box Zones allows enterprises to share data globally and individuals to work collaboratively while maintaining file storage in the jurisdiction required by local law. Box Governance is a compliance friendly electronic content manager that aims to keep companies operating in highly regulated industries in compliance with laws regulating electronic documents.
With 59% of the Fortune 500 already relying on Box, the company is well positioned to expand geographically and through additional product offerings. In my view, Box posts $400M of revenue during FY17 and $500M of revenue during FY18, with cash flow from operations turning positive in FY17. Leadership's strategy of global expansion through partnerships with companies such as IBM (NYSE:IBM), Microsoft (NASDAQ:MSFT), and Amazon (NASDAQ:AMZN), should prove to be an efficient method of gaining scale.
A key risk to Box's share price is competition from Microsoft, EMC, OpenText (NASDAQ:OTEX), IBM, Oracle, and Xerox (NYSE:XRX), to name a few; the impact of competition is at least partially offset by the company's willingness to be collaborative with competitors. Also, management may decide to engage in an additional equity offering, diluting existing shareholders.
I see the risk of an additional equity offering as too large to take a long position in Box; in this scenario is makes more sense to buy into the secondary initial public offering. Additionally, Box is fairly valued, trading at a 19% discount to the industry based on FY18 sales with 25% revenue growth being forecasted.
Bearish Free Cash Flow Outlook
Cash flow from operations isn't substantial enough to cover capital expenditures and make substantial investments in the business, over the forecasted horizon. CFO is expected to be $21M in FY17 and $31M in FY18 with capital expenditure coming in at $24M and $28M, respectively; free cash flow is thus negative $3M in FY16 and positive $3M in FY18. Operating expenditure is anticipated to be 111% of revenue in FY17 and 98% of revenue in FY18. Consequently, with the margin for error this tight, leadership is likely to either have to cut operating expenditure or raise more capital, likely equity. In my view, with the limited free cash flow generation over the remainder of FY17 and during FY18, it makes the most sense to go to market for additional equity capital, strengthening the company's financial position without adversely impacting growth potential.

Data courtesy of Morningstar and forecast courtesy of Bottom Up Investing
For FY17, I expect revenue to grow 32% to $400M with the operating loss coming in at $162M. The net loss is also expected to be $162M with EPS of $-1.28 for a ROE of -146%. Operating expenditure is forecasted to continue to decline as a percentage of sales with EBITDA of $-116.
With Box Zones and Box Governance continuing to ramp, sales are expected to increase 25% to $500M during FY18. The operating loss and net loss is anticipated to shrink to $140M with EPS of $-1.06. Operating expenses should grow at a much slower rate than revenue over the next few FYs.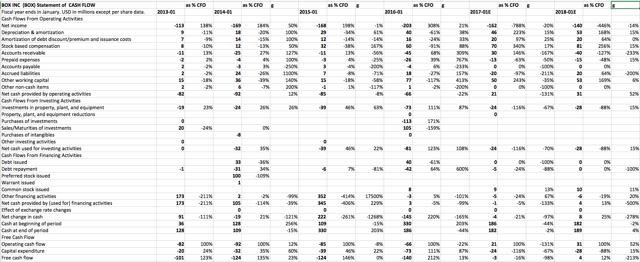 Data courtesy of Morningstar and forecast courtesy of Bottom Up Investing
CFO is expected to be $21M in FY17 with CapEx declining 67% relative to FY17; management is guiding to CapEx of about 3% of sales, but $12M of CapEx doesn't seem achievable, given the company's operating history. Free cash flow is expected to be $3M in FY18, exiting the year with cash of $189M. I'm not forecasting any acquisitions during FY17 or FY18.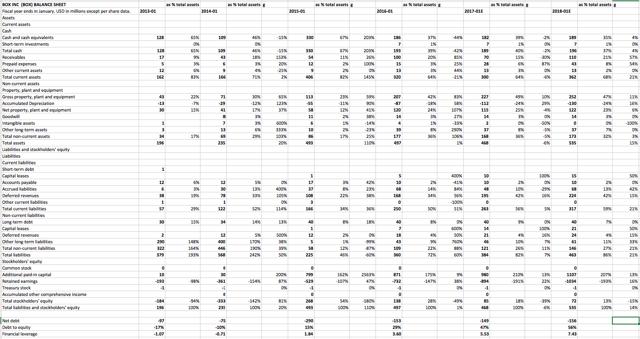 Data courtesy of Morningstar and forecast courtesy of Bottom Up Investing
Financial leverage is expected to increase substantially in FY17 and FY18 as equity decreases while debt remains constant. The debt to equity ratio ends the years at 47% and 56%. Financial leverage is anticipated to climb to 5.53 at the end of FY17 and 7.43 at the end of FY18. An equity offering would decrease financial leverage and improve the financial position.
Primary Bull and Fairly Valued Shares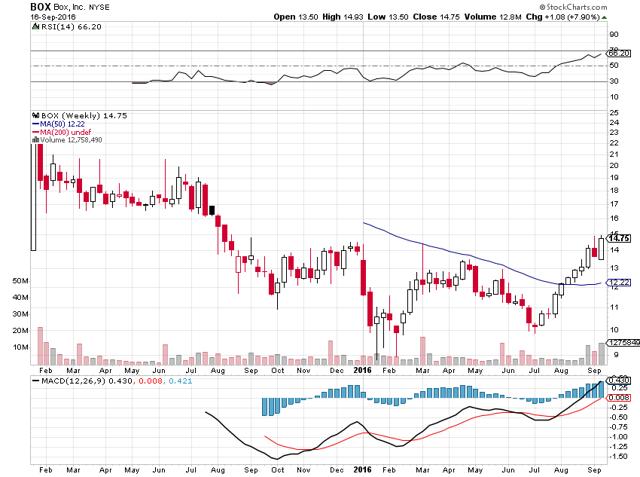 Box appears to be in the beginning stage of a bull market of primary degree with the MACD forming a bullish divergence and the RSI trending higher. The moving average has yet to turn higher, but the share price is above the 50-week simple moving average.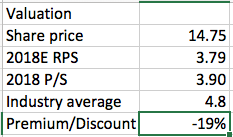 Data courtesy of Morningstar and forecast courtesy of Bottom Up Investing
Box is trading at a 19% discount to the industry with sales expected to grow 25% in FY18. The argument can be made that the growth rate commands a premium multiple to the industry, but the financial profile says differently. Consequently, I view Box as fairly valued.
Disclosure: I/we have no positions in any stocks mentioned, and no plans to initiate any positions within the next 72 hours.
I wrote this article myself, and it expresses my own opinions. I am not receiving compensation for it (other than from Seeking Alpha). I have no business relationship with any company whose stock is mentioned in this article.