"When the local people put money in a bank like this, they know that it understands their community and its opportunities. Its loans and activities, in turn, help to further the community's economy." - John F. Kennedy
"I'm all in favor of banks that play their part in community endeavors, private individuals looking for loans, people who want to start up a little business, and that's what banks are for." - Ian Anderson
"The community bank stock market has done extremely well in the last five years. Many of the new banks have performed very, very well." - Dave Bonaccorso
There is a lack of investors who are focused on the community banking sector. The many preconceived notions that community banks are too small in the face of regulatory scrutiny or lack growth necessary for an investment, have shunned many investors away. Furthermore, many investors put banks in the too hard pile - disregarding the whole asset class as a whole.
Sure community banks are boring and don't have the pizazz like Xplore Technologies (NASDAQ:XPLR). However, many are stable businesses that have been around for eons - and continue to perform well in the face of regulatory scrutiny. The thing is, some community banks are struggling due to regulations. On the flipside, many are profiting from the regulations and learning to adapt.
I have stated multiple times in the past year that community banks are in a sweet spot and should outperform as an aggregate whole. Likewise, the banking sector is one of the only sectors left in this overinflated market that has a general undervaluation. In order to test this hypothesis that banks will outperform in the next few years, we created a portfolio of some of the cheapest banks out there.
Since inception, the portfolio consisting of CIT Group (NYSE:CIT), Bancorp Inc. (NASDAQ:TBBK), Century Bancorp (NASDAQ:CNBKA), MidSouth Bancorp (NYSE:MSL), MVB Financial Corp (NASDAQ:MVBF), First National Community Bancorp (NASDAQ:FNCB), Kentucky Bancshares (OTCQX:KTYB), Chesapeake Financial Shares (OTCQB:CPKF), Royal Bancshares of Pennsylvania (NASDAQ:RBPAA), BNCCORP (OTCQX:BNCC), First United (NASDAQ:FUNC), AmeriServ Financial (NASDAQ:ASRV), Kish Bancorp (OTCPK:KISB), Eagle Bancorp Montana (NASDAQ:EBMT), Broadway Financial (NASDAQ:BYFC), Blackhawk Bancorp (OTCQX:BHWB), Reliance Bancshares (OTCPK:RLBS), First Federal of Northern Michigan (NASDAQ:FFNM), Central Federal Corporation (NASDAQ:CFBK), Jefferson Security (OTCPK:JFWV), CIB Marine Bancshares (OTCQB:CIBH), ASB Financial (OTCPK:ASBN), DAMASCUS CMNTY BK (DMAS), County First Bank (OTCQB:CUMD), Community Investors Bancorp (OTCPK:CIBN), Peoples BK Commerce (OTCPK:PBCO), Crazy Woman Creek Bancorp (OTCQB:CRZY), Sound Banking (OTCPK:SNBN), CNB Bancorp (OTCPK:CNBV), Pacific West Bank (OTCPK:PWBO) and SouthFirst Bancshares (OTCQB:SZBI) - has returned 2.23%.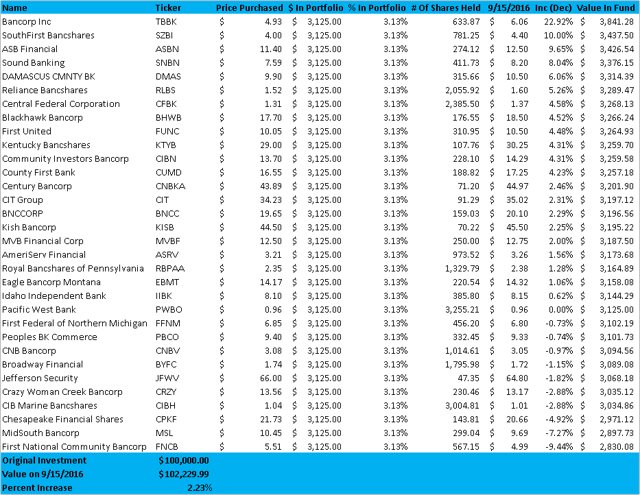 Out of the thirty-two positions in the portfolio, only ten are in the red - with the worst position returning -9.44%. The best performing company was Bancorp Inc., returning 22.92% in a month or so timeframe.
A month's performance tells us nothing on how the long-term performance of the portfolio will be. Furthermore, anything can happen going forward - and black swans seem to appear more often in the investment management industry. However, based upon the relative and absolute valuations of the companies contained within the portfolio - there is high suggestion that time is on our side.
I guess it's a good time to explain why we think banks will outperform in the next few years. First and foremost, there is a massive amount of consolidation in the industry.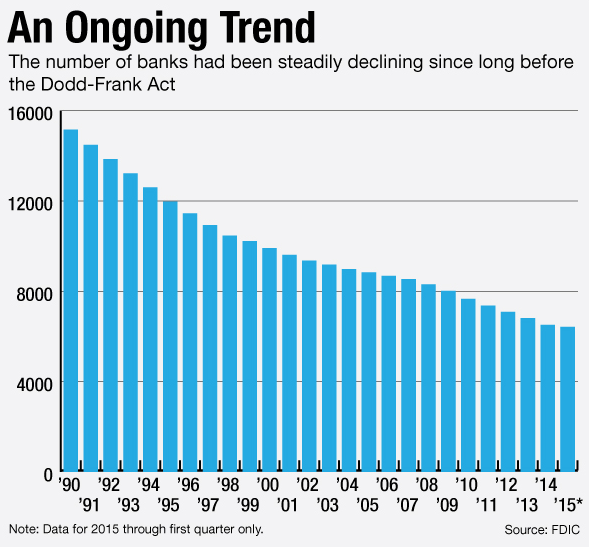 Source: American Banker
According to American Banker, the rate of consolidation in the industry has been around 3.5% per year -since the 80s or so. This isn't a huge percentage rate, however, the rate has never really slowed down or reversed. This massive consolidation is a type of option for investing in the community banking space and allows investors holding a diversified-basket of community banks to experience some M&A.
Secondly, it isn't unusual to find a community bank selling under or near book value - yet still growing at a respectable rate. Like I said before, there are preconceived notions that banks don't grow and are boring stalwarts. However, with enough digging, it isn't hard to find an undervalued bank with a decent growth rate.
Thirdly, if and when the Fed raises rates, most banks will benefit. Sure, the Fed may never raise rates, however, if they do, many banks will do well.
Finally, community banks are one of the most disregarded investment classes and provides investors willing to do bottom-up research and opportunity to exploit. As I have said in the past, sometimes the best investments are found where no one is looking. Eventually the market will come to realize the undervaluation . If not, I am sure bankers will continue to consolidate the undervalued industry.
Going forward we hope to continue to provide much needed coverage on the banking industry as a whole. Furthermore, we will continue to track the performance of this portfolio and the other one we created - The High Bank Yield Portfolio. Feel free to reach out to us anytime and be sure to follow us if you enjoy bank coverage.
Disclosure: I/we have no positions in any stocks mentioned, and no plans to initiate any positions within the next 72 hours. I wrote this article myself, and it expresses my own opinions. I am not receiving compensation for it (other than from Seeking Alpha). I have no business relationship with any company whose stock is mentioned in this article.
Editor's Note: This article covers one or more microcap stocks. Please be aware of the risks associated with these stocks.