Executive Summary: This study introduces a novel set of data detailing credit growth in China's economy by sector, issuer ownership, and use of funds.
Understanding China's economic growth, and thus, demand for commodities and imports from around the world depends on understanding the final destinations of investment. To do that in a country as large and diverse as China, headline credit growth data such as bank loans or total social financing are useful, but only to a point.
That's where corporate bond data comes in.
Although China's corporate bond market totals only 20% of the size of bank loans to enterprises, the data is interesting because of its granularity and timeliness. Based on an aggregation of all current and outstanding bonds, I've constructed a set of time-series data to track monthly credit growth by sector, issuer ownership, and use of funds.
But first, let's start with the headline numbers. Despite the concerns of the IMF and others, China Inc. continues loading up on debt. In fact, the outstanding bond balance of the corporate sector grew by RMB 830 billion over the summer, bringing the total to RMB 16.4 trillion.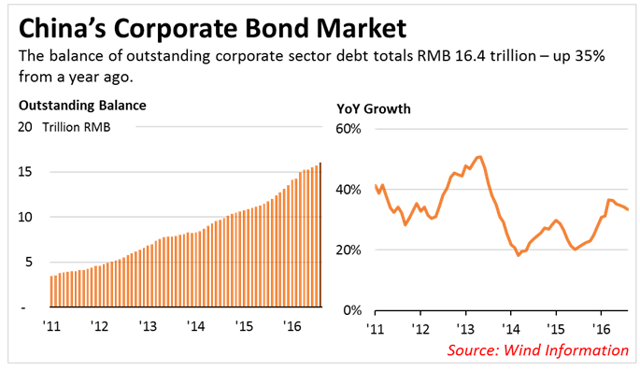 Examining the data by sector, we see that construction and real estate are the primary recipients of net new investment.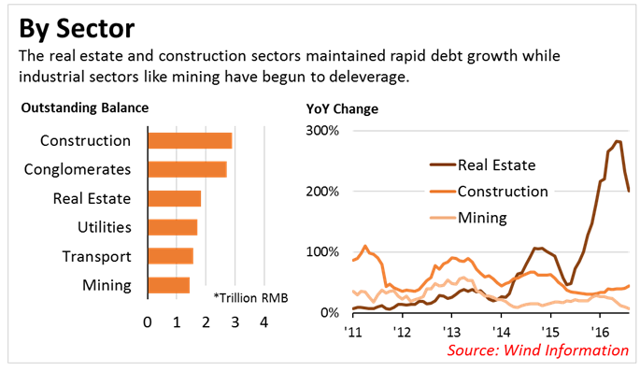 Drilling down on the real estate sector, it is interesting to note that nearly 61% of the funds raised by bonds issued over the summer will go at least in part to pay off old debt. So, while the headline number for credit growth going to China's real estate sector is eye-popping, the impact on final demand for commodities such as concrete, steel, and copper is mitigated by the relatively low proportion of debt financing productive investment.
One note on the construction sector: 81% of its outstanding debt was issued by LGFVs. Therefore, a huge chunk of China's top line credit growth is going to finance the development projects of local governments, which arguably have much less economic utility than the investments of profit-seeking enterprises.
As it happens, purely profit-seeking enterprises are rare in China's corporate bond market. In fact, only 10% of currently outstanding corporate sector debt was issued by privately owned enterprises.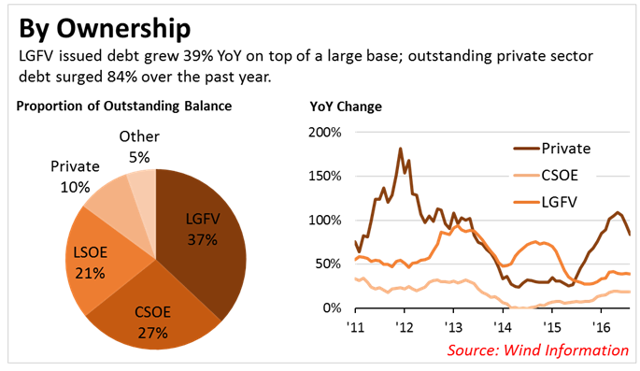 LGFV issuers comprise the largest segment of China's "corporate" bond market, with central and local state-owned enterprises taking second and third place, respectively. That being said, POE debt has grown quickly lately, driven mainly by the real estate sector, which is responsible for over half of all new debt issued by POEs over the summer.
Finally, let's consider the use of funds. As China's growth has slowed, marginal incremental investment has also become less productive. This phenomenon is highlighted by the increasing proportion of funds raised by bond issuance going to pay off existing bank loans or maturing bonds rather than financing productive investments.
The prospectuses of Chinese corporate bonds disclose a use of funds, which allows us to calculate how much funding is going either completely or partially towards paying off old debt.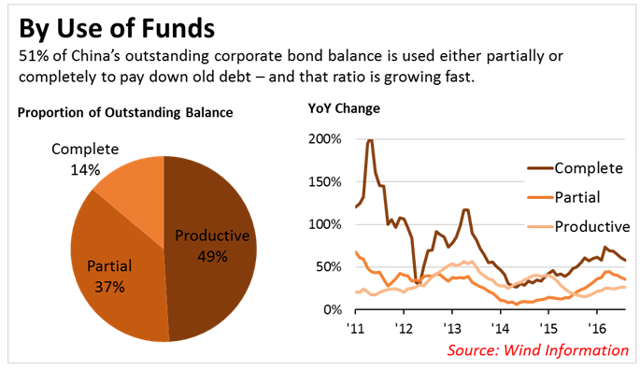 The balance of outstanding corporate sector bonds issued to completely pay off existing debt - funding no new investments - has grown by 58% over the last year. This significantly reduces the economic output resulting from each new unit of investment input. Drilling down by industry, we see that the steel sector has the lowest proportion of productive debt:

In sum, the continued surge in credit should continue to prop up China's economic growth. However, the final destination of investment varies wildly by sector, issuer ownership, and use of funds. Therefore, understanding the cross-sectional characteristics of credit growth is key for estimating China's demand for commodities and imports from around the world.
Areas for future research:
Test the relationship between sector level credit growth and VAI data.
Test the relationship between use of funds and commodities demand.
Disclosure: I/we have no positions in any stocks mentioned, and no plans to initiate any positions within the next 72 hours.
I wrote this article myself, and it expresses my own opinions. I am not receiving compensation for it. I have no business relationship with any company whose stock is mentioned in this article.