Will Lawsuits Derail a Tesla-SolarCity Tie-Up?
While the stock prices may not reflect it at the moment, many seem to expect investors to follow the lead of Tesla's (NASDAQ:TSLA) CEO Elon Musk on wanting to acquire SolarCity (SCTY) in an effort to form a renewable energy powerhouse.
However, that assumption could be wrong, especially when considering the four lawsuits Tesla received from September 1st through September 16th from shareholders opposing the deal.
It was thought that a vote on the deal could come as soon as October, paving the way for a quick acquisition process for Tesla, especially now that no other suitors have approached SolarCity about a deal during its go-shop period.
However, Tesla has acknowledged that the tie-up could be delayed as a result of these lawsuits.
Sometimes it's fun to fantasize, to think of the "what-ifs" and the "it'd be so cool if" scenarios. No doubt, believers in Musk are looking at the world-changing products that could shape our green, renewable future. Adding SolarCity to its fleet of sexy, electric cars and Powerwall products would be a major piece in that puzzle.
But then reality comes knocking. It comes in the form of debt collectors, lawsuits, bills and shareholders. Yes, a tie-up between Tesla the automaker, Tesla the energy storage company and a solar company would be cool. But is it practical?
The cash burn at both companies are concerning, as is the rising share count for Tesla. More equity will need to be issued and it has more than a full plate at the moment. Typically, a company looking to acquire SolarCity would likely wait for its fundamentals to deteriorate even further.
But given that SpaceX and Musk & Family have been funding the company previously, and given that Musk is the largest shareholder in SolarCity can be viewed as a game changer. Am I suggesting Musk is immoral? No, I am not. I do not know Musk personally, all I know are the facts.
Musk has the most to lose should SolarCity go bankrupt. Equity-wise, it would cost him a fortune. So the acquisition, even if dilutive to Tesla, helps him on that front. It works out especially well if he can Band-Aid the situation long enough to hopefully turn SolarCity's woes around.
Will it be turned around? That likely depends on the acquisition from Tesla. Musk is brilliant and perhaps he believes it's a reward to shareholders, not a punishment. I don't know. But I do know there're at least four people who disagree with the plan, and they have every right to be skeptical.
GoPro's New Gear
Ignoring the fact that shares of GoPro (NASDAQ:GPRO) still have a 52-week high north of $35 and an all-time high close to $90, one could argue the stock has been doing well.
Even after falling $1 per share from Monday's highs, the stock is still up 02% in the past week. Not too shabby - but again, not great considering where it's been. But in the stock world, as in life, it's all about where one is going, not where they have been.
On Friday, analysts at Bank of America initiated GoPro with a buy rating, partly over optimism on the company's new products. On Monday though, we got a look at them.
GoPro's new camera, the Hero 5 Black, will be available on October 2nd, and features "waterproofing without housing, voice control, image stabilization, GPS, 4K video and 12 megapixel photo taking capabilities. Priced at $399."
The Hero 5 Session offers 4K video capability and voice control, and is priced lower at $299. Some of the bigger news investors were looking for focused on the drone, Karma. Priced at $799, the device is compatible with the Hero 4 and 5.
Of course, the big question for all of it is, will it sell? Surely it will sell, but investors really want to know if GoPro can get back to holiday-2014, where GoPro devices were the hit of the season and every kid seemingly wanted one. At $299 and $399 for the Hero 5, it still seems pricey.
The Hero is now priced at $199, which may lead to a sales boost for those looking to pick up a device at a lower price point. Sales in Q4 2014 hit $634 million, but cratered to just $437 million in Q4 of the following year. Expectations for this year's fourth quarter sit at $675 million. Investors, I would guess, would be quite pleased with these results.
Facebook Shares Have Upside
Despite reporting what many concluded was a fantastic quarter, shares of Facebook (NASDAQ:FB) have struggled to gain upside momentum since late-July.
However, one analyst believes that upside will eventually come, as Mark May of Citigroup raises his price target to $158 and maintains a buy rating. He argues that EPS estimates could prove to be conservative, paving the way for him to raise estimates for 2016, 2017 and 2018.
The price target implies upside of more than 20%, which some will argue isn't enough, while others will say is far too much. Naysayers on Facebook point to the company's trailing P/E ratio of 62 and P/S ratio of 16.
While its P/S seems absurdly high, it's the future years of growth that investors are banking on. For instance, the stock may trade at 62 times its last 12 months of earnings, but at just 25 times the next 12 months. A sub-1 PEG ratio isn't an unattractive figure and its future growth is promising too.
Given that revenues climbed some 60% last quarter, Facebook is still exhibiting healthy growth, while its social media properties claim dominance in many metrics. The more efficient Facebook becomes with advertising, the more money it will make and the better positioned it will be.
There's also the competition. Like Amazon (NASDAQ:AMZN), some will argue that the valuation is too high. But then there's the realization: Who will knock off Amazon? Yes, the valuation is high, but who will replace the e-commerce giant as sales continue to shift online?
Will it be Wal-Mart (NYSE:WMT) via Jet.com? Maybe. But in five years and ten years and twenty years, it's safe to say, Amazon will still be here. It could be argued that Facebook doesn't have as wide of a moat as Amazon, but it still begs the question: Who will knock them from the top?
Until there's even a shred of conviction in this answer, Facebook will likely continue its dominating ways. Further, it's hard to discount the still-young CEO Mark Zuckerberg.
Avnet, Tech Data Notch Multi-Billion Dollar Deal
Shares of Avnet (NYSE:AVT) climbed 6.8%, while Tech Data (NASDAQ:TECD) jumped 22.3%. Did one buy the other? Despite what some would assume for such large moves in the stock, no they did not.
So what's the deal? Tech Data is paying $2.6 billion for Avnet's technology solutions business. Of the $2.6 billion, $2.4 billion will be in cash, with the remaining $200 million coming in the form of Tech Data common stock.
Even after Avnet's advance on Monday, shares are only up 3% over the last three years. The stock has been struggling and investors have viewed it as a cheap, but low-growth option. The deal will line the company's pockets with cash, allowing it to pay down debt (in fact, the company's total debt stands at roughly $2.49 billion) and gives management more flexibility.
For Tech Data, the deal will be accretive to its business, and given that a majority of its business comes from Europe at the moment, the deal will pave the way for Tech Data to grow its reach in Asia.
Unlike shares of Avnet, shares of Tech Data have fared much better over past 36 months, climbing roughly 70%. Shares hit a new 52-week high on the news, although, it's volatility over the past year is certainly noteworthy.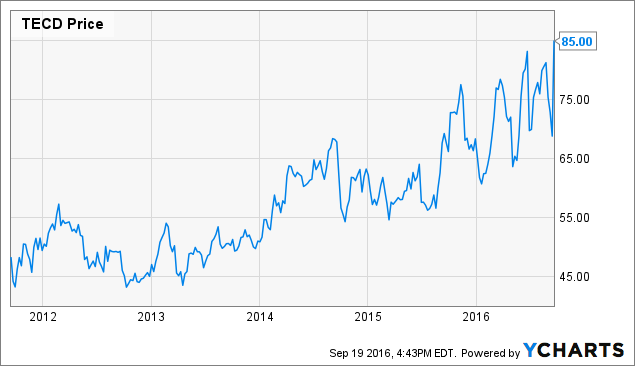 Disclosure: I/we have no positions in any stocks mentioned, and no plans to initiate any positions within the next 72 hours.
I wrote this article myself, and it expresses my own opinions. I am not receiving compensation for it (other than from Seeking Alpha). I have no business relationship with any company whose stock is mentioned in this article.