Royal Gold Acquires 3.75% Royalty on Cortez Mine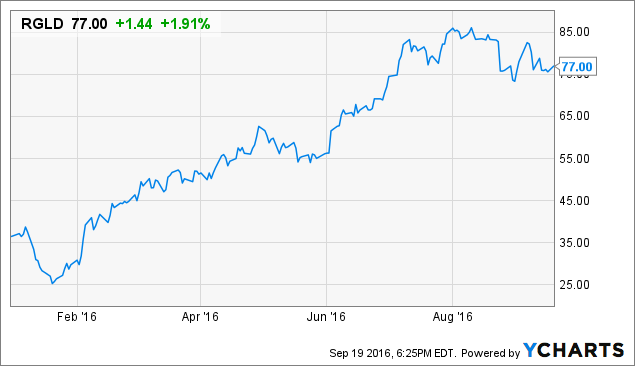 Royal Gold (NASDAQ:RGLD) made the news Monday evening when it announced it has agreed to acquire a 3.75% net value royalty (NVR) on a significant area of land on Barrick's Cortez gold mine, including the Crossroads deposit. The deal was made with a private party and the total consideration is $70 million.
The Cortez mine is one of Barrick's strongest assets. In 2015, the Nevada gold mine produced close to 1 million ounces of gold at all-in sustaining costs of just $603 per ounce; in 2016, production is expected to range between 980,000 - 1,050,000 ounces at all-in sustaining costs between $520-$550 per ounce. The mine has more than 11 million ounces in gold reserves, so it should be producing gold for many years to come.
It's important to note that Royal Gold already owns a 1.014% net value royalty on Cortez, as well as an additional .618% royalty on Crossroads, a deposit which is expected to produce gold for about 9 years.
Therefore, this deal increases Royal Gold's interest in Cortez to a 4.37% NVR; Barrick also owns a separate 5% gross smelter returns royalty on production from Cortez. Readers may remember that Barrick Gold sold the original royalties to Royal Gold in exchange for $150 million in cash back in 2008.
A net value royalty means Royal Gold gets a percentage of the gross revenue produced from this deposit, minus certain costs. It differs slightly from a gross smelter return. A full explanation of each royalty can be found on Royal Gold's website.
Royal Gold plans to draw from its revolving credit facility to complete the deal. Following closing of the acquisition, the company says it should have $305 million available on the credit facility, with $345 million in debt.
Is This a Smart Move by Royal Gold?
The Cortez mine royalties are already a big source of revenue, cash flow and gold reserves for Royal Gold.
In 2016, the company has guided for 68,900 ounces of attributable gold production on its existing NVR on Cortez. When you factor in production from the company's three gross smelter royalties, Royal Gold expects approximately 320,000 ounces of gold production from its Cortez assets in 2016, according to its website. As of Dec. 31, 2015, Royal Gold's interest in Cortez amounts to 3.7 million ounces of proven and probable gold reserves.
This acquisition doesn't exactly help Royal Gold diversify its asset base. But I'm completely fine with that, given its one of the strongest assets in Royal Gold's portfolio. I have no issues with this deal whatsoever.
There is very little risk with this deal in my opinion, given the low AISC of the mine and the fact that Barrick Gold, a $20+ billion senior gold miner, is the project's operator. For just $70 million, Royal Gold was able to increase its interest in this project considerably.
How soon can Royal Gold expect cash flow from this acquisition? Well, apparently in just a few years. The company says waste stripping at the Crossroads deposit began in 2015, and production is estimated to begin in 2018.
Is Royal Gold a Buy?
Yes, this was a pretty good move by Royal Gold, but I'm not convinced shares should be bought just yet.
As mentioned in a recent article, I felt Royal Gold had a strong Q2 earnings, and the Thompson Creek Metals takeover by Centerra Gold (OTCPK:CAGDF) is certainly a positive development, but I think all of the positive news has already been priced into the stock. Shares look a bit expensive, with an EV/EBITDA ratio of 22.15, according to Yahoo Finance.
Royal Gold is a great company and I think the stock will outperform over the long-term, but I think investors should exercise some patience here. Personally, I think any price below $70 per share is a buying opportunity. Until then, I remain on the sidelines.
Disclosure: I am/we are long CAGDF.
I wrote this article myself, and it expresses my own opinions. I am not receiving compensation for it (other than from Seeking Alpha). I have no business relationship with any company whose stock is mentioned in this article.
Editor's Note: This article discusses one or more securities that do not trade on a major U.S. exchange. Please be aware of the risks associated with these stocks.