At the beginning of the month, I contemplated whether or not it was time to be fully bullish or not on Chesapeake Energy (NYSE:CHK). This stock has been front and center on many a investor's radar in 2016, with many conflicting investment pitches. An immediate reaction to a major investor like Carl Icahn cutting his stake by half would likely be to panic and fear sell it. However, Icahn is doing so for reasons unrelated to Chesapeake and is instead trying to gain a tax benefit.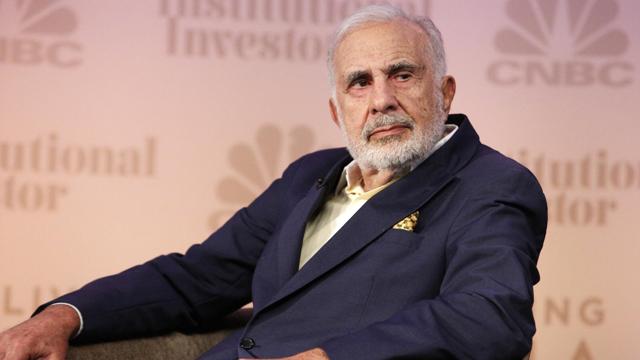 Source:
Why Icahn Is Selling
Icahn stated that he's selling CHK for tax purposes. It's an interesting statement, undoubtedly, as usually tax-selling season is December where a lot of investors, across all tiers, try to gain the highest amount of itemized deductions possible by selling some of their underperforming investments. Additionally, if he's actually doing it for his own tax purposes, then he's only allowed to claim a $3,000 itemized deduction if his losses exceed his gains, per US tax law. This is an amount he likely spends on a single steak dinner, so if it truly is for tax purposes, he's doing it through his fund in the manner of an NOL and carrying it forward the next couple of years.
His stake is now at 4.55%, versus a previously reported 9.4%. As I'm writing this, shares are down nearly 5% in after-hours trading, which makes really no sense to me as the fundamental situation has not changed. If anything, over the past few months it's only improved and allowed the company some breathing room in their credit profile. I believe it's an overreaction.
Let's think back to when Icahn first took a position. In May of 2012, Chesapeake was busy being a bellwether in the natural gas industry under the leadership of co-founder Aubrey McClendon and the stock was trading at around $18 per share, seen below.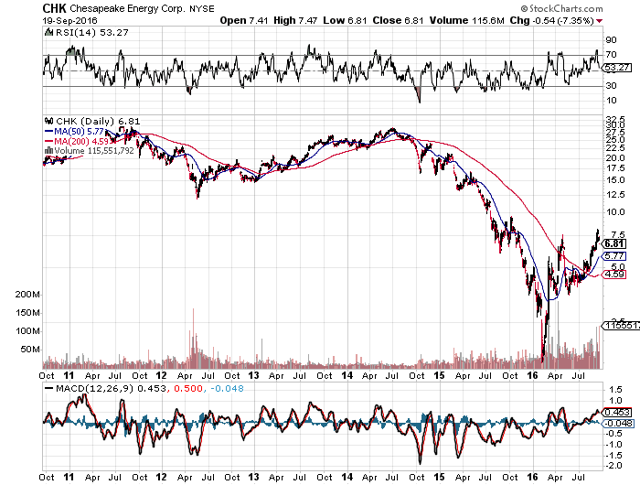 Source: StockCharts
Since then the investment has fallen consideribly and at one point, shed nearly all of its value. Since Icahn is selling for tax reasons, it means he views nothing fundamentally wrong with the company and is trying to make his tax bill a bit lower, without waiting for a potential tax selling season in December where his exit point may be lower. To put this in perspective, Icahn now owns 35.3 million shares, which is down from 73 million shares back when he reported in August.
Simple math will show that his stake in Chesapeake was once worth about $1.31 billion and before the stake cut, it was worth only about $500 to $525 million, assuming a small band around a $7 price level. That's a loss of nearly 61-63%, which is staggering and likely surpasses any retail investor's tolerance. Yet, Icahn was heavily invested in Chesapeake in more than just stock, as he had board seats. He was actively trying to make the company outperform, yet the macro environment had other plans.
Impact To Shareholders
I think all this sale does is create a buy window for prospective shareholders. The stock was down 7.35% in Monday's trading, and with the after-hours trading showing the stock down an additional 5%, shareholders are getting a meaningful discount to a strong risk/reward scenario for a company with significant growth catalysts and a positive outlook on the macro environment.
Even back in February, when the stock was on the verge of bankruptcy, Icahn didn't cut his stake, which should tell investors a lot about his outlook for the company. The stock may feel the pain of Icahn's selling for even a few days, but I'd be surprised if equity holders didn't recognize the discount and swing it back up towards the $7 level. Selling right now, especially as a retail investor, is a poor decision, mostly for reasons that I outlined in my previous article. As a summary, here are the primary catalysts:
Henry Hub prices are materially improving, increasing the 2016 average and soon allowing CHK to break even
La Nina, a large catalyst to the upside for natural gas, may occur as soon as December 2016
Divestments continue to occur, allowing CHK to lean out and improve liquidity, such that FCF positivity is a near-term event
The risk/reward situation is still massive, with price targets even at $10/share providing nearly a 35% return on investment
Additionally, this move by Icahn may free up capital for him to invest elsewhere in the sector. Perhaps another O&G E&P has caught his eye and he is running the due diligence on it right now. While this is pure speculation, it is my belief that he isn't going to let his cash sit idle. Icahn's fund, Icahn Capital LP, is up about 1.94% YTD. Now, this isn't likely to be the total investment performance for himself as he is likely involved in several other funds, ventures, and fund of funds to diversify his holdings. If he is using the net operating loss way to tax-advantage his portfolio, then the Icahn fund will significantly improve its returns over the next couple of years.
Conclusion
Don't sell Chesapeake just because Icahn did. He did so for smart tax reasons that are not related to the company's fundamentals or the operating environment. The company itself is still in a decent position to make it out of 2016 alive, break even on cash flow, and provide strong capital gains to shareholders. The current sell-off is an overreaction.
Disclosure: I am/we are long CHK.
I wrote this article myself, and it expresses my own opinions. I am not receiving compensation for it (other than from Seeking Alpha). I have no business relationship with any company whose stock is mentioned in this article.