Three days ago, as reported on Bloomberg and elsewhere, a plaintiff named Doris Shenwick from California sued Twitter (NYSE:TWTR) for allegedly artificially inflating its stock price by making false statements about its business prospects, and as a result, decimating shareholder value. Normally, Bloomberg does not bother with reporting frivolous lawsuits, and I wouldn't look twice at these sorts of lawsuits either. Every day, some company gets sued by some disgruntled shareholder or some law firm with an agenda. However, when I read through the actual draft of the lawsuit, I found the basic premises of the lawsuit compelling.
It is, indeed, a fact that Twitter stock has shed almost half its value in the last one year, and almost three quarters of its value since IPO. Just usual business, right? Wrong, if such a state of affairs arises out of allegedly false and misleading claims and projections from the ex-CEO of Twitter - that is what the lawsuit claims.
What are these statements? On an Analyst Day in late 2014, Twitter's CEO made the following statement, among others:
We think we have a significant product roadmap, much of which hasn't been launched yet that [we] believe positions us to grow our monthly active users by 2x to over 550 million in the intermediate term and 3-4x to over a billion core users, monthly active users over the longer term.
and the following graph was provided: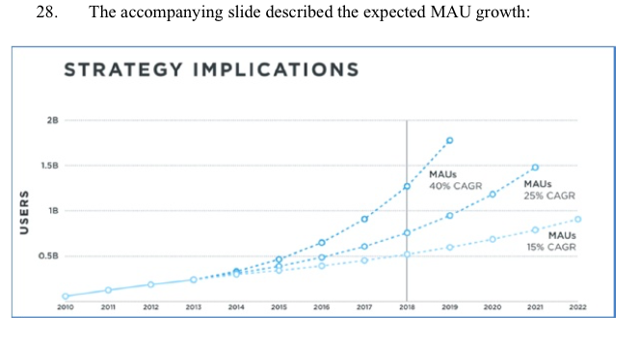 Four months later, following its 2014 earnings release, Twitter also made robust claims about its MAU (monthly active users) growth, which saw the stock go up 17%. However, at this time, Twitter stopped releasing one of its two key metrics, the timeline view, which used to measure user engagement. This was striking enough that the SEC was forced to ask them why they stopped it, and what alternative metrics they plan to use.
Two months later, during its first-quarter earnings release, Twitter reported that
Furthermore, the Company reported that Twitter's MAUs only increased 5% over the prior quarter, including 3% growth in U.S. MAUs.
Twitter now has 313 million users only, a far cry from the 550 million they had predicted in the intermediate term in late 2014. That is what the lawsuit alleges.
Although these sorts of lawsuits are passé, mainly because future guidance is almost never accurate and hardly a matter entertained by courts in a lawsuit unless the guidance is markedly overambitious, investor takeaway is that with rising competition from Snapchat (CHAT), Instagram and even Facebook (NASDAQ:FB), Twitter, which once used to be the definition of micro-blogging, has dwindled in user numbers. That translates to a dwindling of its revenue stream as well. See the following graph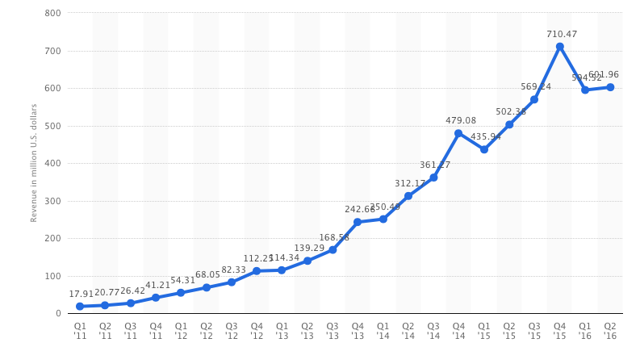 Source: Statista
Other developments at Twitter
Since Jack Dorsey's return to Twitter last year to fix the micro blogging company, we have been seeing a number of interesting new initiatives. Not that all of them are paying off; however, its first NFL Live Stream was a great success.
Yesterday Twitter reached another milestone; in fact, if you consider that Twitter is a micro blogging platform, then its decision to forego the 140 character limit to the tweets is disruptive. The decision has been months in implementation. Twitter has had code to enable 10,000 character tweets for a while now, but considering its micro blog nature, it was reluctant to roll out that functionality and get lost in the melee of hundreds of blogging platform.
Even now, the actual 140 character limit has not been removed. All that has been done is that certain things like gifs, rollover images, videos and polls, references to other tweets, etc. will no longer count towards your 140-character limit. Thus, there is now more opportunity to be creative.
The 140-character limit is, in my opinion, one of the greatest and best aspects of Twitter. In the Internet age, where everybody talks too much and readers find it difficult to separate the chaff, a 140-character limit makes people think, choose, abandon unneeded words - and it makes Twitter reading experience that much more interesting. If you, a tweet author, need to tell the world - in a long essay - all about yourself, there's the actual blogging platform. But here on Twitter, we need you to be brief and to the point. That's the biggest charm of Twitter.
Therefore, I, for one, am glad that the 140-character limit is still there. Jack Dorsey once described it as a "beautiful constraint," and I agree with him. The new additions will help develop the tweet experience without abandoning basic brevity. The idea that I see goes like this - writing out words is easy. Creating or finding an appropriate gif or video will take extra effort, which the Twitterati will only resort to when there's a real need for it. Thus, such a tweet will have its use.
But Twitter's problem is how to convert these initiatives into MAUs and ultimately into revenue and income.
In that regard, its latest foray into live streaming the NFL, which was said to be wildly successful, is a good initiative. Spending less than $15 million for the streaming rights, and streaming without disruption, Twitter managed to lure in over 2.1 million viewers to its NFL stream. This is 13% of the total 15.7 million viewers who watched the NFL. However, one user engagement metric seemed to lag. On average, viewers were on Twitter for 22 minutes only, as against the NFL time period of 180 minutes. That may deter some advertisers.
Overall, the bottom line of this brief study is that, although I like my daily dose of tweets from all sorts of interesting personalities, TWTR as a stock needs to pick up, and Twitter as a company needs to sort out its very appealing product's business strategies properly.
Disclosure: I/we have no positions in any stocks mentioned, and no plans to initiate any positions within the next 72 hours.
I wrote this article myself, and it expresses my own opinions. I am not receiving compensation for it (other than from Seeking Alpha). I have no business relationship with any company whose stock is mentioned in this article.