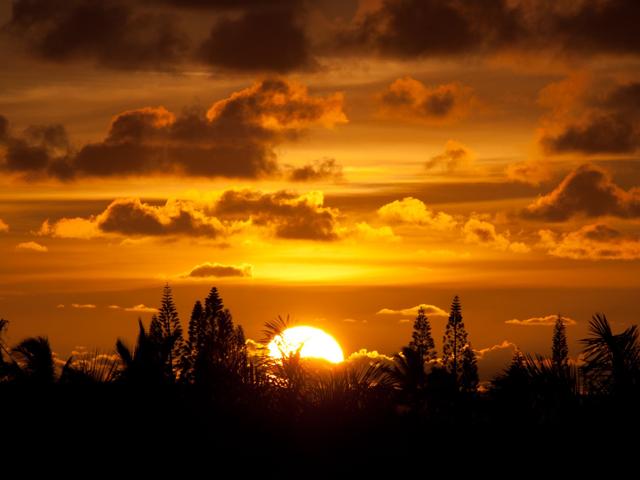 Source: commons.wikimedia.org
It has long been my position that deflation risk, declining bond yields, and loose monetary policy would dominate the macro environment for some time to come. The work of economists like Lacy Hunt, Gary Shilling, and John Mauldin has long pointed to the continuation of these trends in the wake of the huge balance-sheet recession that did so much damage to both the global economy and the markets in 2008-2009. The enormous equity market rally since 2009 has arguably been greatly prolonged by massive and nearly continuous central bank interventions involving ZIRP, QE, and now NIRP. But recently there have been some signs of the long-sought-after reflation, suggesting (yet again) that the great bond bull market may finally be over. If so, then the recent global reflation trade involving commodity price rallies and surging returns on bank loans, REITs, and other real assets might very well continue. What are the factors driving the reflation trade, and how might we make a judgment call on this macro theme?
Recently, Chris Brightman of Research Affiliates wrote a well-reasoned argument about the death of the risk-free rate, the imminent prospect of central bank-provided "helicopter money," and their probable combined impact on inflation in the years ahead. He rightly (to my way of thinking) points out that asset allocation models are not set up for a negative risk-free rate regime (NIRP), and therefore investors adhering to traditional allocations like the venerable 60/40 stock/bond allocation are more or less guaranteed to fail with respect to their long-term investment goals. If cash and bonds represent asset classes whose returns will be reliably negative for the foreseeable future, most of the standard allocations to bonds and cash will need to flow out of investors' portfolios. What are we to do if that is the case? Of course, tactically, it may make sense to hold large amounts of cash occasionally to preserve optionality and mitigate potential risk in an unsettled or dangerously overbought market. Bonds and cash can also be used to produce "potential timing alpha" rather than as core holdings, according to Brightman. But long-term allocations to cash and bonds should probably decline.
Financial repression like that being experienced under NIRP has historically resulted in high inflation rates, according to C. Reinhart and K. Rogoff (2009; This Time Is Different: Eight Centuries of Financial Folly, Princeton, NJ, Princeton University Press, 463p). If helicopter money finally arrives as predicted by many, inflation seems sure to follow in fairly short order. Investors would do well then to consider moving some of their cash and bond assets to higher-yielding real assets in anticipation of that event. Brightman suggests the use of assets that have a positive correlation of returns with inflation. Historically, this would include commodities, bank loans, high yield bonds, REITs, and emerging market equities (Chart 1). These assets appear to have higher starting yields (Chart 2) than other asset classes, which is generally predictive of higher long-term returns. As one might expect, these higher-yielding real asset classes have more volatile returns over time, but research by Brightman indicates that this volatility is compensated for by a dispersion pattern that is mainly positive (Chart 3).
Chart 1: Correlation of Returns to US Inflation 1993-2016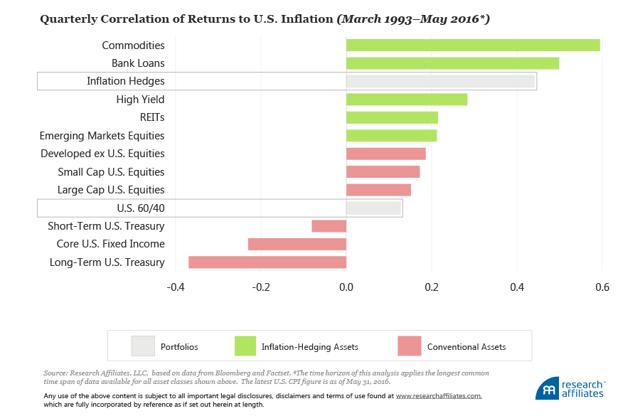 Source: researchaffiliates.com
Chart 2: Starting Real Yields for Asset Classes in June 2016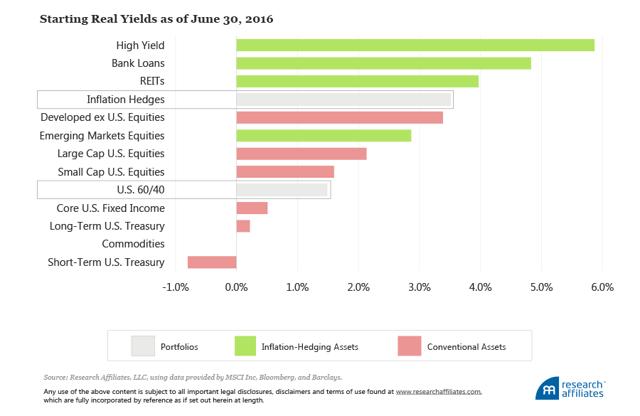 Source: researchaffiliates.com
Chart 3: Real 10-Yr. Expected Returns Vs. Volatility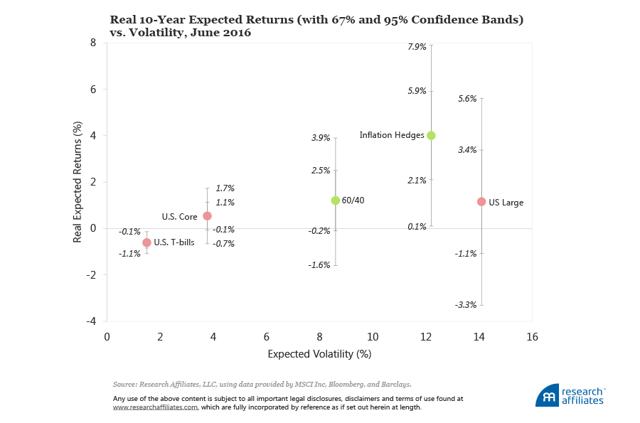 Source: researchaffiliates.com
If we turn to an examination of the asset classes mentioned by Brightman, we soon discover that some of these trades have already done very well since Brightman wrote his article in June. For example, natural gas, crude oil, copper, iron ore, tin, gold, sugar, and the overall S&P GSCI Commodities Index have all apparently bottomed, and most have also had sharp rallies (Charts 4-11).
Chart 4: US Natural Gas Continuous Contract (Weekly)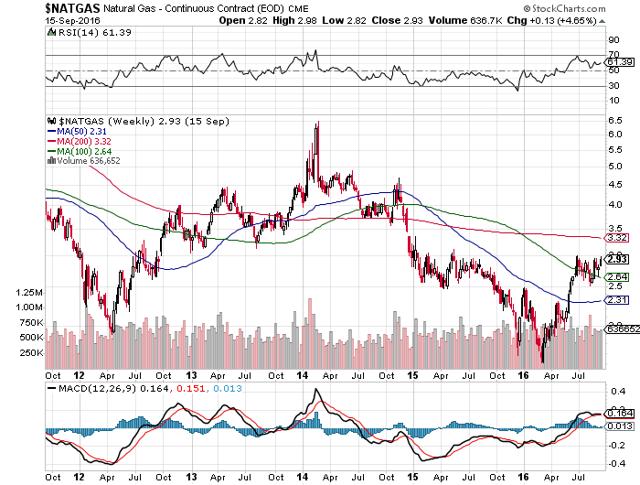 Source: stockcharts.com; Author
Chart 5: WTI Crude Oil Continuous Contract (Weekly)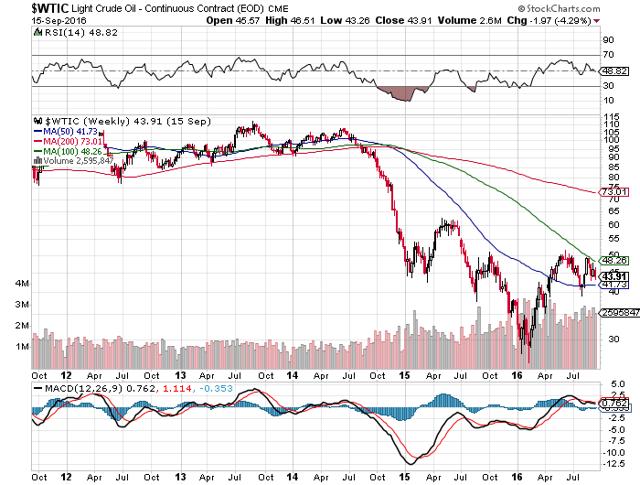 Source: stockcharts.com; Author
Chart 6: Copper Continuous Contract (Weekly)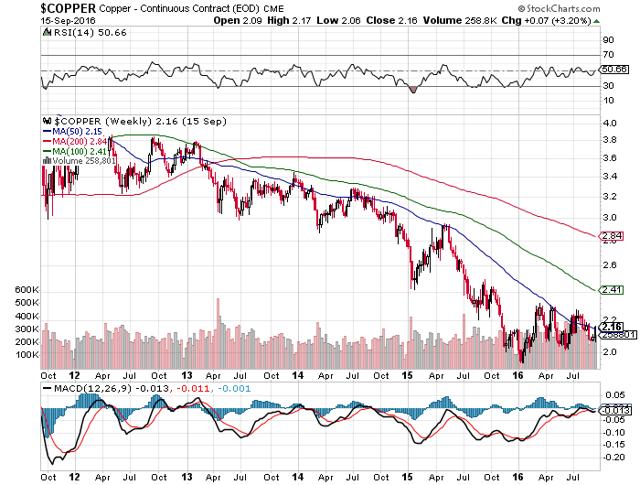 Source: stockcharts.com; Author
Chart 7: Iron Ore Futures (Weekly)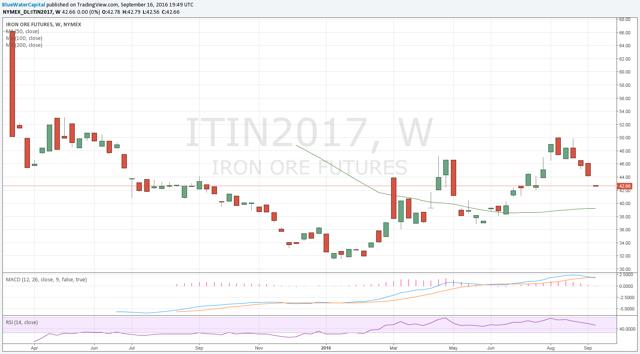 Source: tradingview.com; Author
Chart 8: Tin (NYSEARCA:JJT) ETN (Weekly)
Source: stockcharts.com; Author
Chart 9: Gold Continuous Contract (Weekly)
Source: stockcharts.com; Author
Chart 10: Sugar Continuous Contract (Weekly)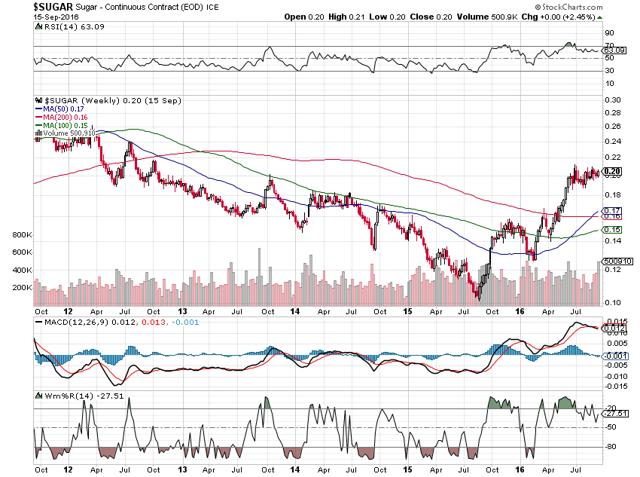 Source: stockcharts.com; Author
Chart 11: S & P GSCI Commodity Index (Weekly)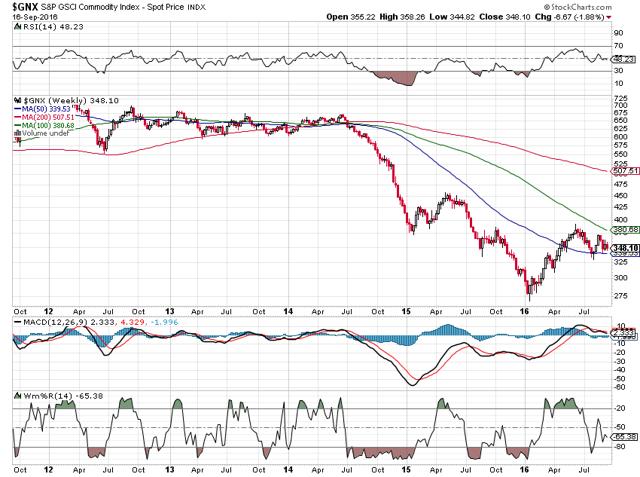 Source: stockcharts.com; Author
Normally one must be very cautious investing in commodities directly, and I would never recommend it to retail investors. Likewise, I would prefer not to invest in ETN-style vehicles, since they have a history of causing problems due to the way they are constructed. However, one can invest in commodities indirectly via commodity futures alternative asset funds (e.g., Credit Suisse Commodity Return Strategy (MUTF:CRSOX); Chart 12). Even here though, the dangers of a negative roll yield (caused by being forced to buy high and sell low when futures contracts expire in a contango market) can utterly destroy returns for long periods of time (Chart 13). Note also that the long period of underperformance caused by negative roll yield may be ending, based on the most recent data trends in Charts 12 and 13.
Chart 12: Credit Suisse Commodity Return Strategy [CRSOX] Weekly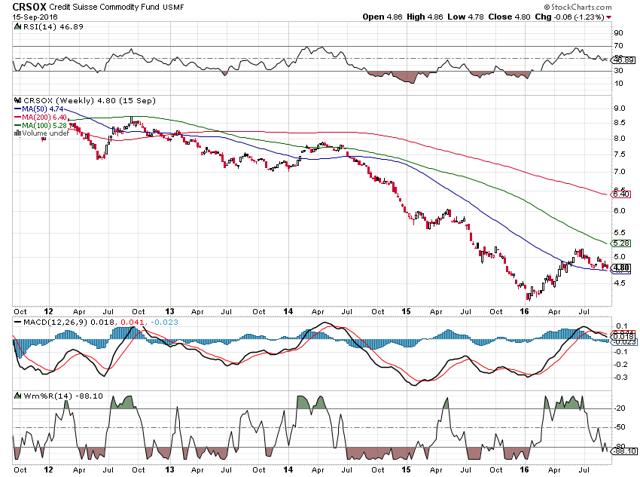 Source: stockcharts.com; Author
Chart 13: Impact of Negative Roll Yield on Commodity Futures Returns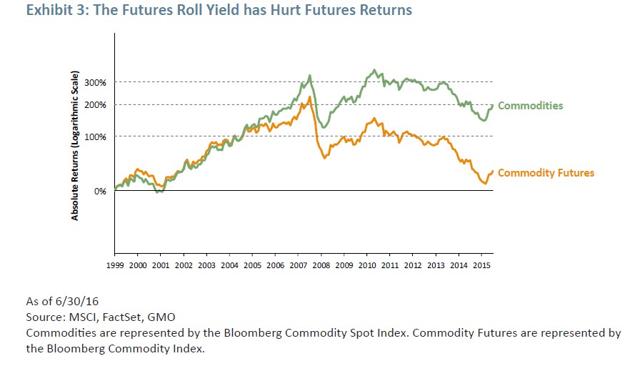 Source: gmo.com; valuewalk.com
We can also examine the recent market action (cf. Charts 14-17) for other real assets like bank loans (e.g., iShares Floating Rate Bond ETF (NYSEARCA:FLOT)), high yield bonds (e.g., SPDR Barclays High Yield ETF (NYSEARCA:JNK)), REITs (e.g., iShares US Real Estate ETF (NYSEARCA:IYR)), and emerging market stocks (e.g., iShares MSCI Emerging Markets ETF (NYSEARCA:EEM)). Summarizing, the recent market action has been slightly more varied for assets other than raw commodities futures, with commodities alternative funds, high yield bonds, REITs, and emerging market stocks rallying strongly since the February 2016 low, and floating rate bonds rallying strongly since a late March 2016 low.
Chart 14: iShares Floating Rate Bond ETF [FLOT] Weekly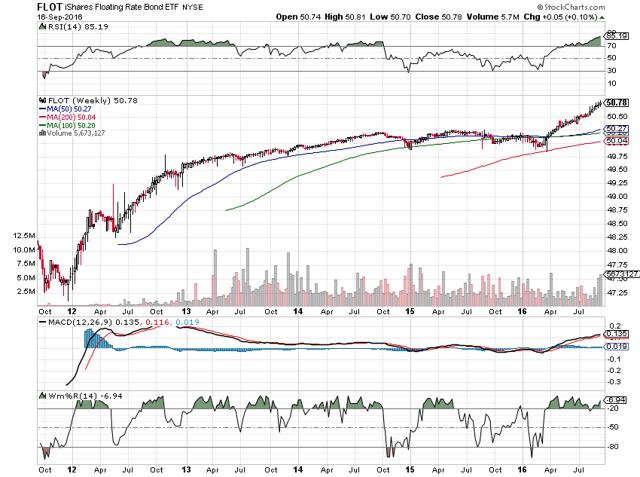 Source: stockcharts.com; Author
Chart 15: SPDR Barclays High Yield ETF [JNK] Weekly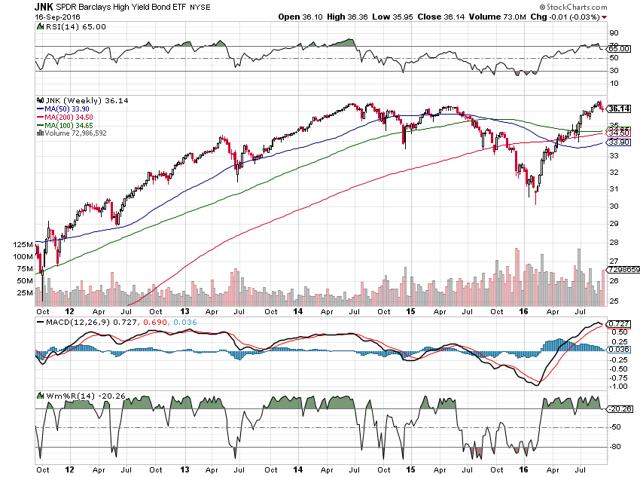 Source: stockcharts.com; Author
Chart 16: iShares US Real Estate ETF [IYR] Weekly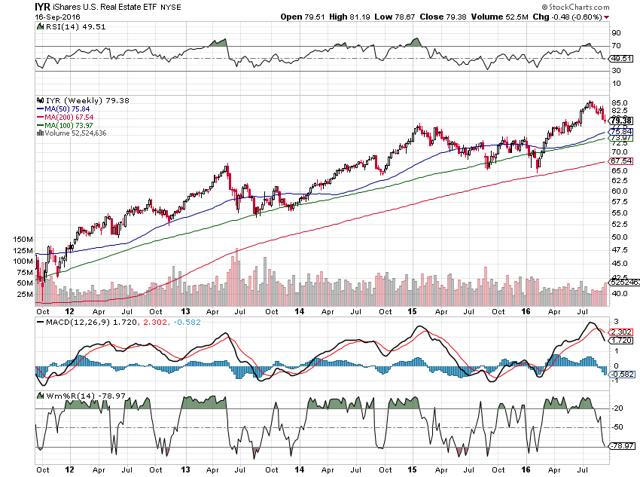 Source: stockcharts.com; Author
Chart 17: iShares MSCI Emerging Markets ETF [EEM] Weekly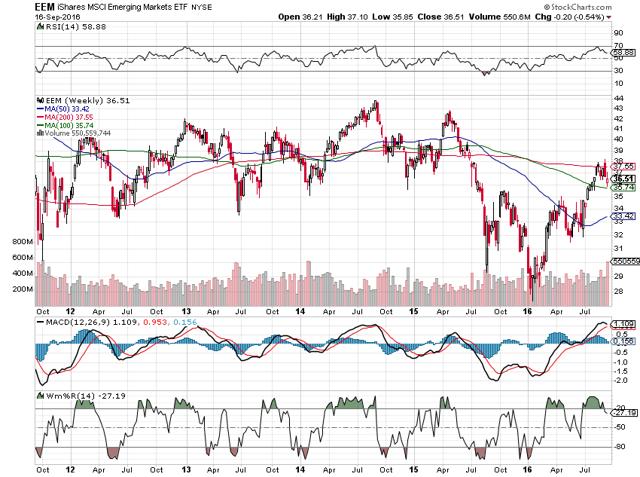 Source: stockcharts.com; Author
An analysis of the trend in the US dollar appears to be in order here as well, as many workers have noted the common inverse relationship between commodities like oil and gold vs. the dollar. Note, however, that not all periods show a negative correlation. Historical data also suggest that the US dollar rally may be relatively near its peak (Chart 18), which should lead eventually to a decline that would further support inflation, commodities, and the other real assets to some degree. This opinion is shared by Nautilus Investment Research, and by Ben Mandel at JPMorgan Asset Management. In fact, the last three Fed rate hike cycles were accompanied by a dollar decline after the decision was actually announced.
Chart 18: The US Dollar Rally Nears Its Peak?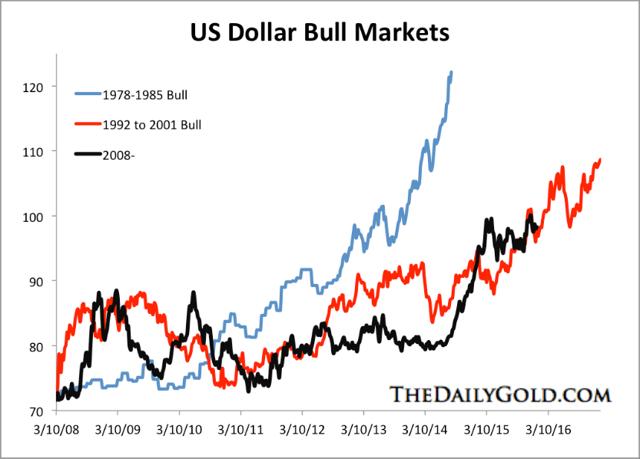 Source: thedailygold.com; gold-eagle.com
However, the research staff (R. Brooks & M. Cahill; 2016) at Goldman Sachs suggest that combined central bank action would be required to drive the dollar much lower than it is right now. And of course, as famous investor Jim Rogers has pointed out, if there is a correction or bear market, the fear trade could boost the US dollar to much higher levels before any major decline can actually occur. Taken together, these arguments would appear (at first glance) to favor the possibility of the reflation trade continuing, at least in the near term, but with the caveat that there could be high volatility and frequent reversals in the trend if equity markets sell off.
The requirements for a sustained reflation trade have also been discussed by BCA Research, who base their reasoning on the satisfaction of two critical requirements: 1) Chinese policymakers' ability to wean the Chinese economy off its dependence on ever-expanding credit; and 2) the Fed's reaction function to global growth's renewed positive impact on the US economy, if it occurs. With respect to the first requirement, BCA Research believes that the main headwind slowing the Chinese recovery is the massive debt they have incurred; it now takes $4 of credit growth to yield $1 of GDP growth, and this is a source of deflationary pressure. Additional deflationary pressure comes from China's huge overcapacity in many industries. However, the extremely high household savings rate in China means that the debt problem may well be handled over time via renewed private investment, and this investment could continue without necessarily resorting to ever-increasing credit growth. China's balancing act in trying to reduce overcapacity, slow down credit growth, and yet maintain economic growth, is the key here, and although they have struggled, it does appear, based on evidence from Deutsche Bank that Chinese growth is indeed stabilizing (Chart 19).
Chart 19: Chinese Growth Volatility Macro Indicator Now Stable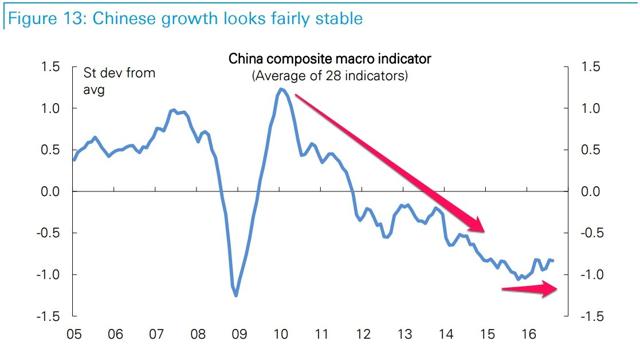 Source: Deutsche Bank; businessinsider.com
With regard to the second requirement listed by BCA Research, China's stabilization has given the Fed some encouragement that a major global growth slowdown is not imminent. There are signs that US core inflation is rising a little, in what may be the first sign that low unemployment is having an impact. Still, the Fed itself has so little confidence in what might happen with respect to rates that their latest projections are widely enough dispersed as to be almost meaningless (Chart 20). Overall then, there is little apparent consensus on the intermediate term prospects for rates or the dollar, and given the situational dynamics, we could get anything from a gradual dollar sell-off to a strong dollar rally, with real assets soaring or plummeting respectively as the case may be. For what it is worth, recent market action for the US dollar index (DXY) still suggests that a top may be forming, with as much as 24% of downside possible (Chart 21).
Chart 20: Median FOMC Projections on FFR With Confidence Interval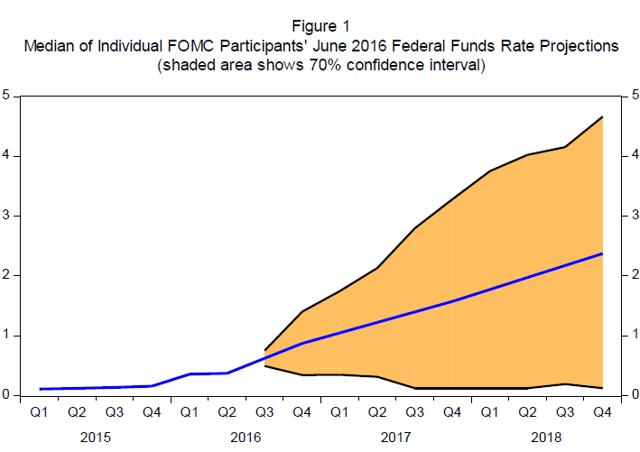 Source: Wolfstreet.com
Chart 21: The US Dollar Index (DXY) Monthly Over Ten Years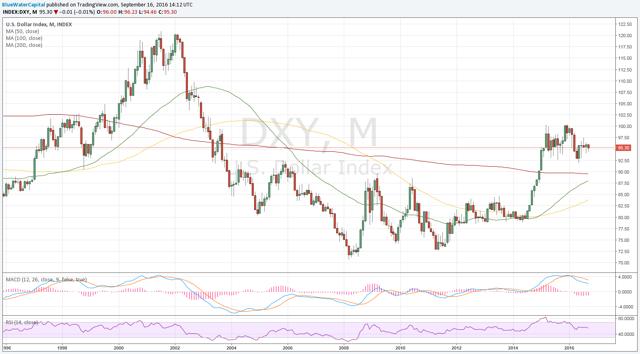 Source: tradingview.com; Author
Perhaps more importantly, in my opinion the Japanese will not be able to avoid doing some more radical interventions in the near future, since NIRP is not really working (Charts 22 & 23). According to analyst Jim Bianco (quoted by the Financial Times,[9/12/2016]), Japanese long bonds have massively rallied since NIRP was announced, with 10-year bonds soaring by 50% over the 15 months to July (cf. Chart 24), and there is real concern that the BOJ is now running out of bonds to buy. Indeed, since July the yield on the 10-year JGB has moved from negative 0.28% to negative 0.03% in a substantial sell-off. At this week's policy meeting the BOJ will release their analysis and review on the efficacy of NIRP. As John Dizard of the Financial Times (9/12/2016) has pointed out, the BOJ could decide that NIRP has failed and try something else (like helicopter money), or they could deliver a new twist on NIRP by reversing field and buying the short end of the curve in order to drive curve steepening. This latter idea is supported by some analysts, who warn that this would drive rates upward for long bonds around the world.
Chart 22: Widespread Failure of NIRP to Cause Reflation (2016)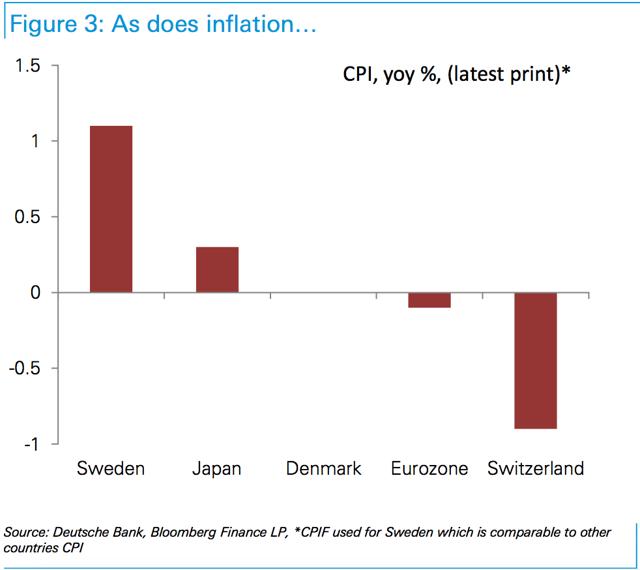 Source: businessinsider.com
Chart 23: USD/JPY Trend Since NIRP Began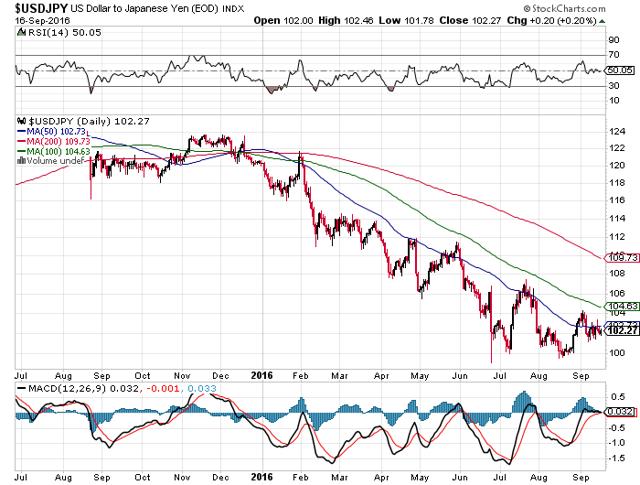 Source: stockcharts.com; Author
Chart 24: Explosive Japanese Long Bond Rally Vs. Falling Stocks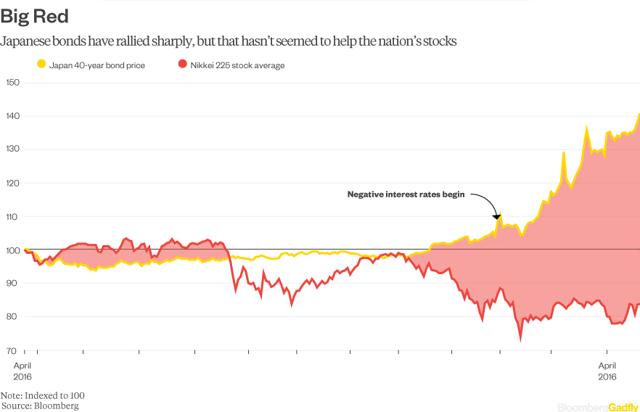 Source: Bloomberg.com
The decision to deploy helicopter money might cause the long bond to rally even more in the short run, since the BOJ could directly buy extremely long-dated or even perpetual bonds issued to make the helicopter drop to fund infrastructure spending by the government. However, the deployment of helicopter money would likely cause inflation to kick up relatively quickly thereafter, and thus global long bond yields to eventually surge strongly over time. In contrast, the use of a "reverse twist" approach to NIRP should cause long bond yields to surge immediately, and not just in Japan; this in turn might cause the yen to further strengthen and the US dollar to eventually decline.
Either way, I believe that Europe will follow the BOJ's example in changing or abandoning NIRP in fairly short order, the apparent near-term success of Swedish NIRP (under special circumstances) notwithstanding; thus, the reflation trade will likely continue under the impetus of helicopter money, or even yield curve steepening, given enough time. It may be briefly interrupted by a general market decline due to the shock of a rate surge, but then the evidence of climbing inflation rates should eventually cause a rotation to the reflation trade. We must remember that central banks are desperately trying to gin up some inflation at any price. I have no doubt that they will eventually get what they want. When they do, the reflation trade will become very strong relative to other parts of the market.
Peter Oppenheimer of Goldman Sachs has written an extensive research report on the likely macro regime in the years to come. He delineates four potential routes from here: 1) a "New Goldilocks" narrative in which inflation stays low, bond yields remain stable or fall, and fiscal stimulus raises growth expectations; 2) a continuing "Reflation" scenario in which fiscal policy helps reflate the global economy, bond yields rise substantially, and inflation rises enough to potentially hamper markets; 3) a "Fat and Flat" regime under which growth remains weak, bond yields remain low, and fiscal policy fails to gain traction; or 4) a "Stagflation" scenario in which growth is weak but inflation is strong, with rising yields and soaring inflation, and accompanied by the clear failure of fiscal stimulus. Peter Oppenheimer and Goldman Sachs clearly favor the "Fat and Flat" scenario, but events or circumstances could permit any of the other options to dominate instead. Much will depend on what central banks decide in the near term, and how market economies react in the intermediate term.
Be that as it may, there is another important aspect to all this. Lucas White and Jeremy Grantham of GMO (2016) have released an important study on the long term prospects for natural resource equities. They show that resource equities have provided strong protection against inflation historically (Chart 25). Resource equities have outperformed their underlying raw commodity real returns by a huge margin since the 1920s (Charts 26 & 27) due to the advantages of the equity risk premium. White and Grantham also show that resource equities have low long term correlations to the rest of the market (Chart 28). Commodity producers tend historically to trade at a discount to the stock market (Chart 29), but they appear to be at historic low valuations right now as well.
Chart 25: Outperformance of Resource Equities During Inflation Cycles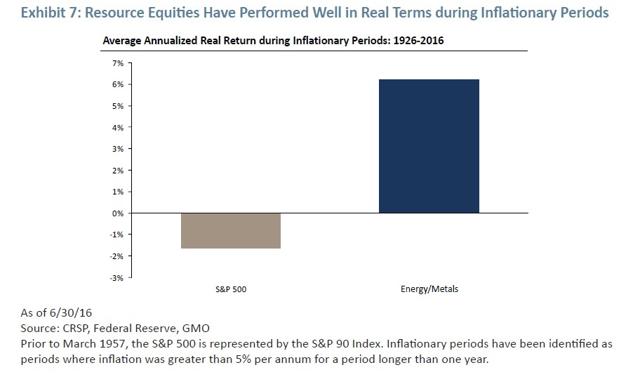 Source: gmo.com; valuewalk.com
Chart 26: Resource Equity Outperformance Vs. Underlying Commodities in Real Terms (Oil & Gas)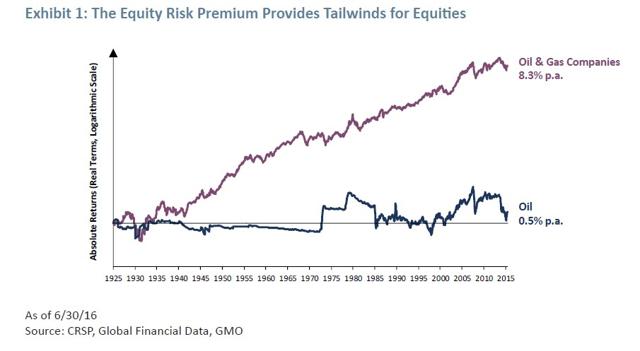 Source: gmo.com; valuewalk.com
Chart 27: Resource Equity Outperformance Vs. Underlying Commodities in Real Terms (Industrial Metals)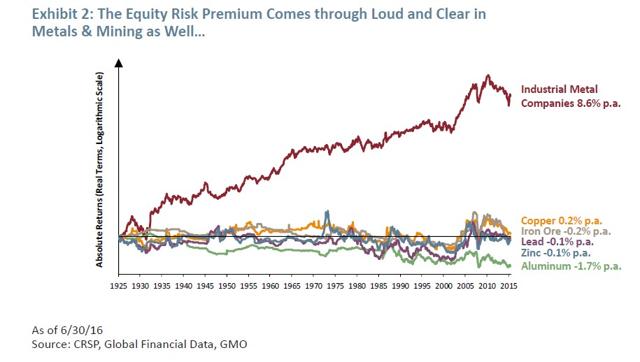 Source: gmo.com; valuewalk.com
Chart 28: Resource Equities Have Low Long-Term Correlations to the Market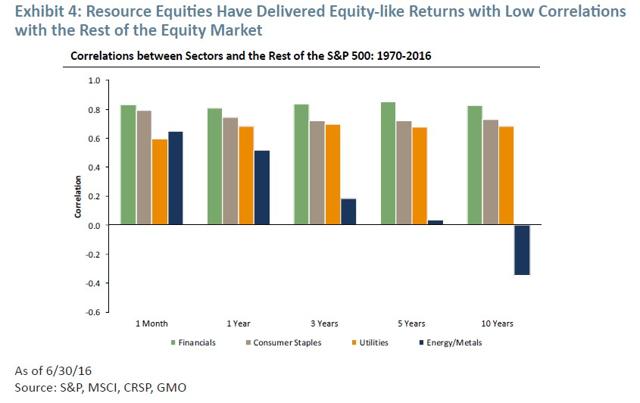 Source: gmo.com; valuewalk.com
Chart 29: Resource Equities Appear Very Cheap Historically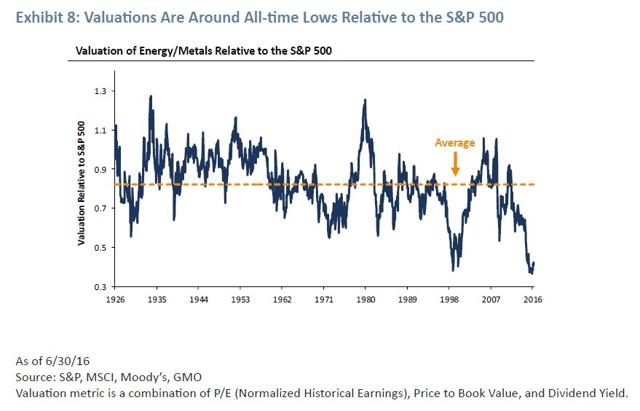 Source: gmo.com; valuewalk.com
Purists may object that insufficient weight has been given in this missive to the impact of supply and demand on the markets. While it is axiomatic that there is a supply and demand overprint on other trends (which when strong enough can actually temporarily overpower a secular trend), and that sometimes this overprint can produce deep cyclical lows, it is also true that the long term secular trend has been towards ever higher demand for energy and industrial metals in a supply-limited world. This is of course what economics is all about: the application of economic models to understanding how to maximize growth in a world of limited resources. The data presented by White and Grantham suggest that cyclical overprints can operate in the short term, but do not ultimately affect the long-term performance of resource equities; thus the treatment of supply and demand is better left to others who are working to evaluate the shorter-term cyclical aspects of natural resource commodity plays.
To reiterate, investors may want to consider the idea that even if deflationary trends continue in the short run, they will eventually be superseded by inflation, perhaps even by very damaging inflation. In the short run the "Fat and Flat" scenario could well play out, but in my opinion, the longer-run scenario is far more likely to be either "Reflation" or outright "Stagflation." Thus, the reflation trade may not be just a temporary perturbation, but instead may actually be in the early stages of a very long bull market. As the Goldman Sachs study showed, it is common for secular trends to be interrupted by cyclical counter-trends that can involve rotation to out-of-favor sectors for short periods of outperformance.
The transition from one regime to another will therefore be hard to spot and may be marked by countertrend rallies that test one's resolve. However, just as is the 1970s and 1980s, and again in the 2000s, even major recessions may not damage the traditional secular reflation trade part of the market (i.e., resource equities) as much as other sectors, if we look at long-term returns (Chart 30). Of course, some of the other parts of the reflation trade, like REITs, high yield bonds (cf. Chart 31), bank loans, and emerging market equities (cf. Chart 32), do indeed experience major losses during recessions. So the reflation trade appears to have very strong short-term cyclicality, as one might expect. However, as White and Grantham have shown, at least for resource equities, long term returns fully compensate for the risk of drawdowns.
Chart 30: Resource Equity 10-Year Return Volatility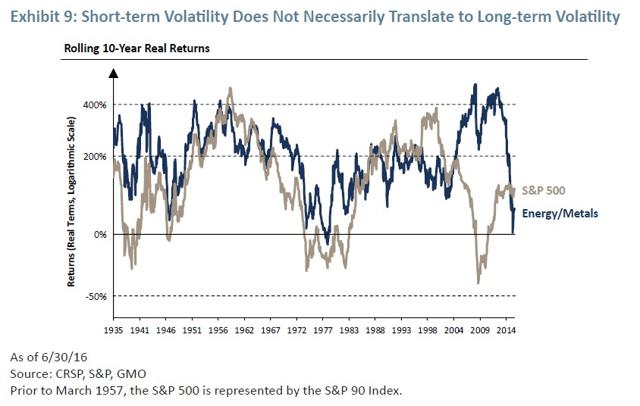 Source: gmo.com; valuewalk.com
Chart 31: High Yield Bond Spreads Blew Out in Recessions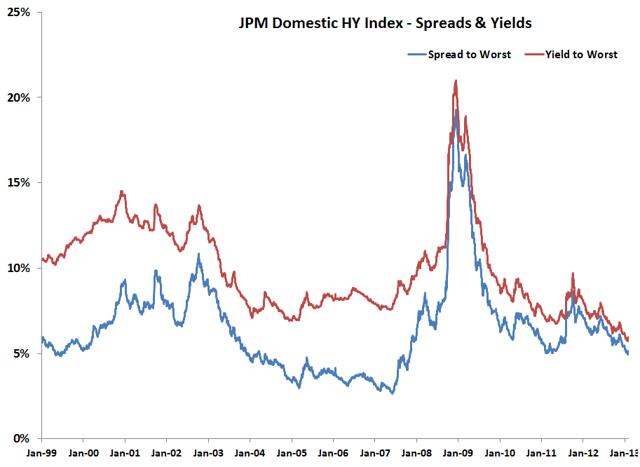 Source: valuewalk.com
Chart 32: Emerging Markets Plummeted in 2008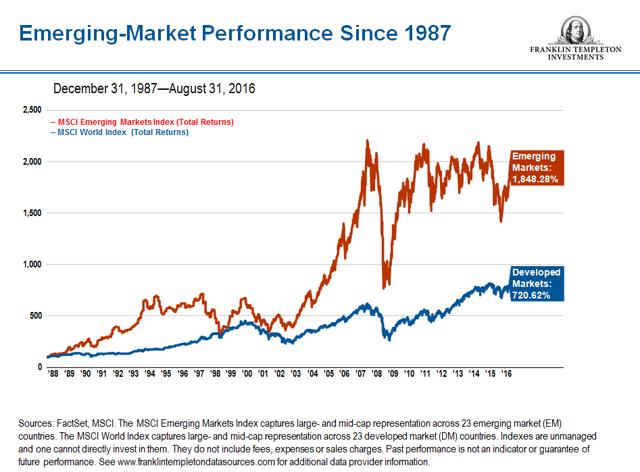 Source: mobius.blog.franklintempleton.com
Those feeling aggressively bullish may want to consider holding real assets like bank loans (e.g., iShares Floating Rate Bond ETF [FLOT]) or Lord Abbot Floating Rate Fund [LFRIX], high yield bonds (e.g., SPDR Barclays High Yield ETF [JNK]), REITs (e.g., iShares US Real Estate ETF [IYR]), and emerging market stocks (e.g., iShares MSCI Emerging Markets ETF [EEM], but especially country funds like iShares India 50 ETF [INDY] or iShares MSCI Hong Kong ETF [EWH]). Investing in resource equity funds like SPDR Energy Select Sector Fund (NYSEARCA:XLE), SPDR Materials Select Sector Fund (NYSEARCA:XLB), and iShares Gold Trust (NYSEARCA:IAU) may be in order for all investors, but perhaps one-third or one-half positions should be held for now, pending the results of the near-term central bank decisions, and prospects for recession in the next three months.
Disclosure: I am/we are long FLOT, IAU.
I wrote this article myself, and it expresses my own opinions. I am not receiving compensation for it (other than from Seeking Alpha). I have no business relationship with any company whose stock is mentioned in this article.
Additional disclosure: This article is intended to provide information to interested parties. As I have no knowledge of individual investor circumstances, goals, and/or portfolio concentration or diversification, readers are expected to complete their own due diligence before purchasing any stocks or other securities mentioned or recommended. This post is illustrative and educational and is not a specific recommendation or an offer of products or services. Past performance is not an indicator of future performance.