Last week I wrote an article on Liberty Property Trust(NYSE:LPT) and the company's likely dividend cut. As mentioned in the article, I plan to continue writing in a series referred to as "Buyer Beware" in hopes that investors can learn from REIT risk and hopefully avoid unnecessary losses.
Today I continue the series in which I feature a prominent dividend aristocrat (at least for now) known as HCP. Inc. (NYSE:HCP).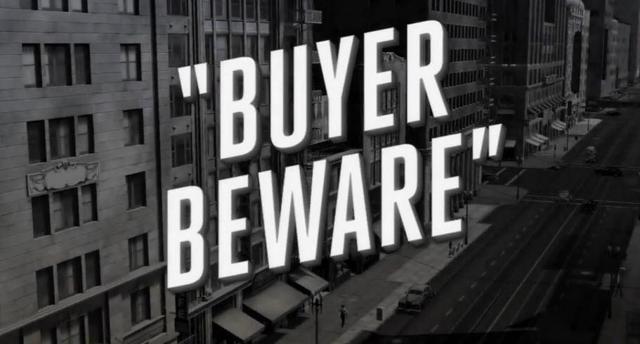 In July I wrote on HCP and the departure (or retirement) of the company's CEO, Lauralee Martin. On the heels of a historical dividend cut (the first in the company's 40+ history of raising dividends annually), Martin and HCP's Board decided that it was time to put a new CEO behind the wheel.
Knowing that there would be darker days before sunnier ones, HCP's replacement CEO was likely to encounter adversity, at least until the company successfully spins out the troubled HCR Manorcare portfolio, as I explained:
Whoever steps into the new shoes at HCP is likely to inherit a difficult situation, including outsized risks we have discussed previously: value of SpinCo, continued DOJ overhang, likely rent cut, and potential for HCP to be involved with SpinCo as a lender.

Ultimately, the most prominent risk will be the loss of the coveted Dividend Aristocrat status. That means, resetting the clock and starting all over again, with a smaller portfolio and without….the dramatic tenant, HCR ManorCare.
But how dark will the future days be for HCP? At least that's the question that I get from many readers wanting to know if there will be more pain, before the gain. Let's take a look at the performance of HCP shares since my last article: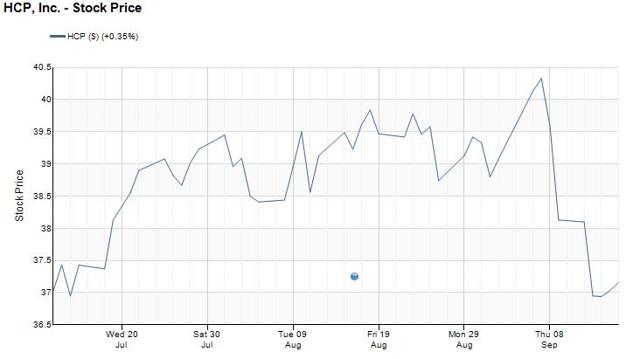 As you can, HCP has traded relatively flat since mid-July.
Could there be more pain coming?
A Bigger Cut Than Expected
HCP has said that the spin-co REIT, Quality Care Properties (NYSE:QCP), will start out with a low to modest dividend that would be healthy based on the company's underlying cash flow. However, we suspect that HCP's dividend cut will be more than the spin-off of QCP but possibly another 40% rent cut related to rent reduction of ManorCare.
In other words, HCP's dividend payout being lowered from $2.30 to around $1.94 per share. John Kim with BMO Research explains,
Based on a 40% rent cut and more conservative payout ratio at QCP, we estimate that HCP and QCP, in the aggregate, would cut the dividend approximately 15.7% from its current level.

But Kim points out something interesting,
HCP has already significantly underperformed despite the impending rent and dividend cut as it returned 1.2% and 20.5% over the past 3 and 6 months vs. the RMZ return of 2.1% and 8.2%.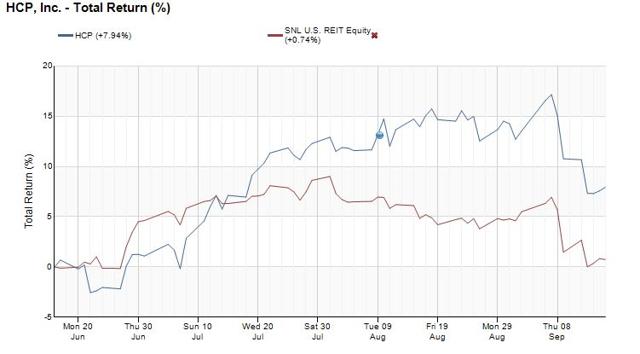 More interesting however is what Kim refers to as "induced indiscriminate selling" as he explains,
Given HCP's large weighting in a number of income-oriented ETFs we believe a cut may induce indiscriminate selling at the ETF level. Additionally, as HCP's dividend will be reduced, it is likely that any dividend aristocrat ETFs will have to sell its entire stake in HCP as opposed to just reducing it. For example, HCP is the largest position in the Spider S&P Dividend ETF (NYSEARCA:SDY) accounting for 2.71% of the ETF, which amounts to $403 million.
Once HCP's dividend yield is reduced from 5.9% post-spin, this ETF will be forced to sell its entire stake.
In other words, we have more reasons to maintain our current HOLD as it relates to HCP shares.
The Latest Results
HCP reported higher second-quarter FFO and cash net operating income on a same property performance basis compared to a year ago. It also lowered its full-year FFO-per-share guidance.
Second-quarter FFO applicable to common shares came to $336.7 million, or 71 cents per share, compared to $305.5 million, or 65 cents per share, in the second quarter of 2015. FFO as adjusted applicable to common shares was lower year over year, totaling $351.4 million, or 74 cents per share, compared to $368.5 million, or 79 cents per share.
The 2015 second quarter included, among other things, an impairment related to the company's Four Seasons Health Care senior unsecured notes and a severance-related charge, while the 2016 quarter included transaction-related and other items.
Cash NOI on a same property performance basis was up 4.0% and 4.4% excluding the assets going into QCP (said the spinoff is slated to be completed in the fourth quarter).
Looking ahead, HCP expects FFO per share for 2016 to range between $2.72 and $2.78, lower than the range of $2.76 to $2.82 provided with its first-quarter results. It expects FFO as adjusted per share to range between $2.83 and $2.89.
Author's Note: Brad Thomas is a Wall Street writer, and that means he is not always right with his predictions or recommendations. That also applies to his grammar. Please excuse any typos, and I assure you that he will do his best to correct any errors, if they are overlooked.
Finally, this article is free, and the sole purpose for writing it is to assist with research (Thomas is the editor of a newsletter, Forbes Real Estate Investor), while also providing a forum for second-level thinking. If you have not followed him, please take 5 seconds and click his name above (top of the page).
Sources: S&P Global Market Intelligence, HCP Filings, and BMO Research.
Disclaimer: This article is intended to provide information to interested parties. As I have no knowledge of individual investor circumstances, goals and/or portfolio concentration or diversification, readers are expected to complete their own due diligence before purchasing any stocks mentioned or recommended.
Disclosure: I am/we are long O, DLR, VTR, HTA , STAG, GPT, ROIC, HCN, OHI, LXP, KIM, WPC, DOC, EXR, MYCC, TCO, SKT, UBA, STWD, CONE, BRX, CLDT, HST, APTS, FPI, CORR, NHI, CCP, CTRE, WPG, KRG, SNR, LADR, PEB, BXMT, IRM, CIO, LTC, DEA, NSA, HASI.
I wrote this article myself, and it expresses my own opinions. I am not receiving compensation for it (other than from Seeking Alpha). I have no business relationship with any company whose stock is mentioned in this article.