Enterprise Products Partners (NYSE:EPD) is the ultimate example of a high-quality, blue-chip pipeline operator, one whose conservative management has delivered market smashing total returns over the past decade, even accounting for the worst oil crash in over 50 years.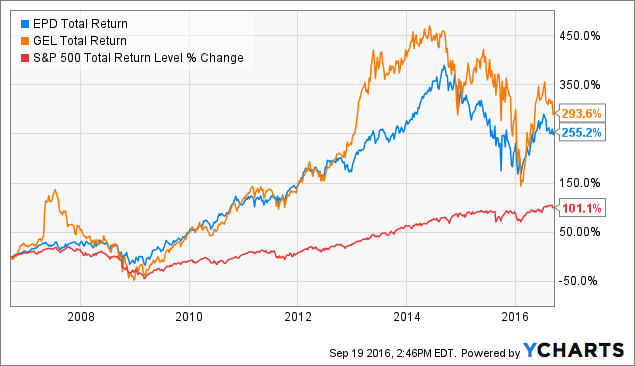 EPD Total Return Price data by YCharts
Another similarly run midstream MLP, Genesis Energy (NYSE:GEL), has done a great job copying Enterprise's business model, and as you can see, has delivered equally impressive long-term results.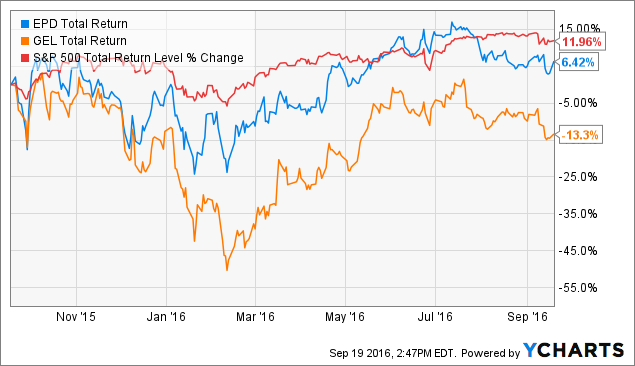 EPD Total Return Price data by YCharts
However, partially due to its smaller size, and thus lack of market visibility, Genesis Energy has vastly underperformed its larger MLP cousin, despite delivering both superior growth and a higher yield.
Find out the three keys to Enterprise Products Partners' long-term success, and as importantly, why Genesis Energy may represent a chance to get in on an equally well-run midstream MLP, but much earlier in its growth story.
The business model is cut from the same cloth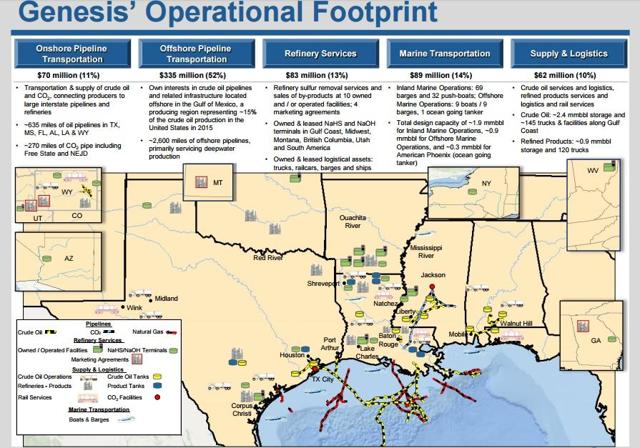 (Source: Genesis Energy investor presentation)
Enterprise Products Partners has built its success on a diversified empire of energy pipelines, processing assets, and storage facilities. Similarly, like Enterprise Products, Genesis's cash flows are secured by long-term contracts whose terms protect its margins from commodity volatility, from a diversified number of business segments.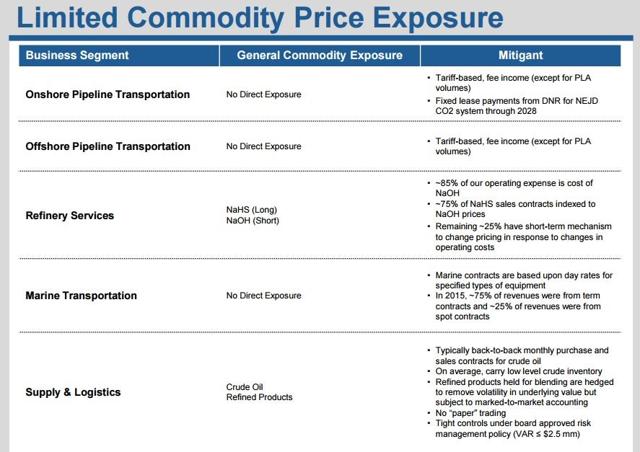 (Sources: Earnings releases, Morningstar)
| | | | | | | |
| --- | --- | --- | --- | --- | --- | --- |
| Metric | Q2 2016 | Q2 2015 | YoY Change | YTD 2016 | YTD 2015 | YoY Change |
| Revenue | $456 million | $656 million | -32.0% | $824 million | $1.183 billion | -30.3% |
| EBITDA | $116 million | $57 million | 103.5% | $233 million | $133 million | 89.4% |
| DCF | $96.0 million | $68.8 million | 39.5% | $193.8 million | $132.8 million | 45.9% |
| DCF/Unit | $0.87 | $0.63 | 39.5% | $1.76 | $1.37 | 28.8% |
| Distribution | $0.69 | $0.63 | 10.4% | $1.3625 | $1.235 | 10.3% |
| Distribution Coverage Ratio | 1.18 | 1.0 | 18.0% | 1.32 | 1.11 | 19.2% |
Despite crashing revenue, a problem shares by most MLPs including Enterprise, Genesis Energy was able to deliver excellent growth where it matters most. Specifically in distributable cash flow, or DCF, which funds the distribution, and which Genesis refers to as "available cash before reserves".
This was largely thanks mainly to the company's 2015 $1.5 billion acquisition of 2,350 miles of offshore pipelines from Enterprise Products Partners which serve offshore oil production in the Gulf of Mexico. You might expect such production to decline in the face of oil prices getting cut in half. However, that's not the case.
In fact, because offshore drilling is so capital-intensive and takes so long to bring on-line, companies such as Chevron (NYSE:CVX), BP Plc (NYSE:BP), and Royal Dutch Shell (NYSE:RDS.A) have already invested massive amounts of cash into these projects. Which means it often makes more economic sense to complete these offshore platforms in order to generate a steady cash flow and recoup at least some of that cost.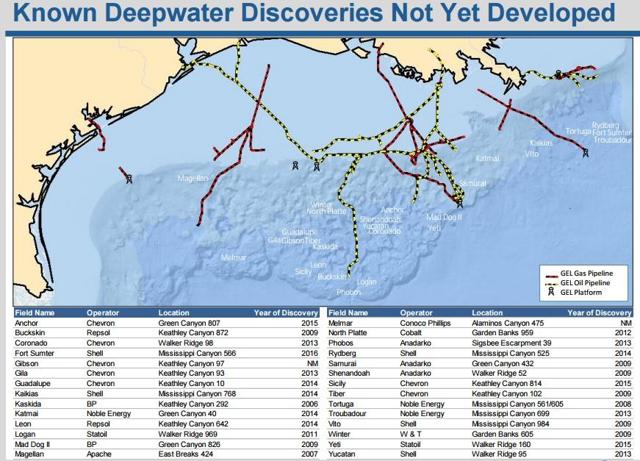 And if oil prices ever do recover sufficiently, much like Enterprise's vast network of pipelines that extend to every major shale formation in America, Genesis will also be set for major growth in its own niche: offshore oil production in the Gulf of Mexico.
Conservative distribution policy means more retained cash flow to reinvest into the business and drive future growth
| | | | | |
| --- | --- | --- | --- | --- |
| MLP | Yield | YTD Distribution Coverage Ratio | 10-year Projected Distribution Growth | 10-year Projected Total Return |
| Enterprise Products Partners | 6.2% | 1.30 | 4.4% | 10.6% |
| Genesis Energy | 8.2% | 1.32 | 6.2% | 14.4% |
| S&P 500 | 2.1% | 2.56 | 6.2% | 9.1% |
(Sources: Yahoo Finance, earnings releases, F.A.S.T. Graphs, FactSet Research, Multpl.com, Moneychimp.com)
MLPs are primarily owned as high-yield instruments, so investors always need to pay attention to all three components of the distribution profile: yield, sustainability, and future growth prospects. This is because studies show that a good rule of thumb for long-term total returns is yield plus payout growth.
And so, while long-term analyst distribution growth prospects must always be taken with a grain of salt, it can be a good starting point to see whether or not an investment can achieve superior long-term returns to the market's 9.1% CAGR since 1871, and thus, is worth making at today's prices.
As you can see, both Enterprise Products Partners and Genesis are expected to achieve very impressive results, thanks to a combination of generous current yield and moderate distribution growth.
More importantly, with rock-solid coverage ratios, not only are both of these payouts highly secure from a cash flow perspective, but both have plenty of excess DCF to allow for continued payout growth, even should oil prices not recover for another year or two.
However, the real competitive advantage that Enterprise and Genesis share, that few rivals can claim, is their lack of incentive distribution rights, or IDRs. These usually result in up to 50% of marginal DCF flowing to a general partner (which manages the assets) once a certain quarterly distribution is reached.
While the IDRs give the GP an incentive to raise the payout quickly, it also means a higher cost of capital, and lower distribution growth rate once that highest IDR tier is reached.
Since Enterprise Products Partners and Genesis Energy lack IDRs, this creates lower costs of capital, which results in two key benefits.
| | | | | | |
| --- | --- | --- | --- | --- | --- |
| MLP | Operating Margin | Net Margin | Return On Assets | Return On Equity | Return On Invested Capital |
| Enterprise Products Partners | 15.6% | 11.1% | 5.1% | 12.2% | 8.09% |
| Genesis Energy | 11.2% | 23.8% | 9.9% | 27.4% | 14.25% |
| Industry Average | 7.3% | -0.2% | -0.2% | -0.5% | NA |
(Source: Morningstar)
First it makes projects more profitable, which means more accretive to DCF/unit. Not only does that make your payout more secure and likely to grow, but it also serves as a major competitive advantage to the MLP, because it allows the MLP to retain more excess DCF with which to grow its assets.
Now MLPs are monstrously capital-intensive, and since the business model is based around paying out the vast majority of cash flow to investors, that means the MLP needs to raise external growth capital from debt and equity markets.
However, unlike with REITs, in which the IRS has strict regulations dictating that 90% of taxable income MUST be paid out as non-qualified dividends, MLPs have no such minimum payouts. Which is where you can see the true importance of a quality, conservative management team.
Specifically, by moderating the growth rate of the distribution, and thus retaining more DCF, Enterprise and Genesis can decrease their reliance on external capital markets. And as we've seen during this extremely severe oil crash, that can be invaluable in terms of continuing growth efforts when debt markets are freezing out energy companies and investors are unwilling to offer equity capital at attractive rates.
That's important to Genesis' numerous growth projects scheduled to come on-line in the second half of 2016.

Fortunately, the MLP has almost four times the liquidity it needs to complete these projects, which means it should have little trouble continuing its impressive streak of 44 consecutive quarterly payout increases.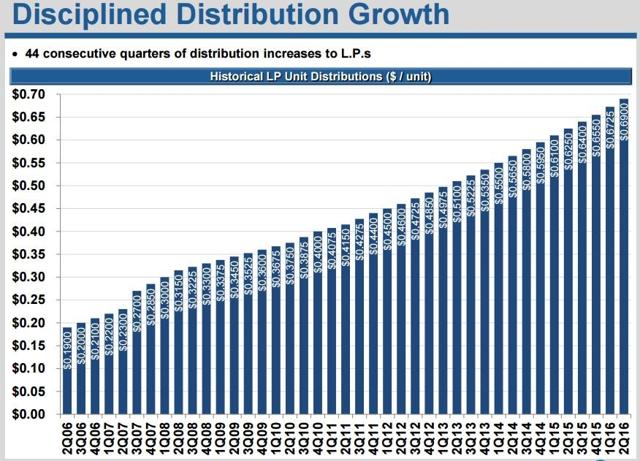 A top-notch, conservative management team is the ultimate competitive advantage
At the end of the day, what makes both Enterprise Products Partners and Genesis Energy such great investments are the companies' respective management teams.
For example, Enterprise is led by Jim Teague, who has 40 years of experience in the midstream and petrochemical industry, beginning with his tenure at Dow Chemical (DOW). He's been with Enterprise since 1999, where he served as COO and oversaw expansion of the MLP's NGL pipelines, which have benefited from the petrochemical boom along the Gulf Coast.
Teague took over the top spot in 2015, and under his leadership, Enterprise Products Partners became the first midstream MLP to help resume US oil exports, which has the potential to be a great boon to US shale producers. That's because US shale oil production has boomed so fiercely in recent years that often there hasn't been sufficient transportation infrastructure to get it to market, forcing West Texas Intermediate to sell at a discount to Brent. Now, however, that difference has decreased immensely, partially due to the ability to export spare US capacity overseas.
Meanwhile, at Genesis Energy, CEO Grant Sims used to be CEO of Leviathan Energy Partners, which later became El Paso Energy Partners. He's been at the top spot at Genesis since 2006, and under his leadership, the company bought out its general partner in 2010, eliminating its IDRs and giving the MLP the massive competitive advantage described above.
In recent years, Sims has focused on two key factors. Strengthening the balance sheet via his long-term target of a Debt/EBITDA ratio of 3.75, which would help the MLP achieve an investment grade credit rating and further lower its cost of capital. Which, in turn, will mean higher DCF/unit as well as the ability to target more diverse and larger growth projects in the future.
The second master stroke from Sims was the increasing focus on dominating the offshore pipelines serving the Gulf of Mexico. Despite massive investment over the past decade, there are less than 100 wells in the Gulf, but the potential for massive growth, should oil prices recover above $60 per barrel.
Most importantly both management teams have proven extremely disciplined in their capital allocation decisions, focusing only on the most profitable deals, which is the second half of the reason for their industry-leading profitability. With no one knowing how long the oil crash will last, these are precisely the kind of capital allocators running the show.
Risks to watch out for
While there are many similarities between Enterprise and Genesis, and I remain bullish enough to own positions in both, there are nonetheless some major differences that potential Enterprise investors should know about the smaller MLP before taking a position.
| | | | | |
| --- | --- | --- | --- | --- |
| MLP | Net Debt/EBITDA | EBITDA/Interest | Debt/Capital | S&P Credit Rating |
| Enterprise Products Partners | 4.17 | 5.47 | 49% | BBB+ |
| Genesis Energy | 4.76 | 5.89 | 62% | BB- |
| Industry Average | 9.21 | NA | 62% | NA |
(Sources: F.A.S.T. Graphs, Morningstar, investor presentations)
While management's target leverage ratio of 3.75 would give it one of the strongest balance sheets in the midstream MLP industry, as it currently stands, Genesis is not up to the same strong credit standards as Enterprise.
In fact, with a BBB+ credit rating, Enterprise and Magellan Midstream Partners (NYSE:MMP) are tied for the strongest credit ratings of any MLP - a key reason for Enterprise's low borrowing costs.
And while Genesis management is hopeful the company will soon get a credit upgrade, keep in mind that it would take two upgrades to hit investment grade and lower the refinancing costs on the major debt tranches the MLP has coming due in 2021.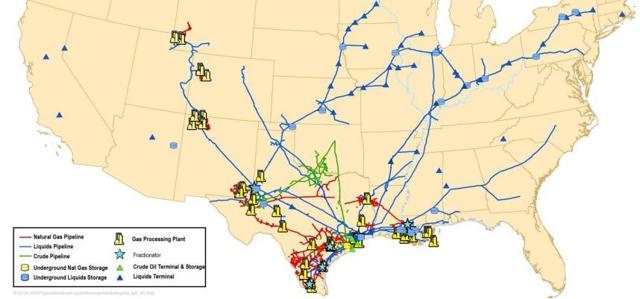 (Source: Enterprise Products Partners investor presentation)
Another difference to keep in mind between Enterprise and Genesis is that at the moment, Genesis remains a more niche play, focused on the Gulf Coast. Meanwhile, Enterprise Products Partners is North America's third-largest pipeline operator, behind Kinder Morgan (NYSE:KMI) and the post-Spectra Energy (NYSE:SE) buyout, Enbridge Inc. (NYSE:ENB).
That kind of geographic diversification not only gives Enterprise a potentially longer growth runway due to access to far more oil & gas producing regions, but it also protects the company from black swan events that could disrupt its cash flow.
For example, a category 5 hurricane hitting the Gulf coast would be highly disruptive for both MLPs. However, since Genesis derives almost all its cash flow from the Gulf region, such an event would be far more threatening to its distribution security.
Finally, we need to keep in mind that as well as Genesis has done for investors over the past decade, it has yet to expand beyond its core Gulf Coast confines. Don't get me wrong, I'm not saying management should necessarily reach beyond its circle of competence in order to keep the growth streak going.
However, if it turns out that Genesis management doesn't feel comfortable stepping away from its local region, then the MLP's growth prospects may be smaller than investors might hope, even if oil prices recover strongly in the years to come.
Bottom line: Genesis Energy is copying all the factors that made continue to make Enterprise Products Partners the ultimate high-yield SWAN stock.
I can't say for certain that Genesis Energy will be able to replicate Enterprise Products Partners' legendary success at generating generous, secure, growing income, and market-smashing returns.
That being said, when you look at how similar the company cultures are, it's hard not to see another potential Enterprise Products Partners in the making - but at a far smaller scale, and thus, with a larger, long-term profit potential. While Genesis has a ways to go to truly equal Enterprise, I think it's well worth owning both in your diversified dividend portfolio.
Disclosure: I am/we are long EPD, GEL.
I wrote this article myself, and it expresses my own opinions. I am not receiving compensation for it (other than from Seeking Alpha). I have no business relationship with any company whose stock is mentioned in this article.