As I have elaborated on in my previous articles, it is no secret that in today's world of quantitative easing, the effects of the same are becoming increasingly ineffective as the effects on consumer spending are no longer bearing fruit. This includes Japan, where 0 percent interest rates have not had the desired effect on consumer spending and stimulating inflation. Moreover, with global volatility having led to a sharp increase in the yen, the effects of Abenomics have been all but erased.
South Korea is a different story. When we look at the past five years, we see that the Nikkei 225 has shown much higher returns than the South Korean KOSPI index: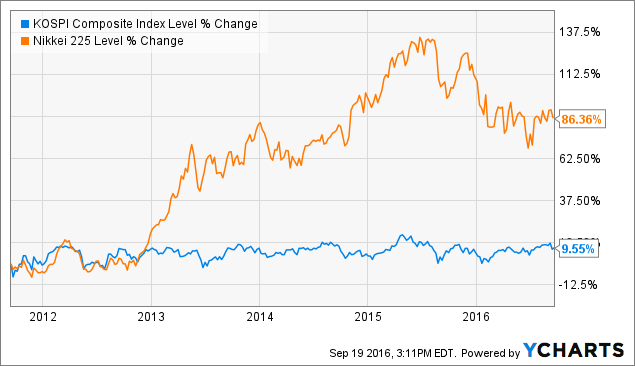 However, when we compare the returns of the KOSPI versus the Nikkei 225 since the year 2000, the South Korean index wins hands down: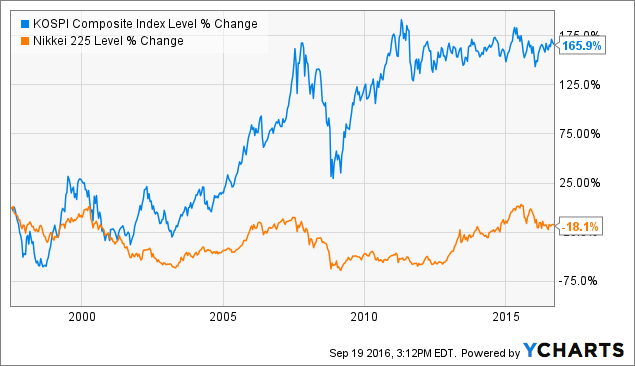 I have always argued that Japan's growth has not been the most sustainable. Indeed, the main reason for the recent appreciation has been driven by the weak yen which has appreciated rapidly in the past year. The reason for this is that Japan is highly export-dependent, and a weak yen provides a boost to the exports of the companies listed on the index. However, a strong yen has seen growth on the index stall, as domestic consumer spending remains low.
While South Korea has also seen its share of quantitative easing, this country is quite a different case. For instance, the key rate currently stands at 1.25 percent, and rates do not need to fall much further to stimulate growth as household credit growth has been rising as consumers seek to take advantage of already low rates. While credit growth must clearly be kept at a sustainable level, South Korea seems to be in a good position to do so given that the country did not need to lower interest rates to near 0 percent. This is a very different situation from Japan, where 0 percent interest rates are not fuelling consumer confidence.
Holistically, I see South Korea as being in a better position to grow economically once global volatility decreases, as consumer confidence continues to increase and quantitative easing does not need to be employed in order to do so. In this regard, the KOSPI index is one to watch. The Nikkei 225 may have been the reigning champion up till now, but the KOSPI may well be the top dog going forward.
Disclosure: I/we have no positions in any stocks mentioned, and no plans to initiate any positions within the next 72 hours.
I wrote this article myself, and it expresses my own opinions. I am not receiving compensation for it (other than from Seeking Alpha). I have no business relationship with any company whose stock is mentioned in this article.