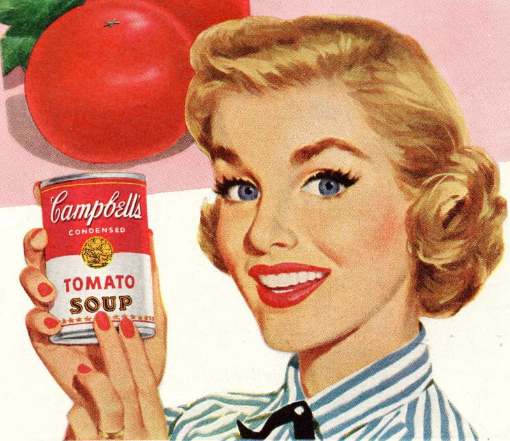 I've been outright bearish on Campbell Soup (NYSE:CPB) for some time now as it has been caught up in what I've called a bubble for consumer staple stocks. CPB and others have been bid up in the past couple of years to ludicrous valuations and back in June, I said the stock was teetering on the edge. That was at $62 and after the tough Q4 report, we are now back down at $55. Is this finally the selloff CPB needed or is it still too expensive?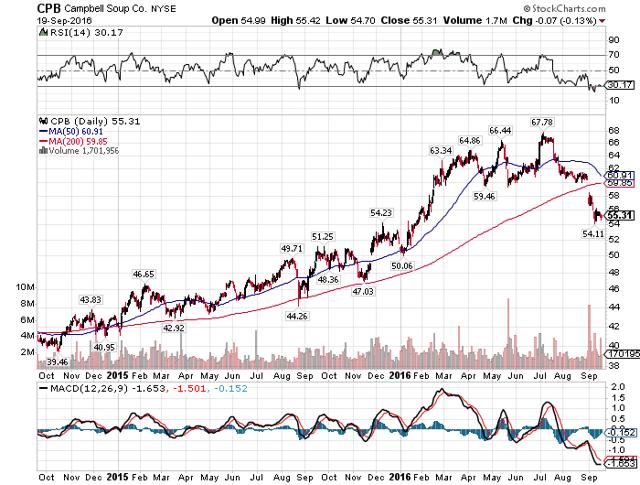 My bearishness has come not from CPB's lack of execution - that has been fine - but from a ludicrous multiple assigned to a business with no growth to speak of. It is understandable CPB would have a difficult time growing and there is nothing inherently wrong with that. But at 21 times earnings back in June, it was just ridiculously expensive considering growth is very difficult to come by for a company that sells staples.
Q4 was more of the same as total sales were flat. Not only were total sales flat but the only reason they weren't negative is because of acquisitions; that added 1% and offset the 1% decline in organic comparable sales. This is by no means new for CPB as it has been struggling for some time to grow but prior to the Q4 report, it was as though nobody cared. This is not a growth business and I was concerned because it was being valued like it was but that is not the case any longer, at least not to the same extent. The abridged version of the story with revenue is still that CPB is struggling to grow and if guidance for 2017 is any indication, that isn't going to change anytime soon.
Not only was revenue weak but margins suffered as well from a variety of factors. Gross margins fell 90bps during Q4 due to promotional spending, the Bolthouse Farms recall and higher carrot costs. That's a significant decline considering CPB's margins are only in the low 30s to begin with so again, we see marked weakness from CPB where it matters. And the causes aren't transitory; we won't expect a recall every quarter but the others are certainly issues CPB will have to continue to contend with going forward.
CPB did see some cost savings from efficiency initiatives it has been running and on an adjusted basis, EBIT was up 11% during Q4 despite the weakness in revenue and product margins. That's a terrific result but consider that gains like that are largely non-recurring; once the cost savings are anniversaried, there won't be any more gains on a comparable scale. Gains are going to be a lot tougher to come by in 2017 as a result and that is certainly a big reason why guidance for EBIT is up just 1% to 4% for this fiscal year.
The thing is that even after a sizable decline, CPB is still going for 18.1 times this year's earnings. And keep in mind, this year has just begun and there are four quarters to go so there is a lot of variability than can occur between here and there. But estimates have already come down of late because of CPB's weak results and guidance so certainly some of the damage has been done. But at 18 times earnings, CPB is far more reasonably valued than it has been. I certainly wouldn't call it cheap, but it isn't in the nosebleed section any longer, either. The thing is that CPB is still going to struggle to grow; that much has been proven unequivocally. And with the cost savings I mentioned anniversaried this year, there really won't be anything around to meaningfully grow EBIT. Thus, on a fundamental basis, CPB isn't any better off than it was, it is just cheaper now.
From a technical perspective, CPB is a disaster at this point. The selloff has not only completely broken down whatever remnants of the former rally that remained but it has also taken the stock well out of striking distance of moving higher again. It is well below the 200DMA and the 50DMA is going to cross under the longer term line in the next few trading days. The momentum indicators are also very weak on a daily and weekly basis so to be honest, there isn't anything to like here, either.
Overall, I think CPB is closer to being more fairly valued than it has at any time in the past couple of years. But to be honest, that isn't saying a great deal considering that it has been so expensive in the past. Still, with the fresh dividend increase it is now yielding 2.5%, a decent yield by any measure. Is that enough to entice buyers? Maybe; it wouldn't be enough for me considering the risk one takes by owning a stock like CPB in its current form but it could help limit damage should another selloff occur. But for me, CPB looks like it is finally selling off the way it should have a while ago and I'm not convinced it is done. The stock looks like it is in no-man's land right now and thus, I'm on the sidelines until it rallies to become a short opportunity or sells off further and reaches a more favorable valuation.
Disclosure: I/we have no positions in any stocks mentioned, and no plans to initiate any positions within the next 72 hours.
I wrote this article myself, and it expresses my own opinions. I am not receiving compensation for it (other than from Seeking Alpha). I have no business relationship with any company whose stock is mentioned in this article.