By Gary Alexander
Do you remember those golden days of yore when there was only one face speaking for the Federal Reserve - the Chairman - and that Chairman (think of Paul Volcker or Alan Greenspan) was stony silent until issuing a surprise announcement. When called to talk before Congress, the Chairman obfuscated his intentions by using impenetrable double-speak, saying nothing. Then, he would strike like lightning!
Alan Greenspan (Fed Chairman, 1987 to 2006) issued two lightning bolts in his attempt to fight inflation fears. Once, in his first month in office, he precipitated a market earthquake on September 4, 1987, when he raised the Discount Rate 0.5% (50 basis points). The Dow fell 1.5% that day and 33% by October 19th.
Years later, on February 4, 1994, Greenspan shocked Wall Street again when he began a year-long pre-emptive strike against barely visible inflation by issuing his first of seven rate hikes. On that day, the Dow careened down 96 points (-2.4%), from 3967 to 3871. Then it kept going down. It took well over a year for the market to eclipse its record (set earlier that week) of 3978.36. Mr. Clinton fumed at the Fed's actions, as the dismal 1994 market may have fueled the Republican Revolution in November of 1994.
By the time of the Fed's latest rate-raising cycle - spanning the tenures of Greenspan and his successor Ben Bernanke - the Fed raised rates in 17 consecutive FOMC meetings from mid-2004 to mid-2006, but these actions were widely advertised and did not hurt the market. The Fed was more transparent by then. The S&P 500 doubled from 2002 to 2007 and kept rising all during the 2004-to-2006 rate-raising cycle.
Over the last decade, "transparency" has gone too far. Now, we have the formerly inscrutable and opaque Federal Reserve Board talking way too much. Too many Fed governors are spouting their own opinions rather than speaking from a coordinated team playbook. They call it transparency, but I call it confusion.
In his morning briefing last Tuesday ("Talking Feds," September 13), economist Ed Yardeni called these spokesmen for the Fed's various positions, "The Federal Open Mouth Committee." (He also called the market reaction to any hawkish comments, "tightening tantrums.") The Fed has said they are "data-dependent," but that only means they react to various statistical releases by the government. This makes them reactive, not proactive, betraying a lack of overarching strategy in favor of shorter-term tactics.
The Fed's double-speak came into play once again, right before the "quiet period" began last Tuesday. First, on Friday, September 9th, Boston Federal Reserve President Eric Rosengreen said that postponing another rate hike could create problems for the economy if it starts to "overheat," although no evidence of economic "heat" is evident in recent statistical releases. Then, on Monday, Federal Reserve Governor Lael Brainard gave a talk entitled, "The 'New Normal' and What It Means for Monetary Policy." She was more dovish, counseling "prudence in the removal of policy accommodation." She said, "This approach has served us well in recent months, helping to support continued gains in employment."
Buried deep in her speech - under the third of her five characteristics of "the new normal," namely "foreign markets matter" - she made a startling connection between Fed policy and the U.S. dollar:
Headwinds from abroad should matter to U.S. policymakers because recent experience suggests global financial markets are tightly integrated, such that disturbances emanating from Chinese or euro-area financial markets quickly spill over to U.S. financial markets. The fallout from adverse foreign shocks appears to be more powerfully transmitted to the U.S. than previously…. In particular, estimates from the FRB/US model suggest that the nearly 20 percent appreciation of the dollar from June 2014 to January of this year could be having an effect on U.S. economic activity roughly equivalent to a 200 basis point increase in the federal funds rate.

--Federal Reserve Board Governor Lael Brainard in a speech, "The 'New Normal' and What it Means
for Monetary Policy," delivered on Monday, September 12, 2016 at the Chicago Council on Global Affairs.
This is a very important distinction. The Fed doesn't actually have to raise rates to create the impact of raising rates. The Fed's other recent policy decision - to end quantitative easing (QE) in the fall of 2014 - made the dollar more attractive after the central banks in Europe and Japan continued their QE policies.
A Strong Dollar is Usually Good for Stocks
As Louis Navellier has pointed out, a strong U.S. dollar tends to erode the profits of U.S.-based multi-national corporations when they translate their earnings from a weaker foreign currency into the dollar. On the other hand, domestic U.S. stocks will not be hurt and can even be helped by a stronger dollar.
The widely-touted U.S. Dollar Index (DXY) is heavily weighted (57.6%) toward the euro, with the rest divided into 19.8% for three other European currencies, 13.6% in the Japanese yen, and 9.1% in the Canadian dollar. For that reason, I prefer to use the Federal Reserve's "trade-weighted" dollar index, which seeks to reflect the real world impact on U.S. exports and imports. The following chart traces the swings in the trade-weighted dollar index since currencies began to trade freely in global markets in 1973.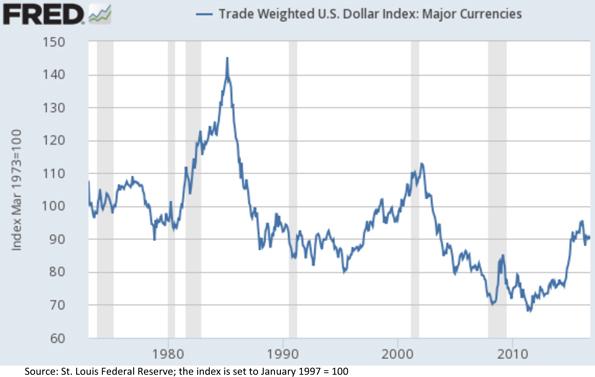 Graphs are for illustrative and discussion purposes only. Please read important disclosures at the end of this commentary.
After global currencies began to float in a free market of exchange rates in 1973, the dollar fell in the late 1970s but then it staged three bull market rallies that lasted 6-7 years. These major dollar bull markets were (1) 1978 to 1985, (2) 1995 to 2002, and (3) an ongoing rise since 2011, accelerating sharply in 2014.

The S&P 500 stock market index has performed well during each of these three U.S. dollar bull markets:

So far in 2016, the dollar is down. Year-to-date, the WSJ Dollar Index is down 3.73%, according to the weekend (September 17-18) Journal, so we don't know if the current dollar bull market is over yet. The sagging dollar is, in part, a response to the failure of the Fed to raise rates as promised last December.
So what should the Fed do? With the dollar down a bit, can they afford to goose the dollar with a 0.25% rate increase? Perhaps, but the last thing the Fed should do now is to undertake a series of rate increases. This could cause much of the $12 trillion earning negative yields in Europe and Japan to cross the Pacific and Atlantic Oceans in search of higher yields, driving long-term Treasury rates ever lower in the process.
When the Fed governors start talking again, ignore them. Monitor the dollar and bond markets instead.
Disclosure: *Navellier may hold securities in one or more investment strategies offered to its clients.
Disclaimer: Please click here for important disclosures located in the "About" section of the Navellier & Associates profile that accompany this article.