It has taken Royal Gold (NASDAQ:RGLD) some time to close its first deal in 2016, but a certain hiatus was probably needed after last year's four-deal flurry that culminated in the $610 million purchase of a gold and silver stream on Barrick Gold's (NYSE:ABX) interest in the Pueblo Viejo mine in the Dominican Republic.
On September 19, it was finally time to announce another transaction, and once again it concerned one of Barrick's core assets, namely the Crossroads project which forms part of Barrick Gold's Cortez operations. The newly acquired 3.75% Net Value Royalty (or NVR) came with a $70 million price tag and adds to an already impressive collection of royalties on the company's Cortez landholdings.
A Bit of History (feel free to skip)
Royal Gold President and CEO Tony Jensen is certainly correct when he notes that:
"Cortez is where we created our first royalty many years ago, and it's always been an important property for us."
This certainly sounds like understatement to those who have been around long enough to remember the history of this particular piece of land. Here is a brief summary for those who don't.
In 1987, Royal Gold had leased the claims which now contain the Crossroads deposit from an outfit called ECM, only to find out that the area was over-staked and another party, namely a JV led by Placer Dome, also laid claim to these lands. The conflict was resolved, and Royal Gold joined the JV later in the year. Lack of funding prevented meaningful exploration, and the JV was terminated in 1991. However, Placer Dome and its original partners went back to lease the property directly from ECM, thus triggering another dispute, which was eventually resolved by a rather complex royalty structure which included Royal Gold's first royalty mentioned by Mr. Jensen. ECM also scored a royalty, and it is this royalty that Royal Gold has now acquired.
Barrick Gold acquired Placer Dome and went on to consolidate the Cortez operation in 2008, when it bought out its 40% partner Kennecott Explorations, a subsidiary of Rio Tinto (NYSE:RIO). The discovery of the Pipeline deposit in 1991, and subsequently of the Crossroads deposit, turned the mentioned royalties into valuable assets.
(Re-join here if you have skipped the history part.)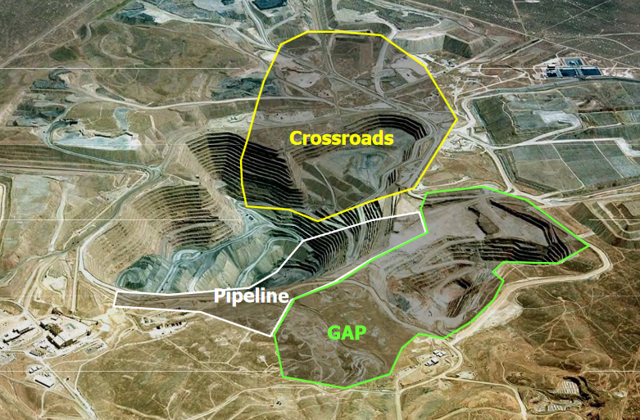 (Aerial photograph of the Pipeline complex, including Crossroads, looking South taken from a site visit presentation.)
Very little information on Crossroads is available on Barrick's web site and annual reports, but the latest technical report on the Cortez operation dated March 21, 2016 (available from SEDAR) contains a wealth of information for those willing to dig. Here is a summary, from which we have also drawn information for our valuation of Royal Gold's latest acquisition.
The planned Crossroads pit is located immediately south of the Pipeline pit. The two pits are separated by a fault line in the southern end of the Pipeline pit. The Crossroads pit has been designed in 5 phases and will be up to 500 meters deep. Stripping of the extensive 200+ meter alluvium cover has already commenced and will continue throughout 2017. Barrick plans to operate the Pipeline and Crossroads open pits by using conventional open pit mining techniques.
The Crossroads deposit is a major component of Barrick's Cortez operations. Current reserves for the Crossroads deposit total 3.2 million ounces, and within the Cortez operations, Crossroads accounts for 56% of the reserve tonnage and 28% of the contained ounces. It represents the largest zone within the current reserve by both metrics.
Metallurgical recoveries vary from 88% for ore processed at the oxide mill and 62% for heap leach ore. The decision on where processing takes place is made by ore grade, and a small amount of refractory ore will be processed at Barrick's roaster at the nearby Goldstrike facility.
The table below is extracted from the technical report and illustrates the mine plan for Pipeline and Crossroads. 2016-2018 will see mostly waste mining, with primary ore mining estimated to take place from 2018 through 2023.

Valuation
Let's use the available data along with some assumptions to value Royal Gold's new royalty. The table below shows our best estimate for gold production from Crossroads in the second column from the left (deducting 500,000 ounces from the table above to account for contributions from the Pipeline pit which are not subject to the new royalty). Using an average metallurgical recovery of 75% and a gold price of $1,300/oz, and assuming 10% deductions from smelter revenues (no details are available on the exact amounts), we arrive at our estimate for annual cash flows in the fourth column from the left. And finally, assuming a 5% annual discount rate, we arrive at the right column showing annual discounted cash flows.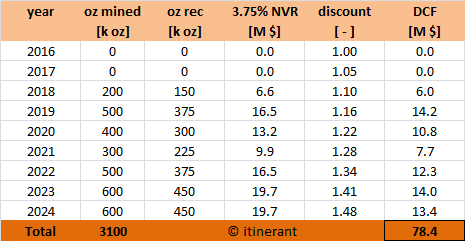 The Verdict, aka Takeaway
The grand total of the discounted cash flows in our model amounts to $78.4 million, or very much in the ball park of the purchase price paid by Royal Gold. The model can certainly be tweaked up or down, but it will not change the general message: at $1,300/oz, this is a fairly valued acquisition. Certainly not a terribly accretive deal, but a solid addition to the company's portfolio.
The new royalty complements the existing royalties Royal Gold already owns on the Cortez trend, and it also increases the company's already substantial exposure to Barrick Gold. In this context, we note that Rio Tinto still owns a 3% royalty on 40% of all Cortez production in excess of 15 million ounces, as do the former shareholders of Idaho Mining. We speculate that both might well be up for grabs for a motivated buyer aiming to consolidate royalties on Barrick's Cortez operations.
There is also some tangible blue sky associated with the newly purchased royalty. Barrick Gold has commenced discussions with BLM and State of Nevada in April 2015 with regard to proposed changes to the permitted mine plan. These talks include a proposal to expand and deepen the Crossroads pit by 200 feet, which would prolong mine life and add value to Royal Gold's assets. At this stage, there are only limited resources to justify such an expansion, but Barrick must be optimistic in this regard.
Disclosure: I/we have no positions in any stocks mentioned, and no plans to initiate any positions within the next 72 hours.
I wrote this article myself, and it expresses my own opinions. I am not receiving compensation for it (other than from Seeking Alpha). I have no business relationship with any company whose stock is mentioned in this article.