Many factors can cause the stock market to drop temporarily, but a prolonged, deep crash requires a recession. Perhaps the reason many investors have not adjusted their portfolios prior to recessionary periods is that they fail to take a holistic view of the economy and follow a broad array of indicators that clearly signal when a downturn is ahead.
In this article, I am going to examine 14 business cycle indicators that have reliably signaled the approach of recessions. Of particular importance is understanding how low interest rates are affecting these indicators.
The Corporate Sector is Signaling Recession
The chart below shows after-tax corporate profits, adjusted for inflation, inventory valuations, and capital consumption. Making adjustments for inventory valuations and capital consumption gives a better measure of profits earned from production, undoing the effects that some accounting methods can have on reported income. Read about the importance of these adjustments here.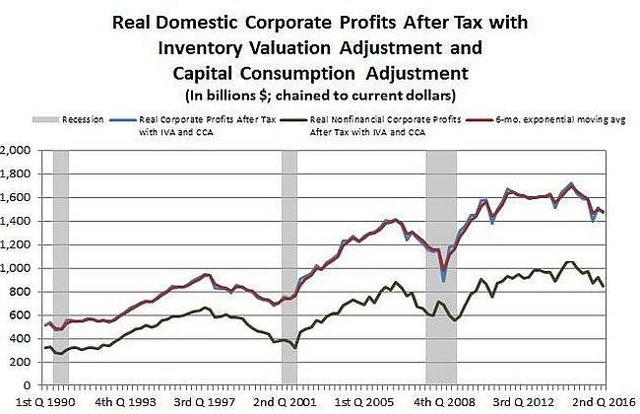 Source: Bureau of Economic Analysis
As can be seen, declining real corporate profits foreshadow recessions. No surprise here - declining corporate profits lead to less hiring and investment, slowing economic growth. The current drop in profits may be approaching the same magnitude as earlier downturns, which were followed by recessions.
The peak in real corporate profits, with adjustments, occurred in 4Q 2014. From 4Q 2011 to 4Q 2014 (16 quarters of change), profits have largely been flat, increasing only 2.7% percent. From 4Q 2014 to 2Q 2016 (6 quarters of change), profits declined 14.6 percent. The Census Bureau has recently added 2Q 2016 profits by industry, which shows that every sector except Retail Trade had decreased after-tax income from 2Q 2014 to 2Q 2016.
Not surprisingly, real net domestic private investment shows a similar increasing and decreasing pattern as real corporate profits. The decrease in this business cycle began 1Q 2015.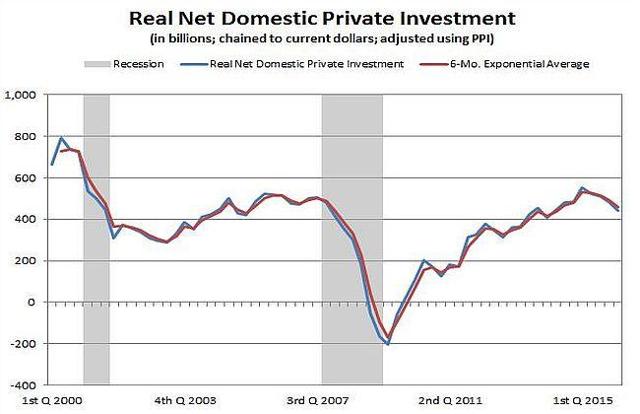 Source: Bureau of Economic Analysis
The effect of a downshift in profits and investment on the economy is too significant to ignore. The economy has always slowed or contracted when these indicators have weakened. No wonder the annualized growth rate for GDP over the last four quarters has averaged a weak 1.3 percent.
On the Other Hand, Measures Derived from Interest Rates Remain Favorable
The St. Louis Fed Financial Stress Index (STLFSI) is constructed from 18 weekly data series, including seven interest rates. As shown below, the index currently reads well below zero, signaling low financial stress.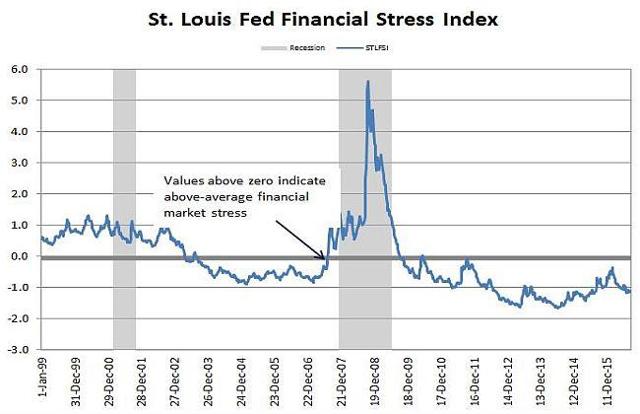 Source: Federal Reserve Bank of St. Louis
Another measure that uses interest rates is the yield curve spread, which for this article is the difference between 10-year Treasury notes and three-months Treasury bills. The yield curve spread is signaling that while the economy's health is not great, it has not deteriorated to recession levels (higher numbers indicate a steeper curve, which signals more stable economic growth).
From the 1960s, prior to every recession, the yield curve has inverted (it has also inverted when there have been a credit crunch, but no recession). As shown below, the spread between 10-year Treasury notes and 3-month Treasury bills has dropped steadily since the last recession, but currently it is safely above the inversion point, which occurs when the spread becomes negative (dotted line).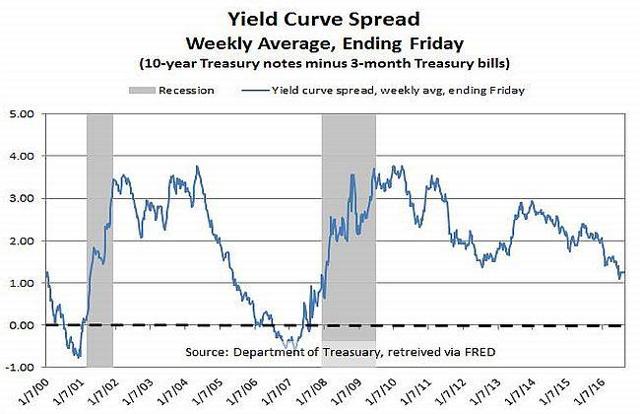 Source: Department of Treasury
The Cleveland Fed uses the yield curve as a predictive measure. Its model currently forecasts annual GDP growth of 1.5 percent (read here).
Low Interest Rates Seem to Be Keeping the Economy on Life Support
Despite the drop in corporate profits and private investment, many other economic indicators remain mostly favorable. Low interest rates are undoubtedly a factor here. The Fed's goals with low interest rates are to encourage consumers to purchase homes and autos, and encourage business to buy equipment, upgrade facilities, and hire workers (see the Fed's spiel here).
The economic indicators below are ones that should be affected by low interest rates, and seemingly, they are being affected. Although a softening is evident on each chart, most are at or near peak.
Until most of these indicators move steadily downward, and largely in unison, we are likely to see slow economic growth rather than a contraction.
Total Business Sales
Although business sales chugged along until nearly halfway through the last recession, they are worth watching when they begin to flatten or decline, as they have done since August 2014. New life may be being breathed into sales as they have increased 1.2 percent over the past three months.
Signal: Indicates a sluggish economy, but provides no clear reading on a possible recession.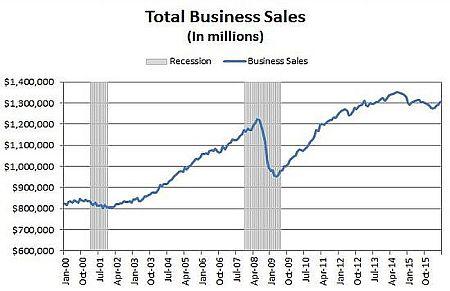 Source: U.S. Bureau of the Census
Job Openings
Job openings per 100 workers continues to crawl upward. Over the past three months, they have increased 0.2 percent. This follows a dismal increase of only 0.1 percent over the past 12 months.
Signal: No indication of a pending recession.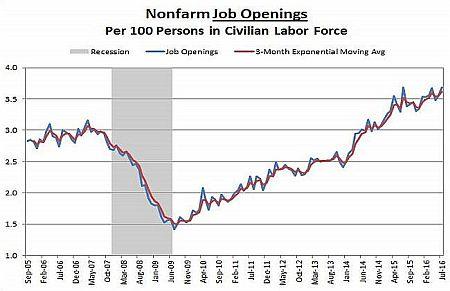 Source: Department of Labor
Hires:
Hires per 100 workers are not trending as favorably as job openings, but they have improved recently, increasing 2.6 percent over the past three months. Yet, they have just returned to levels last seen late 2015.
Signal: Sluggish growth on the horizon. May be nearing a tipping point.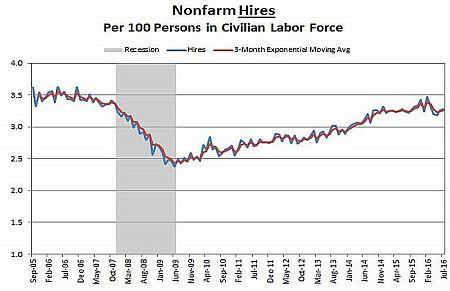 Source: Department of Labor
Temporary Employment
Temporary employment has been a reliable indicator of recessions. After all, temporary workers are the first to be let go as the economy begins to tank. Temporary employment is clearly flattening, having increased 1.7 percent of the past 12 months. The three month trend is better: 0.9 percent, which annualizes to 3.6 percent.
Signal: This indicator hasn't reached a tipping point yet, but it indicates that businesses are cautious in their outlook on the economy.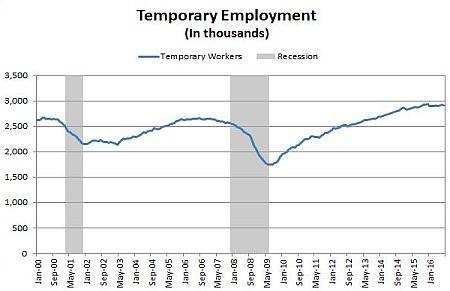 Source: Department of Labor
ISM Non-Manufacturing
Using a graphic from the ISM website, as shown, the non-manufacturing sector has been expanding at a declining rate since mid-2015.
Signal: Similar to other indicators, non-manufacturing isn't yet at a recession point, but it is forecasting weaker growth.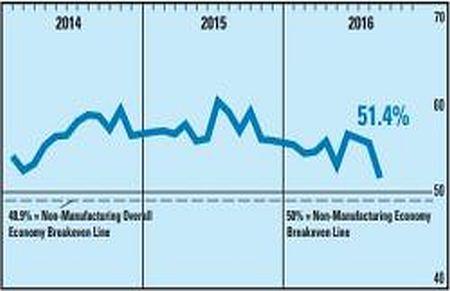 Source: Institute for Supply Management
Real Retail Sales Per Capita
When adjusted for inflation and population growth, retail sales haven't returned to pre-recession levels. Recent performance has been dismal: 0.5 percent increase over the past 12 months, and 0.1 percent over the past three months.
Signal: Retail sales are consistent with other measures we have examined, indicating weak growth, but not necessarily a recession.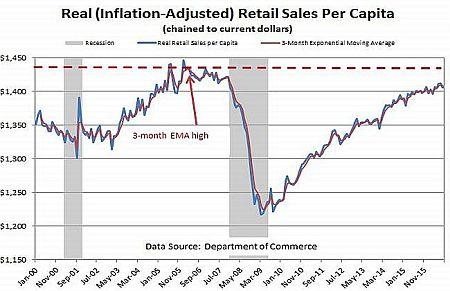 Source: Federal Reserve Bank of St. Louis
Total Vehicle Sales
Vehicles sales remain near their most recent peak and near historic highs. Some concern has been raised about sub-prime loans, and while it is a legitimate concern, the current default rates will not lead to anything remotely close to the housing crisis. It is difficult to envision vehicle sales going much higher, if at all. Over the past 12 months, total vehicle sales are up 1.1 percent.
Signal: Despite some decline, this measure is not at a recession level.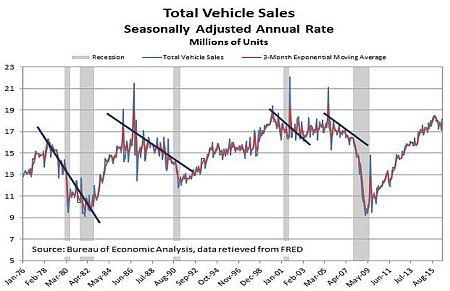 Source: Bureau of Economic Analysis
New Building Permits
Unlike vehicle sales, building permits are no where near their pre-recession levels. On top of this, they seem to have peaked. Over the past 12 months, they have only increased 0.2 percent.
Signal: Building permits may not have to fall far to be at a recession level. For now, they reflect sluggish growth.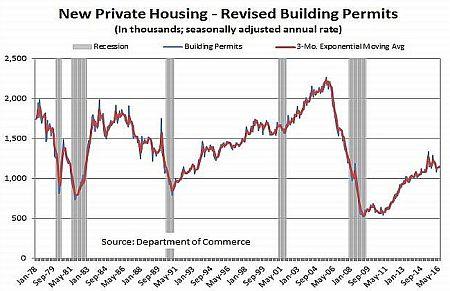 Source: U.S. Bureau of the Census
Existing Home Sales
Existing home sales are plodding upward, but like building permits, are well below pre-recession levels. Existing home sales trend closely with building permits and are likely to decline if building permits continue to drop.
Signal: Definitely not in recession territory, but it may not take long to get there.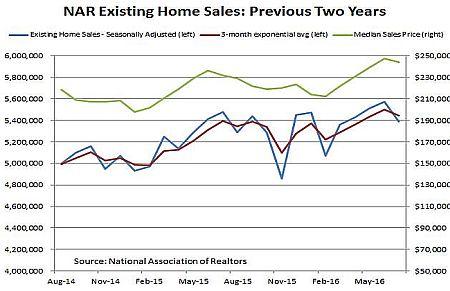 Source: National Association of Realtors
Consumer Sentiment
Consumer sentiment, as published by the University of Michigan, is another indicator that has done little more than move sideways over the past year and a half. Despite this disappointing trend, the measure remains in safe territory. The summary of the latest survey states that consumers are "reasonably optimistic."
Signal: No indication of a pending recession here.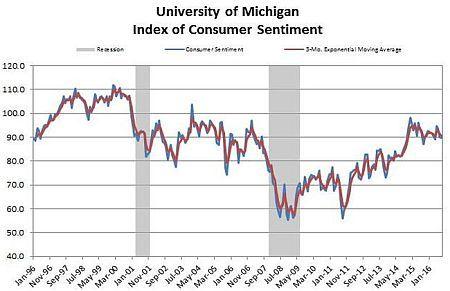 Source: University of Michigan, Survey of Consumers
Observation
Low interest rates may be propping up the economy, but they cannot completely offset the decline in corporate profits. Until profits recover, sluggish growth is likely to be the norm.
What Happens Next?
Investors should realize that there is always one constant in the economy: the business cycle. Some cycles are longer than others, but there is always a pattern of boom and bust. There wasn't much boom in this recovery and, if interest rates stay low, there may not be much of a bust.
Even if low interest rates keep us out of an official recession, annualized growth may stay in the one percent range, just as the Cleveland Fed's yield curve model predicts. A sluggish economy, at best, may give us nothing more than a very tired bull market.
Disclosure: I/we have no positions in any stocks mentioned, and no plans to initiate any positions within the next 72 hours.
I wrote this article myself, and it expresses my own opinions. I am not receiving compensation for it (other than from Seeking Alpha). I have no business relationship with any company whose stock is mentioned in this article.