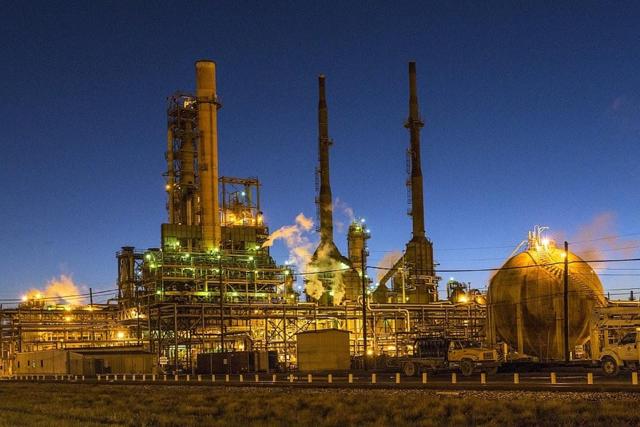 source: Stock Photo
In a somewhat surprising report from Goldman Sachs, it was asserted that even when the price of oil was testing the $150 per barrel mark, oil majors BP Plc (NYSE:BP), Royal Dutch Shell Plc (NYSE:RDS.A) (NYSE:RDS.B), and Exxon Mobil Corp. (NYSE:XOM) were experiencing a decline in cash return on capital.
The interesting conclusion by Goldman was that large oil companies have not been as profitable as the market has assumed since 2005. That conclusion was drawn from the increase in costs of doing business.
While overall profits were climbing during that period of time in conjunction with the rising price of oil, the cash generated during that time was falling.
The major costs identified in Goldman's note were an increase in service costs, higher costs for finding and development, and higher taxes.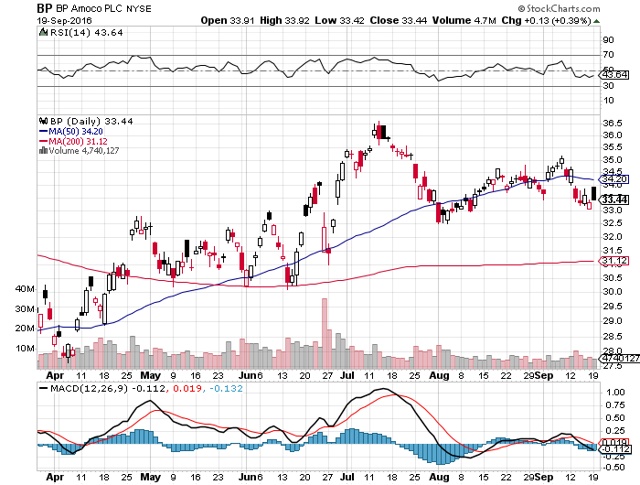 source: StockCharts.com
It's going to get worse before it gets better
With the price of oil plummeting over the last couple of years because excess supply, it not only has gotten worse for these three oil giants, but it will without a doubt continue to do so because it's going to take a lot longer than formerly anticipated for the market to rebalance and the pace of demand to catch up with soaring supply.
One good thing these and other high-cost producer have done is to respond to the low price of oil by finding ways to lower costs. This will position them for decent earnings once the price of oil moves sustainably higher.
The problem is many low-cost producers are producing at or near record levels, specifically referring to some OPEC members, but also Russia. Add to that the efficiency developed by quality, low-cost U.S. shale producers, and you can see how they can now generate a profit even at oil in the $40s, which is why they continue to add rigs and complete new wells.
While the giant energy companies are making improvements, and in some cases developing their own shale resources, it's going to take a lot of time before they can compete with the low-cost producers, and that's a challenge considering there is no doubt in my mind it's going to take a longer than believed for the price of oil to surpass the $50 mark. Over the next 14 months or so, I see it continuing to move in a range of $40 per barrel, with it averaging about $45 per barrel.
Before that I think it's going to plunge one more time in a big way, meaning into the $30s, before it starts to find real market support and return to the range mentioned above. There are simply no catalysts that are there to change that outlook, and until demand really does grow at a rate faster than supply, and the abundance of global oil stockpiles are drawn down, oil will remain consistently in the $40s.
The oil majors need oil above $50 in my research, and would be much better off in the $60s. I don't see that happening before 2018.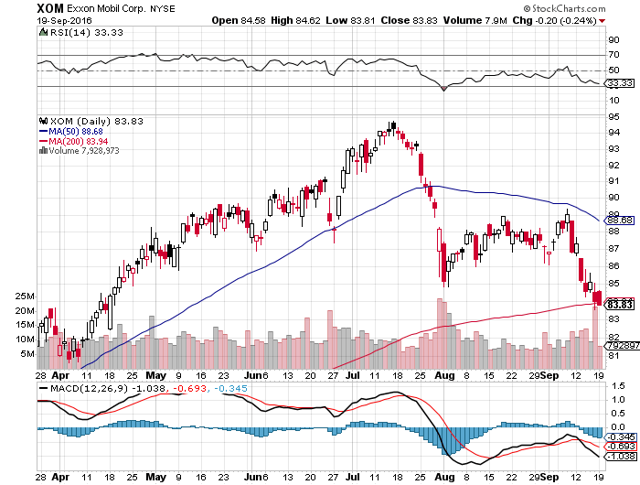 source: StockCharts.com
Can the majors flatten the cost curve?
One part of Goldman's note I disagree with is that these and other oil majors will "find ways to compete with shale through driving costs lower on conventional projects, flattening the cost curve further."
Most important to me about that statement is it's far too general and ephemeral. What costs can be further removed from operations that will allow BP Plc, Royal Dutch Shell Plc, and Exxon Mobil Corp. to flatten the cost curve. I'm eagerly waiting for them to be revealed.
I'm not saying there aren't ways to lower costs, but it appears Goldman is saying the costs of non-shale projects will be able to be lowered to the point of being close to, or at the costs of shale producers. That's not going to happen. There would have to be new technology and methodology created in order for those results to be realized. It could happen in the future, but it's not there now.
I think this is one of the reasons Shell has been transitioning toward a higher percentage of natural gas rather than oil in its portfolio.
As for flattening the cost curve, I don't see that as the reality at this moment. There continues to be a lot of disparity between producers, although eventually, when comparing apples against apples, there probably will one day be a flattened cost curve.
What that means in practical terms, it there will be little if any difference in break-even prices on the production side.
Even among shale producers costs haven't been flattened because of higher-cost older wells still in production, and the various costs associated with different Basins, and cost differentials between individual wells.
Of course all of this has to be averaged out, which means once higher costs wells are removed from portfolios, there is a strong probability costs will be flattened, although I'm talking specifically when measuring shale against shale, not shale against deepwater drilling or other oil deposits.
The other problem of flattening costs is the assumption other producers will remain static and not dynamic in their own efforts to continue slashing costs. Years into the future we may see a flattening happen, but we're not even close to that becoming a reality in the present.
Competition for market share heating up, not declining
It's puzzling to me that Goldman is touting the flattening of costs idea. It sounds like socialist, wishful thinking to me. If costs were heading in that direction in a way that will have a near-term impact on the market, there would be no reason for low-cost producers to continue to ramp up production close to or at record levels, as in the case of leading OPEC members are doing.
The reason they're doing so is because there isn't a flattening of costs in the oil sector. If there was, it would be a ridiculous action to take because there would be no meaningful differentiation between producers.
For that reason it's disingenuous to suggest that in some mystical, unknown way, the major producers will find a way to flatten their costs against extremely low-cost competitors. I'm not talking about OPEC here, but U.S. shale producers, who have become the swing producers dictating the flow of the oil market. OPEC has always been, for most members, the lowest cost competitors. The emergence of the U.S. shale industry has disrupted everything, and it'll take a long time before many competitors, including some members of OPEC, to be able to compete against them.
There is a fierce, competitive battle for market share, and that in fact has forced oil producers to cut costs. But that doesn't mean there are unknown ways to cut costs outside of the shale industry that will flatten them. It's also why we continue to hear how many oil producers are waiting for the price of oil to rise in order to compete more profitably and effectively. That doesn't sound like those that are on the verge of flattening costs. If it was, they would already be generating earnings at these price levels.
Conclusion
If the price of oil doesn't reverse direction over the next year or so, we will probably see most of the remaining big oil players be forced to cut dividends. There may be a couple that have the balance sheets to outlast the low-price environment, but there will be mounting pressure to relieve rising costs.
In the end, it may only be Exxon Mobil that is left standing of all the majors not having to at least cut back on their dividends. Even with Exxon it will come under pressure if the global economy slides into a recession and the price of oil remains lower for two or three more years. As the oil market is now, it wouldn't surprise me to see the price of oil rangebound for two years.
That would been cash return on capital will continue to fall for the oil majors. I don't see any catalysts outside of robust growth in oil demand solving the problem. With forecasts for the demand growth pace falling, things are going to get a lot worse in this metric before they get better.
Watch this closely with any oil investment, but especially the higher cost majors like BP, Royal Dutch Shell, and Exxon Mobil.
Disclosure: I/we have no positions in any stocks mentioned, and no plans to initiate any positions within the next 72 hours.
I wrote this article myself, and it expresses my own opinions. I am not receiving compensation for it (other than from Seeking Alpha). I have no business relationship with any company whose stock is mentioned in this article.