All one need do is pay heed to headlines in order to be reminded that cyber security is an ever present challenge. Issues range from email to espionage to ransomware. Firms in the industry are competitive, and their stocks can be expensive. However, as there is a consistent need to invest in research and development, which is not guaranteed to bear fruit, the biggest tech companies have been known to make acquisitions.
Here is a YChart that shows recent expenses of International Business Machines (NYSE:IBM), Cisco (NASDAQ:CSCO), Hewlett Packard Enterprise (NYSE:HPE), and Juniper Networks (NYSE:JNPR), which are all involved in security solutions: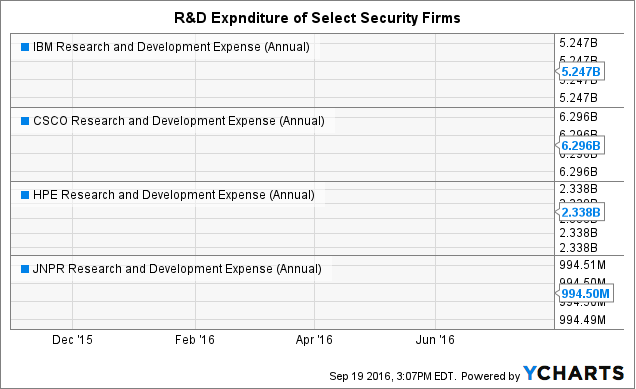 So far this year, IBM's acquisitions have included two known cyber protection firms. One is Iris Analytics which utilizes a machine learning or cognitive approach to combat payment fraud. The other is Resilient Systems which specializes in incident response. In 2014, IBM bought two cloud security firms: CrossIdeas and Lighthouse Security Group.
After several security purchases in 2015, Cisco has only bought out the privately-held Cloudlock this year.
Hewlett Packard Enterprise, having recently split with Hewlett Packard (NYSE:HP), covers "Everything from integrating security and protection technologies, to threat monitoring and defense, to managing security for the organization."
Juniper Networks featured security technology includes multiple firewall products. It has been relatively quiet on the merger and acquisition (M&A) front.
Buyout activities comprise privately-held firms. There is no assurance that a public corporation will be a target, even if technologies appear valuable or are recognized as such. Attention is given to consider stocks of companies that are likely to be viable if they remain independent while also making sense as acquisition targets. Here is an overview, in increasing preference, of stocks worth watching:
Though Guidance Software (NASDAQ:GUID), at a market cap of $186 million, has won a 2016 Secure Computing (NYSE:SC) Magazine award for having the best forensic solution, it is reporting losses and is difficult to endorse. Partners of Guidance include Intel (NASDAQ:INTC), which is rumored to be shopping its McAfee division, and Cisco.
Moving up the food chain slightly, Allot Communications (NASDAQ:ALLT) is barely profitable, has an enterprise value of close to $51 million, and trades at nearly 40x estimated earnings in the next 12 months. It has recently announced a partnership with McAfee - that could be fortuitous if McAfee is not sold. However, Allot's disappointing results include lowered guidance. Therefore, it could be worth watching for the stock to pull back.
F5 Networks (NASDAQ:FFIV) is the recipient of an SC Magazine award for best web application solution; however, it recently lost an intellectual property ruling in which Radware (NASDAQ:RDWR) prevailed. F5's Chief Technology Officer has subsequently resigned. However, with a consensus earnings estimate of $7.52 in the next 12 months, it is trading at a reasonable 15.8x. While the firm is bigger than some competitors, its enterprise value is just over $7 billion and it could still be a target.
Splunk (NASDAQ:SPLK), an $8 billion firm, is trading at nearly 151x consensus earnings of $0.39. It is not principally involved in security, but big data analytics. However, it is recognized as having the best fraud prevention solution and also the best Security Information and Event Management (SIEM) products. It should be providing competition to IBM's Resilient Systems. Though it is not one dimensional, valuation may be a consideration here, particularly in combination with insider sales.
VMware (NYSE:VMW) trades at about 16.4x earnings and has an enterprise value of nearly $24 billion. It is the recipient of an award for the best mobile security solution. The company does not amount to pocket change for most potential acquirers and in fact eclipses the aforementioned R&D budgets.
Barracuda Networks (NYSE:CUDA) perhaps could be at the top of the list, but insiders have been selling. It trades at about 40x the consensus estimate of $0.60 in the next twelve months. The cloud security company has been recognized for the best solution for Small and Medium Enterprises (SME), and separately, the best customer service. With an enterprise value of $1.1 billion several parties might acquire it. Additionally, its customer relationships tend to encompass three years, and subscriptions can be up to five years. Other firms sign customers up for one year and have a sales cycle that requires about the same amount of time.
Radware has a market cap of only $609 million, but an enterprise value of just $384 million. Its current ratio is 2.3 so there should be no problem paying the bills. Consensus estimates are for $0.33 this year and $0.44 in 2017, so it trades at over 36x. After winning several awards in 2015, SC Magazine named it the best managed security service (on-premises with cloud) provider this year. It is also a finalist for attack mitigation service and hybrid cloud Web Application Firewall (WAF) service. WAF is important because of payment card industry compliance. Additionally, WAF has been cited as a reason for international growth through large financial and e-commerce businesses - and could be appealing to Juniper. The technology research and advisory company Gartner has also recognized Radware as a leader for its Application Delivery Controllers (ADC). The Cisco website lists Radware's DefensePro as powering its next-gen firewall product line.
With cyber security issues omnipresent, firms that offer effective products and services can do well. While companies in the industry constantly need to spend on research and development, acquisition activity occurs regularly. Thus, if choosing to pay up for a stock, potential for a buyout can improve prospects. Because of their positioning, industry recognition, and smaller size, Radware and Barracuda Networks may be especially deserving of investor attention.
Disclosure: I/we have no positions in any stocks mentioned, but may initiate a long position in RDWR, CUDA over the next 72 hours.
I wrote this article myself, and it expresses my own opinions. I am not receiving compensation for it (other than from Seeking Alpha). I have no business relationship with any company whose stock is mentioned in this article.
Additional disclosure: I may initiate a short position in FFIV over the next 72 hours.