Yum! Brands (NYSE: YUM) is planning to spin-off its China division. They filed form 10 on May 3rd, 2016. The spin-off company name will be Yum! China Holding. The distribution of shares is planned to be a tax free distribution and the distribution ratio has yet to be determined. The stock will trade under the symbol YUMC on the NYSE. The spin-off is expected to be completed on Oct. 31, 2016. Management is hoping to squeeze out some more value with the spin-off by providing more focus strategically in China as a separate company.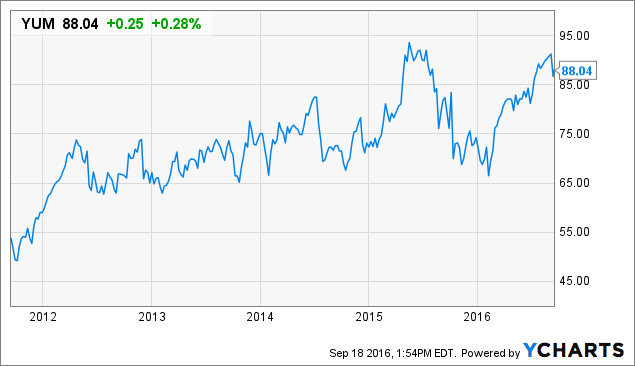 Overview
Yum! China Holdings has over 7,200 restaurants in China and is considered the largest restaurant company in the country. They first entered this market in 1987 and have extensive understanding of the local markets. After the spin-off, Yum! China Holdings will have the exclusive rights to operate, sub-franchise and license the KFC, Pizza Hut and Taco Bell brands in China. They will own East Dawning and Little Sheep outright which both are asian cuisine inspired concepts. In 2015, the company opened 750 restaurants which is basically two restaurants a day. The majority of the growth comes from the KFC and Pizza Hut concepts. Out of the 7,200 restaurants 6,600 of them are KFC or Pizza Hut. The company has 90% ownership in their restaurants.
Sales in 2015 were $6.8 billion and net income was $323 million. Operating cash flow came in at $910 million. Net income hasn't been consistent over the past 3 years mostly due to impairments. Operating cash flow has grown nicely, increasing by $128 million since 2013. With store growth to continue, operating cash flow should follow. There will come a point of cannibalization, but for the next few years this shouldn't be an issue. Since 2013 management has focused on margin improvements within their largest chain KFC. They have improved margins by 2% which is good, but we think they can do better. Total net margins were around 5%, but with the scale in total number of stores and new laser focus being a separate company, should squeeze out another 2-3% in margins. If sales stay the same, for every 1% increase in margins equates to an additional $68 million in earnings. This just shows the power of margin expansion in the restaurant business, since its a low margin industry.
Market
China's rapidly growing middle class has made it a hub for foreign company investments and to extract profits from. Management expects that by 2022 the middle class and affluent households should increase by 283 million which they found from a McKinsey study. With the growth in population and shift upwards in social classes we don't foresee a slow down in store growth and investments.
Valuation
Competitors sell in the P/E range of 25 to 30 times. We feel the spin-off company deserves the higher end of the earnings multiple. The market still shows tremendous growth metrics in store count. The spin-off will enhance strategic and management focus. Direct access to capital markets for growth initiatives. Though, the company doesn't plan on incurring debt after the spin-off. Operating cash flow should support growth initially. If the company sells for 30x earnings it would have a market capitalization of $9.7 billion.
The parent company Yum! Brands has a current cap of $34.5 billion. The spin-off would carve out an estimated $9.7 billion of value, leaving a market cap of $24.8 billion.
The following table shows a breakdown in earnings by parent company and spin-off from 2015 data.
| | | |
| --- | --- | --- |
| Yum! Brand Consolidated Earnings | Parent Company (Post Spin-off) | Yum! China Holdings (Spin-off) |
| $1.293 Billion | $970 Million | $323 Million |
Currently YUM sells for 26 times earnings. We believe YUM is fairly valued at this multiple. With the China assets being considered currently, investors could see contraction on the earnings multiple once the spin-off is complete. China is a big market for YUM and investors know this. An investment before the spin-off only makes since if the spin-off company attracts a larger multiple than 30x earnings which it could, but as an investor, we don't want to bet on it.
Takeaway
It appears the spin-off event is already priced in. Post spin-off investors should be more interested in Yum! China, since the market is still in a growth stage. Currency risk will be a factor management will have to focus on since all assets will be in China. The parent company's assets will mostly be in the U.S. which is becoming a competitive and mature market. With the strategic focus on KFC and Pizza Hut brands in China management should be able to use there scale for cost synergies. We recommend to wait and see what the shares trade for after the spin-off.
To read more research on stock spin-offs, fund holdings, micro to large cap companies, and special situations please consider following me (by clicking the "Follow" button at the top of this article next to my name) to receive notification when I publish research next.
Disclosure: I/we have no positions in any stocks mentioned, and no plans to initiate any positions within the next 72 hours.
I wrote this article myself, and it expresses my own opinions. I am not receiving compensation for it (other than from Seeking Alpha). I have no business relationship with any company whose stock is mentioned in this article.
Additional disclosure: This article is intended to provide information to interested parties. As I have no knowledge of individual investor circumstances, goals and/or portfolio concentration or diversification, readers are expected to complete their own due diligence before purchasing any stocks mentioned or recommended.