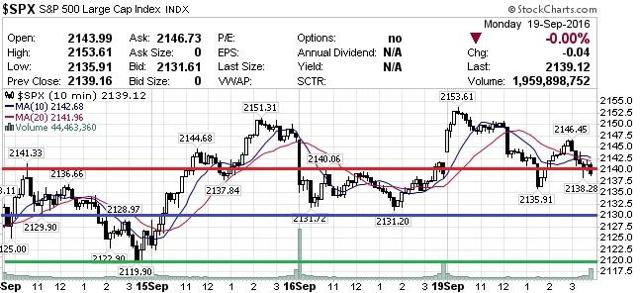 What a fun week it's been!
As you can see from our S&P chart, we've popped over our strong bounce line at 2,140 but, like a magnet (or the Godfather), the S&P keeps getting pulled back in though it seems just as much money can be made betting long at 2,140 as betting short - as long as you use very tight stops on the wrong side of the line.
So why, you may wonder, don't we bet long? Because we still have plenty of long positions in our portfolios, and we already have plenty of bets going that way and also because we think the risk/reward strongly favors the downside at 2,140. At 2,120, we may be inclined to play for a bullish bounce - as we did last Thursday Morning, when we prediceted the move back to 2,150 right in the morning post:
"2,127.50 was our weak bounce goal on the S&P 500 (NYSEARCA:SPY) and we finished the day yesterday at 2,125.77, so not quite and, unfortunately, today we must raise the bar, and our expectations, to the strong bounce line at 2,140 and we're not going to really be impressed until 2,150 is taken back but let's not get ahead of ourselves because, as noted in the title, we're looking down, not up."
A move from 2,125 to 2,150 on the S&P Futures (/ES) is good for a gain of $1,250 per contract but remember - I can only tell you what the markets are going to do and how to make money trading it - the rest is up to you... Today we told our Members that we liked SHORTING the S&P (/ES) Futures at 2,140 and the Russell (/TF) Futures at 1,235 and the Dow (/YM) Futures at 18,100 - we'll see how those do tomorrow but back to 2,120 would be good for another $1,000 per contract (tight stops above the lines, of course).
Meanwhile, of course, it's all about those rates at the Fed tomorrow:

The Bank of Japan (BOJ) gets the first swing at 2am tomorrow and they've already started their meeting, just in time to coordinate with our Fed, who starts around 9 this morning. Until then, there's nothing serious to discuss though oil (/CL) and gasoline (/RB) have taken a nice tumble with oil back at $43.50 after our call (right in the morning post, which you get pre-market with our lowest-level subscriptions) to go short at $47.50 on the 8th - that one was good for gains of $4,000 per contract:

See how much fun it is to trade the Futures? For the Futures impaired, we played the 20 of the Oil ETF (NYSEARCA:USO) Oct $12 puts for $1.22 ($2,440) in our Options Opportunity Portfolio and, just two weeks later, it's already $2.02 ($4,040), which is up $1,600 (65%) in less than two weeks and $2 was our goal so we'll take the money and run ahead of tonight's API report because - why risk a quick 65% gain?
There's always something else to trade so there's no harm in getting back to good old CASH!!! We love CASH!!! CASH!!! is 80% or more of all 4 of our Member Portfolios and it in no way has stopped us from making plenty of money as we snipe trades like USO from the sidelines, where we can make nice, quick money in and out and get quickly back to CASH!!! Have I mentioned how much I like CASH!!! lately? Hopefully I'm getting my point across...
Yes, we still think oil will go lower, our target is $40 or less into October but it's only Sept 20th and we already got $4 of our $7.50 expected drop so 53% of our drop in 33% of our time means we're way ahead of schedule so we take the money and run because - there is always something else we can trade with our CASH!!! Maybe oil will bounce and we can short it again - those are some of our best trades - playing the top and bottom of a trading channel over and over again.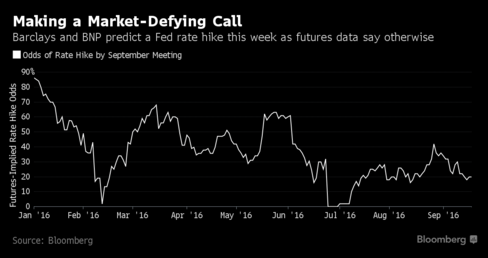 Barclays (NYSE:BCS) and BNP Paribas (BNP) have joined me in predicting a Fed hike tomorrow but we're all alone out here as the vast majority of analysts think the Fed will wait until December with 21 of the Fed's 23 preferred bond-trading partners lined up against us.
"There is no perfect time -- there will always be some uncertainties in the data," said Laura Rosner, senior U.S. economist in New York at BNP. "Despite a multitude of shocks through the last nine months, which have delayed the Fed, hiring has continued to be robust. There is a window of opportunity for the Fed to continue normalizing, and we think it'll take it."
That's what she said and I agree. November 2nd is the next meeting and that's out of the question the week before the election and that would leave Dec 13th and we know what happened last time the Fed decided a rate hike would make a nice Christmas gift. If not now, then we're into Feb 1st or March 15th and they don't say "Beware the ides of March" for nothing. I don't see a logical alternative to tomorrow.
Shorting the Treasury ETF (NYSEARCA:TLT) remains the fun bet at $135 and, if you want to be aggressive, you can bet on a hike with the following:
Buy 10 TLT Oct $138 puts for $4.50 ($4,500)
Sell 10 TLT Oct $134 puts for $2 ($2,000)
Sell 10 TLT Jan $140 calls for $2 ($2,000)
That spread works out to net $500 on the $4,000 spread so the upside return on cash is $3,500 (700%) if all goes well. If all does not go well, you end up short on TLT at net $139.50 and the high for the year was $143 in July (Brexit), which only lasted a week and then back below $140 and we know the Fed isn't loosening - so it's VERY unlikely that will happen again.
I'd love to say it's a safe play but it isn't because 21 of 23 of the Fed's trading partners are against us on this one and we have to assume they aren't total idiots.
Disclosure: I am/we are short TLT, USO, SPY, DIA, IWM, AMZN, TSLA, NFLX.
I wrote this article myself, and it expresses my own opinions. I am not receiving compensation for it. I have no business relationship with any company whose stock is mentioned in this article.
Additional disclosure: Positions as indicated but subject to RAPIDLY change (currently mainly cash and an otherwise bearish mix of long and short positions - see previous posts for other trade ideas). Positions mentioned here have been previously discussed at www.Philstockworld.com - a Membership site teaching winning stock, options & futures trading, portfolio management skills and income-producing strategies to investors like you.