Copper mining company Freeport-McMoRan (NYSE:FCX) has been steadily declining over the past couple of months, losing over 20% of its market capitalization. This weakness in Freeport shares of late is not surprising as it is becoming clearly evident that the company has been unable to cope with the weak copper pricing environment.
First, Freeport had turned in a bad second-quarter performance and had missed estimates, and second, copper consumption is getting weaker in China, which is bad news for copper pricing. In this article, we will take a closer look at the reasons why Freeport-McMoRan can slide further going forward.
Copper prices will slide
Copper prices have had a volatile time this year. After rising strongly in the earlier part of the year on the back of strong Chinese import data, they have started trending lower from April onward. There was a brief spike back in July, but post that, the slide has begun once again as shown in the chart below: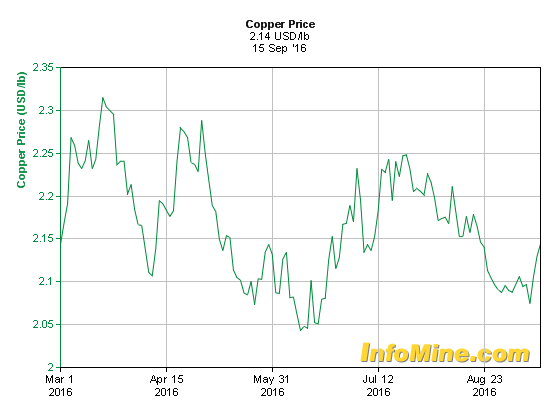 Source: InfoMine
This recent weakness in copper prices is attributable to a slowdown in Chinese copper imports, which were strong in the earlier part of the year and led to a strong rally in copper. For instance, in the month of August, China's copper imports sank to a one-year low, declining 2.8% from the preceding month to 350,000 tons. In comparison, China had imported 360,000 tons of copper in July and 420,000 tons in June.
Thus, it is becoming evident that China's need for copper is slowly declining. The decline in China's copper imports is a result of a slowdown in consumption and a pick-up in domestic output. Now, considering that China contributes 40% to global copper consumption, the decline in copper imports by the country is leading to an oversupply in the global market.
For instance, due to a slowdown in Chinese copper imports, bonded copper stocks in China have increased by 130,000 tons since 2016 began, according to Bloomberg data, sitting at 580,000 metric tons at the end of last month. All in all, copper inventory across the London Metal Exchange, the Shanghai Futures Exchange, and bonded copper inventory in free-trade zones in China has increased to the tune of 200,000 metric tons since the start of the year, as Market Realist reports.
Thus, this increasing oversupply is one of the key reasons why the price of copper has taken a hit in the past couple of months. Looking ahead, it is likely that the oversupply in the copper market will continue to increase due to weak economic conditions in China. Let's take a look.
China's weak real estate market will weaken copper prices
One of the most important reasons why Freeport-McMoRan investors should brace for more downside is because of the economic slowdown in China. As the country's GDP growth has slowed down, key copper consuming areas such as real estate and construction have taken a hit. For instance, unsold Chinese real estate inventory is at a whopping 739 million square feet, up 16% from the prior-year period.
Considering that analysts anticipate that it will take around 8 years for this inventory to go off the market, the real estate and construction business in China will take a beating. This is because 25% of the copper produced is used in the construction industry. Moreover, a slowdown in construction activity will also lead to weakness in electrical fittings that are deployed in buildings, and this will create another headwind for copper consumption.
Additionally, recent government regulations will also hurt the Chinese real estate market. For instance, last month, the Nanjing government decided that potential buyers will need to make down payments of 35%-50% as compared to the prior requirement of 30%-40%. Additionally, the government of Suzhou has also announced that it will put into place a Home Purchase Restriction program in order to arrest rising prices. As a result of these credit tightening moves, the construction sector in China will take a hit.
How weak copper pricing will hurt Freeport
Thus, considering the developments in the end-market, it is likely that the price of copper will continue to decline as oversupply rises. In fact, according to Goldman Sachs, copper prices are on their way to $1.80/pound as demand declines and production rises by 15% in the coming months.
If copper prices actually decline to $1.80 per pound, it will take a huge toll on Freeport-McMoRan's financials. I'm saying this because the company is highly-sensitive to copper prices, with a change of $0.10 per pound in pricing slashing its annual operating cash flow by $320 million and the annual EBITDA by $400 million in 2017.
Thus, if the price goes down to $1.80/pound from the current price levels of $2.14/pound, Freeport's annual operating cash flow and EBITDA will take a huge hit in the coming few quarters.
Conclusion
The conditions in the copper market are not conducive for Freeport-McMoRan to make a comeback. The company's finances are going to take a hit going forward as copper prices are expected to decline on the back of the oversupply in the market. So, in my opinion, it will be a good idea to stay away from Freeport-McMoRan and avoid more downside.
Disclosure: I/we have no positions in any stocks mentioned, and no plans to initiate any positions within the next 72 hours.
I wrote this article myself, and it expresses my own opinions. I am not receiving compensation for it (other than from Seeking Alpha). I have no business relationship with any company whose stock is mentioned in this article.