Last week it was reported that Canadians continue to borrow heavily; in fact, household debt rose to 100.5% of GDP in Q2. And while mortgage-related debt stopped increasing, credit related debt rose by 2%.
While the news makes for interesting headlines, the data highlighted that Canadians also have significant net worth - they have nearly $6 of assets for every $1 of debt. Still, the central bank is worried citing "financial vulnerabilities associated with household imbalances remain elevated and continue to rise."
In the exciting world of Canadian restaurants, same-store sales have slowed but remained positive. Most of the publicly-listed chains continue to deliver positive sales and unit growth and the industry is on track for its 25th year of consecutive growth.
Household debt hasn't yet been an issue. Nor has the economy. Canadians continue to spend, especially at restaurants.
Interestingly, its the chains that continue to see the best performance. Earlier this year, The NPD group reported "in the last 12 months we've had more independent restaurants close than we've ever seen in the Canadian restaurant industry" yet nearly all of the major chains are experiencing unit growth.
The decline in the Canadian dollar has also helped. Not only is tourism up - visits were up 4.7% in June - but the weak dollar is discouraging travel. So Canadians are spending more time traveling within Canada and spending more money at restaurants in the process.
Same-Store Sales
As mentioned, industry sales continue to increase. For the publicly listed chains, Q2 was weaker as Easter shifted into Q1 for some while others cited June as a particularly slow month.
That said, the leader remains A&W, which continues to benefit from a "better ingredients" menu while The Keg and Tim Hortons (NYSE:QSR) benefit from ownership changes and a better operational focus.
One of Canada's newest consolidators - Cara Operations - continues to see weakness across its chains, especially in Alberta and Saskatchewan, while Canada's original consolidator - MTY Food Group (OTC:MTYFF) - is perhaps finally seeing some stabilization.
Canadian Chains: Same-Store Sales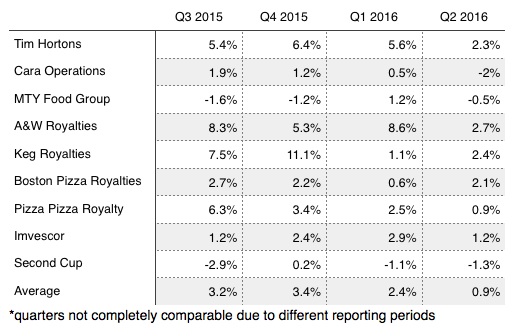 Same-store sales, however, are worth a point of caution. Recently, restaurant whiz Jonathan Maize wrote about the short-falls of same-store sales as a measure of success. Here's a summary:
It's a very short-term view and one should not immediately extrapolate a quarter to represent a trend.
Random events can dramatically influence results such as weather or holiday-shifts.
Focusing on them can result in bad decisions. The Five Guys CEO said it best, "I can't take same-store sales to the bank. I can take profits to the bank."
Price Change
Often stock price returns, especially short-term measurements such as YTD, can similarly distort our view of success. In the case of restaurants, seven of the nine largest publicly listed chains have delivered pre-dividend returns greater than the TSX.
However, the 5-year data does begin to reflect the industry fundamentals, which, if you recall, has grown for 25 consecutive years. The industry is driven more by lifestyle changes, such as eating out more, rather than economic cycles.
It's also worth noting that one of the best stock price performers - MTY Food Group - has historically delivered weaker same-store sales. Once again, same-store sales does not always equal profit nor does it always equal growth in intrinsic value.
In summary, the group average has bested the TSX by 2.5% year-to-date and 86% over the past 5-years (before dividends).
Canadian Chains: Price Change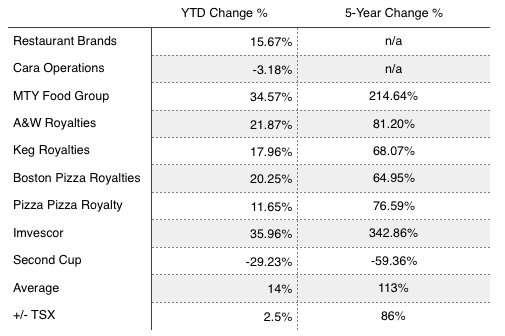 Valuation
Based on current year earnings, the group is trading at an average multiple of 19, which is similar to that of the TSX. Certain companies, such as Imvescor (OTCPK:IRGIF), Pizza Pizza (OTC:PZRIF) and Boston Pizza (OTC:BPZZF), maintain discounts of 15% or more to the market.
Canadian Chains: Valuation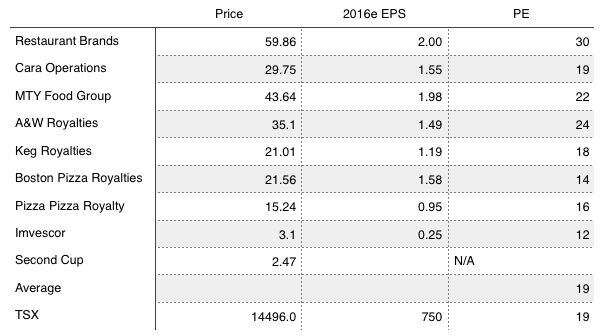 Concluding Thoughts
What are your conclusions from this data?
The core idea that comes to mind is a simple one: it appears one can achieve decent returns from the restaurant industry with substantially less risk than the market. While the economy matters, lifestyle changes are really driving the industry. The experience away from is a social one that is becoming more and more habitual.
So long as this remains true, it represents a positive tailwind to the industry in Canada. And so long as the managers of these businesses operate wisely and refrain from using too much debt, the intrinsic value of these businesses have the potential to build over time.
Disclosure: I/we have no positions in any stocks mentioned, and no plans to initiate any positions within the next 72 hours.
I wrote this article myself, and it expresses my own opinions. I am not receiving compensation for it (other than from Seeking Alpha). I have no business relationship with any company whose stock is mentioned in this article.
Editor's Note: This article discusses one or more securities that do not trade on a major U.S. exchange. Please be aware of the risks associated with these stocks.