The upstream business of oil major Royal Dutch Shell (NYSE:RDS.A) (NYSE:RDS.B) has been in a soup this year, along with the weakness in the downstream. However, as I had discussed earlier this month, the downstream segment is on the path of a comeback on the back of higher refining margins. But, can investors expect a similar turnaround in the upstream segment? Let's take a look.
Why the upstream business will recover
As mentioned above, the upstream business of Shell has been in a soup this year. I'm saying this because its loss in this segment had almost tripled last quarter to $1.3 billion as compared to $500 million in the year-ago period. The primary reason behind the weakness in the upstream segment was the lower price realization achieved by Shell last quarter. In fact, the company's liquids realizations were down 29% on a year-over-year basis last quarter, while natural gas price realizations declined 28%.
As a result of this pricing weakness, Royal Dutch Shell's upstream business had taken a massive hit last quarter. However, the good part to note is that oil prices have started getting better of late and this should lead to an improvement in Shell's realizations going forward.
For instance, in the ongoing quarter, the average Brent oil price is more than $45/barrel. This is slightly higher than the average oil price of under $43/barrel seen in the first six months of the year. Thus, there has been a gradual improvement in oil prices as 2016 has progressed on the back of supply actions being undertaken by producers, along with rising demand.
Looking ahead, it is likely that oil prices will continue to improve as production continues to decline and demand remains strong. In fact, crude oil inventory growth in 2016 averages only 0.8 million barrels a day as compared to inventory builds of 1.9 million bpd that was seen in 2015. Next year, it is anticipated that after an initial build up in inventory in the earlier part of the year, inventory draws will start taking place from June onward.
This expected decline in oil inventories is not surprising as capital investments in the oil and gas space have been on the decline, leading to an inventory correction. For instance, after a 20% decline in oil and gas investments last year, an identical decline is expected in 2016 as oil and gas companies are witnessing lower returns from their investments. This is shown in the chart given below: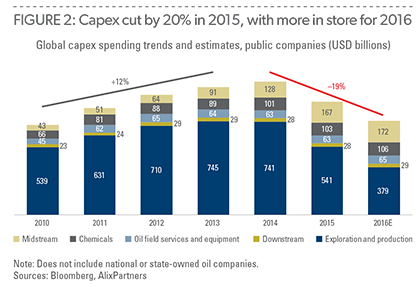 This reduction in capital investments by oil and gas companies is leading to an increase in the base decline rates of oil and gas wells, thereby hurting output. Driven by the lower output, the oversupply in the oil and gas space has been coming down gradually, thereby leading to a better inventory balance. In fact, by next year, the consumption of oil will eventually exceed production. This is shown in the chart below: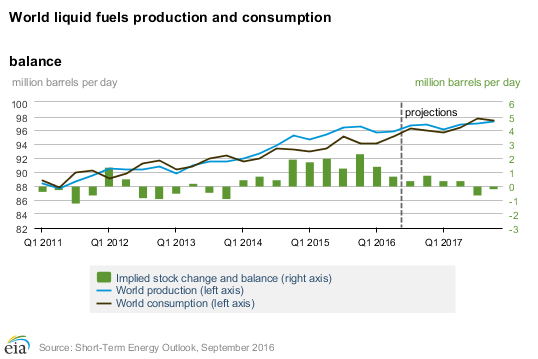 Source: EIA
How Shell can benefit from better pricing
The good thing about Shell is that it is well-placed to benefit from an increase in oil prices going forward as it has improved its operational efficiency. In order to generate more oil production at a lower cost, Shell has been focusing on deepwater exploration. In fact, Shell has been making good progress in this area in order to lower its cost profile and strengthen production at the same time.
For instance, in the Gulf of Mexico, Shell has reduced its drilling days required by 30%, while drilling costs have gone down by 40% in the past couple of years. Apart from these reductions, the company has also been reducing its capital investments in the deepwater. But, despite a reduction in capital investments, Shell is on track to increase its production from deepwater exploration in the coming years. This is shown in the chart below: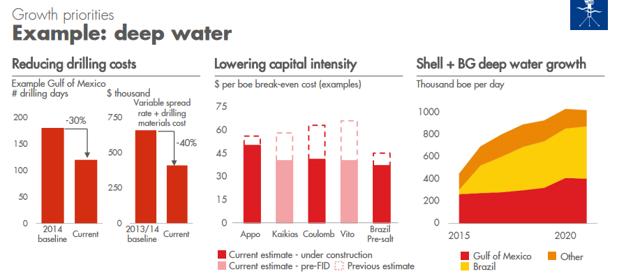 Source: Royal Dutch Shell
Thus, as evident from the chart above, Shell's production in the deepwater is set to grow in the long run even as costs decline. This combination of lower costs and higher production will allow Shell to reduce its break-even point from the new deepwater projects. In fact, the company forecasts that its new deepwater developments will attain break-even at a $45/barrel oil price.
Conclusion
Thus, as far as the upstream business is concerned, Shell can make good progress in this area as oil prices improve and its low-cost production comes into play. Hence, like the downstream segment, even the upstream segment of Shell can make a comeback going forward, which is another reason for investors to remain invested in this stock.
Disclosure: I/we have no positions in any stocks mentioned, and no plans to initiate any positions within the next 72 hours.
I wrote this article myself, and it expresses my own opinions. I am not receiving compensation for it (other than from Seeking Alpha). I have no business relationship with any company whose stock is mentioned in this article.