Unlike businesses that are dependent on a business cycle, like a new phone for example, Healthcare and its administrators, have a perpetual business subject only to changing demographics or possible political scrutiny. Express Scripts, Inc. (NASDAQ:ESRX), is one of the largest pharmacy benefit managers in North America.
It provides retail drug card programs, specialty disease management, and prescription drugs through its retail network. It also provides biological pharmaceutical products directly to patients and physicians. Amazingly, ESRX adjusted nearly 1.3 billion claims among its 80 million members in 2015, and now commands a market cap of $45 Billion.
Other behemoth Pharmacy Benefit Managers include CVS (NYSE:CVS) and UnitedHealth (NYSE:UNH), but staying on focus, ESRX represents value, better balance sheet and better investing opportunity.
It is precisely when media is negative that values are greatest. It is the responsibility of the investor to make his/her claim when values are greatest. Healthcare is a labyrinth of complexity and bureaucracy. It matters not what side of the Service; receiving or giving, Political Disposition; Obamacare or laissez fair: other affiliation or age. Healthcare and RX will come your way. Timid souls read no further.

Express Scripts Holding Company operates as a pharmacy benefit management (PBM) company in the United States, Canada, and Europe. PBMs negotiate deals on behalf of employers or government health programs like Medicare and Medicaid, helping their clients better coordinate care and manage drug costs through buying drugs in bulk and essentially negotiating better deals for lower medicine prices.
Their importance grows with the large price tags of new medicines. Media and investors wrongly lump PBMs with manufacturers as the former actually reduce costs. Of note, because ESRX's number of customers, it has access to vast amounts of data and it uses that proprietary information to pinpoint ways to cut waste related to prescription drug usage.
Markets Misprice: Media droning over Epi-pen's $600 price tag and the myriad 6+ figure RX solutions for debilitating disease all serve to weigh on everything pharma or healthcare indiscriminately.
Exacerbating ESRX weightings are its grappling with Anthem, the massive insurer desperate to appease its shareholders and insureds. Anthem claims that Express Scripts owes up to $13 billion in past drug savings. But ESRX counter-sued claiming Anthem wrongdoing alleging it chose a higher pricing schedule and booked that as revenues that Anthem eventually used to pay bonuses and stock buybacks. It could be years for the dust to settle. Regardless analysts continue to forecast business as usual... too big to really fail (see below)?
Under the Hood: Analysts pegged ESRX earnings estimates at $6.37 this year and $6.86 next, again anticipating business as usual in spite of the competing claims. In fact, earnings are marginally higher today than 90 and 60 days ago when news was breaking about the suits. Layering ValueLine's historical multiple of 19x offers $121 upside and $130 into 2017.
Even if ESRX should lose, unlikely from all I've read, that possibility is already priced into its current shares. Revenues from Anthem represent approx 15% of ESRX sales and could negatively impact ESRX Earnings $1/share.That would make for volatility but still price ESRX in the range of its current level.
The Trade and How to Express your Opinion:
ESRX isn't going to pay a dividend soon. So a trade here is imperfect medicine for the drug induced search for yield. However, this is a nice set up for an options play (Sale) given news and volatility. Implied Vol is higher with a sigma near 26% and the Historical Vol has dropped to a 6-month low near 21%. Importantly, the underlying is now below $70 and spitting distance to 52-week lows. The following chart in LiveVol shows all.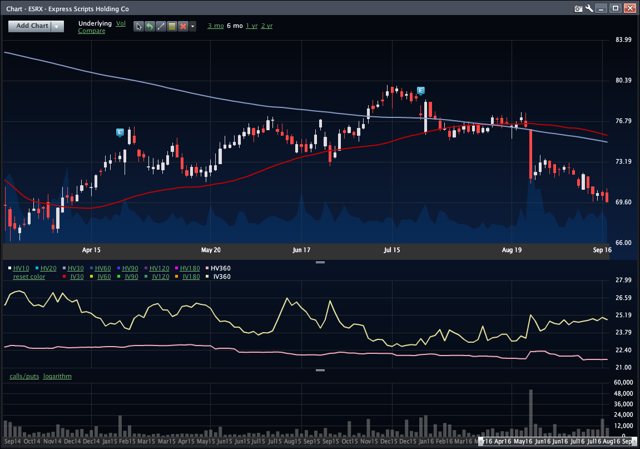 I prefer the ATM $70 put - bid/ask spread is $7.30-$7.85. I've omitted why I prefer these over the short term, but ask in the comments if you'd like an explanation). Anyway a reasonable mark to sell is $7.55 (use limit order).
Maximum profit is $755 for each contract, but be prepared to buy ESRX for $62.45, 100 shares worth for each contract you sell (or be ready to roll that in the unlikely event ESRX is below $70 as the next year winds down). Remember ESRX closed at $69.66 today, a basis discount of 11%. ThinkorSwim Order Entry image below.

Or if you've patience, simply buy ESRX, as the political winds calm and the next year is well upon us, ESRX should very well be back to its former glory.
Disclosure: I/we have no positions in any stocks mentioned, but may initiate a long position in ESRX over the next 72 hours.
I wrote this article myself, and it expresses my own opinions. I am not receiving compensation for it (other than from Seeking Alpha). I have no business relationship with any company whose stock is mentioned in this article.
Additional disclosure: Short ESRX options. The foregoing are not intended to be specific investment advice, but concepts to consider when investing. Consult your Investment Adviser.