Background
According to Nielsen's (NYSE:NLSN) website, they are operating in 106 different countries. They understand what consumers watch and buy (their two segments) and interpret that data for their customers. They allow managers to make strategic business decisions daily. Nielsen's claim to fame is the "Nielsen ratings" for television. Now that the world is rapidly changing, they have a comprehensive platform to measure the audiences with all devices. They have an excellent read on the consumer from a variety of industries.
Additionally, I would like for everyone reading to know that I worked at Nielsen in Sydney, Australia. It was part of a study abroad through my university. While I was there, I had an opportunity to learn the culture of Nielsen a bit better. In addition, I was able to travel to their Melbourne and Auckland offices. After visiting all the offices, I believe that Nielsen is a great place to work. The attire is business casual and the employees are warm and welcoming. The structure of the organization is very decentralized. Employees were very dedicated and motivated because they had the freedom to make decisions. They also did a companywide volunteer day which was amazing. Nielsen has a powerful brand image while also giving back to the community that they serve.
Quarterly Results Overview
Revenue in their most recent quarter was $1.6 billion, up 4.5% on a constant currency basis. This is their 40th consecutive quarter of constant currency revenue growth. They saw continued strength in their Watch and Buy business, with watch being the standout. There are some nice tailwinds for both businesses as Nielsen is the best at what they do. Their customers rely upon them to deliver excellent results and a steady relationship develops with their clients. A large portion of Nielsen's revenue is recurring revenue, providing a nice, stable business.
Adjusted EBITDA was $490 million on a constant currency basis, up 4.7%. Adjusted net income was $.71, up 9.2% with constant currency. These results reflect strength in the underlying business as income and EBITDA increased year over year. I will discuss these strengths later in the article.
Nielsen also gave guidance for full-year 2016. They expect revenue to be up 4-6% on a constant currency basis, year over year. EPS is expected to be $2.83-$2.93 and the company is expected to spin off $950 million in free cash flow. Approximately 80% of the free cash flow will be earned in the second half of 2016. All in all, guidance was stellar. Revenue growth is fantastic with EPS continuing to increase as well.
Quarterly Results by Segment
Nielsen has two main segments: Buy and Watch. To provide some context on the makeup of the business, I will review the fiscal year 2015 results by segment. In 2015, total sales were $6.172 billion. Buy accounted for 54.2% of the revenue whereas "Watch" accounted for 45.8% of revenue. Buy has lower margins and made $369 million of operating income. Watch had $880 million in operating income and thus has higher margins.
Buy
On the conference call, they tell investors what the "Buy" business does. The "Buy" business provides manufacturer and retail clients with valuable information. Nielsen has an excellent read on what the consumer buys and major trends. For example, Wal-Mart (NYSE:WMT) uses Nielsen data to enhance their omni-channel strategy. Their newest innovation with their connected system will be used to measure and improve performance. It is one fully connected and integrated platform. How it works is: Nielsen understands what is happening, why it happened, and how clients can improve. I believe this system will drive growth in the future.
Revenue in the most recent quarter was $852 million, up 3.3% with constant currency. Developed markets were only up 1% in constant currency to $582 million. Emerging markets were up 8.9% to $270 million with double digit gains in Latin America, China, and Southeast Asia. EBITDA was $166 million, up 6.4% in constant currency. EBITDA margins improved 57 basis points indicating strong operating performance.
Watch
The "Watch" business focuses on what consumers watch and hear. This covers everything from radio, TV, social media, and more. Their clients seek to measure video, audio, and text. This is what Nielsen calls "total audience measurement." They try to help allocate resources efficiently for customers. They answer key questions like return on investment, reach, and sales lift. They deliver granularity at the deepest level and that helps clients manage their resources efficiently. Nielsen is also extending their coverage to deliver better data to customers. They are partnering with Dish (NASDAQ:DISH) and Charter (NASDAQ:CHTR) to use their set top box data. I view this as a long term opportunity to provide better data to customers while also reducing the expenses for panels. It is a trade-off that will benefit the entire "Watch" business.
Watch revenue was up 5.8% to $744 million with constant currency. Video and text (audience measurement) were up 7.9% year over year to $491 million. Marketing effectiveness was up 15% on constant currency to $84 million. Investments were made to enhance the growth. Digital advertising campaigns were up 53%, which is surely to bode well for the company. Adjusted EBITDA was up 6.4% to $332 million, using constant currency. Watch remains a strong business and will be a continued growth driver for the company. Nielsen stands to benefit as digital will be a major contributor to overall revenue.
Valuation
At the time of writing, Nielsen has appreciated 12% year to date and is approximately 6% off of its all-time highs. This has pushed valuations to 17.5x forward twelve month earnings. According to CNBC, 2017 earnings are expected to be $3.17 compared to an estimated $2.87 for 2016 earnings. This would be a 10.5% growth rate, making a PEG of 1.67. This would put the company towards the more expensive range as a PEG of 2 is considered expensive.
Charts
Nielsen has had a sizeable move this year, so it is prudent to look at the charts. If we look at the chart below, we will find that the stock is neither overbought nor oversold. What is particularly interesting is that the stock has only been overbought once in the past two years. Since March, it appears the stock has been range bound between $50 and $55. I believe Nielsen is consolidating its moves and will eventually move higher as the fundamentals catch up with their shares. In the meantime, I believe it is prudent that we wait for lower levels to get a better entry point. Support is located at $50 and $48. I do not think that it will break below the trading range. If you can get shares at $50, that would represent your best entry point.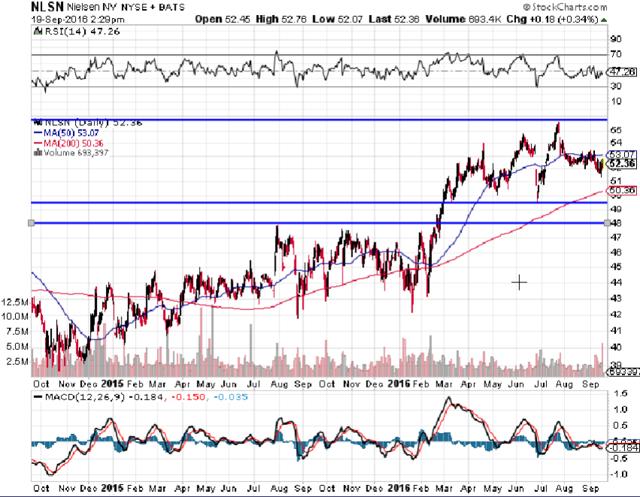 Source: StockCharts
Conclusion
In my experience, Nielsen is an excellent company to work for. Their culture is a relaxed and productive environment where employees can thrive. This creates a successful enterprise that can grow in the long term. Results in the latest indicate underlying strength in the core business. Both of their businesses are generating organic constant currency revenue growth and total company revenue growth has increased for the past 40 quarters. Watch is stronger than Buy, but both businesses are equally attractive. I am particularly impressed with the 7.9% increase in audience measurement (Watch). I believe results will continue to impress as the media becomes more fragmented. Digital advertising increased at a double digit pace in the most recent quarter. Expect these results to continue as digital garners a greater share of advertising dollars.
Valuations are reasonable at current levels. However, if you can purchase shares at $50, I think this would represent a great opportunity to pick up shares on the cheap. Happy investing!
Disclosure: I/we have no positions in any stocks mentioned, and no plans to initiate any positions within the next 72 hours.
I wrote this article myself, and it expresses my own opinions. I am not receiving compensation for it (other than from Seeking Alpha). I have no business relationship with any company whose stock is mentioned in this article.