In the Delaware Basin, arguably the most lucrative of the three main oil & gas regions in the Permian Basin, Devon Energy Corporation (NYSE:DVN) has built up a sizeable 585,000 net acre position. That acreage houses 5,200 risked gross well locations with the potential to grow to over 16,000 gross locations. Future downspacing (shortening the distance between well laterals) efforts, appraisal (bringing additional intervals into the fold) activity, implementation of staggered well lateral spacing (tapping into multiple intervals while also utilizing downspacing concepts), and its upcoming Master Development Plan pilot program will all play a key role to bolstering Devon Energy's immense growth runway in the Delaware Basin.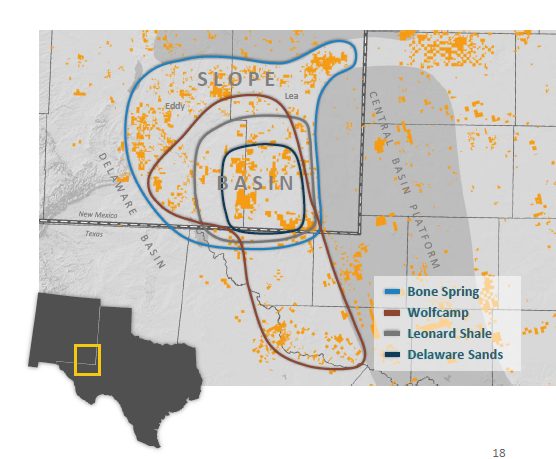 Source: Devon Energy Corporation September 2016 Presentation
Devon Energy Corporation's Delaware Basin acreage is primarily located in Southeastern New Mexico, including Lea and Eddy counties. Some of its position is in the Texas counties of Ward, Reeves, and Loving which are prospective for the core of the Wolfcamp plays. That is an area Devon Energy hopes to begin appraising more aggressively next year. Currently, Devon Energy is focused on developing the Bone Spring and Leonard plays in New Mexico.
At the end of Q2 2016, Devon was running no operated rigs in the Delaware as it cut back on expenditures to tame its outspend. Starting in September, Devon Energy added a rig while maintaining a frac crew in the area during the second half of the year. After raising its 2016 Delaware capex budget by $50 million to $250 million, management now plans to add two additional rigs to the play during the fourth quarter.
That additional capital will help boost Devon Energy's production starting in 2017. In Q2 2016, Devon pumped 65,000 BOE/d from the Delaware Basin, up from 63,000 BOE/d in Q1 as its frac crew in the region continued to bring drilled but uncompleted wells online.
LOE moves lower with room for incremental upside
By attaching over 95% of its wells to the power grid in the region, Devon removed the need for expensive rental generators to power its operations. On top of that the firm invested in water handling infrastructure, both on the completion side and on the disposal/processing side regarding produced water. Three-quarters of Devon's produced water is being handled by its infrastructure as of the end of June 2016.
Those endeavors allowed Devon Energy to cut its LOE per BOE in the Delaware Basin from $16.87/BOE in Q1 2015 to $10.76/BOE in Q1 2016, which fell down to $8.82/BOE in Q2 2016. There is still room for additional gains through further investments in water handling infrastructure and securing cheap long term contracts with third-parties as past deals roll off.
Leonard update
Back at the beginning of the year, Devon Energy posted solid well productivity out of the Leonard shale play, also referred to as the Avalon, that enabled the firm to boost its type-curve guidance. This is a play centered around its core operations in the Delaware alongside its Bone Springs operations. With 60,000 net acres in the Leonard shale play, Devon Energy sees itself sitting on 800 risked gross well locations (which moved higher this year due to successful spacing pilots) and 3,100 unrisked gross well locations that future spacing pilots may unearth.
Compared to management's previous assumptions, Devon Energy raised its 30-day IP and EUR rate forecast for a standard Leonard well by 65% and 25%, respectively. As of the end of Q1 2016, Devon Energy guided that its Leonard wells would sport a 30-day IP rate of 1,000 BOE/d, an EUR of 500,000 BOE (50% crude oil), with a completed well cost of around $5 million to $5.5 million.
After spending some additional time developing the interval, management once again sees a positive type-curve revision coming up, as Devon Energy's CEO noted during a September investor conference. During Q1, Devon highlighted the Thistle Unit 30H (30-day IP of 2,300 BOE/d, 80% crude), Thistle Unit 66H (1,800 BOE/d), and Bell Lake 19 State 6H (1,600 BOE/d) wells, all of which were completed in Lea County, New Mexico.
During Q2, Devon Energy brought the North Thistle 2 State 1H well online which sported a 30-day IP of 1,700 BOE/d. That well was also brought online in Lea County just to the northeast of the three wells mentioned above. It's worth noting that these are standard length wells with roughly 5,000-foot laterals.
It isn't apparent when management will issue out another type-curve revision, other than that one is in the works. Maybe it will come out in Devon's quarterly operations update, possibly by Q4. A positive revision in the EUR guidance is especially bullish, as it means Devon Energy's improved drilling targeting techniques combined with bigger and better completion designs is yielding more productive wells.
Generally speaking, increased well productivity generates more economical wells. Devon's management noting the Leonard is now on par with the Second Bone Spring play (the most lucrative in Devon's Delaware Basin portfolio).
Other than improved well productivity, Devon Energy plans on testing out staggered lateral spacing so it can develop the Leonard B and Leonard C intervals at closer spacing. That may enable the company to boost its eight wells per section assumption, four in each interval, with room to grow that to eight in each over time. There is also the Leonard A interval, which offers upside as well but isn't currently considered a part of Devon's risked location inventory.
What stacked payout really means
The term stacked payout gets thrown around a lot in the unconventional oil & gas space, which means tapping into two or more horizons in the same section. In the Delaware Basin, with the Leonard, Bone Spring, Wolfcamp, and other horizons to target, with those plays each housing multiple productive intervals, that concept is going to be truly implemented. Devon Energy Corporation has dubbed its Delaware Basin Master Development Plan the Total Reservoir Access Concept, or TRAC.
Devon Energy wants to tap into nine intervals in one section, or up to nine (will most likely work up to that level if possible), and has drawn up what its design will look like. The permits have been submitted to the Bureau of Land Management and drilling is expected to start up during the second half of next year. There is still plenty to be done and there could be changes to the design, but this is a plan worth monitoring because it could have huge implications for the industry as a whole.
There are several benefits the TRAC design offers, including being able to spread out fixed costs, centralize midstream infrastructure to further reduce LOE costs, cut down on the downtime of drilling and completion crews (they don't have to "waste time" by moving to a different drilling site as often), boost its well portfolio inventory, and sharply increase the amount of hydrocarbons ultimately recovered from Devon Energy's acreage. It may also allow drilling and completion crews to get the job done faster as those teams quickly get a solid grasp on the geology surrounding those wells, and the amount of people needed to operate the pad would probably be less than if those wells were spread out across multiple sections.
Below is a look at the very basic design outline, along with how many probable and possible well locations Devon Energy Corporation sees in the Delaware Basin.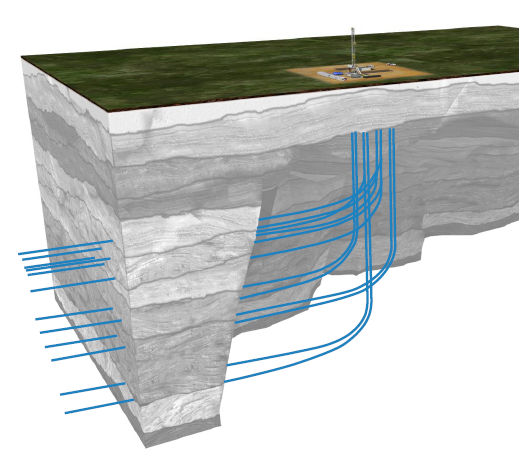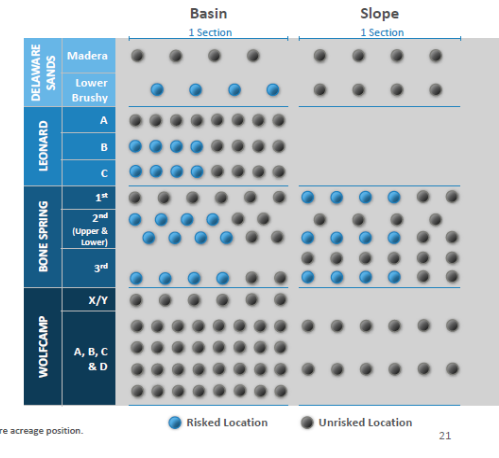 Source: Devon Energy Corporation September Presentation
There won't be anything material, short of the BLM rejecting the concept, on this issue until drilling starts but it's possible management may provide preliminary guidance as to what the cost savings and resource upside this design will yield. Farther out, what kind of economics the TRAC design will yield will be very interesting to watch.
Final thoughts
Devon Energy Corporation has an impressive slate of top tier unconventional assets, from the STACK in Oklahoma to the Eagle Ford in Texas to the Delaware Basin in Texas and New Mexico. That is on top of its Barnett shale refracturing opportunities providing the firm a chance to directly capitalize on higher Henry Hub pricing, while its three oil sands complexes up in Alberta are performing very well and provide a lot of upside in a higher crude pricing environment. The Powder River Basin offers an intriguing growth runway in a higher price environment as well.
After raising a material amount of cash through non-core divestitures and retiring some of its debt while also keeping cash on hand to cover its outspend, Devon Energy Corporation's financials are very stable. With several levers to pull to capitalize on a pricing recovery, Devon Energy Corporation's fundamentals have underpinned its strong stock price performance this year. Interested investors and shareholders alike seeking to read more about Devon Energy Corporation should check out its recent bullish updates out of the emerging Meramec oil play in the STACK region by clicking here.
Disclosure: I/we have no positions in any stocks mentioned, and no plans to initiate any positions within the next 72 hours.
I wrote this article myself, and it expresses my own opinions. I am not receiving compensation for it (other than from Seeking Alpha). I have no business relationship with any company whose stock is mentioned in this article.