Azerbaijan is a small nation bordering the Caspian Sea in the Caucus region, which has seen its oil & gas production skyrocket upwards since it gained its independence through the breakup of the USSR. The Azeri-Chirag-Deepwater Gunashli venture is operated by BP plc (NYSE:BP) through a production sharing agreement, and BP owns 35.8% of the consortium. BP plc is also the operator of the massive Shah Deniz natural gas and condensate field with a 28.8% stake in the development, also through a PSA. Both fields are located in the Caspian Sea.
During the first half of 2016, production at the ACG venture averaged 655,000 barrels of oil per day while the Shah Deniz field pumped out 5.4 billion cubic meters of natural gas and 10 million barrels of condensate, equal to just over 1 billion cubic feet of natural gas and just under 55,000 barrels of condensate in daily output. That makes Azerbaijan a key part of BP's upstream operations, an area of operation that is set to become a lot larger in the coming years.
The massive Shah Deniz 2 development is on track to start-up by 2018, which will see production ramp up through 2020 and beyond as different parts of the venture are brought online. At its peak, the Shah Deniz 2 has the capacity to produce a peak gross rate of 370,000 BOE/d. 77% of the upstream side of the project has been completed as of the end of June 2016.
What the Shah Deniz 2 project aims to do is add 16 billion cubic meters, or 565 billion cubic feet, of annual natural gas production along with the capacity to pump out an additional 105,000 bpd of condensate to the Shah Deniz field. That is on top of existing production.
Energy investors should note that there are several key parts of this endeavor. The first is bringing 26 subsea production wells online with two semi-submersible rigs, along with 500 kilometers of subsea pipelines tying those wells to two new offshore platforms and an upgraded Sangachal terminal.
Then there is the takeaway aspect, which includes expanding the South Caucus Pipeline (which runs from the onshore facility to Georgia's border with Turkey) by adding a new 48" loop and two compressor stations in Georgia, building the 1,900 kilometer Trans Anatolian Pipeline through Turkey, and constructing the Trans Adriatic Pipeline through Greece, Albania, and onto Italy.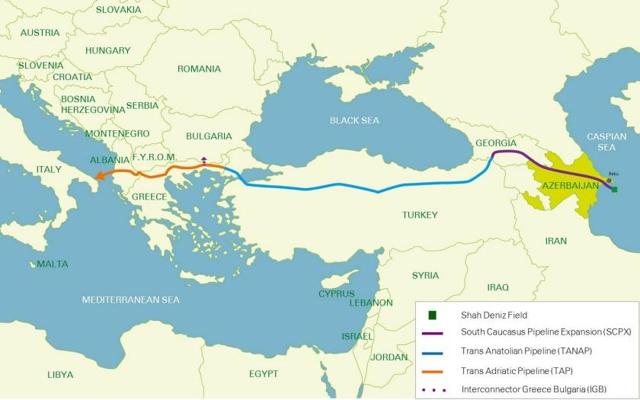 Source: BP plc Shah Deniz 2 Website
It is a big project with several moving parts. The first section to come online in 2018 will supply Turkey with 6 billion cubic meters of natural gas a year, with the South Caucus Pipeline expansion set to be completed in 2018 as well. As of the end of June 2016, the SCPX project as it is known was on track for a 2018 start-up, a positive sign.
Starting in the first quarter of 2020, 10 billion cubic meters of natural gas per year will be shipped to European countries directly from the Shah Deniz 2 development. That was pushed back a year from 2019, highlighting the complexities of these kinds of massive projects. Long term contracts for 16 billion cubic meters of annual natural gas output underpins the project's economics, with upside through condensate production.
Modest improvements
De-bottlenecking efforts at the Shah Deniz field have helped pushed annual production up from roughly 9 billion cubic meters of natural gas to around 10 billion cubic meters. Additional projects have also helped push up output.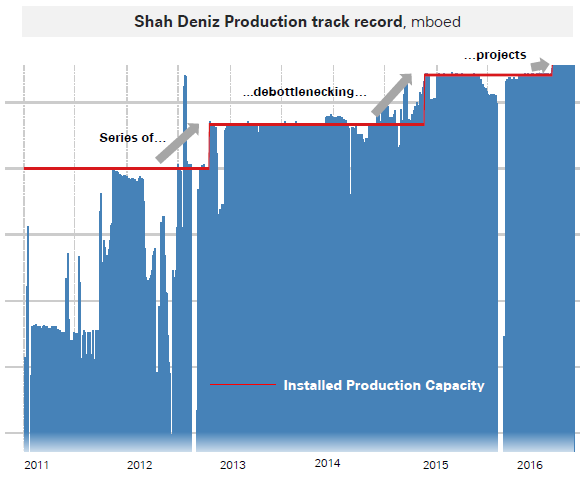 Source: BP plc's Azerbaijan Presentation
At the ACG field the consortium brought online nine new crude production wells, three new water injection wells, and one additional water injection well to keep production stable during the first half of 2016. By the end of June, the ACG field had 102 oil production wells aided by 43 gas and water injection wells keeping reservoir pressure up.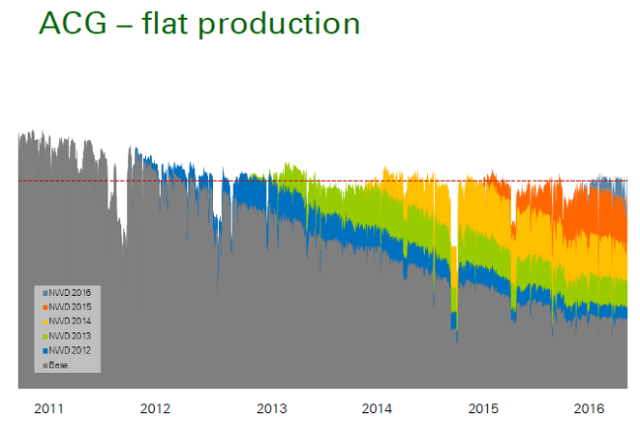 Source: BP plc's Azerbaijan Presentation
Intriguing exploration endeavors
Considering the Azeri Chirag Gunshali and Shah Deniz fields housed 16 billion BOE and 9.4 billion BOE originally in place, respectively, exploration endeavors in the Caspian Sea are worth watching. Not just for BP, but the industry as a whole. The first prospect worth noting is the Shafag-Asiman structure.
Back in 2010, BP and SOCAR (Azerbaijan's state-run energy company) signed a PSA to jointly explore, appraise, and develop the prospect if commercial hydrocarbons are located. BP owns a 50% interest and SOCAR has a 50% stake in the venture, which includes a block that covers 1,100 square kilometers. The average water depth is around 600 meters - 800 meters, with the reservoir expected to be at a depth of 7,000 meters below the surface.
At the time this was an area that hadn't been explored before. The initial 3D seismic mapping portion was completed in 2012 and the processing side of that endeavor was completed in 2014. By the end of Q1 2016, BP and SOCAR had completed the interpretation of that 3D seismic survey. The JV is currently accessing where to drill the first exploration well, which will be possible starting in April 2017 when a rig capable of drilling to those depths is ready.
Closer to the shore the Shallow Water Absheron Peninsula is another interesting exploration region. BP signed a PSA with SOCAR in December 2014, completed a 2D seismic survey in December 2015, and started up a 3D seismic mapping survey in May 2016 that will last for roughly nine months. Processing of the initial part of that 3D survey was supposed to start back in August. The water depth averages 40 meters in the block, with the target reservoir 3,000 meters - 5,000 meters below the surface.
BP and SOCAR also signed a memorandum of understanding regarding the D230 block in May 2016. That block is home to part of the North Absheron Basin, with average water depths of 300 meters with the reservoir 3,000 meters - 5,000 meters below the surface.
Below is a look at those exploration prospects alongside the two massive fields BP is currently developing.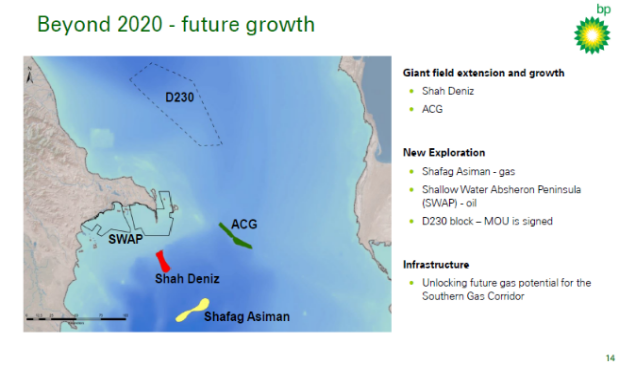 Source: BP plc's Azerbaijan Presentation
These are exploration endeavors that take a long time to pan out, but considering the vast amount of oil & gas in the region, when updates are provided they can act as very powerful catalysts. Another huge find that provides another colossal upstream growth catalyst for BP and the consortium developing the play would be very bullish indeed. Yes, prices are lackluster now but by the time commercial amounts of hydrocarbons would be pumped from these potential prospects the global supply demand dynamic will be far different.
Final thoughts
Azerbaijan is a very interesting country that carries an enormous amount of geopolitical significance, which will increasingly become weighted towards the nation's ability to wean the Eurozone off of Russian gas. Considering its importance, it is surprising Azerbaijan and its oil & gas industry hardly gets any attention in the media, more specifically the financial media.
An increasing amount of attention has been given to BP plc's Shah Deniz expansion as the start-up date draws closer and closer, which will counterbalance BP's capital expenditure cuts through the end of the decade. Its exploration upside is very interesting, as another big find would set the table for its growth ambitions of the 2020's and 2030's. An area of operation worth keeping on your radar whether your an energy investors or a BP plc shareholder.
Investors interested in reading more about BP plc should take a look at the strong economics of its third Tangguh LNG train, which is very competitive in light of the global LNG glut.
Disclosure: I/we have no positions in any stocks mentioned, and no plans to initiate any positions within the next 72 hours.
I wrote this article myself, and it expresses my own opinions. I am not receiving compensation for it (other than from Seeking Alpha). I have no business relationship with any company whose stock is mentioned in this article.