Today, we got two important releases that tell us something about the housing/building market. The first one is about building permits. Building permits are leading, which means that they are forward looking. The second one is about housing starts. Housing starts are a coincident indicator because these numbers are about what is going on right now.
As always, I am highly recommending you to read my blog about economic indicators and the importance of making a distinction between leading, coincident and lagging indicators.
Blog: United States Economic Indicator Overview
Building permits came in at 1139K for the month of August. This is 2.3% less than the same month one year ago. What does this mean? It means that homebuilding has not left the period of weakness that started with a downtrend in 2015 and resulted a few months of contraction in 2016.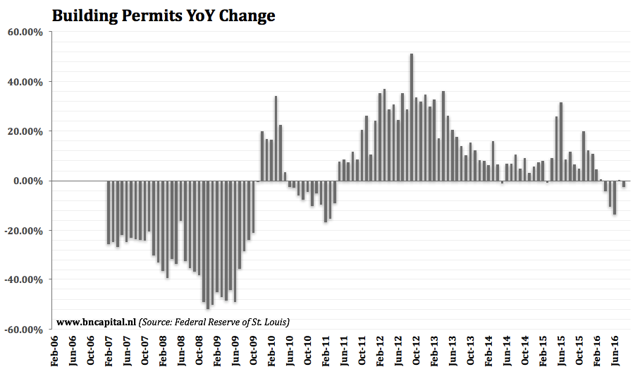 This weakness means that there is no valid bull case for homebuilding stocks. The good news is that the contraction is not as severe as we saw in 2006 until 2009 and in 2010 and 2011. However, since the homebuilding sector is highly correlated to the economy, we might see some more weakness if the ISM index does not increase.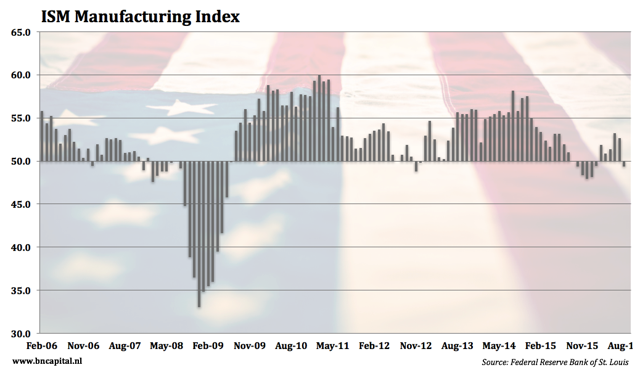 The graph below, shows the actual importance of the building permits number. The contracting building permits numbers make it very unlikely that homebuilder stocks XHB are going to perform well in the near term future. Homebuilders have a solid track record of getting people into homebuilding stocks at the right time and out of these stocks before a slow down.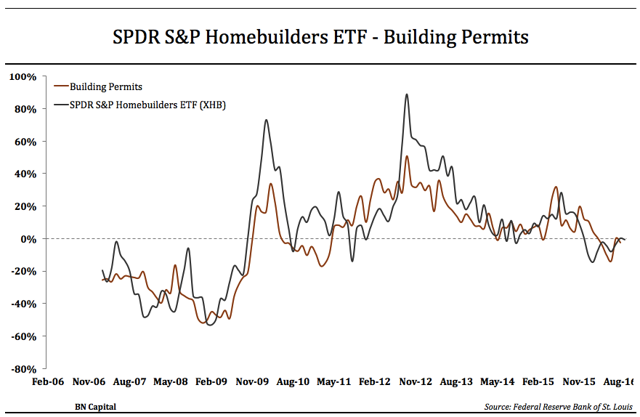 One negative aspect of the SPDR S&P Homebuilders ETF, is the fact that this ETF contains all stocks that are somehow related to the building industry. The good thing about that is that you buy a good amount of diversification. The bad thing however is that you don't want this ETF in an building boom. You should go for single homebuilder stocks like KB Home (KBH), Lennar (LEN), CalAtlantic (CAA) or Pulte Group (PHM) for example.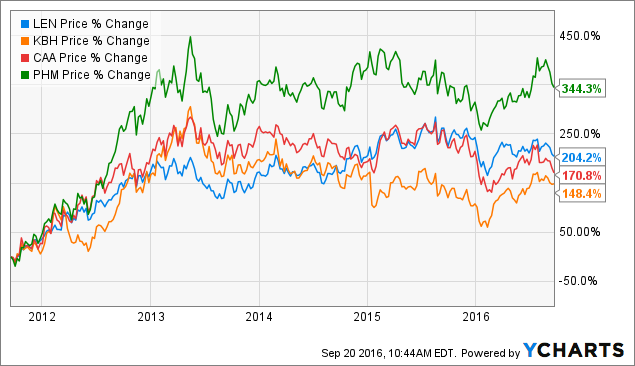 LEN data by YCharts
That being said and after looking at today's building permits, it is safe to say that there won't be any alpha in homebuilding stocks. Don't buy homebuilders at these prices. The odds are just too low to commit some hard earned margin.
In addition to that, we see that housing starts are currently flat after a few months of contraction. This adds to the thesis that homebuilders are currently not the place to be.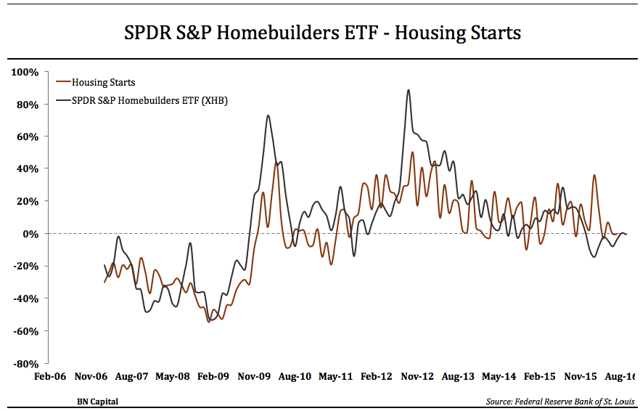 Many thanks for reading my article. As always, I would like to ask you to leave a comment below if you have questions or remarks.
Disclosure: I/we have no positions in any stocks mentioned, and no plans to initiate any positions within the next 72 hours.
I wrote this article myself, and it expresses my own opinions. I am not receiving compensation for it (other than from Seeking Alpha). I have no business relationship with any company whose stock is mentioned in this article.