Since my article on September 8th, Bankrupt Boxes, covering the Hanjin Shipping (OTC:HNJSF) bankruptcy, there have been additional developments in the Hanjin bankruptcy, we have more clarity on impact, some readers had some good feedback that got me thinking, and all three container lessors have issued some sort of response to the events. For these reasons, I wanted to follow up on my last piece and provide continuing coverage of the situation.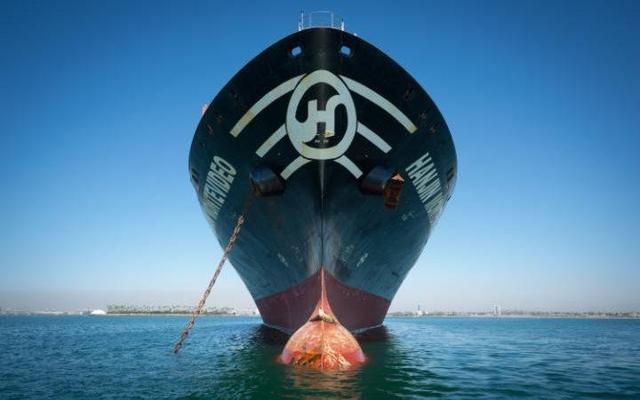 Lessor Responses
Since Hanjin was not a large-enough customer of any of the major container lessors to disclose separately, we didn't really know how significant lessor exposure was to Hanjin a few weeks ago. Some investors were even unsure if Hanjin leased a meaningful amount of containers, noting that some shippers choose to purchase most of their container fleet directly instead. Since then, each of the three major, publicly-traded container lessors have issued a response to the Hanjin debacle, providing at least some numbers for investors to ponder.
Triton (NYSE:TRTN) is hosting an investor day in a week on September 27 in which it will surely provide a lot more detailed information about Hanjin. One would presume that the call was scheduled previously and expected to focus on continuing communication regarding the TAL - Triton mega-merger, but the event was actually just announced on September 13, two full weeks after Hanjin filed for receivership, so it does seem to be in response to that. Triton also provided the following slide: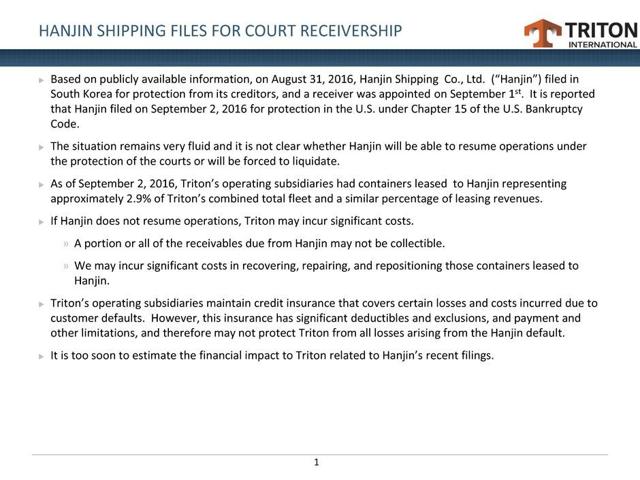 Source: TRTN 8-K
2.9% of TRTN's fleet is significant, but not enough to really impact the company beyond a quarter of write-offs.
CAI (NYSE:CAI) issued a press release on September 9th with the following information:
CAI has approximately 15,000 containers on lease to Hanjin representing $40 million of equipment exposure based on net book value, or approximately 2% of our rental revenue assets. CAI's share of the overall container leasing market is approximately 6%, however, we believe our equipment only accounts for approximately 2% of Hanjin's leased container fleet…

CAI maintains insolvency insurance that covers the value of unreturned containers, damage to recovered units, recovery costs, legal expenses and the loss of post-bankruptcy income for a period from the default date to the earlier of the return of the equipment or six months. Our insolvency insurance has a $2 million deductible. Based on the level of our exposure to Hanjin and recovery expectations, we expect our insurance policy limits will be more than adequate to cover any potential losses in excess of the $2 million deductible. The losses related to the deductible will be for expenses that are incurred over the period of recovery and are not expected to be an immediate expense.

At this point, while we are unable to definitively estimate the total impact of Hanjin's bankruptcy filing on our financial results, we believe our exposure will be limited to $2.6 million of accounts receivable related to income recognized prior to the third quarter of 2016, which is not insured and may not be recovered, and up to the $2 million deductible on our insolvency insurance policy.
Again 2% exposure is not terrible and what I like about this press release is that CAI actually provided some assurance that insurance will kick in and quantified impact in dollars. A $4-5mm loss on CAI's $450mm book value is a mere 1%.
The situation is undoubtedly most concerning for Textainer (NYSE:TGH). Textainer's CFO Hilliard Terry participated in a 30-minute discussion with an RBC analyst at the 2016 RBC Capital Markets Global Industrials Conference on Thursday September 8th. TGH's participation in the event was announced on September 6th, again suggesting it was in response to Hanjin. The company also added the following slide to its investor presentation on September 9: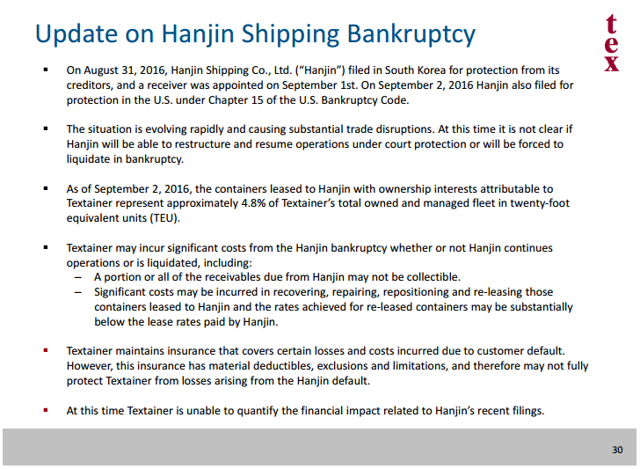 Source: TGH 6-K
Textainer's exposure to Hanjin is much larger than for CAI or TRTN at 4.8%. It did not provide assurance on insurance kicking in and I wonder at an exposure of that size if policy limits would kick in, although wouldn't it be very risky for TGH to be riding with a policy limit under 4.8% while it has a >10% customer in CMA CGM?
In the RBC call, Terry really did not provide much detail. He gave the standard "too soon to quantify" response and moved on to talking about how it would boost container freight rates, but uncertainty abounds whether that boost will be temporary and how long it will last.
Overall, I feel much more comfortable knowing exposure isn't anywhere near the approaching-10% level, but clearly Hanjin was leasing many, many containers (750k implied based on numbers in CAI release) and was a non-trivial credit to each of the three container lessors.
A Wake-Up Call AND a Boost?
There's been some optimism on the container shipping industry post-Hanjin because container freight rates have shot up to the tune of 50%+, particularly transpacific rates given that's where Hanjin was focused, handling 40% of Korea's exports. There's also the fact that HMM may get a sweetheart deal with the help of Korean government, taking on Hanjin's assets to help shipping continuity.
On the other side of the coin, shipping bears are calling this the bursting of the shipping investment bubble. They argue that shippers have been trying to fix their problems by growing and buying bigger and bigger ships, effectively creating a race to the bottom of the cost curve without much consideration to how much goods actually need to be shipped and the chance of a slowdown in what has been a decades-long run of world trade growth.
There was also this notion that the top 20 major container lines were too big to fail and were being propped up by investors and government entities. Looking at Hanjin's financials a few months ago, it was pretty clear that the company was in trouble. The uncertainty was whether the Korean government would bail it out. We have the benefit of hindsight now, but I still think that doubt back then was reasonable considering that Hanjin was Korea's biggest shipping line handling 40% of exports for an export-driven economy. And further, the Korean government actually did end up bailing out HMM shortly before Hanjin, becoming HMM's largest shareholder. The bear argument is that the Korean government's actions (or lack thereof) with Hanjin end this fairy tale that big 20 lines are TBTF.
I think that argument holds water (pun intended) too and I don't think these arguments are mutually exclusive. One of my biggest takeaways from Marc Levinson's The Box was that there's been a decades-long trend of building bigger and bigger ships that are less flexible (only feasible for the biggest routes) but also have the lowest unit costs. It makes no sense for shippers to keep investing like that if they're not making money, as they collectively aren't expected to in 2016 per Drewry: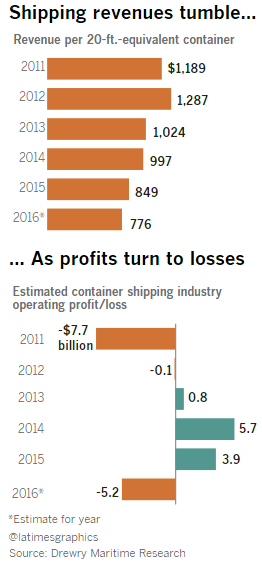 Source: LA Times
But isn't it possible that this is a wake-up call, lines stop buying new ships and start scrapping old ones at increasing rates, and everyone is much more conservative, while lines also make increased profits over the next six months to two years? That certainly wouldn't be normal - for the profit equation to improve while conservatism also increases, but that seems to be the dynamic the Hanjin situation is creating for shippers.
Here is a list of the big shippers, their status, and IR sites. It is probably a good idea to monitor their financials and investment/scrapping activity in the remainder of 2016 to get a better idea how this plays out on their end:
| | | | |
| --- | --- | --- | --- |
| Company (ticker) | TEU | Market Share | Website |
| APM-Maersk (OTCPK:AMKAF,OTCPK:AMKBY,OTCPK:AMKBF) | 3,199,934 | 15.4% | |
| MSC (private) | 2,783,887 | 13.4% | |
| CMA CGM Group (private) | 2,187,025 | 10.5% | |
| COSCO Container Lines (Chinese state-owned, several listed subsidiaries) (OTCPK:CSPKF) (OTC:COIVF) (OTCPK:CHDGF) (OTC:CSCMY) (OTC:CSPKY) (OTCPK:CICOF) (OTCPK:CICOY) | 1,552,413 | 7.5% | https://en.wikipedia.org/wiki/COSCO |
| Evergreen Line (OTC:EVGQF) | 977,566 | 4.7% | |
| Hapag-Lloyd (OTCPK:HPGLY) | 919,175 | 4.4% | |
| Hamburg Süd Group (private) | 601,916 | 2.9% | http://www.hamburg-sued.com/group/en/corporatehome/index.html |
| OOCL (OTCPK:OROVF, OTCPK:OROVY) | 582,075 | 2.8% | |
| Yang Ming Marine Transport Corp. (TPE:2609) | 570,255 | 2.7% | |
| Hanjin Shipping | 555,077 | 2.7% | |
Source: Alphaliner
A Ship is not a Container
But a ship is not a container and likewise, a shipping line is not a container lessor. A ship is the kind of asset that operators and owners are much more reticent to sell or store because as long as it can post positive EBITDA, it's worth keeping in the waters. Some shipping lines actually aren't earning positive EBITDA right now so perhaps we see increased scrapping, but that's not the point.
By contrast, container lessors move very quickly getting boxes out of the fleet when they're old or uneconomic because of the big ship/storage costs relative to box value. So supply/demand of containers seems like it corrects much more naturally and quickly than supply/demand for ships. I cannot stress the importance of that difference in size of the asset (in terms of cost and book value per unit) between a ship and container.
With it established that boxes and ships are different, the impact of Hanjin is also different for lessors and liners. I already discussed a lot of what's going on for shippers above. Less buying of new ships, more scrapping, higher freight rates and profits near term, and more conservatism all around.
Hanjin doesn't boost lessor profits though. In fact, we'll probably see some near-term losses due to write-offs this quarter or fiscal year related to Hanjin. And it doesn't necessarily mean container prices will rebound. Given that more ships are being scrapped, that is "slots" being taken out of the market and if box/slot remains constant, that means a lower overall need for boxes, which could lead to an oversupply situation.
Hanjin is a negative for lessors both in terms of direct P/L impact, supply/demand possibilities, and the credit risk it highlights at other major lines like CMA CGM, which I focused on in my last article. It is a positive in the sense that if freight rates are higher, perhaps shippers earn some decent profits, clean their balance sheets up a bit and the credits risks are reduced. And if the conservatism, reduced investment, and increased scrapping is serious, that could further help shippers and reduce lessor credit risk.
Riddled with Uncertainty
I've said it many times but this needs to be repeated. There was already a ton of uncertainty in the container leasing industry pre-Hanjin, and this has only added to that. As one reader put it, "there are a lot of moving parts." Faced with uncertainty, I find it helpful to make a list of what I feel are certainties and see what can be deduced from there. Here's what I've got:
Shipping lines are still bad credits
Container lessors are very risky stocks
Container lessors trade at historic-low valuation levels relative to stated book value
Container lessors are collectively far less profitable right now than they have been historically through several cycles
I think you can still make some good investment decisions with this information. Clearly the lessors are very risky stocks and should be sized very small, assuming they were worth buying, because of that risk alone. I also think sizing small makes sense because it's hard to say how these stocks will trade over the next six months. My gut tells me the stocks will sell off further when they report next quarterly results and these big write-offs come through. I'm not a trader though so that doesn't mean putting off investment until then. Instead, my response is to size small now such that if the stocks decline substantially from here, I have room to add.
And I do still think the lessors are worthy of a small long position because if they survive without crazy equity raises from here and the industry returns to even a fraction of historic profitability, the stocks will deliver big returns. I think that will happen sooner rather than later but I think you will find that the math of it suggests good returns regardless of whether it takes three years, five years, or seven years.
For me, uncertainty is not something to run from. There is a great Howard Marks quote about it being too late by the time the dust settles. I embrace uncertainty, but embrace it with small positions and demand compensation for the extra risk.
Conclusion
I am slightly more comfortable with the Hanjin situation and my investments in the container lessors because we have more clarity today. We now know that Hanjin was a <5% credit for each of the major lessors and that it is actually really boosting container freight rates, which could reduce the credit risk to lessors of major lines such as CMA CGM, whose distress I focused on in my last article. A few tumultuous weeks have past but the approach remains the same - hold a small position, follow developments, and look to add if the stocks decline substantially further as the red ink hits the financials.
Disclosure: I am/we are long CAI, TGH.
I wrote this article myself, and it expresses my own opinions. I am not receiving compensation for it (other than from Seeking Alpha). I have no business relationship with any company whose stock is mentioned in this article.
Editor's Note: This article covers one or more stocks trading at less than $1 per share and/or with less than a $100 million market cap. Please be aware of the risks associated with these stocks.