I've had my eye on FibroGen (NASDAQ:FGEN) ever since its IPO at $23 per share a couple years ago. Since then, many investors are relatively flat or slightly down on their positions, but I expect that to change shortly.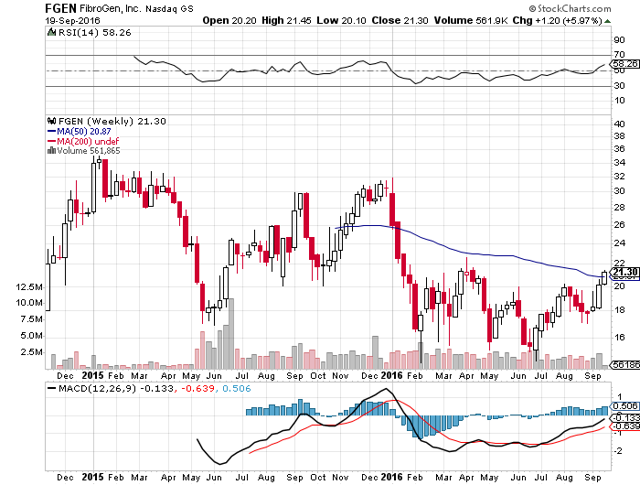 Attachment 1: Stock Chart (source: stockcharts.com)
Financials
In the most recent quarter, the company reported net income of $.39 per share, thanks to a $65 million upfront payment from its agreement with AstraZeneca (NYSE:AZN) and a $10 million milestone payment from partner Astellas (OTCPK:ALPMY) (OTCPK:ALPMF).
With a market capitalization of around $1.2 billion, the company reported $368.8 million cash on hand and management believes they'll finish the year with more than $310 million.
Total operating expenses were $62.8 million for the quarter, which included a non-cash portion of $10.8 million ($8.4 million stock-based compensation expense).
Lead Candidate Roxadustat
Lead pipeline candidate roxadustat is a hypoxia-inducible factor-prolyl hydroxylase (HIF-PH) inhibitor that stimulates erythropoiesis, regulates iron metabolism, and reduces hepcidin. In essence, it jump starts the production of red blood cells by mimicking the body's response to high altitudes. As an oral treatment, roxadustat would be positioned as a substitute for injectable anemia drugs.
According to a 10-K filed earlier in the year, management believes roxadustat has the ability to correct anemia through a differentiated mechanism of action and replace treatments currently in use, such as ESAs and IV iron. The company also believes roxadustat would see additional uptake outside the dialysis setting, as doctors wouldn't have to purchase and store injectable ESAs.
Also, roxadustat has shown potential reductions in cardiovascular events to date in Phase 2 studies, as well allowing for the reduction or elimination of other commonly used medicines. Such benefits would point to cost effectiveness, making it more likely that the treatment would be widely adopted.
To give you an idea of the potential impact of the approval of roxadustat on the share price, 2013 global ESA sales totaled $8.6 billion. Management believes key opportunities for roxadustat will be in patients that are not currently served effectively by ESAs, such as those in the NDD-CKD (non-dialysis-dependent chronic kidney disease) population with anemia.
Analysts expect revenues in the anemia in CKD market to decline through 2017 due to the launch of biosimilar epoetin alfa, but then if roxadustat is launched, the same market could see revenue growth through 2024.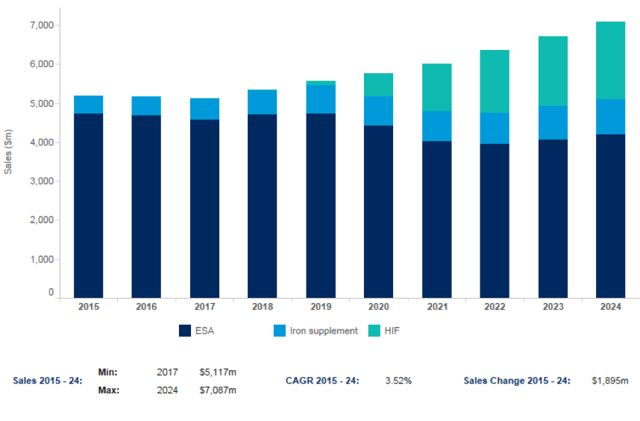 Attachment 2: Anemia in CKD market sales (source: Datamonitor Healthcare)
Investors would do well to remember that FibroGen has two partners with deep pockets, Astellas in the Japanese and European markets. AstraZeneca shelled out $350 million in cash and will pay up to $465 million in total milestones for commercialization rights in the US.
In the most recent quarter, the company reported that it completed enrollment in patients for a pivotal 300 patient dialysis study, and it expects to complete enrollment in a second pivotal 150 patient non-dialysis study in the third quarter. Data from each of these studies would be reported by year-end, representing an important catalyst for the company.
In July, the independent safety data monitoring board reviewed roxadustat safety data and recommended the US and Europe Phase 3 trials should continue without modifying the protocols.
Partner Astellas finished roxadustat Phase 2 studies in Japan, and enrolled the first patient for the Japanese Phase 3 trial in June.
FibroGen management expect to file new drug applications for the drug in 2016 for China and 2018 for the US and Europe.
It's also worth noting that AstraZeneca plans to submit a CTA for the use of roxadustat to treat chemotherapy-induced anemia to the China Food and Drug Administration. The company already reached an agreement with the U.S. FDA on a MDS Phase 3 study design. Both offer additional upside to the company, as management tries to expand roxadustat's use into additional markets.
Other Pipeline Developments
FG-3019 is a monoclonal antibody targeting the activity of CTGF or connective tissue growth factor.
IPF
An early stage trial in IPF showed 35% of patients treated with FG-3019 had stable/improved fibrosis and improved lung function.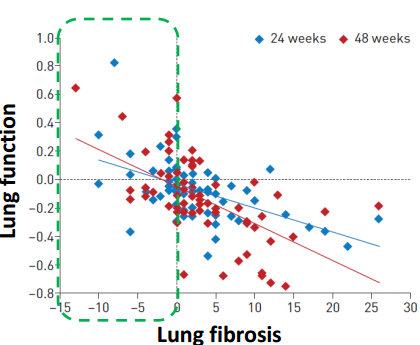 Attachment 3: IPF Patients Treated With FG-3019 (source: corporate presentation)
The company finished enrolling patients in a 48-week placebo controlled Phase 2 study in IPF patients and will report topline data for the study in mid 2017. I'm very intrigued, as this will also include the six-month combination sub-study where patients receive FibroGen's drug FG-3019 (pamrevlumab) in combination with pirfenidone (Esbriet) or nintedanib.
Pancreatic Cancer
Pamrevlumab is also being advanced in a Phase 2 trial in patients with unresectable, locally advanced pancreatic cancer. Up to 42 patients will be randomized 2 to 1 six months with FG-3019 in combination with standard of therapy (SOC) chemotherapy or SOC chemotherapy alone. Data should be available in the first quarter of 2017, according to the company.
Management obviously is bullish on the drug's chances in this setting, as they are working with the FDA to come up with an optimal study design for a follow on pivotal trial. Management has stated they are observing indications of substantial benefit of FG-3019 therapy based on clear objectives and quantitative criteria, the results of which have been submitted recently for publication in a peer-reviewed journal.
At the ASCO-GI meeting in 2014, a dose escalation Phase 2 study in patients with locally advanced stage-three or metastatic stage-four pancreatic cancer evaluated FG-3019 in combination with gemcitabine and erlotinib as first line therapy. An important observation was that once doses were high enough, a few statistically significant results were found. The one year survival was 34.2% for patients who had circulating 3,019 levels of 150 micrograms per ml or higher versus 10.8% for those with lower plasma levels.
Preclinical results in a mouse model of pancreatic cancer showed FG-3019 in combination with gemcitabine improved overall survival by making tumor cells more vulnerable to chemotherapy-induced cell death.
Lastly, in the study to date, management has stated they've observed less than 20% of subjects treated with gemcitabine/Abraxane were eligible for resection compared to over 80% of the subjects being treated with gemcitabine/Abraxane plus FG-3019. That is very exciting news and in my opinion bodes well for outcomes.
DMD
A third open label Phase 2 trial is enrolling non-ambulatory Duchenne muscular dystrophy (DMD) patients. Patients will receive FG-3019 every two weeks, with the primary endpoint being forced vital capacity. Based on an animal model of the disease, the company believes FG*3019 has a real shot at achieving such results.
According to the company, current exon-skipping treatments address less than one third of the DMD community, and disease-modifying therapies that slow, stop, or reverse muscle regeneration are the most critical need in the disease.
The company is also planning a study in ambulatory DMD patients, after receiving feedback from the FDA.
Management believes CTGF contributes to the process where muscle is replaced by fat and fibrosis, and that therefore a FG-3019 blockade of CTGF could improve muscle strength and exercise endurance.
Potential Risks
While I consider FibroGen a core buy in biotech, it isn't without its risks. Prior Phase 2 data for lead candidate roxadustat has been promising to data, but the company needs very promising Phase 3 results along with a clean safety profile in order for regulatory agencies to green light the treatment.
Also, the company is in the midst of an IP war, as earlier this year GlaxoSmithKline (NYSE:GSK) submitted an IPR filing. In the conference call, FibroGen CEO Thomas Neff stated that for roxadustat, the company has valid claims to the composition of the drug and protection that will allow them to operate in exclusivity in the US through 2033.
He went on to state that there is a large amount of IP in favor of Fibrogen, but investors will have to just wait as the company does its best to defend itself.
He did admit that in the European Union the situation is more ambiguous, but that they are still optimistic in regards to a positive outcome.
I found management's comments on IP defense somewhat helpful but at the same time they were too vague to allay my concerns completely. Many questions are left unanswered, but investors will have to accept this as a risk to the thesis if they are going to establish a position in the company.
Also, at the current burn rate (and not taking upcoming milestone payments into account), I wouldn't be surprised to see it access funding toward the end of 2017. Fortunately, the company's forecasted $310 million year-end cash position should allow it to see its pipeline through all previously mentioned material data readouts.
Thesis
Upcoming catalysts include roxadustat data from the China pivotal trials by year-end, early 2017 data from FG-3019 in pancreatic cancer, mid-year 2017 data from roxadustat EU/USA pivotal trials, and mid-year 2017 data from FG-3019 in IPF.
I consider FibroGen to be a core biotech holding, targeting multiple promising markets, possessing solid partnerships with deep pocketed pharma companies, and upcoming material catalysts that should result in increased interest from Wall Street. A current average price target from Wall Street analysts of $38 represents about 80% upside from current levels.
Disclosure: I/we have no positions in any stocks mentioned, and no plans to initiate any positions within the next 72 hours.
I wrote this article myself, and it expresses my own opinions. I am not receiving compensation for it (other than from Seeking Alpha). I have no business relationship with any company whose stock is mentioned in this article.