The U.S. wireless tower companies will continue to benefit in the upcoming years from favourable market fundamentals. Growth in mobile data consumption is consistently creating demand for tower space and tower leasing activity. In the future years, tower leasing activity will increase as mobile data traffic is expected to grow at a robust rate of 53% per annum from 2015-2020. Wireless carriers are increasing their network density by adding more cell sites which create tower leasing demand and attractive growth opportunities for tower companies like American Tower Corporation (NYSE:AMT). In the current industry environment, American Tower is positioned well to take advantage of the growth opportunities with the help of its strong tower infrastructure. Also, the company is expanding its geographical footprint to take advantage of the available growth opportunities in the emerging markets. Moreover, the longevity of the company's lease contracts with wireless carriers will augur well for its long-term revenue growth.
Growth Catalysts
Wireless carriers will continue to expand their network by investing in network infrastructure to take advantage of the growing mobile data usage. AMT not only owns an extensive and strong network infrastructure in the U.S., but the company is also expanding its international operations to take advantage of the growth opportunities in the emerging markets. AMT has been primarily expanding its global footprint by undertaking strategic acquisitions. The company has more than doubled its tower portfolio in the last two years, as it continues to acquire attractive tower portfolios. International markets present attractive growth opportunities as wireless carriers continue to upgrade their networks from 2G to 3G and from 3G to 4G. The following table shows the expected growth in mobile data traffic from 2015 to 2020.
| | | | | | | | |
| --- | --- | --- | --- | --- | --- | --- | --- |
| | 2015 | 2016 | 2017 | 2018 | 2019 | 2020 | CAGR 2015-2020 |
| Total Mobile Data Traffic (TB per month) | 3,685,066 | 6,180,017 | 9,931,098 | 14,934,395 | 21,708,372 | 30,564,217 | 53% |
Source: Cisco
As wireless carriers continue to invest in network up-gradation, more demand is created for tower space to meet growing data traffic. Mobile broadband subscription is expected to grow four times in the Middle East and fifteen times in India from 2015 to 2021. The company's merger and acquisition strategy remain robust. I think, the company will continue to undertake strategic acquisitions and then work to increase the number of tenants per tower, which will support its revenue growth in the future. Also, the acquisitions will positively affect its profit margins and cash flows as AMT leverages its scale to optimize cost structure of acquired tower. The following chart shows total tower owned over the recent years by the U.S. tower companies, including AMT.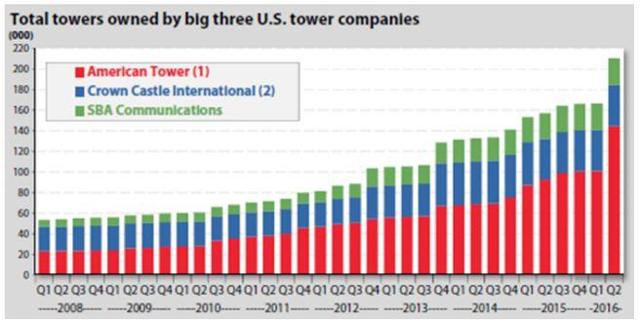 Source: SNL.com
As wireless carriers in the emerging markets are upgrading their networks, AMT is entering new markets in search of growth. In the recent past, the company has been aggressively expanding its network infrastructure in India and Mexico. AMT recent acquisition of Viom Networks has increased the company towers count by three times to 56,818 in India. The acquisition is expected to augur well for the company's total revenues. Also, the acquisition will positively affect AMT's EPS growth as Viom's cost structure will be optimized.
The company has been delivering healthy financial performance in the recent past, which is backed by the strong market growth and AMT's right expansion strategy. The company managed to increase its adjusted FFO by 10% YoY to $591 million in 2Q16. AMT expects adjusted FFO to be in a range of $2.42 billion - $2.46 billion for 2016. The company profit margins might contract in the near-term as a result of the company expansion in the international markets, as acquired towers in the emerging markets generate lower profit margin as compared to its domestic business. The company's gross profit margin in 2Q16 dropped to 69%, from 72% in 2Q15. However, in the long-term, the company's profit margins will improve as AMT will leverage its scale to reduce cost and increase tenants per tower.
The company continues to share its success with its shareholders through dividends, which are backed by its strong cash flows. The stock offers a dividend yield of 2%. Despite the company's robust growth strategy, the company has been consistently increasing its dividends. AMT has doubled its dividends in the last four years. The company primarily uses debt to make acquisitions, which have leveraged its balance sheet. Currently, the company has a leverage ratio of 5x, versus its long-term target leverage ratio of 3x to 5x. I believe, the company will continue to make strategic acquisitions in efforts to strengthen its tower portfolio and benefit from the available growth opportunities. Then AMT will leverage its scale to improve cost structure and cash flows of the acquired tower, and use cash flows to repay debt.
Conclusion
Business fundamentals for the U.S. tower industry remain favourable. AMT is correctly making aggressive efforts to expand its tower portfolio to take advantage of the available growth opportunities. The company's initiatives to expand in the emerging markets will position it well to respond to growth in tower leasing demand. The company's profit margins in the near-term might contract as acquired towers have low revenue per tower and lower margins. However, in the long-term, its profit margin will improve, as the company will leverage its scale to improve tenants per tower and reduce costs.
Disclosure: I/we have no positions in any stocks mentioned, and no plans to initiate any positions within the next 72 hours.
I wrote this article myself, and it expresses my own opinions. I am not receiving compensation for it (other than from Seeking Alpha). I have no business relationship with any company whose stock is mentioned in this article.