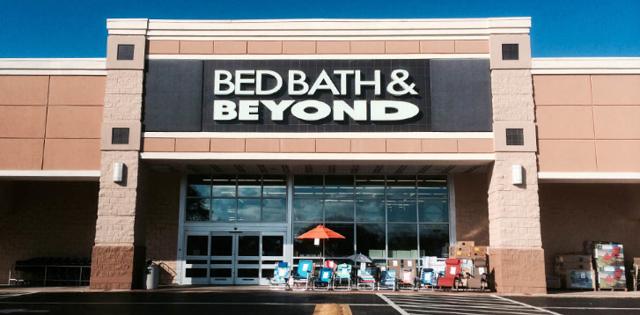 Home goods retailer Bed Bath & Beyond (NASDAQ:BBBY) has been mercilessly hammered in the past couple of years. The company's formerly strong business has given way to one that has flattish sales and declining margins. I've called out BBBY's weak margins as a primary factor in determining the stock's extremely weak valuation and in when it reports on Wednesday, that, among other things, will be in focus for me. With shares still languishing near their lows, let's take a look at what we might see in BBBY's second quarter and its ramifications on the stock.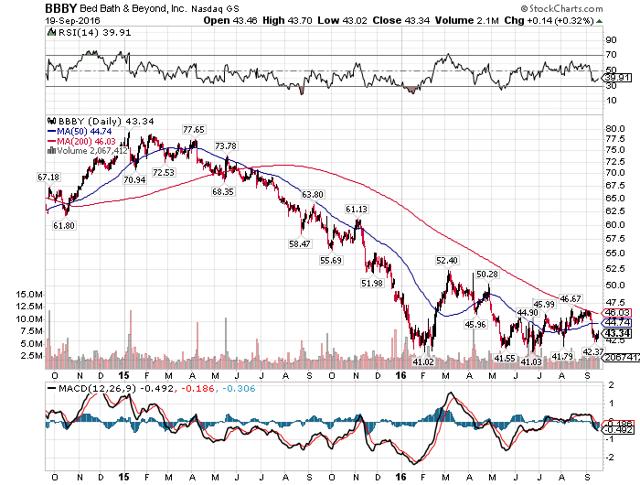 The first thing I'll say heading into the report is that it has become clear investors can't decide if BBBY should be left for dead or if it is forming a base to rally. We've now spent roughly three quarters bouncing off of the low $40s and while that could mean a sustainable base is forming, it could also mean sellers are keeping up the pressure such that the current support level will break. What could send BBBY one way or the other? A strong or weak earnings report could certainly do the trick and that is why tomorrow's Q2 report is going to be of potentially great importance.
The first thing to look for in BBBY's report tomorrow is its read on comp sales. BBBY and indeed, much of the retail sector, has seen a weakening of comps against last year's results and for Q2, I expect we'll see more of the same. BBBY posted a 50bps decline in the first quarter but given Q2 reports from other retailers, I wouldn't be surprised to see a 1% or 2% decline in BBBY's comps when it reports tomorrow. The good news is that this information is well known and should be priced in but for bulls, if BBBY can surprise to the upside and hit flat or even positive comps for Q2, that could certainly be a catalyst for the stock to move higher. On comp sales at least, BBBY has some room to move up because no one is expecting anything good at this point given the protracted weakness we've seen in recent quarters.
Perhaps even more importantly, I'll be keenly watching BBBY's margins. This is a company that used to have fairly robust margins but long term sales weakness as well as even more promotions have taken their toll on profitability. In Q1 we saw BBBY cede 70bps of gross margins and in Q2, I expect we'll see more of the same. Again, I think expectations are very low and thus, unless BBBY lays an egg, there is room for upside surprise. The retail environment in Q2 for the sector as a whole was one of heavy promotions and discounting and if BBBY was caught up in that, margins will have suffered. But this number is also dependent upon comp sales; if comps were strong we'll likely see strength here. But margins are a huge story for BBBY and Q2's read will be very important for the longer term direction of the stock.
Next, BBBY has one of the biggest buyback programs I've ever seen as it is attempting to buy back roughly one-third of its shares over the next three-plus years. Q1 saw $178M in buybacks and I would like to see an improvement on that figure in Q2. BBBY has the firepower on its balance sheet and the stock has remained depressed so there is really no reason why it couldn't have repurchased $200M to $250M worth of shares in Q2. That will go a long way towards keeping EPS elevated while BBBY sorts out its issues.
Finally, I'll be looking for some kind of update on the One Kings Lane business that was recently purchased. We know the purchase price was absolutely rock bottom so I would expect BBBY will reap some immediate, accretive benefits from the purchase but right now, we don't know a lot about it. Providing some directional update on One Kings Lane could be another potential catalyst for BBBY to break out of its funk.
Heading into the report we are still trading for under nine times this year's earnings. This is a company with some problems to be sure but it is also buying back a third of its float over the next few years, it just made a very cheap acquisition and if it can produce a decent Q2, it could very well be off higher. The thing about BBBY's current valuation is that the market is expecting very little and heading into the report, if you believe in BBBY's ability to beat low expectations, you'll want to buy before the report tomorrow. I'm not saying BBBY will blow it out of the water tomorrow but I am suggesting there is a much higher probability of that than the opposite given sentiment and the valuation.
Disclosure: I/we have no positions in any stocks mentioned, and no plans to initiate any positions within the next 72 hours.
I wrote this article myself, and it expresses my own opinions. I am not receiving compensation for it (other than from Seeking Alpha). I have no business relationship with any company whose stock is mentioned in this article.