By Parke Shall
In a decision that a lot of investors thought would never materialize, the FDA finally approved eteplirsen for Sarepta (NASDAQ:SRPT) in an accelerated approval posted to the FDA website on Monday morning.
This marks the end of a tedious and tenuous review process which saw more back and forth between the FDA and the company than is normally seen on clinical trial reviews.
It's tough for some to remember, but just months ago the company was trading for a mere eight dollars per-share while it was going back and forth with the FDA regarding approval of a drug. Only recently did the stock move to over $30 on news that one of the company's biggest critics had left the FDA. From there well...we know what happened yesterday.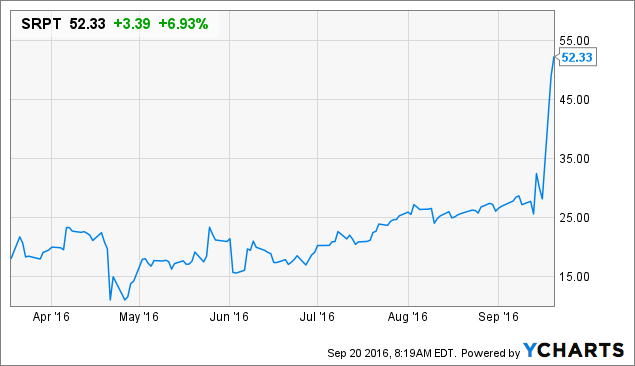 SRPT data by YCharts
This is also arguably the most subjective an FDA opinion has been, as skeptics of SRPT have argued that the scientific data does not warrant an approval of the drug. Dr. Robert Farkas, who was a known critic of the drug at the FDA was said to have resigned from his position at the FDA last week, leading investors to believe that an approval might be on its way. Investors who bought last week were rewarded Monday when the stock shot up about 75% on News of the approval.
A subsequent conference call by the company at the end of the day on Monday confirmed that there are still a lot of variables up in the air, including the patient population that they would be working to address and opportunities for international partnerships. Regardless, management and shareholders alike both seem thrilled that approval has finally taken place and now the question becomes what SRPT is worth to shareholders and potential acquirers going forward. Here are some of the key points from the conference call:
"We also considered the novelty and the attributes of the therapy and believe there is a fundamental benefit of treating the underlying cause of DMD in indicated patients rather than just treating the symptoms of the disease. In the U.S., we expect the net annual cost of EXONDYS 51 therapy for patients with DMD to be approximately $300,000. This pricing takes into account the weight-based dosing in EXONDYS 51 label and the typical expected patient age and weight over time."
"EXONDYS 51 will be available in both a 2ML and 10 ML vial. The 2ML vial will cost $1,600 and the 10ML vial will cost $8,000. Along with the approval of EXONDYS 51, we are pleased to have received a rare pediatric disease, priority review voucher or PRV. This voucher is an incentive to encourage the development of new drugs in biologics for the prevention and treatment of rare pediatric disorders. We can use this voucher to receive priority review on one of our own future market applications that would otherwise be a standard review or we can transfer the voucher to another company as a source of non-dilutive financing."
"In order to support a strategic initiative, we intend to offset some of the costs associated with the continued build out of our clinical development pipeline, our manufacturing scale up, and entry into European markets by exploring a sale of the PRV. We will not be providing any financial guidance on today's call, nor we will be providing any guidance on market assumptions, gross to net, or sales potential."
"We will continue to evaluate the possibility of providing guidance over the next few quarters once we gain comfort through the ramp of the launch, market dynamics, and key matrixes."
We think that SRPT should be able to do somewhere between $7 and $9 in EPS over the next 2 to 3 years if sales of the drug conservatively meet patient population and margin expectations. The company on its conference call noted that it already has ample supply so that manufacturing will not be a slowdown for the company as it pushes forward. As you can see from the quote above, the company has yes to provide guidance but will do so in coming quarters.
But the real question becomes how much is this drug worth to a potential acquirer. It has been speculated that this drug would fit nicely and accretively into the portfolio of many companies looking for growth. It is the only drug to treat Duchenne muscular dystrophy and could easily fetch a premium to today's $50 price target that we think may exceed 50% of the current share price.
Upon approval old shareholders and new shareholders alike are jousting for position with the company and daytraders are likely in control. We expect that once the volume goes back to its mean, the share price should drift higher from here. Numerous analyst actions pinned a target price at anywhere between $50 and $88 as analysts revise their targets after the approval.
This morning Cowen was the most recent analyst to come out with a bullish take on the company, offering a $66 price target.
In the absolutely most conservative of scenarios, we think SRPT is worth about 10% more than what it trades for right now. As patient population and valuation scenarios get more optimistic, there is easily a case for the stock moving toward triple digits. The company is expected to produce revenue of between $300M and $750M per year, depending on whose estimates you're looking at. The company could also be extremely accretive to a potential acquirer. "Pharma bro" Martin Shkreli must understand SRPT's value, because he tweeted out on Monday that he thinks the stock will move to $100 per share.

The FDA has also required the company to perform its own clinical testing on the drug within the next two years. Whether or not the company is acquired prior to that remains to be seen. We don't think the company will have any hold up in being able to produce these results and we think that even though the stock is up almost 100% since approval that today's price of $50 represents a relatively conservative scenario for the company on a go forward basis.
We are happy for the sufferers of Duchenne muscular dystrophy and we are optimistic that both they, and Sarepta shareholders, will have a bright future ahead of them.
Disclosure: I am/we are long SRPT.
I wrote this article myself, and it expresses my own opinions. I am not receiving compensation for it (other than from Seeking Alpha). I have no business relationship with any company whose stock is mentioned in this article.