Aramark (NYSE:ARMK) certainly has gotten a lot of love from investors since its IPO, with the value of the company's equity up more than 65% since the late 2013 offering. Interestingly, this marks the third time this company has gone public - once in 1954 (taken private to avoid a takeover), again in 2001 (taken private by leveraged buyout, aided by Goldman Sachs (NYSE:GS) and JP Morgan (NYSE:JPM)), and now most recently in 2013. Investors continue to gobble up shares despite pretty lofty valuations; risk appetite continues to be high on the Street (certainly higher than my appetite for Aramark food offerings at my workplace). Sorry, couldn't resist. At first glance, earnings expectations seem lofty. Can this industry giant really continue to grow earnings per share at a 10%+ annual pace?
Earnings Improvement
Aramark is a leading provider of food, facility services, and uniforms to a wide swath of clients, ranging from corporations, higher education, healthcare facilities, sports parks, and even the prison system. The company is massive, employing 265,000 employees worldwide at the end of 2015. Obviously food and facility services has historically been a low margin business, so size and scale plays an important part in making this business viable. Every basis point of margin improvement counts and only the largest players in the space tend to survive and thrive. Moats are limited, as clients have no problem kicking vendors, even preferred ones, to the curve in the pursuit of savings.

As mentioned, this is a mature business for the most part. It has been around for decades, and is already deeply penetrated across most of its markets. Moving the needle either way on the top line is most definitely not easy, so where the company is going to have the most success is driving improvements on expenses. This is an area where, at least over the past five years, Aramark has found some success. Various initiatives built around improving the supply chain, taking measurable steps on sourcing input goods cheaply, and lowering labor costs have all reaped benefits. Labor, in particular, remains a risk point, given the pressures around raising the minimum wage in the United States. If those concerns don't come to fruition, gross and operating margin should prove resilient at current levels.
Most interestingly to me, the biggest driver of improving earnings per share for Aramark has come from refinancing Aramark's massive debt burden.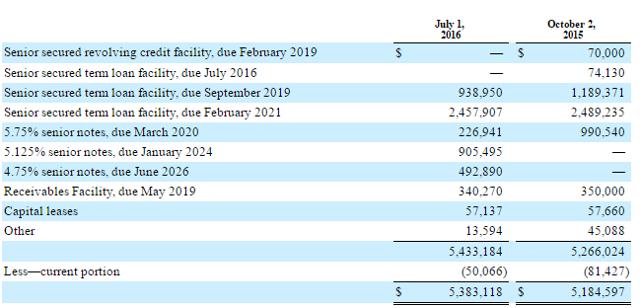 Immediately after going public, the company quickly got to work on refinancing its term loan facilities in early 2014. This was something management had likely been waiting for. Once public, companies have significantly more resources when it comes to cost of capital; banks are more willing to deal, and they also know that companies will have an easier time potentially issuing dilutive equity to cover interest payments. This had massive implications for Aramark. Interest payments after all the refinancing fell to $286M in 2015, down from $426M in 2013. This is despite no measurable downward change in the total debt over that timeframe. This has been more than twice as beneficial to net income per share than all the hard-fought gains in gross margins.
Luckily, this is set to fall further. While substantially all of the company's obligations are variable rate debt, Aramark has employed interest rate swaps to fixed payments on all of the notional value. Because of the structure of these swaps, the weighted average interest rate that Aramark pays is set to fall from 4.55% in 2016 to 4.01% in 2019. This could fall further, provided the company is able to refinance its senior notes at better terms in several years. Nominally, this is good enough for $30M in annual interest rate savings, assuming the debt remains the same.
In reality, the debt will have to come down as well. Such attractive refinancings don't come without some catches. Beyond riding the rail on covenants (5.85x debt/EBITDA is the limit, with the company posting 5.25x in 2015), the credit agreement stipulates 50% of Aramark's annual excess cash flow be directed towards debt repayment until it reaches certain leverage thresholds (currently well out of range). For those hoping for growth in the dividend, this is going to be hamstrung by the current credit agreement for some time as it is unlikely to refinance again anytime soon. Given the only marginal improvements in cash flows this business is likely going to make, investors should view it as unlikely that the dividend grows quickly from its current rate of $0.38/share (payout was already close to the max in 2015 per covenant-definition of excess cash flows).
Takeaway
Investors are likely right to be suspicious of a company like Aramark with weak top-line growth expectations being able to post 10%+ earnings per share growth in 2016 and 2017. Aramark needs to post $80M in operating income improvement in 2017 (assuming relatively flat share count) to meet those earnings growth goals. However, as highlighted, the vast majority of that earnings growth is going to come from low-hanging fruit. $20M will come from natural inflation (3% baseline) and $30M from interest savings due to declining rates on the company's debt. This sets the bar pretty low (net $30M from cost improvements); Aramark just needs 20bps of operating margin improvement to hit 2017 consensus, and that doesn't even count the interest savings from debt reduction, which per the credit agreements, is mandatory.
I certainly don't find the company cheap (<4% free cash flow yield at current prices), but there isn't a compelling reason for Aramark shares to retrace back to IPO prices. The market is aware of near-term expectations, and it seems perfectly willing to price the company at these stretched multiples. Given the apparent lack of a problem in meeting those expectations, I don't see any reason for shares to fall back to earth.
Disclosure: I/we have no positions in any stocks mentioned, and no plans to initiate any positions within the next 72 hours.
I wrote this article myself, and it expresses my own opinions. I am not receiving compensation for it (other than from Seeking Alpha). I have no business relationship with any company whose stock is mentioned in this article.