I'm going to be making a serious call here today and it pretty much goes like this. It's time to swap out of the Eaton Vance option income CEFs and look to the up and coming option income funds from BlackRock (NYSE:BLK).
Over 5-years ago in May of 2011, I wrote this article, Which Option Income Funds To Buy Right Now, which essentially concluded that the best option funds at the time were the ones that nobody wanted from Eaton Vance. Though it may be hard to believe now, back then it was the Eaton Vance option-income CEFs that had fallen from grace to the widest discounts, primarily due to a series of distribution cuts that Eaton Vance initiated in late 2010 to get their NAV yields down to a more reasonable level.
But I argued in article after article that those cuts, which continued until mid 2012, would ultimately put the Eaton Vance funds in the best position to grow their NAVs ahead of the other major fund families from Nuveen, ING (now Voya) and of course, BlackRock.
Fast forward to today and that is exactly what has happened as the other fund families, particularly from BlackRock and Voya, lagged in making the necessary distribution cuts and were forced to continue cutting all the way up until late last year for some of their funds. This has hurt both fund family's current valuations, which as you can from the first table below, is a far cry from where they used to be.
What I would first like to do is show you the table from my May, 2011 article so you can see where the four major fund families stood over five years ago.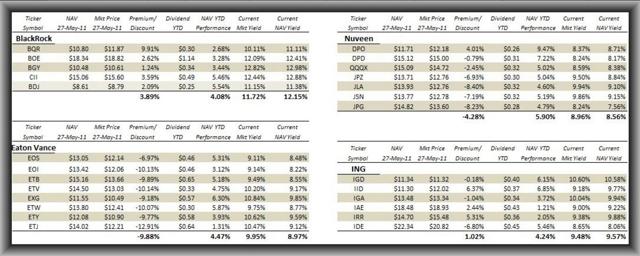 Since I wrote that article, several funds, particularly from Nuveen, have merged and changed names (and symbols) and several new funds have been added to BlackRock's lineup. But the table above compared to the tables below should give you a good perspective of where the fund family's option income funds stand now.
The tables below include each fund family's current lineup of option CEFs sorted by their total return NAV performances this year through 9/19/2016. Funds in green have outperformed the S&P 500, as represented by the SPDR S&P 500 ETF (NYSEARCA:SPY) up 6.2% YTD including dividends, and funds in red have underperformed.
Let's start with BlackRock.

Now let's look at the Eaton Vance option income CEFs.

Next are the Voya option income CEFs

And finally, here are the Nuveen option income CEFs

Before we take a closer look at these tables, let me first describe to readers what option income funds are (also referred to as covered-call funds or buy/write funds) and what their advantages and disadvantages are.
What Are Option Income CEFs?
Option income equity CEFs are one of the two major income strategies equity CEFs use to help pay for their high distributions. The other being the leveraged strategy. There has been a lot of controversy over the years as to the effectiveness of the option strategy since these CEFs typically have a lot of Return of Capital in their distributions because they are typically able to realize losses no matter which way the market is going (either stock losses in a down market or option losses in an up market).
But what investors didn't realize was that many portfolio managers were actually trying to maximize Return of Capital due to the tax benefits, while still growing the fund's NAV. I pointed out many times in articles that Return of Capital didn't have to be at the expense of NAV and indeed, could actually be a bonus to investors due to the tax-deferral nature of ROC.
The other major controversy in option income CEFs is that they are generally not bull market funds and that you may leave money on the table if the broader market is on a longer term upswing. That's true depending on option premium and how much option coverage the fund utilizes, where the higher the percentage of options sold (as equated in the notional value of the portfolio), the more defensive the fund.
That can be overcome if the fund invests in outperforming stocks and sectors and/or the percentage of options sold is relatively low. But the fact of the matter is you're just not going to get the NAV upside in these funds as you would in leveraged funds because selling index or individual stock options against a stock portfolio is a defensive strategy. In essence, option income CEFs sell future stock or portfolio appreciation potential for income today. If the portfolio or indices the fund sells options against has minimal gains or goes down a bit, then the strategy is usually effective. But in a bull market, the option income strategy usually will lag, at least at NAV.
But so far in 2016, the market prices for many option income CEFs have been strong even if their NAV performances haven't supported such market price moves. What has generally happened is that portfolio managers of many option income funds learned from years past that they needed to overweight more aggressive growth stocks while selling options against indices if they wanted to keep up with or outperform the major market indexes.
This worked pretty well the last few years as growth stocks, particularly large cap technology names like Facebook (NASDAQ:FB), Amazon (NASDAQ:AMZN), Netflix (NASDAQ:NFLX), Google aka Alphabet (NASDAQ:GOOG) (NASDAQ:GOOGL) and others, powered the NASDAQ ever higher. As long as their stock portfolios could outperform the indexes they sold options against, then they could generally overcome the defensive sell option strategy in a bull market and keep up with, if not outperform the major market indices.
2016 changed all that as growth stocks and the NASDAQ finally underperformed value stocks, which is more representative of the S&P 500 and the Dow Jones Industrial Average. As a result, what worked in years past, particularly for the Eaton Vance option funds which have a lot of growth stock overlap in their funds, has been less effective this year.
But that shift to value stocks and sectors has helped other option income funds, particularly from BlackRock, which has a more diversified lineup of funds than Eaton Vance.
Why BlackRock Is In The Drivers Seat Now
Going back to the tables above, you'll see that the lineup of BlackRock option funds average almost an -8% discount while the Eaton Vance option funds average only a -1.3% discount with (NYSE:ETV) and (NYSE:ETB) at fairly high premiums. Certainly, that's a testament to how popular the Eaton Vance funds have become but the question is, do they have the NAV performance to back it up? Based on the table above, I'm not so sure any more even though I have been Eaton Vance's biggest supporter over the years.
More importantly to me, the BlackRock funds all have very reasonable NAV yields now in the 6% to 9% range whereas the Eaton Vance fund's NAV yields have crept up to where a few of the funds now have double digit NAV yields. This will be a concern if the fund's portfolios don't outperform the indices they sell options against. Note: (NYSE:EOS) and (NYSE:EOI) are the only Eaton Vance option funds that sell individual stock options.
This NAV yield differential is the exact opposite of what we saw in mid 2011 when it was the BlackRock CEFs that had the high NAV yields while the Eaton Vance CEFs had the more attainable NAV yields (though really, all of the funds still had high NAV yields back then and distribution cuts still lay ahead for most).
Also back then you'll notice it was the BlackRock funds that traded at premium valuations (due in large part to the higher yields) while it was the Eaton Vance funds that were at the wide discounts due to distribution cuts. My how things have changed.
Which BlackRock Option CEFs Are The Most Attractive?
To me, it's pretty clear that taking profits in some of the Eaton Vance option funds and moving assets over to some of the BlackRock option funds makes a lot of sense. My number #1 pick for a swap into a similar fund would be the BlackRock Science & Technology fund (NYSE:BST), $18.18 market price, $20.46 NAV, -11.1% discount, 6.6% current market yield
BST is a relatively new fund that came public in late 2014 but is already showing outstanding NAV performance, up 8.4% YTD. The reason why I like BST over any of the Eaton Vance funds now is because they both invest in many of the same growth and technology stocks but yet BST has been significantly outperforming.
That may be because all of the BlackRock option funds sell individual stock options whereas Eaton Vance sells mostly index options but I believe BST just has a better portfolio of growth stocks right now. The other reason I like BST over any of the Eaton Vance funds has to do with BST's much lower valuation and more conservative NAV yield. Taken together, BST is in a much better position to grow its NAV while offering a bonus 6.6% windfall market yield. That trumps Eaton Vance's higher market yields in my opinion and that will be proven over time.
Another BlackRock fund that offers a very low valuation and has also had a strong 2016 despite its checkered past is the BlackRock Resources & Commodity fund (BCX), $7.77 current market price, $9.14 NAV, -15.0% discount, 6.9% current market yield. I first recommended BCX back on February 16th of this year at close to the market lows when the fund was at $6.37 and had an -18.1% discount.
Though BCX has had a great 2016 with an NAV total return of 14.8%, the recent market price weakness back to well under $8 is a good entry point once again in my opinion. As it's name implies, BCX is a resources and commodity stock fund that sells individual stock options against roughly 33% of its stock positions. But with BCX's exposure in the energy patch, metals and mining and other commodity sectors, the fund has not been able to offset portfolio depreciation with its relatively low option selling strategy.
Combine that with a high NAV yield through much of its existence since it came public in March of 2011 and BCX will not look good on a longer term performance chart either at NAV or market price, but that's not why you buy the fund. You buy BCX because BlackRock has finally got BCX down to a conservative 5.9% NAV yield while the fund trades at an exceptionally wide -15% discount valuation. That wide discount, which is much wider than any other option income commodity & natural resource CEF such as the Gabelli gold and natural resource funds (NYSEMKT:GGN) and (NYSE:GNT) or the Voya natural resource equity fund (NYSE:IRR), means that an investor can pick up a bonus windfall market yield of 6.9%, 100 bps higher than what the fund pays at NAV. That 1% difference can add up over time.
The other reason you buy BCX is to get exposure in natural resource and commodity stocks at a wide discount if you don't already have exposure there. Commodity stocks and sectors have severely lagged over years past but have shown renewed strength this year. Certainly, the overall success of BCX going forward will rely heavily on these energy, chemicals, metals and mining stocks continuing to do well but you put yourself in a much better position to realize that by owning a fund like BCX with a reasonable NAV yield and a low valuation.
The final two BlackRock option income CEFs I would look to swap into are the BlackRock Enhanced Equity Dividend fund (NYSE:BDJ), $7.83 market price, $8.66 NAV, -9.6% discount, 7.2% current market yield and the BlackRock Global Opportunities fund (NYSE:BOE), $12.04 market price, $13.67 NAV, -11.9% discount, 7.8% current market yield. The reason why I like both of these funds is because one, BDJ is more large cap value stock oriented and the other, BOE is more large cap global stock oriented. In other words, they have much different stock portfolios than BST and BCX and so you don't have to worry about portfolio overlap.
I'm not going to go into much detail on these funds other than to stress their more attractive valuations and NAV yields compared to the Eaton Vance option funds. I cannot emphasize enough how important it is to have an NAV yield that can reasonably be covered in all market environments. Because if you don't have the NAV growth to cover the monthly distributions the fund has to pay, then each period there is a shortfall means there's that much less NAV to cover the next distribution.
As much as I have embraced the Eaton Vance option funds over the years, my concern now is threefold. #1). Their reliance on much of the same large cap growth stocks means their funds are not as diversified as what the BlackRock lineup offers. #2). Their higher valuations means they could be peaking in popularity as well as offering much less in windfall yields compared to the BlackRock funds I am recommending. And in the case of ETV and ETB, new investors are actually giving up market yield to own these funds at premium valuations. And finally #3). Their higher NAV yields means its going to be more difficult for many of the Eaton Vance funds to meet their distribution demands while growing their NAVs. Taken together, the attractiveness of the Eaton Vance option income funds from 5-years ago has significantly diminished in my opinion. We have indeed come full circle.
Note: All of the Eaton Vance equity CEFs (option and leveraged) go ex-dividend on Wednesday, September 21st.
Conclusion
Though this article really focuses on the BlackRock option CEFs compared to the Eaton Vance option CEFs, I should note that Voya also has some outperforming CEFs at NAV this year as well. My only problem with the Voya funds is that they also have very high NAV yields and because their funds are global and international, they take on an added risk with their high NAV yields.
The Nuveen option CEFs are more index fund related and have generally lagged their benchmarks this year. I would become more interested in these funds if the markets turned more defensive and if their market prices dropped enough so that their valuations became more attractive. The only option fund I own of any significance in this group is (NYSE:SPXX). Note: (NYSE:JGV) will be merging into a Nuveen open-end fund which is why its market price has done so well as it reflects closer to par valuation to its NAV.
Disclosure: I am/we are long BST, BCX, BDJ, BOE, SPXX, ETY, EOS.
I wrote this article myself, and it expresses my own opinions. I am not receiving compensation for it (other than from Seeking Alpha). I have no business relationship with any company whose stock is mentioned in this article.