General Electric (NYSE:GE) is an excellent trading stock. It is liquid, has a wide economic moat which means it has extensive competitive advantages, and it's stable. Now the stock will probably become even more stable in quarters to come because of having less debt, which consequently means the company can borrow more. GE is going through a transformation which is nearly finished at this stage where its financial arm is being eradicated due to it returning to its industrial roots.
The divestitures have decreased the debt to equity ratio in the company which means that I can potentially see the company returning a lot of capital to shareholders in the next few years plus being able to buy more businesses in the industrial sector. Once companies are removed from the strings or the shackles of the Federal Reserve, using leverage becomes an attractive option once more.
Stocks that trade in a range and that have compelling competitive advantages are excellent vehicles for options traders. The downside is always protected more in a stock like this for a variety of reasons. Firstly, General Electric has a massive installed base of equipment. This equipment needs to be serviced and sometimes companies can take out anything up to 20 years service contracts especially on equipment in the aerospace and power arms of the business.
Service revenue, which is far more predictable than product revenue is much higher in this company which is a big plus. When service revenue is high, it usually means switching costs are also high. In fact, many of GE's competitors would have higher product sales over service revenues but the reverse is what industrial companies really want.
Why? Margins are fatter and cash flows become more stable. The latter is definitely a metric that GE has been lacking in recent years, which has left many shareholders disgruntled in the process.
The first thing I look at with stocks that I want to trade options on is whether the downside is protected to a large degree. General Electric definitely fits the bill here because of the huge amount of equipment it has installed in the industrial sector all around the world. Now much of the equipment are intangible assets, meaning that they have long life spans (which as I've mentioned) need to be serviced every year.
Moreover, GE is very similar to Exxon Mobil (NYSE:XOM) in the oil and gas sector where Exxon can use its resources, people and technologies across the divisions that it is involved in. Be it upstream, downstream or chemical, the company can create synergies between these divisions to improve efficiencies and productivity over time.
It's the same with General Electric because of the eight different sectors they are now operating in. By using different materials & resources across all their sectors, it makes it very difficult for outside competitors to compete. Furthermore, because the company operates all over the world, it can use its vast resources to source products from within its group as well as using its buying power to source from third party vendors.
However, it is fair to say that the timing of GE's acquisitions in recent years has been off. The company forked out well over $10 billion last year to acquire Alstom, which was touted at the time to be a game changer for the company. Well to cut a long story short, we haven't seen much synergies as of late despite a host of plants being shut to try and get costs under control.
Alstom's products generally provide lower margins at present, which sooner rather than later will be included in GE's quarterly numbers. However, I'm confident we will see these synergies take place in the next few quarters.
It is just going to take more time than shareholders had expected. For example, the recent Doosan purchase speaks to this. It is evident now that GE wasn't in a position where it could leverage the extra sales that were coming through from Alstom's HRSG side of the business for example. Furthermore, and as I've alluded to earlier, GE wants to really build up the service side of the HRSG business and the Doosan acquisition should enable this to happen.
The synergies and margins will come from Alstom. Of that I have little doubt. It is product sales I first look to because I know if GE does its homework, lucrative high margin service contracts should soon follow. However, shareholders are worried that soon enough GE is going to have to include Alstom figures and margins in the quarterly results. Up to now, they're getting away with it so to speak because the acquisition is still not 12 months old.
With a pretty poor start for the year, the question now is whether the company can achieve its 2-4% industrial revenue growth target for full fiscal 2016. It is doable if the company shifts its heavy backlog. However, I think investors have to take into account the sluggishness of the industrial sector at present.
If General Electric can come anywhere near their revenue growth targets this year, I think it would be a big win. So again, all these issues should be taken into account by investors.
In terms of trading this stock, there is definitely a lot of negative vibes surrounding General Electric mainly because of how it has squandered shareholders' capital over the past few decades. If you look at returns from the year 2000 to now, the stock is still down over 42% from its price at the turn of the century.
Therefore, if an investor invested for example $30,000 into the stock back in the year 2000 and reinvested all dividends every quarter then this would have amounted to just under $29,000. This means that even by reinvesting all dividends, investors would be still underwater on their investment over the last 16 years. I feel your pain guys.
However, stocks like General Electric provide opportunity from an income perspective because as I have mentioned before, they're very stable. Stable stocks always attract options traders because they trade in a range. So if one sold covered calls on General Electric stock every month since the year 2000, and let's say for argument's sake that $100 was invested every month into the underlying, the initial $30,000 invested would now have accumulated to $61,000. Big difference.
Furthermore, I think that General Electric is definitely closing in on a bottom. The 5-day RSI indicator is at oversold levels. Also on the technical chart, the stock is going to come up against heavy resistance just above the $29 level. In saying this, General Electric is a stock that is not going to move much. It's a low volatility stock. Now, for that reason, investors tend to stay away from this stock because they don't see massive potential gains.
However, General Electric is a fantastic stock for option traders because it trades in a range and I believe its competitive advantages have increased as a result of selling off its financial arm. You can see on the chart that there hasn't been much movement in the stock over the last 2-3 years. This is excellent for me as long as support holds.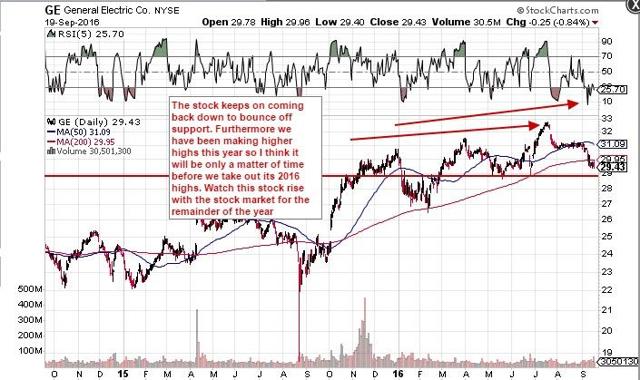 To sum up, GE is excellent for option traders where they use high volatility to sell premium against the stock every month to bring in extra income. Therefore, if you are invested in General Electric for the dividend, selling premium every month would definitely boost your returns especially now that the dividend has been frozen for the last eight quarters. Something to think about.
Disclosure: I am/we are long GE.
I wrote this article myself, and it expresses my own opinions. I am not receiving compensation for it (other than from Seeking Alpha). I have no business relationship with any company whose stock is mentioned in this article.