On Friday it was reported that Viacom's (NYSE:VIA) (NASDAQ:VIAB) board will not be selling a minority stake in Paramount. Although it was probably obvious that a sale wasn't going to happen when former CEO Philippe Dauman left the company before presenting his plan (the sale was viewed as his pet project). Viacom's stock is down almost 15% since Dauman agreed to leave and hopes for a Paramount sale began to be viewed as unlikely.
We think keeping Paramount as part of Viacom, at least for the time being, is the right decision. The Paramount sale had many cheerleaders on Wall St. and some sound logic behind it. Viacom has over $14B in net debt with $3.75B of that coming due within the next five years. The company is facing a credit rating downgrade (Viacom is currently rated two notches above junk) which will likely increase its borrowing costs when it goes to rollover some of that debt. The chart below taken from Viacom's latest investor presentation shows the company's debt profile.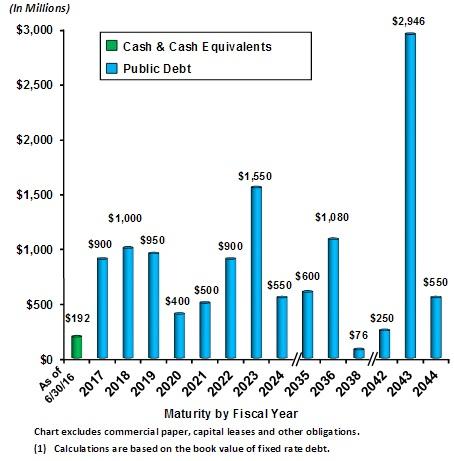 As you can see selling a 49% minority stake in Paramount at the rumored $4B to Dalian Wanda would give Viacom the financial flexibility to pay off its maturing debt and maintain its dividend so selling part of Paramount is not without some sound logic. Additionally, Wall St. is short term oriented and loves a quick catalyst for a stock and selling part of Paramount would give Viacom a short term bump in analyst sentiment. Plus, $4B for 49% of Paramount is viewed as a very generous deal considering the state of the studio's finances and that most analysts were valuing the entire studio at $3.5B to $5.5B before rumors of bids started coming in.
Here's why we think keeping Paramount for now makes sense. First, Viacom can deal with their maturing debt by simply cutting their dividend. Over the trailing twelve months Viacom has paid out around $635M in dividends. (The company has effectively ceased repurchasing shares of its own stock so the dividend is all that's left to cut.) Ax the dividend and the company has an extra $3B and change to retire maturing debt over the next five years. Even without doing that a credit rating downgrade isn't going to be the end of the world. It's unlikely that the company will be downgraded two notches to junk at once. The difference in borrowing costs for $3.75B at 4.6% (Viacom's weighted average interest rate) versus a higher rate won't be that much. For every 25 basis point rise in borrowing costs the company will be paying approximately $9M more in interest per year. Hardly a budget busting amount. We'd prefer to see the dividend cut since there is no reason to keep chucking cash out the door to shareholders when it can be spent on lowering the company's debt burden and reinvesting in content.
Second, and perhaps most importantly the problem at Paramount and at Viacom is lack of good content. Selling a 49% interest in Paramount doesn't help solve Viacom's main "creative brain drain" problem. Now, if the deal came with some sort of arrangement whereby the minority partner was going to contribute creative talent and have a hand in producing movies or would broaden Paramount's content distribution scope then that's a different story. But, every report we've seen has just stated the deal would be a 49% minority interest so we aren't making any assumptions beyond that.
Viacom purchased Paramount for $9.8B in 1994 and over Phillippe Dauman's awful reign at Viacom has run the studio into the ground so much so that a bidder valuing the studio at $8B is considered wildly overpaying. What Viacom needs to do is undo the damage Dauman did. Tom Dooley and the new board need to turn Viacom back into a place where creative talent can flourish and produce hit movies and shows. Investing money and personal resources (Dauman was reportedly off-putting to talent) into creating new hit shows, new hit movies, and bringing Viacom into the 21st century by developing a comprehensive digital strategy will create much more value then selling a chunk of the movie studio. If selling all or part of Paramount is something that still should be done, do it when the studio is better run and the valuation is higher. It should be sold from a position of strength (if it needs sold at all) then a position of weakness.
The idea of selling part of Paramount reeks of Dauman's "we'll fix the problem by doing a deal" culture." Over the years it seemed that Dauman's answer to every issue at Viacom was some kind of deal. Bad ratings? Blame Nielsen and come up with some sort of alternative arrangement (Viacom Vantage) in deals with advertisers! Need a presence in digital media? Do a deal to sell Snapchat ads! Need to fix the company's debt load because cash flow has tanked? Do a deal to sell part of Paramount! Viacom needs a creative rebirth, not another financial deal.
Disclosure: I am/we are long VIAB.
I wrote this article myself, and it expresses my own opinions. I am not receiving compensation for it (other than from Seeking Alpha). I have no business relationship with any company whose stock is mentioned in this article.